Vegan Chocolate Peanut Butter Cookies
These Vegan Chocolate Peanut Butter Cookies are healthy coconut flour cookies with a shortbread crunchy and sandy texture made with only 4 ingredients.
With only 5.4 grams of net carbs per serving, they are also low-carb and keto-friendly.
What Are Vegan Chocolate Peanut Butter Cookies?
Vegan Chocolate Peanut Butter Cookies are very simple cookies made in just a few minutes with 4 of the most classic ingredients.
It makes cookies very similar to my 3-Ingredient Peanut Butter Cookies, but with a rich chocolate taste.
Why You'll Love This Recipe
This simple recipe is amazing because:
Ready in about 20 minutes, cooking included
Dairy-Free
Sugar-Free
Vegan
Egg-Free
Keto-Friendly
Gluten-Free
How To Make Vegan Chocolate Peanut Butter Cookies
These cookies are some of the easiest to make, with only 4 ingredients, 10 minutes of preparation, and 12 minutes of baking.
Ingredients
Peanut Butter – choose natural peanut butter. If you can't find peanut butter made with just peanuts, you can make your own with my peanut butter recipe.
Coconut Flour – coconut flour is a great low-carb, high-fiber flour. As a result, it's a great keto-friendly option for baking.
Cocoa Powder – choose unsweetened cocoa powder. It's both necessary to keep these cookies low in unnecessary sugar, but also to get the best texture.
Maple Syrup – You can use regular maple syrup or sugar-free maple syrup.
Making The Batter
Place all the ingredients in the bowl of a food processor: peanut butter, coconut flour, cocoa powder, and maple syrup.
Process the cookie batter for about one minute. By that time, it should start forming a dough ball that is hard to stir.
Stop the food processor and transfer the dough ball to your benchtop. Split it into 8 even smaller balls.
Place each cookie dough ball onto a baking tray lined with lightly oiled parchment paper.
Flatten them with your hand to form cookies.
Baking The Cookies
Transfer the baking sheet with the vegan chocolate peanut butter cookies to an oven preheated to 350°F (180°C).
Let them bake for 10 to 12 minutes.
When they are baked, take them out of the oven and transfer them to a cooling rack.
Decorating
These cookies are delicious on their own, but they are even better decorated.
I like to dip them into melted chocolate (make it by melting dark chocolate with coconut oil) and add chopped peanuts on the top.
Recipe Variations
You can transform this vegan peanut butter cookie recipe into many different flavors by adding a few other ingredients.
Dark Chocolate Chips: Adding dairy-free dark chocolate chips or chocolate chunks to the batter turns these cookies into double-chocolate cookies.
Mint Essence: A touch of mint essence added at the last minute to the batter makes cookies similar to thin mints.
Vanilla Extract: A quarter of a teaspoon of vanilla extract adds a subtle sweet flavor to the cookies.
Sea Salt: Adding a few sea salt flakes after cooking brings out the chocolate taste.
Storage Instructions
These coconut flour chocolate cookies can be stored for up to 3 weeks in an airtight cookie jar.
It's better to keep the jar in a cool dry place like your pantry. Don't leave them in the sun.
Allergy Swaps
If you are allergic to any of this recipe's ingredients, you can try the following substitutions.
Peanut-Free – Replace the peanut butter with sunflower seed butter, cashew butter, or almond butter.
Sugar-Free – To make the recipe as low in carbs as possible, replace the maple syrup with sugar-free maple syrup.
Maple-Free – Replace the maple syrup with coconut nectar, rice malt syrup, brown sugar, or coconut sugar.
Frequently Asked Questions
Can I Substitute Coconut Flour?
You could use regular all-purpose flour, but you'd have to decrease the amount of maple syrup as regular flour absorbs far less moisture than coconut flour.
How Many Carbs Are In Chocolate Coconut Flour Cookies?
Each of these cookies has 5.4 grams of net carbs when using sugar-free maple syrup.
Do They Taste Like Coconut?
These chocolate peanut butter cookies are crunchy cookies, slightly sweet, with a delicious nutty and 'buttery' flavor and an amazing sandy texture that makes them perfect with a cup of tea.
They are the perfect addition to a cookie box for any occasion like Christmas or a tea party with friends.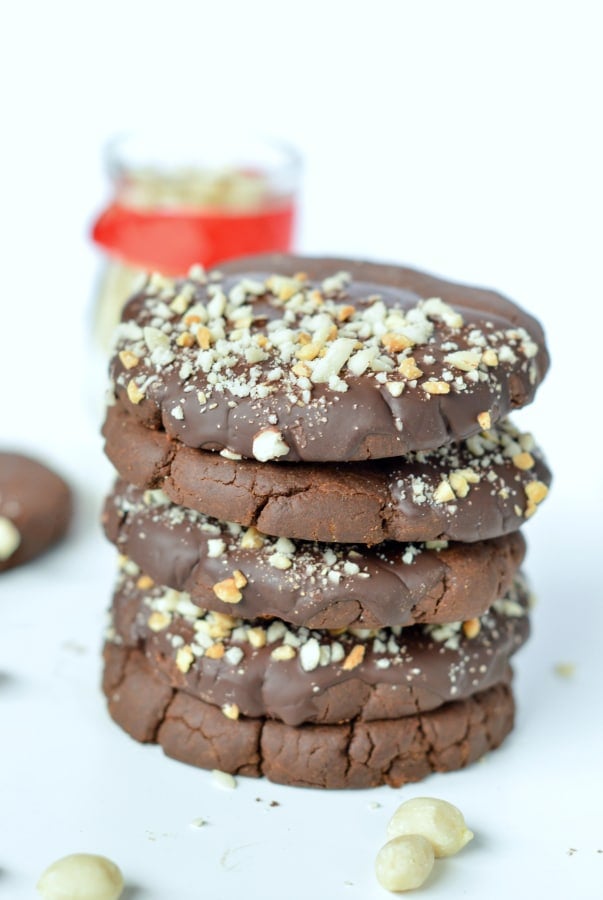 More Coconut Flour Cookie Recipes
If you've enjoyed this recipe, you'll love these other cookie recipes made with coconut flour.
I hope you enjoy this vegan chocolate peanut cookie recipe. Leave me a comment and tell me more about it!
Vegan Chocolate Peanut Butter Cookies
These Vegan Chocolate Peanut Butter Cookies are easy, healthy coconut flour vegan and keto cookies made with only 4 ingredients.
This recipe may contain Amazon or other affiliate links. As an Amazon Associate I earn from qualifying purchases.
Instructions
Preheat oven to 350°F (180°C).

Prepare a cookie rack covered with parchment paper. Set aside.

In a food processor with the S blade attachment, add all the ingredients, order doesn't matter. Process on medium speed for about 1 minute or until all the ingredients come together into a ball.

Stop the food processor, gather the ingredients together to form a ball, and split it into 8 even pieces.

Roll each piece into a cookie ball, and place each ball on the prepared cookie rack leaving half thumb space between each cookie. The cookies won't spread so you don't have to leave too much space. If the dough is too dry or crumbly, you can oil your hands with a tiny amount of coconut oil to make the rolling easier.

Bake for 10-12 minutes at 350°F (180°C).

Cool down on a cookie rack. I used a large spatula that I slide under the cookie to gently transfer the cookies one by one to the rack without breaking them.

When cool down, decorate with sugar-free melted dark chocolate and chop peanuts. Place the cookies in the freezer for a few minutes to quickly set the melted chocolate if needed.

Store up to 3 weeks in a cookie jar.
Want My Kitchen Equipment?
Serving:
1
cookie
Calories:
211.2
kcal
(11%)
Carbohydrates:
10
g
(3%)
Fiber:
5.6
g
(23%)
Net Carbs:
4.4
g
Protein:
8
g
(16%)
Fat:
17.2
g
(26%)
Saturated Fat:
3.9
g
(24%)
Polyunsaturated Fat:
4
g
Monounsaturated Fat:
8.2
g
Sodium:
146.5
mg
(6%)
Potassium:
200.9
mg
(6%)
Sugar:
3.7
g
(4%)
Calcium:
17.4
mg
(2%)
Iron:
0.8
mg
(4%)
Magnesium:
60.7
mg
(15%)
Zinc:
0.9
mg
(6%)
Posted In: