These easy keto sugar cookies are cut-out sugar-free cookies made of a thin, low-carb rolled cookie dough. They are very sweet, soft, chewy with a slightly crunchy border. Bonus, these keto cookies with no sugar contain only 1 gram of net carbs each!
These keto sugar cookies with almond flour are super easy to make with only 8 ingredients.
Before you start, make sure you measure all your flours precisely. In fact, the success of a keto baking recipe relies on precision in flour measurement.
Always scoop, pack, and level up each measuring cup to avoid adding too much flour.
For a different way of viewing the recipe, why don't you have a look at my Keto Sugar Cookie Web Story?
Ingredient of the Keto Sugar Cookies
Unsalted soft butter – I recommend taking out the butter block from the fridge 1 hour before making these low-carb keto sugar cookies. Also, weigh the butter with a scale rather than using cups for precision. Plus, cut the butter needed by the recipe into 1/2 inches cubes. This technique makes the butter soften faster, and it will blend easily into the cookie dough.
Erythritol – or any keto sugar-free sweetener you like. I am using crystal erythritol in this recipe, not the powdered sweetener. Both options are fine, but crystal erythritol is cheaper, and since you pulse all the dry ingredients into a blender, you don't need powdered sweetener here.
Cream cheese – this recipe doesn't use xanthan gum. Instead, I am adding a tiny amount of cream cheese that adds a lovely buttery flavor to the cookies and chewy texture. You can use lactose-free cream cheese or vegan cream cheese too.
Almond flour – use ultra-fine almond flour, not almond meal. Almond meal has a coarse texture, and it won't create white golden keto almond flour sugar cookies. They will end up grainy, dark, and not that good so please avoid almond meal. However, if you are looking for a nut-free option, you can swap almond flour for ultra-fine sesame flour.
Coconut flour – you need a combination of both flours to reach the best buttery, chewy cookie texture. Don't skip or replace coconut flour with more almond flour.
Vanilla extract
Almond extract
Salt – add only if your butter is unsalted.
How to make sugar-free cookie dough?
1. With a food processor
I highly recommend using a food processor for this recipe. It's the easiest way to create a soft, consistent cookie dough batter with no grainy texture. First, blend on high speed the dry ingredients.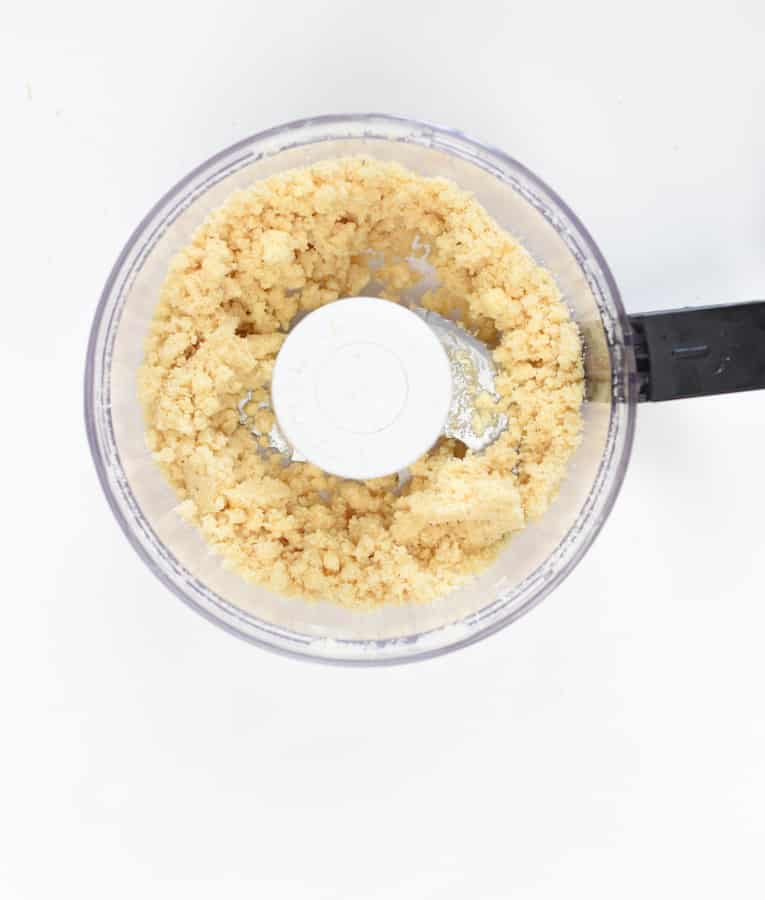 This step will evenly combine the flour and pulse your sweetener in a fine powder to avoid a grainy cookie.
Then, add the soft butter cubes, cream cheese, vanilla, and almond extract. Blend again for 30 seconds on medium speed to combine.
Are you new to Keto?
Receive my Keto Quick Start email series to learn all about the Keto diet and kick start your keto journey!
The dough forms gradually. First, it forms small crumbles that get bigger and eventually come into a dough ball.
If it doesn't form a ball, stop the food processor and gather the dough crumble to stick them together into a dough ball.
2. With a stand mixer
If you don't have a food processor, I recommend using powdered sweetener instead of crystal erythritol. First, blend all the dry ingredients into the stand mixer bowl using the paddle attachment.
Then, add the rest of the ingredients until the dough forms a crumble. Gather into a dough ball.
Refrigerate the dough
Once your sugar cookie dough is formed, roll the dough ball into plastic wrap. Press the dough into a thick disc and refrigerate for 20 minutes or overnight.
You can make ahead this sugar cookie recipe up to 3 days in advance. Simply keep the dough chilled until use.
How to roll keto sugar cookie dough?
Use parchment paper
This keto cut-out cookie dough must be rolled between two pieces of parchment paper. In fact, gluten-free cookie dough can stick easily to your roller pin. So using parchment paper to roll the dough ensure a smooth cookie dough.
Roll thin
Roll into 1/4 inches (0.6 cm) thickness to ensure the best keto sugar cookies texture! If you roll them too thin, they will cook super fast and get hard and crunchy. Note that the shape of the rolled dough doesn't matter as long as you match this thickness.
Cut out
Then use a cookie cutter of your choice to cut out cookies. Here I created keto Christmas sugar cookies using a candy cane and star shape.
Reuse leftover dough
Gather the leftover dough from the keto, cut out sugar cookies and form another ball. Then, roll this remaining cookie dough between the same pieces of parchment paper to create more almond flour sugar cookies.
Baking time and texture tips
Usually, a sugar cookie is soft, chewy, and has lightly crunchy borders. However, if you roll them too thin (under 1/4 inch thickness) or overbake them, they will become hard and crunchy.
As a general rule, this keto sugar cookie recipe bakes within 10-12 minutes max!
Tips for soft sugar cookies
1. Roll the dough to the right thickness
A sugar cookie dough must be 1/4 inch (0.6 cm)thickness, not more or less. If too thin, they will brown very fast and get super hard and crunchy. If too thick, they will be more like butter cookies, moist and fall apart.
2. Color test
Pull the cookie sheet from the oven as soon as the cookies gain color on their border. They should also look slightly grainy in their center. The texture will still be soft if you press them, but they harden when completely cool down.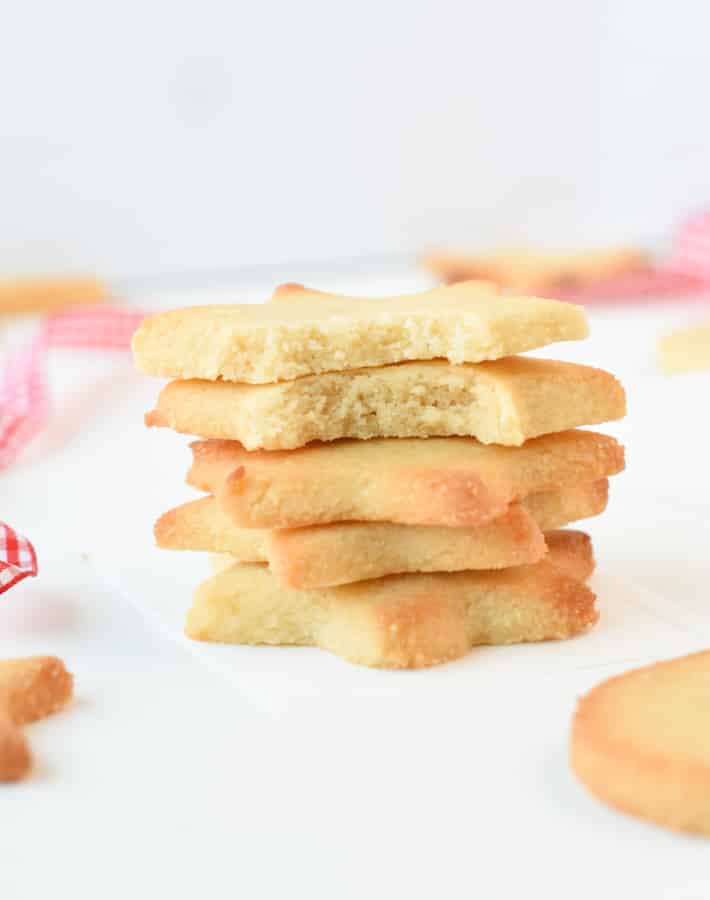 3. Cooling down in 2 steps
First, cool down these sugar-free keto cookies on the cookie sheet for 5 minutes. They will be very soft when you pull out the cookie tray from the oven, and they need time to firm up before being transferred onto a cooling rack.
Then, slice a flat tool like a spatula under each low-carb sugar cookie and transfer one-by-one onto a cooling rack. Finally, cool completely on the rack before decorating or eating. This takes about 30 minutes.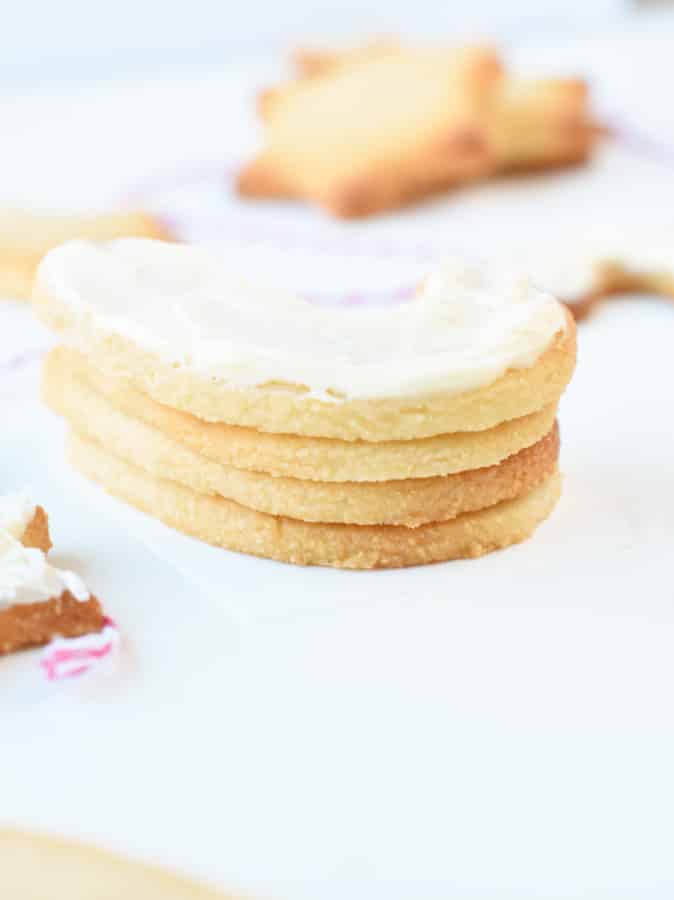 How to decorate sugar cookies the keto way!
Not all cookie frostings or glazings are keto-approved. The best keto frostings for sugar cookies are:
Soft cream cheese frosting – use half of my keto red velvet cake frosting recipe to frost your cookies.
Peanut butter – add a drizzle of natural peanut butter.
Dark chocolate – in a small microwave-safe bowl, melt 1/2 cup of keto sugar-free chocolate chips with 1 tablespoon of coconut oil. You can use milk keto chocolate chips or white ones too! Drizzle the melted chocolate on top of the sugar cookies or dip half of the cookie into the chocolate. To set the chocolate, freeze the cookie on a plate covered with parchment paper for 3-5 minutes. Remove from the freezer when set.

More keto cookie recipes
If you love this keto recipe, you may also want to try my other keto cookie recipes below! All are the perfect Christmas cookie treat on a low-carb diet.
Don't forget to save this keto sugar cookie recipe on Pinterest for later! And if you make them, share a picture with me on Instagram.
XOXO Carine
Recipe Card
Keto Sugar Cookies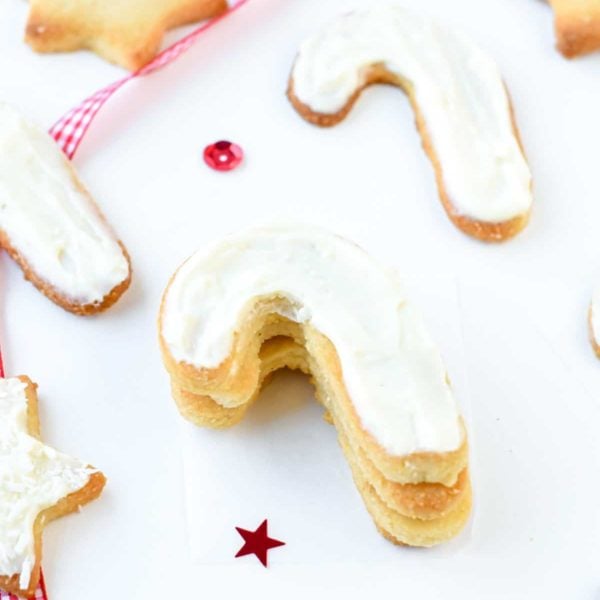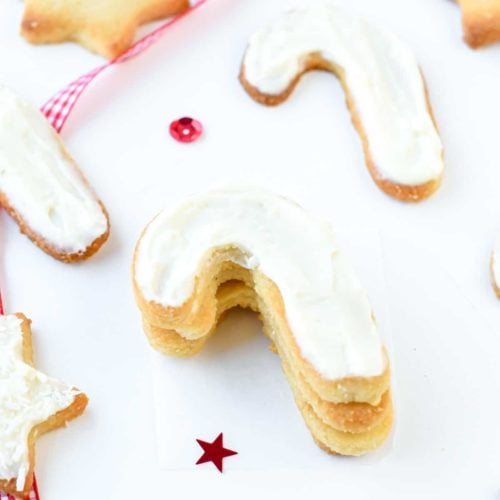 An easy cut-out cookie recipe for Christmas or for a sweet low-carb snack any time of the year.
Ingredients
1

cup

Almond flour

2

tablespoons

Coconut flour

scooped, packed, level up

¼

cup

Erythritol

or use 1/3 cup for very sweet cookies!

¼

teaspoon

Salt

2

oz

Unsalted butter

soft, cubed into 1/4 inches, at room temperature

1

tablespoon

Cream cheese

1

teaspoon

Vanilla Extract

¼

teaspoon

Almond extract

optional
Instructions
In a food processor, using the S blade attachment, add the dry ingredients: almond flour, coconut flour, erythritol, and salt. Blend on high speed to combine evenly - about 30 seconds. This speed will also pulse the erythritol into a thinner texture, so don't skip this step.

Stop the food processor, add the soft cubes of butter, soft cream cheese, vanilla, and almond extract.

Process again on medium speed until the dough forms large crumbles of dough you can easily squeeze and bring together into a dough ball. If it's too wet, add an extra tablespoon of almond flour, or if your dough is too dry, add an extra teaspoon of soft cream cheese processing after any addition. The cookie dough should be soft, buttery, and easy to gather into a ball. It shouldn't be overly wet or dry.

Place the dough into a plastic bag or wrap the ball into plastic wrap. Flatten into a thick disc and refrigerate for 20 minutes or overnight.

Once the dough is chilled, preheat the oven to 350°F (180°C). Line one or 2 cookie sheets with parchment paper. Set aside.

Remove the dough disc from the fridge, remove plastic wrap and place it between 2 large pieces of parchment paper. Roll with a rolling pin into a 1/4-inch thickness. The shape of the rolled dough doesn't matter as long as it is 1/4-inch thick.

Peel off the top piece of parchment paper and cut out cookies from the rolled dough using a cookie cutter.

Slide a flat tool under the cut-out cookie to transfer onto the prepared cookie sheets leaving 3 inches apart between each cookie. They won't expand in the oven.

Gather the leftover dough to reform a ball and roll again between the same pieces of parchment paper.

Bake the cookies, one sheet at a time, in the center rack of your oven for 10-12 minutes or until lightly browned around the edges, but the center is yellow gold. If your oven has hot spots, the cookies may cook faster on one side, so I recommend rotating the cookie sheet halfway for even baking.

The cookie will be very soft when you remove the cookie sheet from the oven, and that's normal!

Cool the cookies for 5 minutes onto the cookie sheet, then gently slide a spatula under each cookie to transfer on a cooling rack. They will firm up after 30 minutes on the rack and get their best texture when completely cooled down.
Tools
Starting Keto
What Is Keto Diet?
Macro Calculator
Sweetener Converter
Keto Meal Plans
Keto Recipe Ebooks
Intermittent Fasting
Keto Fruits
Keto Vegetables
Keto FLours
Fighting Keto Flu
Keto Sweeteners
Nutrition Facts
Keto Sugar Cookies
Amount Per Serving (1 cookie)
Calories 72.7
Calories from Fat 61
% Daily Value*
Fat 6.8g10%
Cholesterol 8.6mg3%
Sodium 30.1mg1%
Carbohydrates 2.1g1%
Protein 1.7g3%
Vitamin A 100.7IU2%
Calcium 16.4mg2%
Iron 0.3mg2%
Net Carbs 1.1g
* Percent Daily Values are based on a 2000 calorie diet.