Keto Chocolate Chip Cookies
These Keto Chocolate Chip Cookies with chocolate chips are simple, low-carb cookies, and with this recipe, you can create any cookie texture you love.
Whether you like your cookies chewy, fluffy, crispy, or egg-free, this easy almond flour chocolate chip cookie recipe tells you all the tips and tricks to successfully bake sugar-free cookies with almond flour.
What Are Keto Chocolate Chip Cookies?
Keto Chocolate Chip Cookies are simple healthy cookies, perfect for fixing any sweet cravings without impacting your blood sugar level.
They are the keto version of my Almond Flour Chocolate Chip Cookies.
Whether you follow the keto diet or not, almond flour chocolate chip cookies are a healthy way to fix a cookie craving with no guilt.
In fact, almond flour makes cookies high in fiber, protein, and healthy fats.
They are highly fulfilling, making them perfect for all healthy eaters looking for a guilt-free nourishing cookie recipe without sugar!
Why You'll Love This Recipe
This recipe is simple and healthy, but it's also:
Ready in 20 minutes
Gluten-Free
Grain-Free
Keto-Friendly
Low-Carb
Egg-Free Option
Dairy-Free Option
Chewy, Crispy, Or Soft, you pick
How To Make Keto Chocolate Chip Cookies
This is what you need to make the most delicious keto chocolate chip cookies with almond flour.
Ingredients
Almond Flour – use ultra-fine blanched almond flour. A coarser almond meal sometimes brings a gritty texture to cookies. Learn how to pick your alternative flours!
Butter – Prefer grass-fed, unsalted butter. You can use coconut oil in these almond flour cookies but you'll have thicker, harder almond flour cookies.
Egg – at room temperature. Bring your egg to room temperature by putting the egg in a hot, warm bath for 3 minutes. My tests with flax eggs are fine if you use butter, but I don't recommend using flax eggs and coconut oil. The cookies are highly fragile, and the texture is off.
Crystal Sweetener – I like to use a combination of classic crystal sweetener and brown or golden sweetener. You can either use erythritol if you're on a keto diet or classic brown and white coconut sugar otherwise.
Vanilla Extract
Almond Extract – to boost the almond flavor of the almond flour chocolate chip cookies.
Xanthan Gum – optional. See my notes below about cookie texture. The main purpose of xanthan gum in a gluten-free cookie recipe is to add some chewy texture to the cookie, and it also helps the flour stick together. Your cookies won't break or be fragile if you add xanthan gum in the mix.
Sugar-Free Chocolate Chips – you can also use my homemade sugar-free dark chocolate chips recipe if you can't find sugar-free chocolate chips at the store. Another option is to cut big chunks of dark chocolate. 85% cocoa or 90% cocoa are keto-friendly.
Beating The Sweetener
Start this almond flour cookie recipe by combining the soft butter and crystal sweetener in a mixing bowl.
Beat it with an electric beater or a stand mixer until it's light and fluffy which should take less than a minute if the butter is soft.
Making The Batter
Add the egg, vanilla extract, almond extract, salt, baking soda, and the optional xanthan gum to the bowl with the butter and sweetener.
Beat again for about a minute until the texture turns smooth and creamy.
Pour the almond flour into the batter and keep beating it until it becomes denser, fluffier, and more difficult to beat.
Stop the beater and incorporate the chocolate chips with a silicone spatula before placing the dough in the fridge for 5 minutes for it to set fully.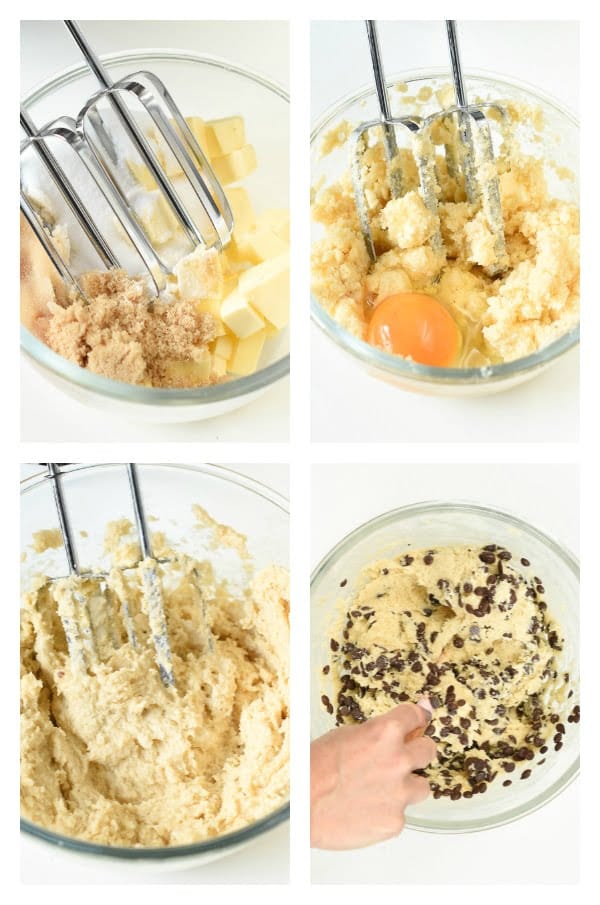 Baking
Form the cookies by scooping about 3 tablespoons of almond flour cookie dough with an ice cream scoop or a cookie scoop.
Place the dough balls on a large baking tray lined with lightly oiled parchment paper. Leave enough room between each as you'll be pressing them and they might expand.
Press the cookie dough balls with your hands until they reach about 0.2 inches in diameter (4mm) to form large cookies.
To make softer and thicker almond flour cookies, use only golden sweetener and don't flatten the cookie dough balls. Let them spread as they bake.
To make them even chewier, reduce the amount of butter in the batter and flatten them slightly.
Bake the cookies for 10 to 12 minutes on the center rack of the oven preheated to 350°F (180°C).
For softer, chewier cookies, take them out after only 10 minutes of baking. For crunchier cookies, leave them the whole time.
Take the rack out of the oven and let the cookies cool down on the baking tray for 10 to 12 minutes.
Then transfer them to a wire rack when they are finished cooking and let them cool for 20 minutes.
Allergy Swaps
You can change some of the ingredients of this almond flour cookie recipe.
Dairy-Free: to make them dairy-free, swap the butter for melted coconut oil. The taste of the cookies will be slightly different, but they'll still be delicious!
Egg-Free: to make the cookies egg-free, you can use a flax egg instead. But if you do, you have to use butter. As a result, these cookies can't be egg-free and dairy-free, they can only be either.
Erythritol-Free: if you find erythritol to be gut-upsetting, you can use any other crystal sweetener such as allulose, tagatose, or regular coconut sugar if you don't mind the carbs.
Xanthan Gum-Free: Xanthan gum is optional in the recipe. Skipping it only slightly alters the texture so you can skip it if you need to.
Storage Instructions
These gluten-free cookies can be stored in a cookie jar at room temperature for 3 days as long as they're kept away from direct sunlight.
You can also keep them in the fridge for up to one week in a sealed container.
It's also possible to freeze these almond flour cookies in an airtight container or zip-lock bags. Defrost them for 3 hours on the counter before eating or pop them in the oven for a few minutes.
Frequently Asked Questions
Find below the answers to the most common questions on the keto chocolate chip cookies
What does almond flour do to cookies?
Almond flour makes cookies healthier and tastier than all-purpose flour.
It's a flour that contains about 7 times fewer carbs than regular flour, and it has a slight almond taste that enhances any recipe.
Can I substitute almond flour for regular flour in cookies?
No, almond flour absorbs moisture differently from regular flour. It's also a gluten-free flour, so to make baking hold, almond flour needs some help, generally in the form of eggs, applesauce, xanthan gum, psyllium husk, or maple syrup.
You'd otherwise use about 25% less almond flour than regular flour.

How do you make almond flour stick together?
To make almond flour stick in baking, we use a binding agent since it doesn't contain any gluten.
These agents can be eggs, xanthan gum, guar gum psyllium husk, or even maple syrup or applesauce.
Does almond flour make cookies flat?
If no binding agent is added to cookies with almond flour, they would tend to spread much more while baking. Making them flatter than regular cookies.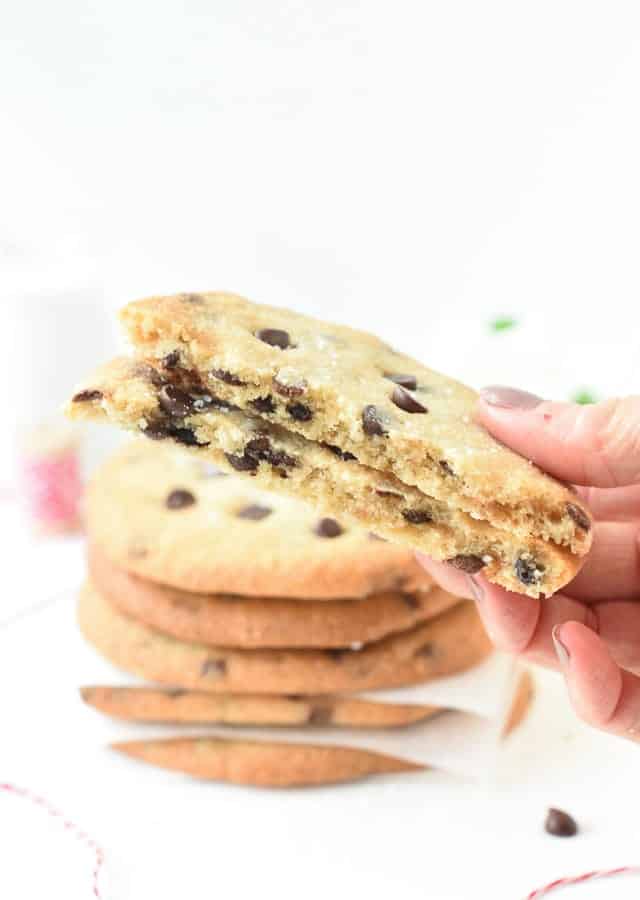 Made this keto almond flour cookies recipe yet? Share a picture with me on Instagram.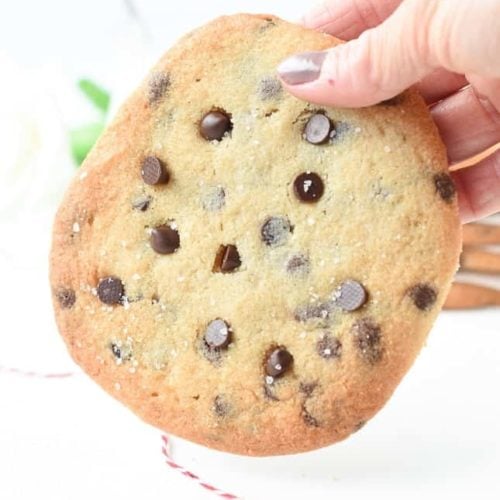 Keto Chocolate Chip Cookies
These soft buttery Almond Flour Cookies are 100% gluten-free chocolate chip cookies with dairy-free and egg-free options.
Nutrition Snapshot
Want My Kitchen Equipment?
Instructions
Preheat the oven to 350°F (180°C). Line two cookie sheets with parchment paper. Set aside.

In a large mixing bowl, beat the soft butter with the crystal sweetener and the golden sweeteners until light and fluffy. It should take about 45 seconds at medium speed.

Stop the beater, then add in the egg, vanilla, almond extract, salt, baking soda, and xanthan gum. I highly recommend xanthan gum as this adds a chewy texture to your almond flour cookies, preventing the cookies from crumbling.

Beat again on low speed until creamy.

Beat in the almond flour on medium speed, adding the flour 1/2 cup at a time. The batter will be fluffy and more difficult to beat as it goes. That is what you want.

Stop the beater and stir in the chocolate chips with a spatula.

Refrigerate the dough for

5 minutes

.

Scoop out 3 tablespoons of dough per cookie and transfer onto a baking tray, covered with a piece of parchment paper. Leave a 2-thumb space between each cookie as they will expand during baking.

Depending on the texture and shape you aim to, slightly flatten each cookie ball into a disc. For ultra-thin, wide cookies, flat in the center, press the cookie to 4 mm (0.2 inches). For a thicker, softer/fluffier cookie, give a small press and barely flatten the dough. Remember that the thinner, the crispier they will be in the center. Read my blog post above to learn all my tips on how to get your favorite cookie texture.

Bake

10-12 minutes

, on the center rack, until golden on the side but still white and soft in the middle.

Remove the rack from the oven and cool the cookies on the rack for

12 minutes

. Don't touch them at this point. They can be fragile and crumbly.

After 12 minutes, slide a spatula under each keto chocolate chip cookie to transfer them to a cooling rack.

Cool

20 more minutes

on the cooling rack before eating. Note that the almond flour cookies will get their final texture only after 4 hours on the cooling rack at room temperature. For a crispier cookie, store it in the fridge! Serve with a pinch of salt to enhance the flavors.
Storage
Store in a cookie jar for 3 days at room temperature or 1 week in the fridge. Freeze in zip-lock bags. Defrost on the counter at room temperature for 3 hours before eating.
Notes
Vegan: the recipe is not recommended with a flaxseed egg or coconut oil or vegan shortening.
My Recipe Notes
Nutrition
Serving:
1
cookie
Calories:
184.1
kcal
(9%)
Carbohydrates:
5.8
g
(2%)
Fiber:
3.4
g
(14%)
Net Carbs:
2.4
g
Protein:
4.2
g
(8%)
Fat:
17.6
g
(27%)
Saturated Fat:
6.6
g
(41%)
Polyunsaturated Fat:
0.3
g
Monounsaturated Fat:
2.1
g
Trans Fat:
0.3
g
Cholesterol:
31.8
mg
(11%)
Sodium:
136.7
mg
(6%)
Potassium:
7.3
mg
Sugar:
0.6
g
(1%)
Vitamin A:
251.6
IU
(5%)
Vitamin B12:
0.1
µg
(2%)
Vitamin D:
0.1
µg
(1%)
Calcium:
37.1
mg
(4%)
Iron:
1.1
mg
(6%)
Magnesium:
0.6
mg
Zinc:
0.1
mg
(1%)
Posted In: