These Keto Chocolate Chip Cookies are simple, low-carb almond flour cookies, and with this recipe, you can create any cookie texture you love.
Whether you like your cookies chewy, fluffy, crispy, egg-free, this easy keto chocolate chip cookies recipe tells you all the tips and tricks to successfully bake sugar-free cookies with almond flour.
There's some real science in baking, chemistry to be precise, and that's what I am passionate about. A single ingredient swap in your cookie recipe can significantly change the outcome.
And, it's not only the ingredients you chose that matter. This also applies to baking time, baking mode, or how the dough has been prepared and cooled.
What's an almond flour keto chocolate chip cookie?
Keto almond flour cookies are gluten-free and sugar-free cookies, perfect to fix any sweet cravings without impacting your blood sugar level.
Whether you follow the keto diet or not, almond flour chocolate chip cookies are a healthy way to fix a cookie craving with no guilt.
In fact, almond flour makes cookies high in fiber, protein, and healthy fats. They are highly fulfilling, making them perfect for all healthy eaters looking for a guilt-free nourishing cookie recipe without sugar!
ⓧ
Are you new to Keto?
Receive my Keto Quick Start email series to learn all about the Keto diet and kick start your keto journey!
Top 8 tips for baking the perfect keto chocolate chip cookies
Whether you love your chocolate chip cookies crispy, thick, flat, or fluffy, you must follow these 8 simple tips:
Use butter at room temperature, not melted, and obviously no oil or shortening. This recipe doesn't show great results using oil.
Use an electric beater to combine ingredients.
Choose an ultra-fine blanched almond flour. The key to success is to use fine blanched almond flour. While you can find almond meal or ground almonds at the grocery store, these flours are not recommended to make keto cookies – read more about this in my article on how to choose your keto flours.
Chill the dough for 5 minutes – the purpose of chilling cookie dough before baking is to solidify the batter's fat. Therefore, as the fat is chilled, it takes longer to spread while baking. This prevents the cookies from over-spreading.
Bake in the center rack of your oven, on regular mode, at 180C (350F).
Check the cookie color. The edges of a cookie are brown at first, and then the browning progresses to the cookies' center. For a cookie crispy on its edges but fluffy in the center, stop baking when the middle is still white.
Cool them down for 12 minutes on the baking tray before transferring them to a rack. Cookies out of the oven are always slightly fragile and soft. They need time to firm up, so be patient.
Cool 20 minutes on a rack before eating. This second cooling time removes the moisture left in the cookies, allowing them to firm up perfectly, don't skip that step!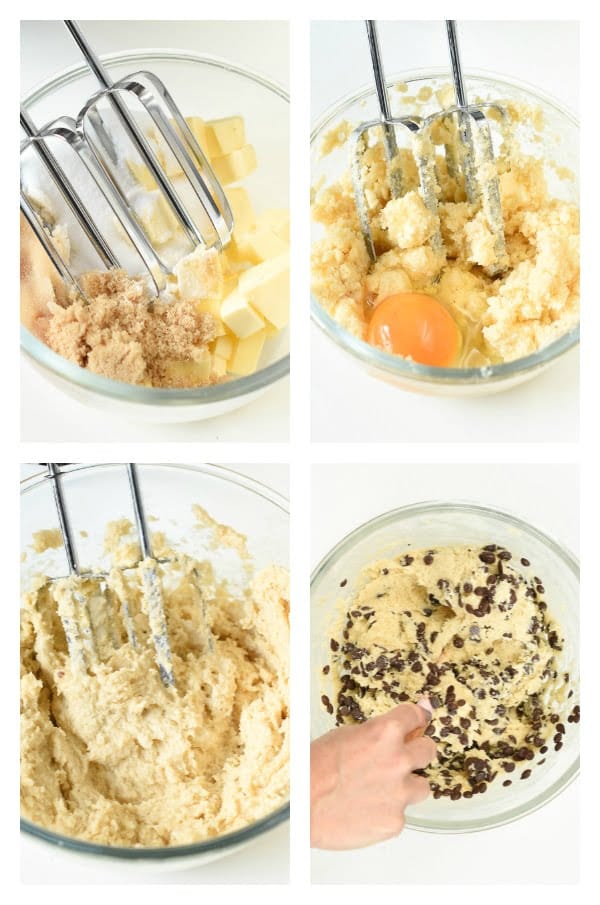 Keto almond flour chocolate chip cookie ingredients
This is what you need to make the most delicious keto chocolate chip cookies with almond flour.
Almond flour – ultra-fine almond flour works the best, as I mentioned above.
Butter – you probably wonder if you can use coconut oil in this keto chocolate chip cookies recipe. Well, the answer is yes and no. Coconut oil will make a hard solid cookie that won't spread. I personally don't like the result with it, but if you really want to try, the result will work. Be aware that it won't be chewy but crunchy, dense, and not wide. You will have a very different shape, look, and texture.
Egg – at room temperature. Bring your egg to room temperature by putting the egg in a hot, warm bath for 3 minutes. My tests with flax eggs are fine if you use butter, but I don't recommend using flax eggs and coconut oil. The cookies are highly fragile, and the texture is off.
Erythritol
Vanilla
Xanthan gum – optional. See my notes below about cookie texture. The main purpose of xanthan gum in a gluten-free cookie recipe is to add some chewy texture to the cookie, and it also helps the flour stick together. Your cookies won't break or be fragile if you add xanthan gum in the mix.
Sugar-free chocolate chips – you can also use my homemade sugar-free chocolate chip recipe if you can't find sugar-free chocolate chips at the store. Another option is to cut big chunks of dark chocolate. 85% cocoa or 90% cocoa are keto-friendly.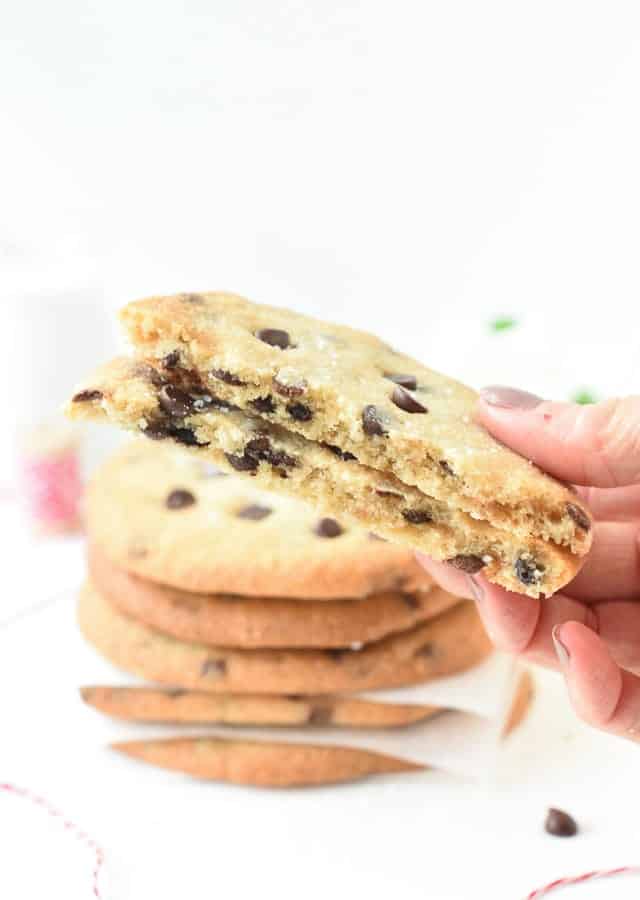 How to achieve the right cookie texture and shape?
Because we all love our cookies differently, I recommend choosing the texture you want to achieve from the list below and follow my tips to create your ultimate keto cookies.
Do you love your cookies thin, wide, and crispy on their edge but not thick and fluffy in the center? That is what you see in the pictures here.
However, this recipe can be used to make any other cookie texture. Check my tips below to adjust the recipe based on the cookie experience you are after:
Option 1: Thin, Wide, and Crunchy Chocolate Chip Cookie
For thin, wide, flat cookies that are crunchy on the edges and moist/buttery in the center (the ones pictured in this post), you must:
Use a combo of classic erythritol and golden erythritol.
Press the cookie dough balls with your hands to spread them into a thin 5 mm thickness (0.2 inches) before baking. As the batter will spread again during baking, this pre-step will ensure ultra-thin cookies, close to biscuits, crispy on the edges.
Bake for at least 10-12 minutes. The sides should be golden brown, but the center should be white, indicating that some moisture is left, and the center will be buttery/moist.
As this option makes wider cookies, they spread more. You need to slide a spatula under the cookies to transfer them onto a cooling rack. If not, they may be fragile and break in the center.
Option 2: Soft, thick, and fluffy
For soft, thick, fluffy cookies with a slight chew in the middle, you must:
Use only golden erythritol, it has more moisture, and the cookies will be way fluffier in the center.
Don't flatten the cookie dough balls on the baking tray before baking. They will naturally spread, and if they start with a decent height, they will remain thicker in the center resulting in extra moisture and fluffiness.
Add xanthan gum. These cookies are thicker, and therefore, this prevents the cookies from breaking apart.
Cook less, around 10 minutes or remove from the oven when the borders are slightly golden, and the whole cookie is mainly white.
Option 3: Soft, chewy cookies with crispy edges
For soft cookies, chewy throughout and crispy on the edges, follow these instructions:
Decrease butter in the recipe and use only 1/2 cup of butter. Decreasing butter in the recipe removes some moisture and makes the cookies less fluffy in the center, resulting in a chewier cookie.
Use xanthan gum – the secret to a chewy almond flour cookie.
Use classic erythritol – white erythritol contains less moisture and makes crispier cookies.
Slightly flatten the cookie balls before baking but keep a decent height of about 1 cm.
Bake 10-12 minutes. The perimeter of the cookie borders must be golden to up to 1.5 cm, or the cookies won't crisp as much.
Can I freeze keto chocolate chip cookies?
Yes, you can freeze these cookies in an airtight container or ziplock bags. Defrost for 3 hours on the counter before eating.
Other Keto Cookie Recipes
If you love Keto Cookies, I have some other recipes for you to try!
Made this keto almond flour cookies recipe yet? Share a picture with me on Instagram.
XOXO Carine
Recipe Card
Keto Chocolate Chip Cookies with Almond Flour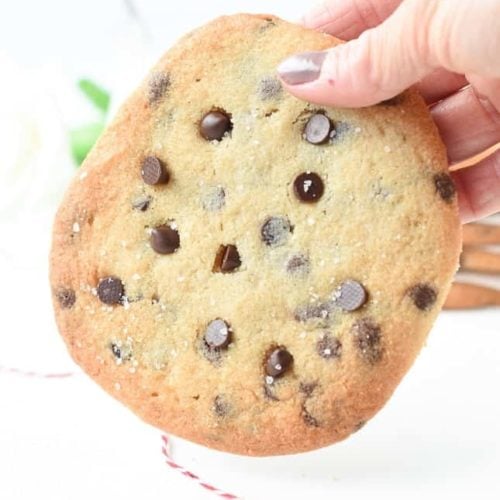 A soft buttery keto chocolate chip cookies 100% gluten-free with dairy-free and egg-free options.
Instructions
Preheat oven to 180°C (375°F). Line two cookie sheets with parchment paper. Set aside.

In a large mixing bowl, beat the soft butter with erythritol and golden erythritol until light and fluffy. It should take about 45 seconds at medium speed.

Stop the beater, then add in the egg, vanilla, almond extract, salt, baking soda, and xanthan gum. I highly recommend xanthan gum as this adds a chewy texture to your cookies, preventing the cookies from crumbling.

Beat again on low speed until creamy.

Beat in the almond flour on medium speed, adding the flour 1/2 cup at a time. The batter will be fluffy and more difficult to beat as it goes. That is what you want.

Stop the beater and stir in the chocolate chips with a spatula.

Refrigerate the dough for

5 minutes

.

Scoop out 3 tablespoons of dough per cookie and transfer onto a baking tray, covered with a piece of parchment paper. Leave a 2-thumb space between each cookie as they will expand during baking.

Depending on the texture and shape you aim to, slightly flatten each cookie ball into a disc. For ultra-thin, wide cookies, flat in the center, press the cookie to 4 mm (0.2 inches). For a thicker, softer/fluffier cookie, give a small press and barely flatten the dough. Remember that the thinner, the crispier they will be in the center. Read my blog post above to learn all my tips on how to get your favorite cookie texture.

Bake

10-12 minutes

, in the center rack, until golden on the side but still white and soft in the middle.

Remove the rack from the oven and cool the cookies on the rack for

12 minutes

. Don't touch them at this point. They can be fragile and crumbly.

After 12 minutes, slide a spatula under each keto chocolate chip cookie to transfer them to a cooling rack.

Cool

20 more minutes

on the cooling rack before eating. Note that the cookies will get their final texture only after 4 hours on the cooling rack at room temperature. For a crispier cookie, store it in the fridge! Serve with a pinch of salt to enhance the flavors.
Storage
Store in a cookie jar for 3 days at room temperature or 1 week in the fridge. Freeze in ziplock bags. Defrost on the counter at room temperature for 3 hours before eating.
Vegan: the recipe is not recommended with a flaxseed egg or coconut oil or vegan shortening. 
My Recipe Notes
Tools
Starting Keto
What Is Keto Diet?
Macro Calculator
Sweetener Converter
Keto Meal Plans
Keto Recipe Ebooks
Intermittent Fasting
Keto Fruits
Keto Vegetables
Keto FLours
Fighting Keto Flu
Keto Sweeteners
Nutrition Facts
Keto Chocolate Chip Cookies with Almond Flour
Amount Per Serving (1 cookie)
Calories 201
Calories from Fat 162
% Daily Value*
Fat 18g28%
Cholesterol 32mg11%
Sodium 143mg6%
Potassium 7mg0%
Carbohydrates 5g2%
Protein 4g8%
Vitamin A 252IU5%
Calcium 37mg4%
Iron 1mg6%
Net Carbs 3g
* Percent Daily Values are based on a 2000 calorie diet.