These Greek Almond Cookies are easy-to-melt-in-your-mouth almond flour cookies coated with crunchy, toasted sliced almonds.
Plus, these are also naturally gluten-free with keto-friendly options.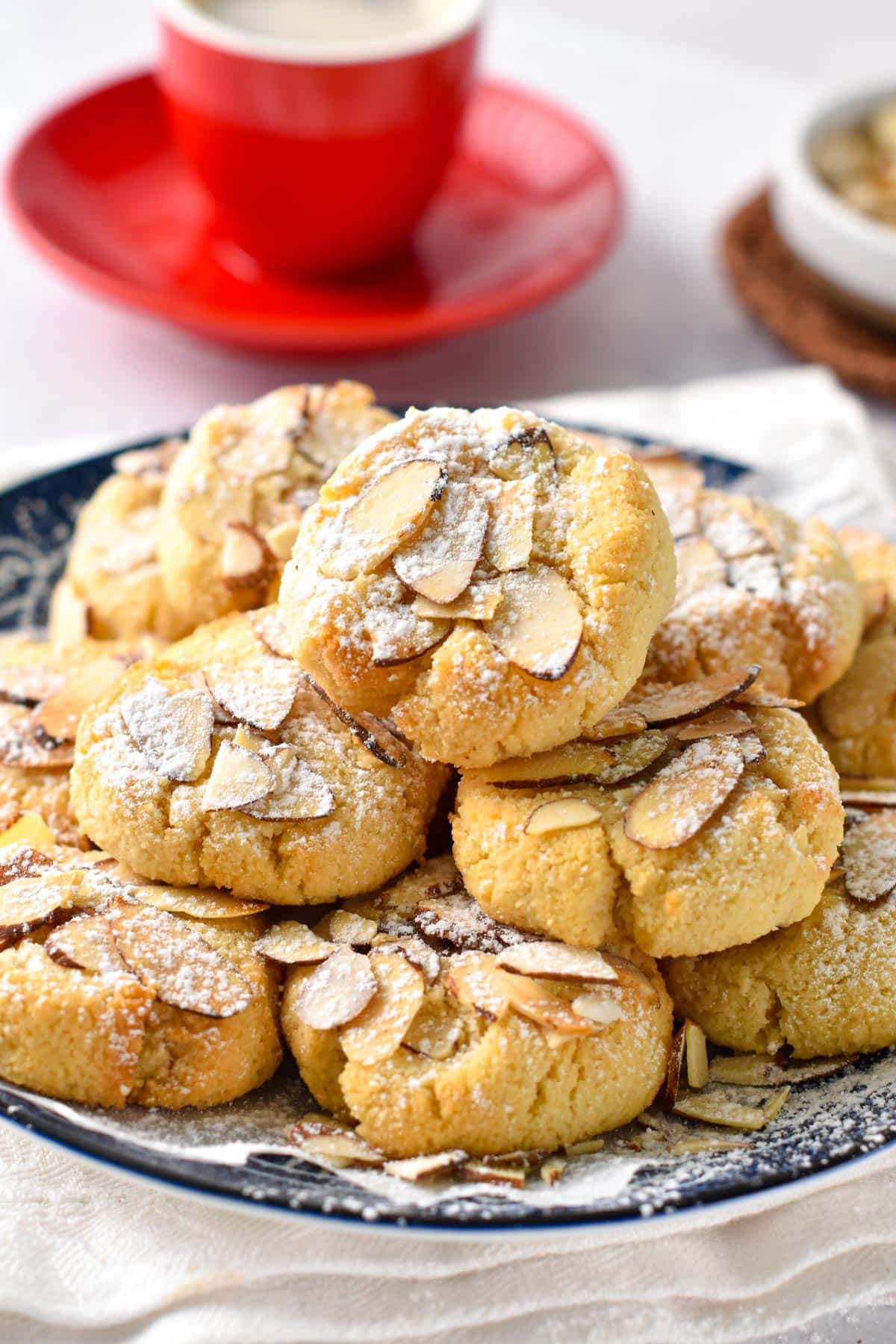 Greek dessert recipes are high in sugar, but some, like these cookies, are deliciously made with almond flour and work perfectly with any sweetener.
You can enjoy Greek almond cookies with a healthier twist and add this dessert to your Greek menu with no guilt.
How To Make Greek Almond Cookies
It's super easy to make Greek Almond cookies. They are naturally made from simple, wholesome ingredients and are easy to whip up in less than 30 minutes.
Ingredients
Find below the ingredients you need:
Almond Flour or almond meal. Both work very well in this recipe. However, almond meal makes the cookies darker, so I prefer ultra-fine almond flour.
Granulated Sweetener – The classic recipe calls for sugar, but healthier sugar options, like sugar-free erythritol or coconut sugar, also work. I used erythritol in this recipe.
Egg Whites whip until a medium peak forms.
Salt
Almond Extract – If you don't like the flavor of almond extract, feel free to use vanilla extract instead.
Sliced Almonds
Before you start, preheat the oven to 350°F (180°C).
Line a large baking sheet with parchment paper and lightly oil the paper with cooking oil spray. Set it aside.
Making Cookie Dough
First, in a large mixing bowl, combine almond flour and sweetener. Set it aside.
Next, separate the egg yolks and egg whites. You can use the egg yolks to make my keto custard.
Then, add the egg white with a pinch of salt to another large mixing bowl.
Using the electric beater or the whisk attachment of your stand mixer, whip all ingredients together until a medium peak forms.
Stop the beater when the egg whites are fluffy but still light.
Stir dry ingredients into the bowl with the egg white. As you gently stir, the egg whites deflate and are incorporated into the almond flour mixture.
The texture should stick together, and no more lumps of egg white could be seen.
Grab a tablespoon of dough and roll it between your hand to form a cookie dough ball.
Baking
Place each cookie dough ball onto the prepared baking tray and leave half a thumb of space between each.
The cookies won't expand in the oven, but it makes it easier to remove them from the tray if they don't touch each other.
Place a few sliced almonds on top of each cookie dough ball and use the palm of your hand to press down the cookie dough ball slightly.
As you press the sliced almonds, they get stuck on the cookies.
Bake the cookies for 15 to 20 minutes, or until golden brown on the sides and the sliced almonds are toasted on top.
Cooling Down
Let the cookies cool for 10 minutes on the cookie sheet without touching the Greek almond cookies.
The cookies are still soft and fragile after baking, and they need time to firm up.
After that time, slide a spatula or flat tool under each Greek cookie and transfer it to a wire rack.
Let them cool completely at room temperature before eating.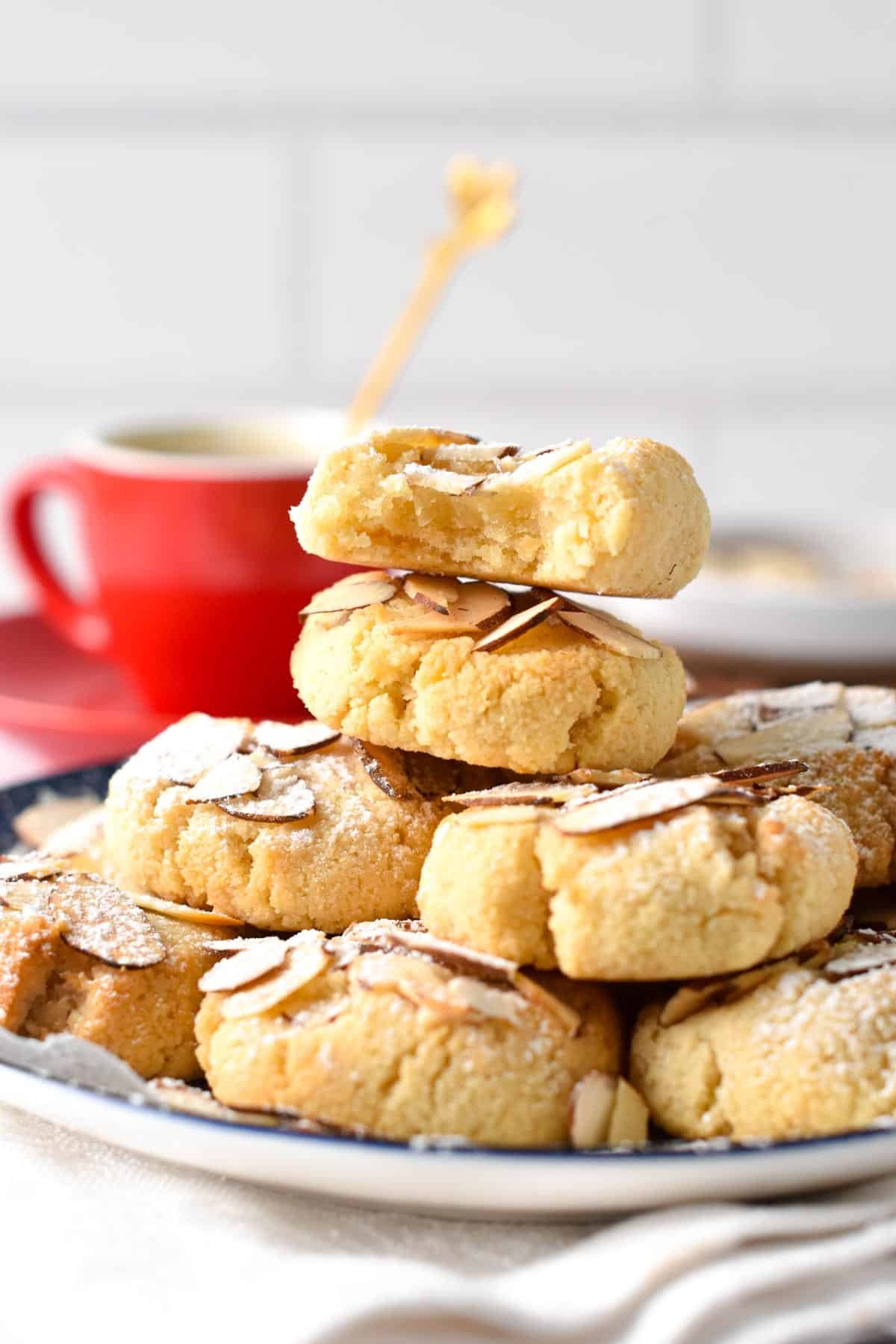 Serving
Greek almond cookies are often served with a dust of powdered sugar. However, as mentioned above, feel free to use a sugar-free version.
These soft, chewy almond cookies are commonly served as a dessert or Christmas cookie with a cup of coffee or tea.
Flavor Options
You can vary the flavor of these cookies with almond extract for other flavors.
The most traditional Mediterranean cuisine flavors used in almond cookies are:
Orange Blossom Water
Rose Water
Lemon Extract
Storage Instructions
The cookies can be stored for up to 1 week in an airtight cookie jar placed in the fridge.
After that, you can freeze the cookies in zip-lock bags or sealed containers and thaw them the day before at room temperature.
Allergy Swaps
If you have some food allergies, try the options listed below. Note that Greek Almond cookies are naturally:
The other food allergies are covered below:
Nut-Free – The recipe works with seed grounds like sesame flour or sunflower seed flour, but these are slightly bitter and turn the cookies greenish. Replace almond extract with vanilla extract and skip the sliced almonds in favor of pumpkin seeds or sesame seeds.
Sugar-Free Keto-Friendly – Almond flour and egg white are low-carb keto-approved. To turn the cookies low-carb, use a keto-friendly sweetener like erythritol. It has zero carbs and zero sugar.
Egg-Free Vegan – The egg whites can be replaced with nine tablespoons of aquafaba, the liquid from a can of drained chickpeas.
Frequently Asked Questions
Find below my answers to your most common questions about these Greek Almond flour cookie recipes.
Can I Use Almond Meal?
Yes, you can swap the almond flour for an almond meal, but the cookies get darker.
Can I Make The Cookie Dough In A Food Processor?
Yes, you can blend all ingredients on low speed in a food processor.
Add whipped egg white, almond extract, and dry ingredients and pulse a few times until the dough comes together.
Are Greek Almond Cookies The Same As Kourabiedes?
No, Kourabiedes, also known as Greek butter cookies, are made without eggs, all-purpose flour, and lots of butter.
They are crumbly, dry cookies with a shortbread texture, and they look like little snowballs because they are rolled in powdered sugar when warm.
On the other hand, Greek Almond Cookies are fat-free and made with almond flour. They are gluten-free, low-carb friendly, soft, and chewy with a texture close to marzipan cookies.
More Almond Cookie Recipes
If you like these cookies, you'll love these other almond cookie recipes.
Did you try these traditional Greek almond cookies? Share a comment or review below to connect with me,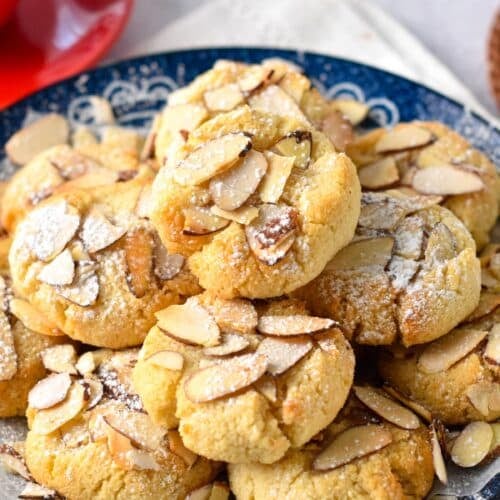 Greek Almond Cookies
These Greek Almond Cookies are easy melt in your mouth almond flour cookies coated with crunchy toasted sliced almonds. Plus, these are also naturally gluten-free with keto friendly option.
This recipe may contain Amazon or other affiliate links. As an Amazon Associate I earn from qualifying purchases.
Instructions
Preheat the oven to 350°F (180°C). Line two baking sheets with parchment paper and lightly oil with cooking oil spray.

In a large bowl, stir almond flour, sugar, and salt. Set aside.

In another bowl or the bowl of your stand mixer, whisk egg white and almond extract until fluffy and medium peak form – it means the egg whites hold their shape fairly well but are not ultra-stiff.

Add the dry ingredients to the egg whites and use a silicone spatula to combine. Stir gently until it forms a cookie dough that sticks together. As you stir, the egg whites are incorporated into the dry ingredients. You shouldn't see any more lumps of egg white at the end.

Scoop out one tablespoon of dough, roll it between slightly greased hands to form a ball, and place it on the prepared baking sheet.

Repeat, leaving half a thumb of space between the cookies. They won't expand.

Flatten each cookie dough ball with the palm of your hand and press in a few sliced almonds on top.

Bake for 15-20 minutes or until golden brown.

Cool down on the sheet for 10 minutes without touching the cookies at all. They are fragile and soft at first and need time to firm up. Then transfer to a wire rack and cool completely at room temperature.
Storage
Store them for up to 4-6 days in a sealed box in the fridge or freeze them for up to one month in zip-lock bags.
Notes
Note 1: You can use sugar-free erythritol to remove carbs and sugar from the recipe. Note 2: Use 9 tablespoons of chickpea brine, also known as aquafaba, for a vegan option. Note 3: The nutrition panel is calculated with sugar-free sweeteners.
Want My Kitchen Equipment?
Serving:
1
cookie
Calories:
108.5
kcal
(5%)
Carbohydrates:
4
g
(1%)
Fiber:
2
g
(8%)
Net Carbs:
2
g
Protein:
4.5
g
(9%)
Fat:
9.2
g
(14%)
Saturated Fat:
0.7
g
(4%)
Polyunsaturated Fat:
0.2
g
Monounsaturated Fat:
0.6
g
Trans Fat:
0.001
g
Sodium:
37.3
mg
(2%)
Potassium:
21.6
mg
(1%)
Sugar:
0.7
g
(1%)
Vitamin A:
0.02
IU
Vitamin B12:
0.004
µg
Calcium:
40.5
mg
(4%)
Iron:
0.7
mg
(4%)
Magnesium:
5.4
mg
(1%)
Zinc:
0.1
mg
(1%)
Posted In: