These easy Keto Protein Cookies are delicious crunchy chocolate chip cookies loaded with 7 grams of protein per serving and no added sugar.
Bonus, these cookies are vegan since they are made without eggs or dairy.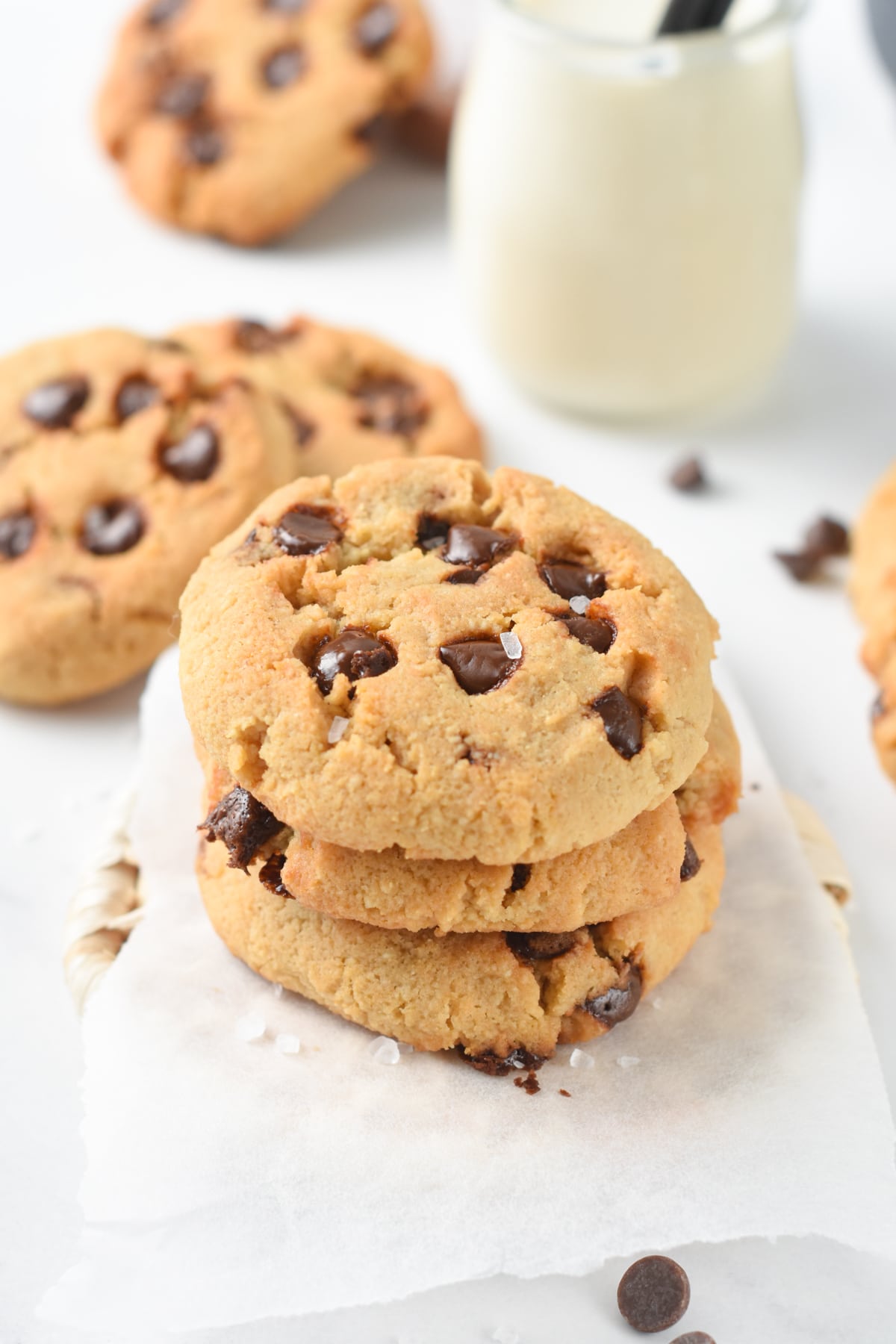 I have been all into keto protein recipes lately. I love baking with protein powder, it's not only tasty, but it adds protein easily to your plate.
My peanut butter protein cookies have been a huge hit, and many have requested a plain version without eggs, so here we are.
Why You'll Love These Cookies
Say hello to the best low-carb protein cookies ever!
These are naturally:
Gluten-free
Grain-free
Sugar-free
Keto-friendly
Vegan – egg-free and dairy-free
How To Make Keto Protein Cookies
If it's your first time baking with protein powder, let me reassure you. It's easy!
All you need is to measure the protein powder with a measuring cup for precision, pack it into the cup, scoop, and sweep the excess.
Ingredients
Almond Flour – I highly recommend ultra-fine almond flour with a golden color and not almond meal. Almond meal usually works well in keto recipes using eggs, even if it adds grainy texture. But for these egg-free cookies, I don't think the cookies would taste good with it.
Vanilla Protein Powder – I used pea protein powder in this recipe and linked my favorite in the recipe card below. Since the recipe is egg-free, I also picked a plant-based protein powder instead of whey protein powder. I used pea protein.
Coconut Oil – you can't use melted butter in this recipe, or your cookies won't firm up, so please don't swap.
Golden Erythritol – or white erythritol. I prefer the chewy you get from the brown version. This recipe won't work as well with allulose or xylitol because both won't crisp the cookie at room temperature after baking. Read my review of keto-friendly sweeteners for more details.
Baking Powder
Almond Milk – make sure your almond milk is at room temperature and not straight out of the fridge, or it can create coconut oil lumps. In fact, coconut oil solidifies when in contact with cold ingredients.
Vanilla Extract – optional if you find your protein powder fragrant enough.
Combining Dry Ingredients
First, add almond flour, protein powder, baking powder, and erythritol in a large mixing bowl. Stir to combine evenly, then make a well in the center.
Adding Liquids
Add the melted coconut oil, room-temperature almond milk, and vanilla extract.
Stir to form a cookie dough that comes together easily if pressed in your hands.
Fold in the sugar-free chocolate chips at the end and stir to distribute in the cookie dough evenly.
Forming Cookies
Preheat the oven to 350°F (180°C) and line a cookie sheet with parchment paper. Slightly oil the paper with coconut oil to prevent the protein cookies from sticking to the paper.
Scoop about 2 tablespoons of cookie dough and roll between your hands to form a cookie dough ball
Place each cookie dough ball onto the prepared cookie sheet leaving half thumb space between each.
Finally, use your hand palm to press down the cookies and flatten them.
You should be able to form 7 even cookies with this recipe.
Baking
Bake on the center rack of the oven for 15 to 18 minutes. The time depends on the protein powder brand and thickness of your cookies.
The cookies are ready when the sides are golden brown and the top slightly golden. Their texture should be very soft, and that's ok.
Cooling Down
Remove the sheet from the oven, and don't touch your cookies at all. They are soft and fragile, and they need at least 30 minutes to cool down on the cookie sheet to firm up.
Be patient, wait, and after that time, you can slide a spatula under each cookie to gently transfer onto a cooling rack.
Cool again for 30 minutes or pop in the fridge for extra crispy texture
Storage Instructions
These protein cookies can be stored for up to 4 days at room temperature in a sealed cookie box. You can freeze the cookies for later and thaw at room temperature the day before.
These cookies are much crispier if cold, so I personally prefer to store mine in the fridge.
Protein Cookie Flavors
There are so many ways to make protein cookies, and below, I have listed some different options for you.
You can replace the chocolate chips with the same amount of:
Chopped pecans
Shredded coconut – this also adds a chewy texture to the cookie.
Finely chopped almonds.
Freeze-dried raspberries or strawberries.
Other flavors can be added by adding 1/4 to 1/2 teaspoon of:
Ground cinnamon
Pumpkin spice mix
Lemon zest
Almond extract
Sea salt
Finally, use a chocolate protein powder instead of vanilla for chocolate protein cookies!
Frequently Asked Questions
Can I Use Whey Collagen Protein Powder?
Yes, you can use other protein powders in this recipe, including protein powder with collagen.
However, keep in mind that whey protein powder is more liquid absorbent and often dry out cookies.
Can I Make The Cookies Nut-free?
I didn't try any other option than almond flour, but most of the time, sesame flour and sunflower seed flour work very well as a 1:1 replacement to almond flour.
Read my full article on keto flour selection for more details.
Can I Swap Almond Flour With Coconut Flour?
No, this never works in keto recipes. Both are keto-friendly flours but with so many different parameters: fiber, protein, and fat.
They don't work with a similar ratio of dry to liquid in a keto recipe.
This is an egg-free keto cookie recipe, so coconut flour won't work even if you decrease the ratio.
Can I Add More Protein To My Keto Diet?
Yes, I recommend eating some of these protein cookies for snacks as well as a protein shake or protein bar after a workout.
Can I Add An Egg?
Some people like to add eggs to cookies to boost their protein. However, I didn't enjoy the texture of an egg in this recipe, so I don't recommend swapping some of the almond milk with an egg.
Instead, try my keto peanut butter protein cookie. It has eggs and even more protein per serving.

More Keto Cookie Recipes
If you love cookies on your keto diet, try some of the below keto cookie recipes.
Have you made these keto protein cookies? Share a comment or review below to connect with me,
Keto Protein Cookies
An easy Keto Protein Cookies perfect as a snack or breakfast to boost your protein intake while enjoying a sugar-free cookie.
Nutrition Snapshot
Want My Kitchen Equipment?
Instructions
Preheat oven to 350°F (180°C). Line a cookie sheet with parchment paper. Set aside.

In a large bowl, whisk the dry ingredients: almond flour, vanilla protein powder, baking powder, and erythritol.

Make a well in the center of the dry ingredients and pour almond milk, melted coconut oil, and vanilla extract, if used, for a stronger vanilla flavor. Stir to combine until it forms a nice cookie batter, moist but not runny or dry. It should hold when squeezed in your hand.

Fold in the chocolate chips and knead to incorporate evenly. If too dry, add a bit more almond milk 1-2 teaspoons max.

Shape 7 even cookie dough balls and place each on the cookie sheet leaving half thumb space between each.

Flatten down with the palm of your hand. If the sides crack slightly, pat with wet fingers to smooth.

Bake on the center rack for about 12-18 minutes or until sides are golden brown – the cookies will stay very soft and firm up later.

Remove baking sheet from the oven, DON'T touch the cookies, cool down on the baking sheet for at least 30 minutes or until they firm up. They are super soft and firm up with time.

When the cookies are hard enough, slide a spatula under each to transfer to a plate or box to store.
Storage
Store up to 4 days in an airtight container at room temperature or freeze for later and thaw at room temperature the day before.
Notes
Cookie texture: these cookies firm up at room temperature only if you used:
Xylitol or butter makes the cookies too soft and fragile.
My Recipe Notes
Nutrition
Serving:
1
cookie
Calories:
174.9
kcal
(9%)
Carbohydrates:
10.4
g
(3%)
Fiber:
6.6
g
(28%)
Net Carbs:
3.8
g
Protein:
6.7
g
(13%)
Fat:
14.7
g
(23%)
Saturated Fat:
8.1
g
(51%)
Polyunsaturated Fat:
0.2
g
Monounsaturated Fat:
0.4
g
Cholesterol:
15.8
mg
(5%)
Sodium:
65.6
mg
(3%)
Potassium:
32.1
mg
(1%)
Sugar:
0.7
g
(1%)
Calcium:
87.5
mg
(9%)
Iron:
0.3
mg
(2%)
Magnesium:
3.3
mg
(1%)
Posted In: