Keto White Chocolate Macadamia Nut Cookies
These keto white chocolate macadamia nut cookies are chewy, gluten-free almond flour keto cookies with sugar-free white chocolate chips and crunchy bites of macadamia nuts.
The perfect keto Christmas cookies with pure white color and only 3.3 grams of net carbs per cookie.
How To Make Keto White Chocolate Macadamia Nut Cookies
To make healthy gluten-free white chocolate chip macadamia nut cookies, you need to select the best healthy ingredients.
Since it's also a keto recipe, the ingredients below are low-carb, sugar-free, and diabetic-friendly.
Ingredients
All you need to whip a batch of these delicious keto white chocolate chips macadamia nuts cookies are:
Almond flour – these are almond flour chocolate chip cookies, and therefore, the quality of almond flour impacts your cookies' texture and flavor. It is crucial to use ultra-fine blanched almond flour to avoid gritty, dry keto cookies. Read more about keto-friendly flours.
Butter – you can't use coconut oil in this recipe. The cookies wouldn't have a chewy texture and would harden. Make sure your butter is soft. Take it out from the fridge 30 minutes before starting the recipe and cut it into small cubes. It softens faster. Learn which dairy products are keto-friendly.
Egg at room temperature
Xanthan gum – or 1 teaspoon of psyllium husk powder. This ingredient adds a chewy texture to these keto macadamia nut cookies.
Erythritol – don't use xylitol in keto cookies. They would be extremely soft with it.
Sugar-free white chocolate chips – there are plenty of sugar-free chocolate chips available on the market, but not all are keto-friendly. You must look for chocolate chips sweetened with keto-friendly sweeteners. My favorite keto chocolate chip brand is Choc Zero
Macadamia nuts – this is the best keto nut, high in fat and the lowest in carbs. Unfortunately, they can be pricey. So, to make this recipe cheaper, buy them in the bulk section of your grocery store. They often sell broken pieces of macadamia nuts, and it saves you up to 20% on the retail price! Plus, you won't have to chop them for the recipe, so it's a win-win!
Baking soda or double up the amount if you want to use baking powder.
Vanilla extract
Salt
Step 1: Preparing the ingredients
Before you start this cookie recipe, bring all the ingredients to room temperature.
Take the butter and egg out of the fridge 30 minutes before starting.
Step 2: Combining Flour
In a large mixing bowl, combine almond flour, xanthan gum, baking soda, and salt. Set aside.
Step 3: Beating the Butter
Next, beat the soft butter with keto sweetener in a large mixing bowl using an electric beater.
You can also use a stand mixer with the whisk or paddle attachment. Beat until light and fluffy. Then add in egg and vanilla.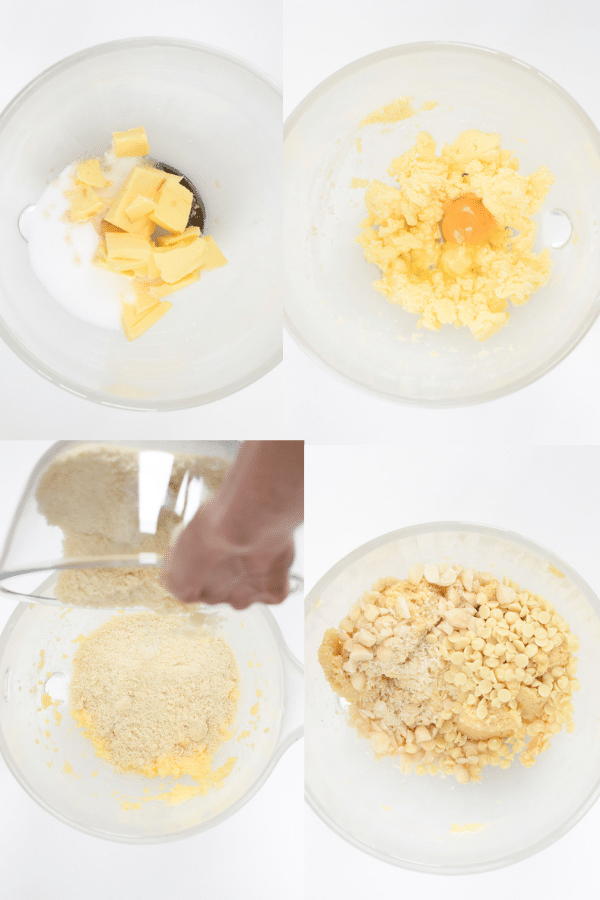 Step 4: Bring the dry ingredients into the wet
Finally, stir the dry ingredients into the beaten butter bowl.
I generally like to use a spatula to gently incorporate the ingredients and prevent the flour from bursting out of the bowl.
It's up to you to use your stand mixer with the paddle attachment to work the dough.
When the dough is consistent, stir in sugar-free white chocolate chips and macadamia pieces.
Step 5: Chilling the dough
I highly recommend wrapping the cookie dough in plastic wrap and chilling it for 15 minutes.
This makes the cookie texture perfect and prevents them from spreading on the baking sheet.
Meanwhile, line baking sheets with parchment paper. I use two baking sheets for baking the 24 cookies in this recipe.
Step 6: Shaping the cookies
I am using a cookie dough scoop to shape even cookies. Bring the dough between your hand palm and roll to form a ball.
Then, place the cookie dough ball onto the prepared cookie sheet leaving a 1-thumb space between them.
Lightly flatten the cookies with your hand palm before baking – they will slightly expand in the oven.
You will make 24 low-carb keto white chocolate chip cookies with this recipe.
Step 7: Baking
These are gluten-free chocolate chip cookies with almond flour, which means they must be baked at a lower temperature than regular cookies.
In fact, almond flour baked goods can brown and burn really fast above 325°F (160°C).
Bake them at this temperature in the center rack of your oven. You can bake two cookie sheets at once if your oven temperature is well calibrated.
Otherwise, leave the second cookie sheet at room temperature while the first is baking.
Don't overbake your cookies, or they wouldn't be chewy, more like crunchy cookies.
You know they are ready when the side gets golden brown, and the top is still slightly soft.
Step 8: Cooling completely
These sugar-free white chocolate macadamia cookies get all their texture after a few hours.
They must cool completely to firm up on the outside and get their chewy texture in the middle.
Frequently Asked Questions
Can I Use Coconut Flour In This Recipe?
Unfortunately, no. You can't replace almond flour with coconut flour in any keto baking recipe.
These two keto flours have different properties, coconut flour being 4 times more liquid absorbent than almond flour.
They are not interchangeable by a 1:1 ratio.
Storage Instructions
These cookies store very well in a sealed cookie jar in the fridge for up to 5 days.
If it's not too hot where you live, they store well in the pantry, as long as they are not in contact with air.
The moisture of air softens almond flour cookies really fast.
You can also freeze the cookies in zip-lock bags and thaw them for 3 hours before serving. Place the frozen cookies on a plate on the countertop.
More Cookie Recipes
I absolutely love creating all sorts of cookie recipes.
From keto cookies perfect for fixing your sweet tooth on your keto journey and much cheaper than store-bought keto cookies to vegan cookies, healthy cookies, or just regular classic cookies.
Made this keto white chocolate macadamia nut cookie recipe? Share a picture with me on Instagram or your review below!
Keto White Chocolate Chips Cookies
An easy Keto Christmas cookie recipe with macadamia and white chocolate chips.
This recipe may contain Amazon or other affiliate links. As an Amazon Associate I earn from qualifying purchases.
Instructions
In a large mixing bowl, combine almond flour, xanthan gum, salt, and baking soda. Set aside.

In a stand mixer or another large mixing bowl, beat the butter and erythritol until light and fluffy.

Beat in egg and vanilla extract just until incorporated.

Stir until the dough comes together into a consistent cookie dough batter, and the nut and chips are evenly distributed.

Transfer the dough into plastic wrap and refrigerate for 15 minutes.

Preheat oven to 325°F (160°C). Line two cookie sheets with parchment paper. Set aside.

Remove the dough from the fridge and scoop 1 tablespoon of dough per cookie.

Roll the dough between your hands to form a ball and place on the prepared cookie sheets, leaving 1 thumb space between each cookie.

Slightly push down each cookie dough ball to flatten the cookie – they will expand slightly in the oven

Bake in the center rack of the oven for 15-18 minutes or until slightly golden brown on the sides and the center starts to firm up. Don't overbake, or they get crunchy and not chewy. You can bake both cookie sheets at once, around the center rack of the oven, or one at a time, leaving the second cookie sheet on the countertop while the first is in the oven.

Cool 10 minutes on the cookie rack, then transfer to a cooling rack to fully cool down. They get crispier at room temperature.

Optional: To make these cookies even more beautiful, add few extra chocolate chips on the hot cookies. They will melt and set nicely on top!
Storage
Store in a cookie jar in the fridge for up to 5 days or freeze in ziplock bags and thaw at room temperature 3 hours before
Want My Kitchen Equipment?
Serving:
1
cookie
Calories:
134.4
kcal
(7%)
Carbohydrates:
4.9
g
(2%)
Fiber:
1.6
g
(7%)
Net Carbs:
3.3
g
Protein:
3
g
(6%)
Fat:
12.4
g
(19%)
Saturated Fat:
3.9
g
(24%)
Cholesterol:
10.8
mg
(4%)
Sodium:
104.1
mg
(5%)
Potassium:
15.2
mg
Sugar:
0.5
g
(1%)
Vitamin A:
120.6
IU
(2%)
Calcium:
25.6
mg
(3%)
Iron:
0.7
mg
(4%)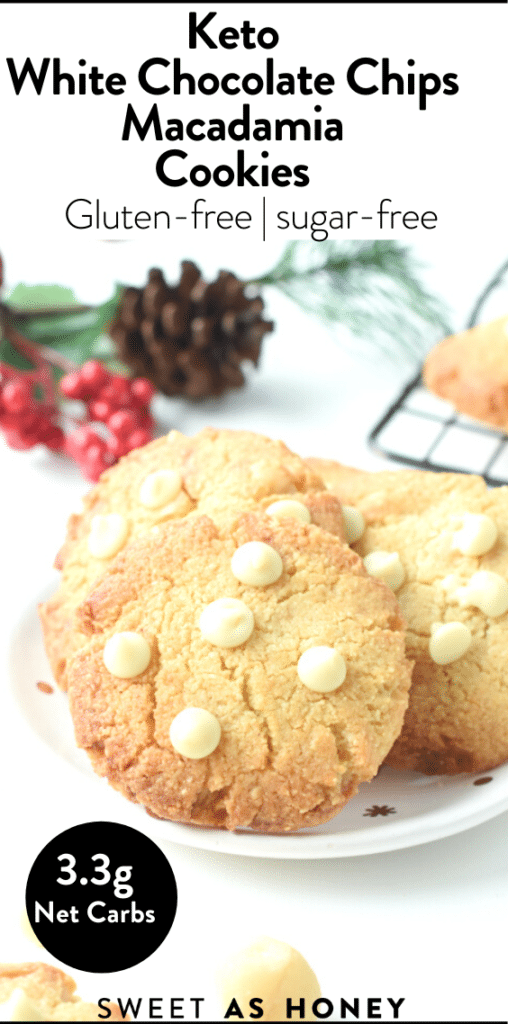 Posted In: