The coconut flour peanut butter cookies with chocolate chips are easy 6-ingredient cookies that are keto, gluten-free, and sugar-free. Plus, these keto peanut butter chocolate chip cookies contain only 4 grams of net carbs to indulge with no guilt!
I have a passion for keto cookie recipes, especially keto peanut butter chocolate chip cookies. Since peanut butter is keto-friendly, I love to add this to lots of my baking recipes. You love my almond peanut butter cookies, so today, I introduce you to their little sisters: the coconut flour peanut butter cookies.
What are coconut flour peanut butter cookies?
These cookies are low-carb keto cookies made with coconut flour and peanut butter. They are moist, buttery, chewy peanut butter cookies because I am using eggs in this recipe. For egg-free keto peanut butter cookies, check out my Keto almond flour chocolate chip cookies.
How many carbs in the keto cookies with coconut flour?
These keto coconut flour cookies come with minimal net carbs per serving, only 4 grams! This is partly due to low-carb dry ingredients like Coconut Flour, one of the lowest carb flours, and Peanut Butter, one low-carb nut butter.
With carbs at 4 grams per serving, you can get the taste of a delicious peanut butter coconut flour cookie without harming your blood sugar level!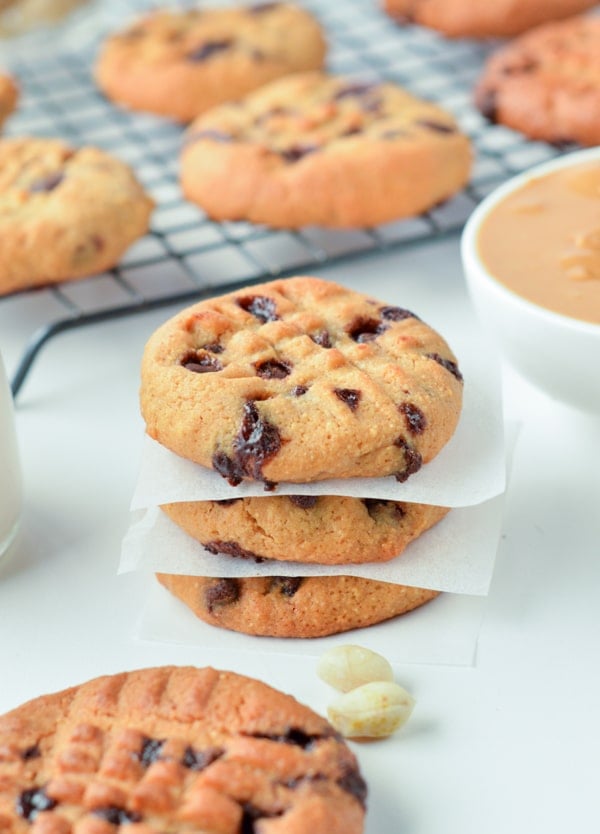 How to make this Coconut flour cookie keto 6-ingredient recipe
These coconut flour cookies are easy to make with 6 simple low-carb ingredients and less than 30 minutes.
ⓧ
Are you new to Keto?
Receive my Keto Quick Start email series to learn all about the Keto diet and kick start your keto journey!
All you need to make those buttery keto peanut butter chocolate chip cookies are:
Peanut butter – always use fresh, runny peanut butter with no added oil, no added sugar. Make your own Peanut Butter if you couldn't find natural peanut butter in-store!
Coconut flour – Coconut flour has lots of fiber, and therefore it is highly water absorbent. Always store yours in an airtight container with a moisture-absorbent bag. Use fresh flour with no lump for success in this recipe.
Eggs – use eggs at room temperature. Otherwise, cold eggs harden peanut butter.
Sugar-free crystal sweetener – erythritol or Monk fruit crystal – this is my favorite keto sweetener as it has no bitterness or aftertaste. Xylitol is not recommended for cookies as it keeps the cookies soft! Read my review of keto sweeteners to learn which ones are my favorite!
Sugar-free chocolate chips – I am using stevia-sweetened chocolate chips.
Vanilla extract

Tips and tricks for beautiful coconut flour peanut butter cookies
This cookie dough is very sticky, and that is what you want to create the most delicious chewy keto peanut butter chocolate chip cookies. Consequently, I recommend you grease your hands or tools before handling the dough.
This will prevent the dough from sticking to your fingers or spoon. It makes it easy to flatten your peanut butter cookies with a fork too.
More keto cookies
If you love this coconut flour cookie keto recipe, I recommend you try my other keto cookies.
Enjoy the recipe, and if you love this, pin it for later!
XOXO Carine
Recipe Card
Keto Peanut Butter Cookies with Coconut Flour
These Keto Peanut Butter Cookies with coconut flour and chocolate chips are made with only 5 ingredients and ready in 20 minutes. Plus, these cookies are gluten-free, dairy-free, and contain only 4 grams of net carbs.
Instructions
Preheat oven to 180°C (350°F). Line a cookie sheet with parchment paper. Rub a thin amount of coconut oil on your paper if it tends to stick to food. Set aside.

In a mixing bowl, beat eggs with sugar-free sweetener and vanilla extract. Make sure your eggs are at room temperature. Cold eggs straight out from the fridge will harden the peanut butter in step 4!

In another bowl, add peanut butter. Make sure it is fresh and runny. If your peanut butter is dry, it will create lumps and dry cookies.

Pour the beaten eggs onto the fresh peanut butter and whisk vigorously to create a shiny, thick cookie batter with no lumps. It should not take more than 1 minute.

Stir in the sugar-free chocolate chips.

Add the coconut flour and stir with a spatula until fully incorporated. The batter will be sticky, heavy, and that is what you want.

Shape 8 cookie dough balls of the same size. You can either use spoons or your hands. Be careful! The dough is very sticky, so you must rub your hands or spoon with vegetable oil before taking some dough from the bowl. This will prevent the dough from sticking to your finger. Repeat this before you shape each cookie ball.

Place each cookie ball onto the prepared cookie sheet. Leave 1 inch (3 cm) of space between each cookie as you will flatten them with a fork, and they will expand in the oven.

Grease a fork with vegetable oil and press down the cookie dough ball. Again, the oil on the fork prevents the cookie dough from sticking to your fork. I recommend cleaning the fork after you press a cookie. Clean, dry the fork, grease with oil, and flatten the next cookie. This will ensure the most beautiful cookies, preventing the dough from sticking to your fork.

Bake for 12-14 minutes, or until they are golden on the sides.

Cool on the cookie sheet for 10 minutes, then transfer to a cooling rack. It will take about 3 hours to achieve the perfect hard and chewy texture, be patient.
Storage
Store in a cookie jar for up to 4 days at room temperature. Don't store in the fridge, or they will get soft.

Freeze in an airtight container and defrost the day before.
Sweetener note
If you are not on a low carb diet, you can replace sugar-free crystal sweetener with coconut sugar or brown sugar.
Nut butter allergies
You can replace peanut butter with sunflower seed butter.
Eggs
Make sure you use eggs at room temperature. If your eggs are too cold, it is much more difficult to stir them with the peanut butter as it hardens the nut butter. 
I did not try this recipe egg-free, so I can't recommend a vegan option. Otherwise, try my keto vegan almond flour peanut butter cookies recipe. Low-carb peanut butter cookies almond flour + eggless
My Recipe Notes
Tools
Starting Keto
What Is Keto Diet?
Macro Calculator
Sweetener Converter
Keto Meal Plans
Keto Recipe Ebooks
Intermittent Fasting
Keto Fruits
Keto Vegetables
Keto FLours
Fighting Keto Flu
Keto Sweeteners
Nutrition Facts
Keto Peanut Butter Cookies with Coconut Flour
Amount Per Serving (1 cookie)
Calories 149
Calories from Fat 104
% Daily Value*
Fat 11.5g18%
Carbohydrates 7.2g2%
Protein 6.2g12%
Net Carbs 4g
* Percent Daily Values are based on a 2000 calorie diet.