These Keto Snowball Cookies are melt-in-your-mouth buttery, flakey cookies with small pieces of pecans and covered with sugar-free powdered sweetener.
Bonus, they are gluten-free and only contain 1.2 grams of net carbs per serving!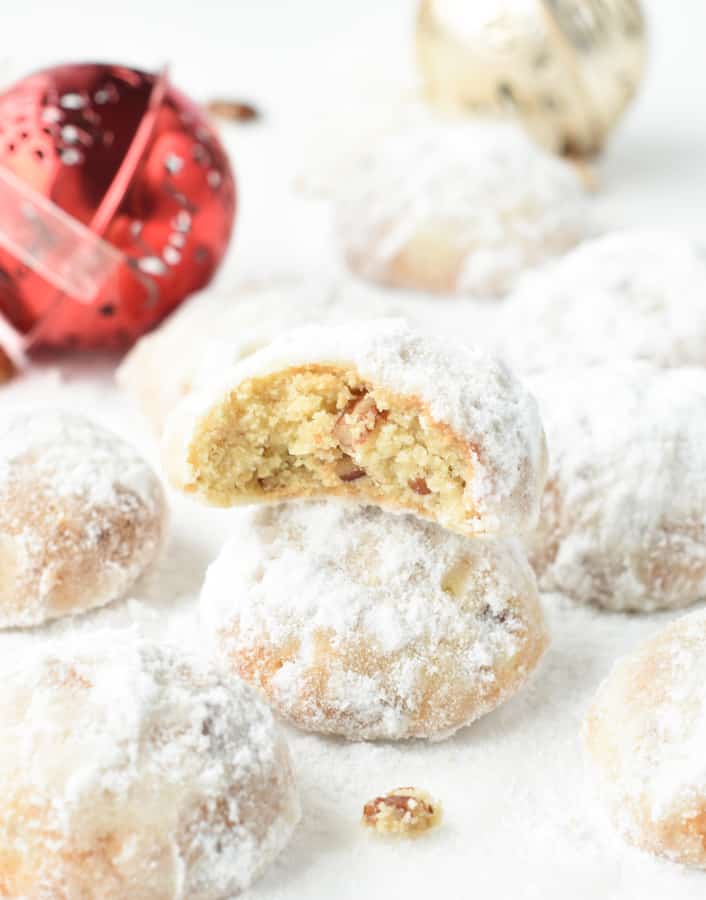 These sugar-free snowball cookies are a must-add to your keto Christmas cookie recipe list this year!
Keto dieters love butter, and these have a lot of butter but only 1.2 grams of net carbs per cookie, and such a lovely snowball look perfect for a Christmas cookie platter!
Nobody will resist these healthy snowball cookies.
What Are Snowball Cookies?
Snowball cookies are also known as Russian Tea Cakes or Mexican Wedding Cookies. Both are originally made of a combination of all-purpose flour, powdered sugar, butter, and chopped nuts.
They are rolled in powdered sugar before serving, which gives them a snowball look.
The Russian Tea Cakes or Pecan Snowballs always use finely chopped pecan nuts, while Mexican Tea Cakes can use other nuts like almonds, walnuts, or hazelnuts.
Here I am sharing a keto-friendly snowball cookie recipe called Almond Snowball Cookies, as they use keto almond flour!
How To Make Keto Snowball Cookies
These keto wedding cookies are easy low-carb treats to make with a few wholesome ingredients.
But before you start, make sure that you follow the 7 easy steps below.
Step 1: Butter At Room Temperature
Buttery snowball cookies use soft butter, not melted butter. So before you start making the cookies, bring the amount of butter called by the recipe out of the fridge for 30 minutes, until soft.
I always recommend cutting the amount of butter into tiny cubes. It softens faster.
If you are wondering about taking the butter out of the fridge, don't worry! It's safe to leave butter at room temperature for up to 60 minutes!
Step 2: Measuring Ingredients
Meanwhile, with a measuring scoop, use the scoop-and-sweep method to precisely measure the ingredients. You will need:
Ultra-fine almond flour is the most common keto flour used in keto baking, don't use an almond meal. Almond meal is ground almonds with their skin on. It has a brownish color, and it will be too grainy and change the cookies' color. Learn how to choose your keto flour.
Powdered erythritol – not crystal, the powder erythritol looks like real powdered sugar, without the carbs, of course. It's white and powdery. Also, note that not all keto sweeteners can be used in this recipe. In fact, powdered xylitol doesn't work well in keto cookies. It keeps them ultra-soft and fragile. So choose powdered erythritol or allulose. Learn everything about Keto sweeteners.
Soft butter – take the butter out of the fridge 30 minutes before using it in this recipe and beat with the powdered sugar until fluffy and light
Vanilla extract
Salt
Pecans – finely chopped pecans are the particularity of Snowball Cookies. They are melt-in-your-mouth buttery cookies with tiny pieces of pecan. Great news, pecans are one of the lowest-carb keto nuts. So you can use them in your keto baking recipes.
Step 3: Kneading
The best way to create a flakey, buttery keto snowball cookie dough is to rub the beaten fluffy butter with the dry ingredients.
Bring all the ingredients into a medium bowl, except for the chopped pecans, and rub the butter into the almond flour.
You should obtain a buttery dough, not sticky, and easy to roll into balls.
Now stir in the chopped pecans and use a measuring tablespoon to scoop out the cookie dough and roll between your hands to form a round ball.
Place each cookie ball onto a baking sheet covered with parchment paper.
Step 4: Refrigerating
These snowball cookies are made with almond flour, which means they don't have starchy wheat flour to hold their shape.
The trick to prevent a cookie from flattening too much and to make it keep a semi-round shape is to refrigerate the cookie dough balls.
Refrigerate the prepared cookie dough balls onto the baking sheet or a plate if your cookie sheet can't fit your fridge.
The cookie dough balls must be hard before going in the oven.
Step 5: Cooking At A Low Temperature
Preheat the oven to 325°F (160°C) to make sure the cookies bake slowly and again keep their shape.
Higher temperatures will also brown the cookies too fast.
Bake your sugar-free snowball cookies for 20 minutes or until lightly brown on the outside.
Step 6: Cooling Down
When you take the cookies out of the oven, they will still be soft on the outside. They slightly harden while cooling down.
So be patient and let them cool down for 15 minutes on the baking tray, then transfer them onto a cooling rack for another 3 hours of cooling.
Step 7: Coating
Finally, when the cookies are cold, bring the powdered erythritol into a small bowl and roll each cookie into powdered erythritol to create the snowball effect.
Storage Instructions
These keto Mexican wedding cookies must be stored in the fridge in a sealed container or zip-lock bags for up to 4 days.
You can also make the snowball cookies ahead and freeze them. Thaw your wedding cookies at room temperature on a plate.
Allergy Swaps
These cookies tick almost all diet boxes. They are sugar-free paleo pecan snowball cookies and also egg-free keto cookies! But if you have other food allergies, I listed some options for you:
Dairy-free – Unfortunately, you can't use coconut oil for this recipe! The cookies will completely spread and flatten. A dairy-free butter is the best option here, but no other dairy-free spread. They contain vegetable oils that are not keto-approved. Margarine spreads will also spread the cookies that won't form snowballs. Look for dairy-free vegan butter like Naturli. They make dairy-free vegan 'blocks' without vegetable oil. That's your best option for dairy-free cookies.
Nut-free – you can make low-carb snowball cookies nut-free. Replace the ultra-fine almond flour with the same amount of thin sesame flour. Replace the chopped pecan nuts with chopped seeds like sunflower seeds, or use hemp hearts.
More Cookie Recipes
If you've enjoyed these Snowball Cookies, you'll love the following recipe:
Have you made these keto almond snowball cookies yet? Share a review or comment below. I love to hear your feedback on my keto recipes!
Keto Snowball Cookies
These Keto Snowball Cookies are melt-in-your-mouth buttery, flakey Mexican weddingg cookies with small pieces of pecans and covered with sugar-free powdered sweetener. Bonus, they are gluten-free and only contain 1.2 grams of net carbs per serving!
This recipe may contain Amazon or other affiliate links. As an Amazon Associate I earn from qualifying purchases.
Instructions
Line a cookie sheet with parchment paper. Set aside.

In a large bowl, beat the soft butter with powdered sweetener until light and fluffy – it takes about 1-2 minutes.

With a kitchen spatula, stir in almond flour, salt, vanilla extract, and chopped pecans. You may have to use your hands to squeeze the ingredients together to incorporate them well. If the dough is too wet, add more almond flour, 1 tablespoon at a time.

Roll one tablespoon of dough between your hands to form a cookie ball.

Place each ball 1 inch apart onto the prepared cookie sheet – you will form 12 cookie balls.

Place the cookie sheet with the 12 cookie dough balls in the fridge for 30 minutes. This is compulsory, or the cookies will spread too much!

Preheat the oven to 325°F (160°C).

Bake for 18-22 minutes or until slightly golden brown on the outside. The cookies will slightly expand and flatten.

Remove from the oven, cool down for 10 minutes on the cookie sheet then transfer to a cooling rack for another 15 minutes until lukewarm.

Meanwhile, prepare a small bowl with the extra powdered erythritol.

Roll the lukewarm cookie balls into the powdered erythritol and return to the cooling rack until they reach room temperature.

Store for up to 1 week in a sealed cookie jar at room temperature.
Want My Kitchen Equipment?
Serving:
1
cookie
Calories:
99.7
kcal
(5%)
Carbohydrates:
2.6
g
(1%)
Fiber:
1.4
g
(6%)
Net Carbs:
1.2
g
Protein:
2.5
g
(5%)
Fat:
9.5
g
(15%)
Saturated Fat:
1.8
g
(11%)
Cholesterol:
3.7
mg
(1%)
Sodium:
49.7
mg
(2%)
Potassium:
16.9
mg
Sugar:
0.5
g
(1%)
Vitamin A:
59.4
IU
(1%)
Calcium:
24.2
mg
(2%)
Iron:
0.5
mg
(3%)
Posted In: