Keto Cannoli Dip is a creamy, sweet ricotta mascarpone dip full of sugar-free chocolate chips and a perfect keto snack to fix your sweet cravings. It's a guilt-free keto sweet snack ready in 15 minutes and with only 2 grams of net carbs per serving.
Are classic Cannoli Dips keto?
An authentic cannoli dip is an Italian dessert made of ricotta cheese, mascarpone cheese, sugar, and chocolate chips.
Therefore, a classic cannoli dip from the Italian restaurant is not keto-friendly because it's full of added sugar. But, you can make a creamy keto version of this delicious Italian dessert at home with only a few net carbs!
What's keto cannoli dip?
A keto cannoli dip is made of pretty much the same ingredients as an Italian cannoli filling recipe, except it's sweet.
The ingredients include ricotta cheese, mascarpone cheese, sugar-free powdered erythritol, vanilla, and sugar-free chocolate chips.
This keto dip is delicious with keto fruits, keto biscotti and can be served on its own or freeze and serve as a frozen treat when you crave keto ice cream.
Are you new to Keto?
Receive my Keto Quick Start email series to learn all about the Keto diet and kick start your keto journey!
How to make keto cannoli dip?
It's very easy to make this keto cannoli dip recipe. There are two ways to make keto cannoli dip.
1- The Authentic Italian keto cannoli cream recipe way
The first method is to make it as Italians make it means with only 5 ingredients.
Ricotta cheese – make sure you drain the ricotta to remove any water. If you're not sure if a dairy product is keto-friendly, check out my keto dairy guide.
Mascarpone cheese
Sugar-free powdered erythritol – or any powdered keto sweetener you love like allulose or Monk fruit erythritol blends.
Sugar-free chocolate chips – you can use any kinds of sugar-free chocolate chips like dark chocolate chips, milk chocolate chips, or white chocolate chips.
Vanilla extract 0r almond extract or lemon zest for a tangy flavor.
Combine ricotta and mascarpone
In a large mixing bowl or the bowl of your stand mixer with the paddle attachment, add mascarpone, strained ricotta cheese, powdered erythritol, vanilla extract.
Beat on medium speed for 3 minutes, with a hand mixer or the paddle attachment of the stand mixer. Keep mixing until the mixture is fully combined and form cream. Set aside.
Fold in chocolate chips
An authentic cannoli dip uses chocolate chips in the dip. I recommend folding milk or dark sugar-free chocolate chips.
But, some recipes also suggested chopped nuts like chopped pistachios or almonds. Keep in mind that some nuts like pistachios increase the carb count.
2- The Fluffy way
If you love your dip fluffier and lighter, whip 1/2 cup of heavy whipping cream until stiff peak form. Fold it into the ricotta mascarpone mixture just before you fold in chocolate chips.
How to serve your keto cannoli dip?
This low-carb keto cannoli dip is perfect for dipping keto-friendly fruits like:
raspberries
strawberries
fresh coconut meat
blueberries
You can also dip almond flour cookies in this dip like some of my keto cookies recipes below:

Is ricotta cheese keto?
Yes, ricotta cheese is a keto-friendly cheese that you can use in dessert or make cannoli cream for zucchini lasagna. Whole milk ricotta cheese contains per 100 grams:
7 grams of net carbs
150 kcal
10 grams of fat
8 grams protein
Is mascarpone keto?
Yes, mascarpone cheese is keto-approved. One hundred grams of Mascarpone cheese contain:
4 grams of net carbs
427 kcal
3 grams of protein
45 grams of fat
How long can I store my dip?
This keto low-carb cannoli dip stores for up to 4 days in the fridge, sealed in a box.
You can also freeze this keto gluten-free dip in individual servings like in an ice cube tray. Thaw 30 minutes before and eat this dip half frozen if you crave a keto ice cream, or thaw longer and enjoy it as a dip.
How much can I eat?
This keto dip is a treat to fix your sweet tooth and help you reach your fat macros at the end of the day.
A serving of 1/3 cup contains:
232 kcal
2.4 grams of net carbs
21.5 grams of fat
6 grams of protein
More keto dessert recipes
I love keto desserts to snack on my keto journey because they are easy to make, cheap, and taste like the real thing without the carbs.
Keto dessert recipes are also easy to store in the freezer and delicious frozen to fix a keto ice cream craving. Below I listed my favorite keto fat bomb dips, including keto cream cheese fruit dip, cheesecake dip, and more.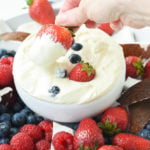 Did you make this keto cannoli dip? Share a review or comment below to let me know how it goes!
XOXO Carine
Recipe Card
Keto Cannoli Dip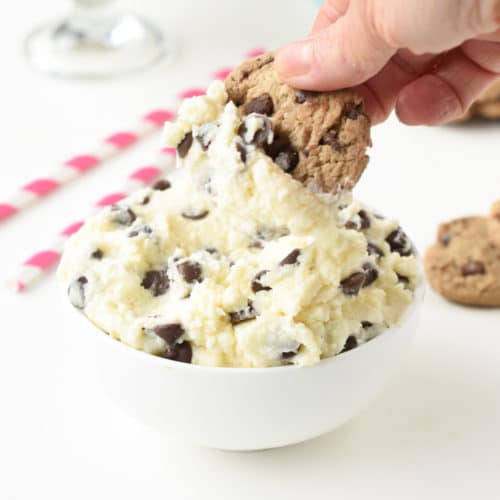 An easy keto cannoli dip recipe to fix your sweet craving with an easy delicious Italian-style dessert.
Ingredients
1 ½

cup

Ricotta cheese

strained, 12.5 oz

8

oz

Mascarpone cheese

drained from excess water

⅔

cup

Powdered Erythritol

1

teaspoon

Vanilla Extract
Optional - for a fluffier dip
½

cup

Heavy Cream

whip until stiff peak form
Instructions
In a large mixing bowl or the bowl of a stand mixer, add mascarpone, ricotta cheese, powdered erythritol, and vanilla extract.

Beat with an electric beater or the paddle attachment for 3 minutes until thick and fluffy. Set aside.

If you want to make a fluffier dip, whip the heavy cream in another bowl and fold into the bowl with the ricotta/mascarpone.

Fold the sugar-free chocolate chips and refrigerate 1 hour before serving for best taste and texture.
Storage
Store 4 days in the fridge in a sealed container or freeze in an ice cube tray and thaw 3 hours before eating or eat frozen as a frozen treat.
Nutrition panel is without the optional heavy cream.
Tools
Starting Keto
What Is Keto Diet?
Macro Calculator
Sweetener Converter
Keto Meal Plans
Keto Recipe Ebooks
Intermittent Fasting
Keto Fruits
Keto Vegetables
Keto FLours
Fighting Keto Flu
Keto Sweeteners
Nutrition Facts
Keto Cannoli Dip
Amount Per Serving (1 serve (1/3 cup))
Calories 191.4
Calories from Fat 154
% Daily Value*
Fat 17.1g26%
Cholesterol 41.5mg14%
Sodium 43.5mg2%
Potassium 39.3mg1%
Carbohydrates 5.1g2%
Protein 5.7g11%
Vitamin A 481.7IU10%
Vitamin B12 0.1µg2%
Vitamin D 0.1µg1%
Calcium 108.2mg11%
Iron 0.1mg1%
Magnesium 4.1mg1%
Zinc 0.4mg3%
Net Carbs 2.1g
* Percent Daily Values are based on a 2000 calorie diet.