Keto Floating Island Dessert is an easy fun french dessert recipe made of light vanilla custard with a poached meringue floating on top.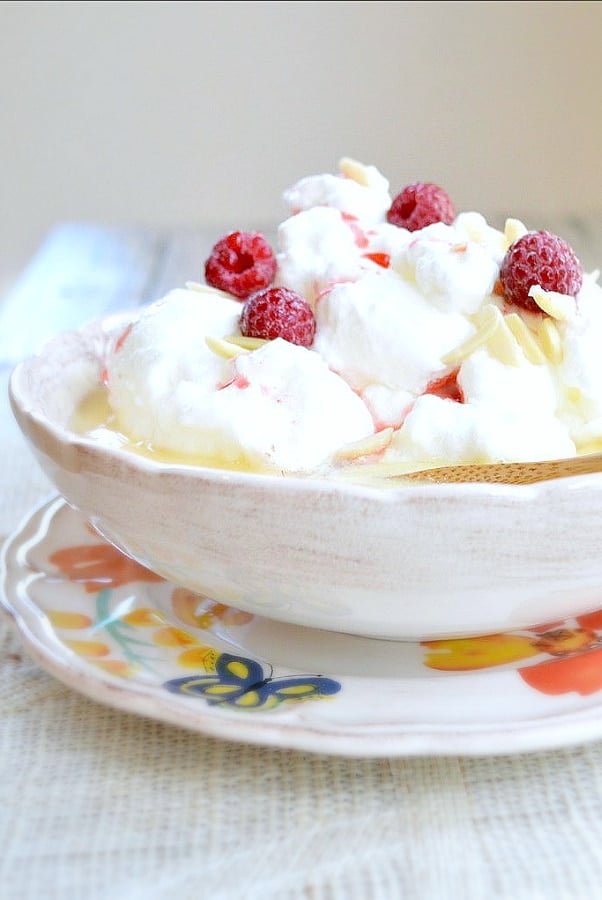 Floating island dessert – reviewed recipe: 100 % Keto + Sugar-free
This French island dessert really means something to me because it was the dessert my grandma Maria cooked for me after school when I was a kid. This recipe post is for her: my missed loved and good cook French grandma Maria.
I reviewed her favorite French floating island recipe to be 100 % Keto + Sugar-free +Low carb using few tricks. Of course, I will still give you her original French recipe but in case it is the one you prefer to try.
So all you need to make this lovely French island dessert is 4 ingredients:
Eggs – make sure you split egg yolk from egg white
Milk – the original French recipe uses regular cow milk which contains sugar from lactose. I prefer to use full-fat canned coconut milk to make the dessert keto-friendly and sugar-free.
Sugar-free crystal sweetener – the original recipe uses white sugar if you want to follow the classic French recipe from my grandma.
Vanilla extract
French floating island dessert the first recipe I learned!
The recipe I am sharing today was the first recipe I learned. My first experience in the kitchen creating something special. I was so proud. I was 8 years old and I was too small to reach the benchtop so grandma installed a chair with a big cushion to sit me there.
This day I separated my first egg apart and I remember how I was impressed by her doing this with one hand. Then came the crucial step of this recipe. Whisking the egg really fast with my hand whisk until they are firm and form a stiff peak.
Most chefs will tell you to upside down the bowl of your egg white to check if they are firm enough. Grandma had a different approach. She was always telling me: While you still feel your arm, it is not ready!
Are you new to Keto?
Receive my Keto Quick Start email series to learn all about the Keto diet and kick start your keto journey!
She was like this, my grandma. A strong little woman who was putting lots of love and energy in anything she did. Each meal, recipes were a real work and it was tastier than anything you can eat now.
It is the best and easiest French family dessert to prepare. It consists of a fluffy steamed meringue floating on a light vanilla custard and traditionally topped with a caramel sauce.
Usually, this dessert is made with a bit of sugar – to form the meringue – but I tried it with Natural Sweeteners as well for diabetics like me. It works perfectly too.
Why will you love this dessert?
It is full of protein which means it makes me feel full really quickly.
It is sugar-free, gluten-free and it requires only 15 minutes to be prepared.
It is easy to customize which makes it a perfect dessert or afternoon snack for kids too. You can add any kinds of toppings sliced almonds, toasted coconut, berries, chocolate sauce, etc.
XOXO Carine
Recipe Card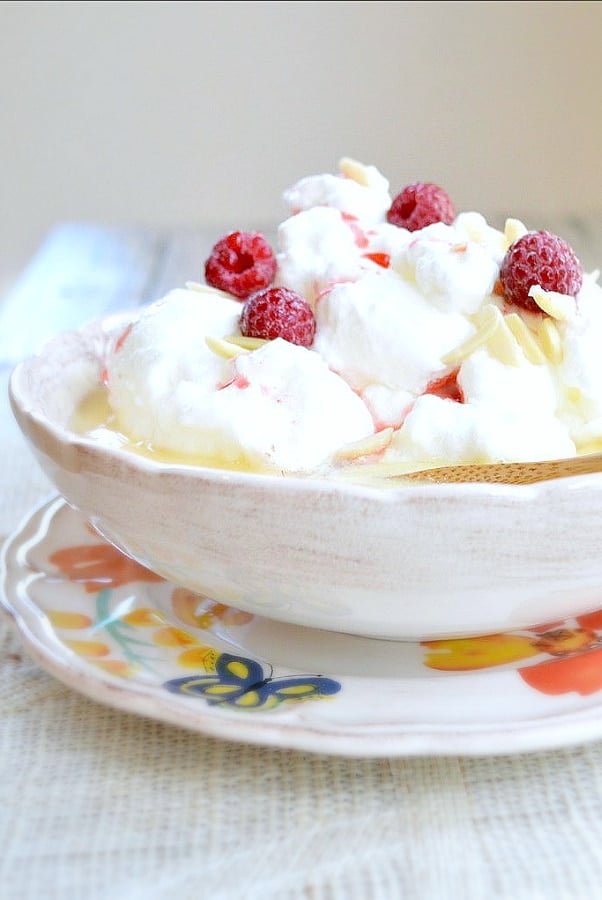 Floating island dessert
Floating island dessert is an easy fun French recipe with a light vanilla custard with a poached meringue floating on top.
Decoration
2

tablespoons

Sliced almonds

- per serve

¼

cup

Raspberries

fresh or defrost
Prepare the Light Vanilla Custard
In a saucepan, under medium heat, bring the milk and vanilla extract to a light boil. Remove from heat, set aside.

Split the egg yolks and egg whites into two separate bowls. Set aside the bowl with the egg whites for later. 

In the egg yolk bowl, add the sugar-free crystal sweetener. Using an electric mixer, on medium/high speed, beat the egg yolk and sugar crystal for 30/45 seconds or until lighter in color and fluffy. Stop beating. 

Stir in the lukewarm vanilla milk into the egg yolk mixture. 

Return this mixture into the saucepan. Place the saucepan under medium heat, stir and cook for 10 minutes on low/medium heat (don't boil it again!). You can sprinkle 1/4 teaspoon xanthan gum to help the curd thicken faster. It takes about 10 minutes, stirring on low heat until the crud form and slightly thicken, be patient.

When it has thickened, remove from heat, cool down in a bowl then store in the fridge for 2-3 hours to fully cool down.
Prepare the meringue and poach the meringue
In another bowl, using the electric beater again beat the egg whites on medium/high speed, for 45 seconds, or until it starts to firm up. 

Add the sugar-free crystal sweetener and beat until a stiff peak forms. Make sure you clean and dry your electric beater attachment before using them into the egg white mixture or the egg white won't get fluffy! Set aside the meringue. 

In a large saucepan, bring 1 liter of water to boil, reduce to a light boil. Using a skimmer, scoop out some meringue mixture, plunge into the boiled water, and cook/poach for 30 seconds on both sides.  

Remove from the water using the skimmer, place on a plate, and store in the fridge to fully cool down or until serving.
Serving instructions
Split the vanilla custard into 4 dessert bowls or jars. 

Top up with the poached meringue and decorate with melted chocolate, caramel syrup, sliced almonds, or raspberries.
Nutrition panel is for one serving using full fat canned coconut milk and sugar-free crystal sweetener you can also use regular milk to half the calories but it will up the net carbs to 6.6g per serving (here 3.7g)
Nutrition Facts
Floating island dessert
Amount Per Serving (1 serve)
Calories 297
% Daily Value*
Carbohydrates 3.7g1%
Protein 8.6g17%
Net Carbs 3.7g
* Percent Daily Values are based on a 2000 calorie diet.
Nutrition panel for the floating island using sugar-free crystal sweetener and regular milk. This recipe serves 4 people. Net carbs 6.6g per serve coming from the milk lactose – using dairy-free full fat coconut milk to decrease carbs.