An easy 4-ingredient Floating Island Dessert recipe with fluffy, sweet poached meringue floating on creamy vanilla custard. A dreamy French dessert for French recipe lovers.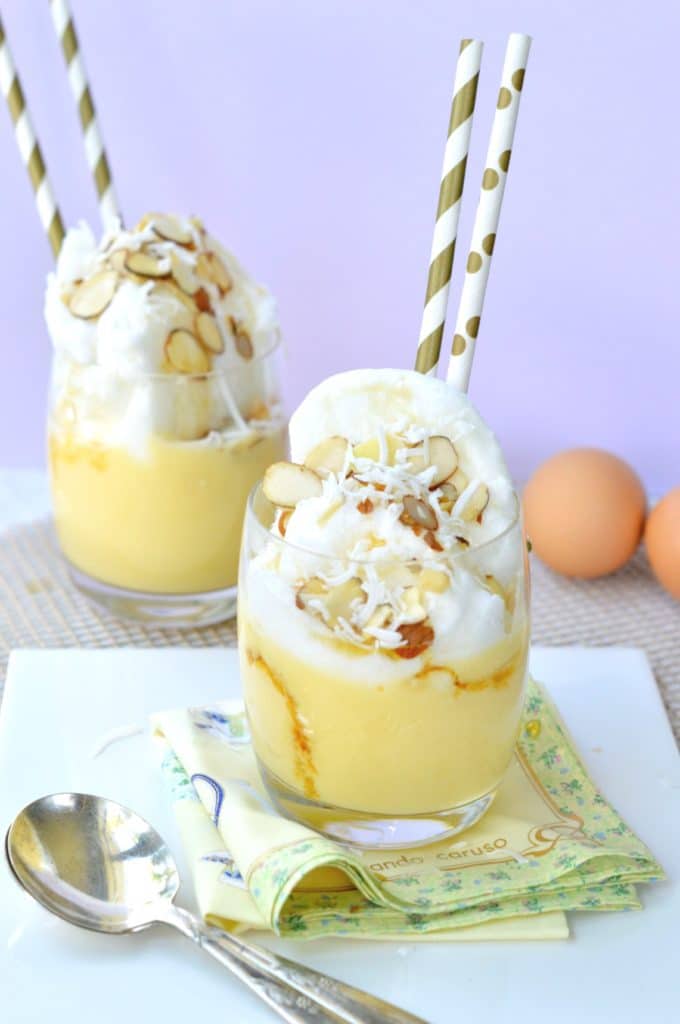 As a French girl, this French island dessert really means something to me because it was the dessert my grandma Maria cooked for me after school when I was a kid. So this recipe post is for her: my missed loved and good cook, French grandma Maria.
The best part of this recipe, is it's easy to turn it sugar-free by using the appropriate sugar-free sweetener. But here, I am sharing the authentic, French floating island dessert recipe to make you travel to France from your home.
What is Floating Island Dessert?
A floating island, also known as Ile Flottante in French, is a French dessert made of a vanilla custard topped with sweet whipped egg whites cooked in a bain-marie.
The whipped egg white floats onto the custard and look like a floating island.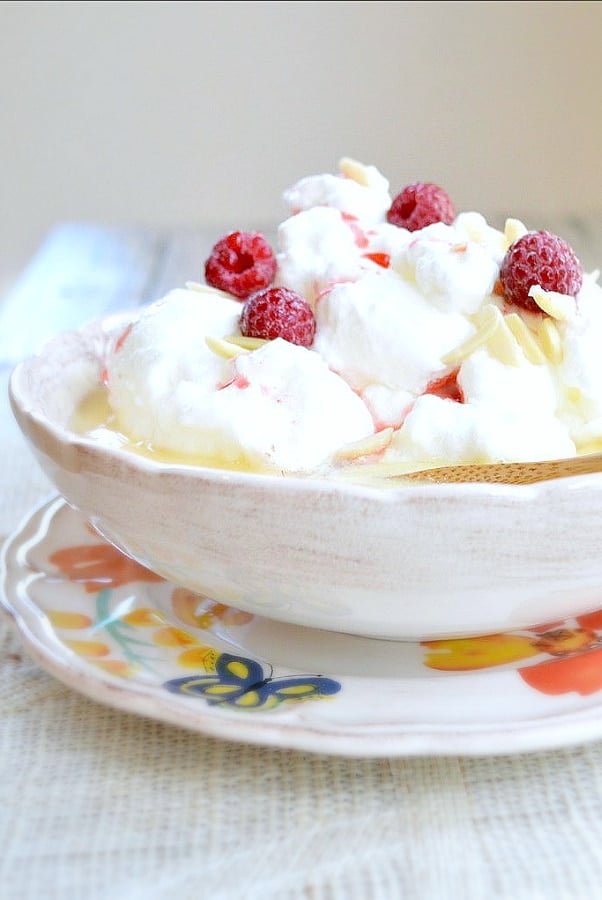 The floating island dessert toppings are often a drizzle of caramel sauce, sliced almonds, or coconut.
How to Make a Floating Island Dessert?
A floating island dessert requires some patience and cooking skills, but it's pretty easy to make if you follow the tips and steps below.
Ingredients for Ile Flottante
An Ile Flottante, as French people call this dessert, is a two-step recipe using only 4 simple ingredients.
All you need to make this lovely French island dessert recipe are:
Large eggs – separated, you need to split egg yolk from egg white to make this French dessert recipe.
Full-fat milk – you can use trim milk as well, but the custard won't be as rich, thick, and creamy.
Granulated Sweetener of choice – the original recipe uses white sugar. If you want to make a sugar-free version of this dessert, use erythritol, it works as well.
Vanilla extract or seeds from a fresh vanilla bean.
Making the light Vanilla Custard
The light vanilla custard, also called creme Anglaise, is the base of any good French Island dessert. It's prepared like a custard, but its texture is slightly thinner, runnier.
So first, prepare the light vanilla custard. If you have never made a custard before, it's not complicated, but it requires precision.
First, split the egg yolks from the egg whites. Set aside the egg whites in a bowl at room temperature for later in the recipe.
In the bowl with egg yolks, add sugar. Then, beat them with an electric beater at high speed until whiter in color and fluffy – it takes about 1 minute.
Set this aside.
In a saucepan, under medium heat up the milk and vanilla, and bring to a light boil. Remove from the heat.
Now the tricky part is to add the hot milk into the beaten egg slowly to avoid 'cooking' the eggs.
So first, temper the eggs by adding one tablespoon of the hot milk into the egg mixture and whisk vigorously to combine.
Repeat this step one more time.
Now that the eggs are tempered, pour the egg mixture from the bowl into the saucepan.
Return to medium-low heat (no boil!), constantly stir until the custard thickens, and coat the back of a wooden spoon.
Cool the custard at room temperature in a large bowl. Then, film the bowl with plastic wrap, making sure the wrap touches the custard, and refrigerate.
Poached meringue
The best part of Floating Island dessert is the fluffy cloudy meringues on top! To make these, you need:
A pot with boiled water.
Egg whites – the ones you split at the beginning of the recipe.
First, bring one liter of water to a boil in a large saucepan.
Cover, reduce heat to a very light boil. Meanwhile, in a large mixing bowl, beat egg white on high speed for about 45 seconds or until they start to firm up.
Stop the beater, add sugar and keep beating until a stiff peak forms.
Now, uncover the saucepan and scoop out some stiffed egg white – about 1/4 cup of drop it onto the light boiling water.
Use a skimmer to plunge the egg white, cook for 30 seconds on each side.
Finally, drain the cooked poached meringue with a slotted spoon, place it on a plate and leave to cool.
Some people also love to plunge the cooked egg whites into a bowl of cold water. This is up to you depending on how you want to serve this dessert – lukewarm or cold.
Repeat until all the egg whites are cooked.
Assembling the Floating Island
There are two ways to serve this floating islands recipe:
Cold – Store the custard and cooked poached eggs in the fridge in an airtight container for a few hours before serving.
Lukewarm – Some French restaurants serve the custard cold with lukewarm poached eggs. In this case, prepare the custard a few hours or the day before serving.
French Island toppings
A French Island is always served in individual serving bowls and topped with some of these:
More French dessert recipes
I love to share the authentic French recipes my mum cooked for me as a kid. Below are a few more French-style recipes you may want to try!
Have you made this French island dessert? Share a review or comment below. I love to hear back from you!