This easy French Madeleine Recipe makes the most delicious Madeleine cookies with a buttery texture, crispy edges, and lovely shell shapes.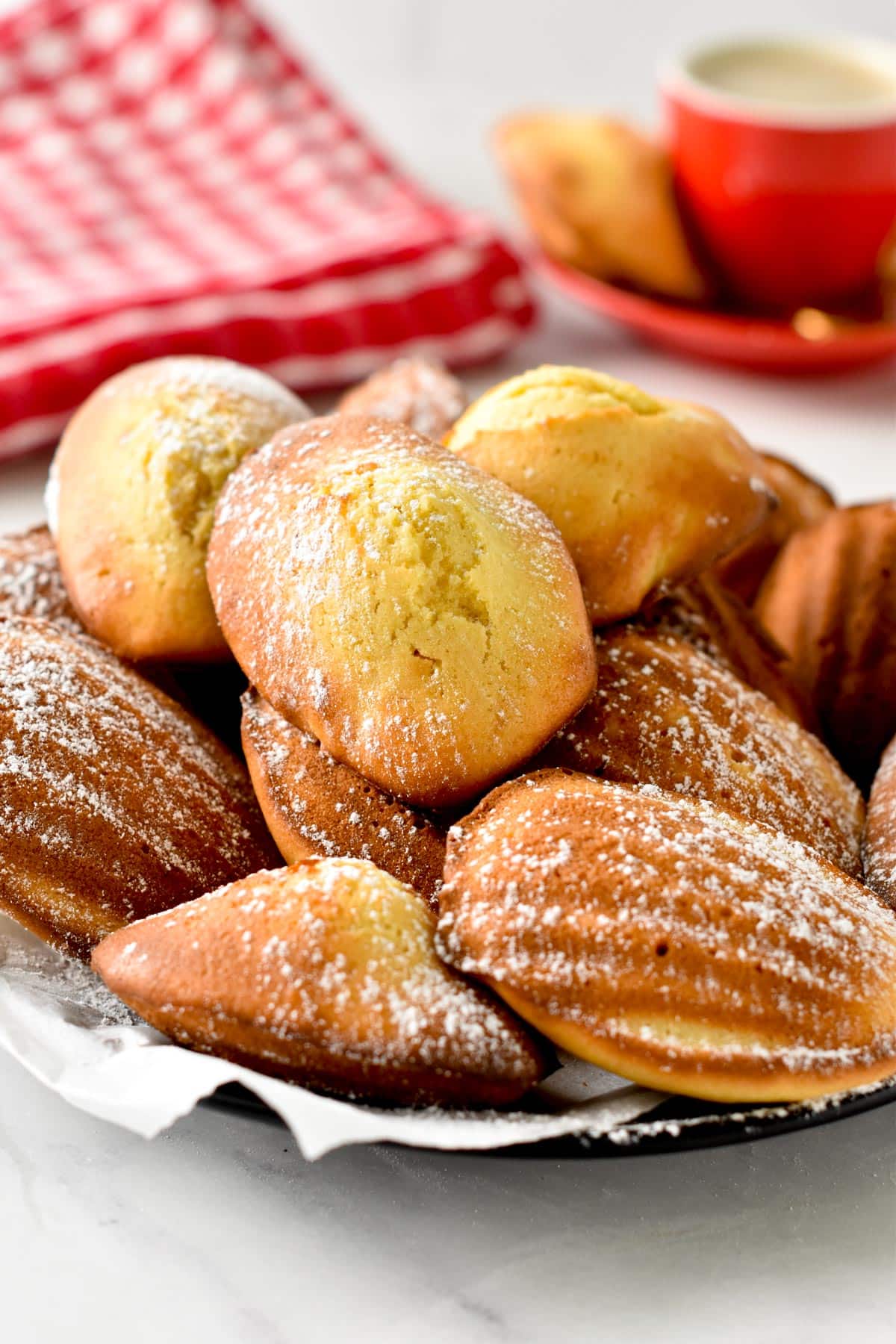 Did you know that France has regions somewhat similar to US states? Each region has one or several traditional and very localized French recipes.
Crepes are from Brittany, Ratatouille is from Marseilles, and the classic Quiche is from the Lorraine region.
French Madeleines are a popular, authentic regional recipe from Commercy, another city in the Lorraine region.
This is widely considered the most popular French cookie, French Madeleines.
In France, it's a recipe you learn to make as a kid, and this version is the no-fail recipe that everyone looking for a great easy French baking experience should try.
What Are Madeleines?
Madeleines are small French cookies with a particular shell shape and hump in the middle. They are to the cookies what the Souffle Omelette are to classic omelettes, typically French.
They taste like butter cake with some hint of vanilla, lemon, or orange, depending on the recipe.
They are originated from Eastern France, in the Lorrain Region, and often called Madeleine de Commercy.
How To Make French Madeleines
Baking classic French madeleines is easier than you think. The trick is to have a madeleine pan and bake the recipe in two steps at two temperatures.
But first, let me share with you all you need to make light, buttery madeleines.
Ingredients
The ingredients to make madeleines are pretty basic.
All-Purpose Flour – While it might also work with gluten-free flour, I haven't tried it. Expect the texture to be slightly denser with it.
Eggs – I prefer using large free-range eggs.
Milk – This recipe work with classic dairy milk or plant-based alternatives such as almond milk or coconut milk.
Butter – Melted and cooled. I prefer grass-fed butter.
Baking Powder
Vanilla Extract or orange water, or lemon zest.
Madeleine Batter
Follow the steps below to learn how to incorporate the ingredients to make the best buttery vanilla madeleines.
First, melt the butter in a small saucepan over medium heat, or bring the butter into a microwave-safe bowl.
Microwave for 30 seconds until melted. Set it aside to cool down.
Next, beat the eggs and sugar in a large mixing bowl until the color gets whiter and the texture is pale, and foamy. It's called the ribbon stage of egg beating.
You can use a hand whisk or stand mixer with the whisk attachment. Set the stand mixer on medium speed and whisk the egg mixture for about 2 minutes until pale, light, fluffy and foamy.
Stir the milk and vanilla together and fold them into the batter. Gradually add the flour and baking powder and stir halfway.
Pour the melted butter into the bowl with the flour mixture.
The madeleine batter should be quick, liquid, and runny, and that's what you want.
Let the batter rest for 15 minutes in the fridge. Chilling the batter before baking helps the madeleines rise in the center and form their signature hump.
Baking Madeleines
Preheat the oven to 460°F (240°C). High oven temperatures are the secret to making perfect madeleines.
Their particular shell shape with a bumpy center comes from the high temperature of the first bake.
Lightly oil a Madeleine pan with butter or avocado oil.
Fill each madeleine shell up to 3/4 of their level. The madeleines will rise, so don't fill their hole to the top, or they will overflow.
Bake on the center rack of the oven for 5 minutes at 460°F (240°C). Then, reduce to 350°F (180°C) and keep baking for an extra 5 minutes.
The madeleines are fully baked when they are golden brown, show a lovely bumpy shape in the center and a pick inserted in the middle comes out clean.
Unmold each madeleine cookie and release it on a wire rack with its hump up to cool down.
Serving Madeleine Cookies
French people don't decorate madeleines. We eat them plain with a cup of tea or coffee.
They are a kid's favorite after-school snack in France, and we often add flavor to the madeleine batter rather than decorating them.
Of course, you can have taste and flavors by adding:
A dust of powdered sugar
A chocolate shell. Dip the shell into melted white chocolate or melted dark chocolate. Let it cool down in the fridge to harden the shell.
Flavoring
The best way to create a range of flavorsome madeleine cookies is to add different extracts to the batter.
The most popular French flavors added to madeleine batter are:
Orange Blossom Essence
Rose Water
Lemon Zest
You can add these flavors as an add-on to the vanilla extract or as a replacement for vanilla.
Storage Instructions
Madeleine cookies can be stored for two days at room temperature or up to 5 days in a sealed cookie box in the fridge.
You can freeze baked madeleines in zip-lock bags and thaw them at room temperature the day before. They last for up to one month in the freezer.
Allergy Swaps
Below are some ideas to make the recipe if you are allergic to some of the ingredients:
Egg-Free – Some store-bought egg replacers might work, but the color and texture will differ.
Dairy-Free – Replace the butter with margarine. Any plant-based milk, like soy milk, oat milk, or almond milk, will work.
Sugar-Free – You can use sugar-free crystal sweeteners, like erythritol, to make sugar-free madeleines.
Frequently Asked Questions
Below are the answers to the most common questions about baking madeleines.
What Do Madeleines Taste Like?
Madeleines taste like tiny butter cakes, with a lovely funny shell shape that shows a particular bump, the madeleine hump.
They have a vanilla flavor or orange flavor if orange blossom essence has been added to the batter.
Can I Bake Madeleine In A Muffin Pan?
If you don't have a madeleine mold, a mini muffin pan will be the best to ensure a lovely raise in the center.
If the muffin holes are too broad and large, they come out flat and dry.
How Do The French Eat Madeleines
French people eat madeleines as a quick snack, as afternoon tea, or even for breakfast.
You'll find that dunking madeleines into coffee or hot chocolate is a delicious way of eating these French treats.
Are Madeleine Cookies French?
Yes, Madeleines are a typical French recipe form the Lorraine region.
Are Madeleine Cookies Gluten-Free?
No, the classic madeleine recipe is not gluten-free. It uses regular all-purpose flour.
Can You Bake Madeleines Without A Madeleine Pan?
Yes, you can use this recipe to make madeleines in a mini muffin pan, or in a pan made for peanut butter cups.
Did you try this Madeleine cookies? Share a comment or review below to connect with me.
Madeleine Recipe
This easy Madeleine Recipe is a French-inspired cookie recipe with a lovely soft buttery texture and a particular shell shape with a round top.
Nutrition Snapshot
Want My Kitchen Equipment?
Instructions
Pour the butter into a small non-stick saucepan and bring it to medium heat. Stir to melt it. Remove from the heat. You can also add the butter to a microwave-safe bowl and microwave it in 30-second bursts until fully melted. Set it aside to cool.

In a large mixing bowl, add the eggs and sugar. Using an electric beater, beat on high speed for 3-4 minutes or until foamy, pale, and light in color.

Add milk, vanilla extract, flour, and baking powder and stir gently to combine and form a smooth cake batter. Just before the end, stir in the melted butter.

The batter should be yellowish, slightly thick, and smooth.

Refrigerate for 15 minutes. The batter will thicken in the fridge, but this step guarantees a lovely madeleine hump.

Preheat oven to 460°F (240°C). Slightly grease a madeleine pan with oil spray. Set it aside.

Remove from the fridge, and fill each madeleine hole up to 3/4 their level, not up to the top!

Bake for 5 minutes at 460°F (240°C), then reduce heat to 350°F (180°C) and keep baking for 4-5 minutes or until golden brown and a pick inserted in the center comes out clean.

Cool down on a wire rack.
Storage
Store in a cake box in the fridge for up to 5 days or freeze in zip-lock bags for up to 1 month.
My Recipe Notes
Nutrition
Calories:
121.6
kcal
(6%)
Carbohydrates:
16
g
(5%)
Fiber:
0.3
g
(1%)
Net Carbs:
15.7
g
Protein:
2.1
g
(4%)
Fat:
5.4
g
(8%)
Saturated Fat:
3.2
g
(20%)
Polyunsaturated Fat:
0.3
g
Monounsaturated Fat:
1.5
g
Trans Fat:
0.2
g
Cholesterol:
36.9
mg
(12%)
Sodium:
57.4
mg
(2%)
Potassium:
25.6
mg
(1%)
Sugar:
7.7
g
(9%)
Vitamin A:
179.9
IU
(4%)
Vitamin B12:
0.1
µg
(2%)
Vitamin D:
0.1
µg
(1%)
Calcium:
14.6
mg
(1%)
Iron:
0.6
mg
(3%)
Magnesium:
3.6
mg
(1%)
Zinc:
0.2
mg
(1%)
Posted In: