This Crepe Suzette recipe makes the most delicious thin French crepes, cooked in orange butter caramel and ignited with Grand Marnier.
An easy French dessert recipe guaranteed to impress your guests every time!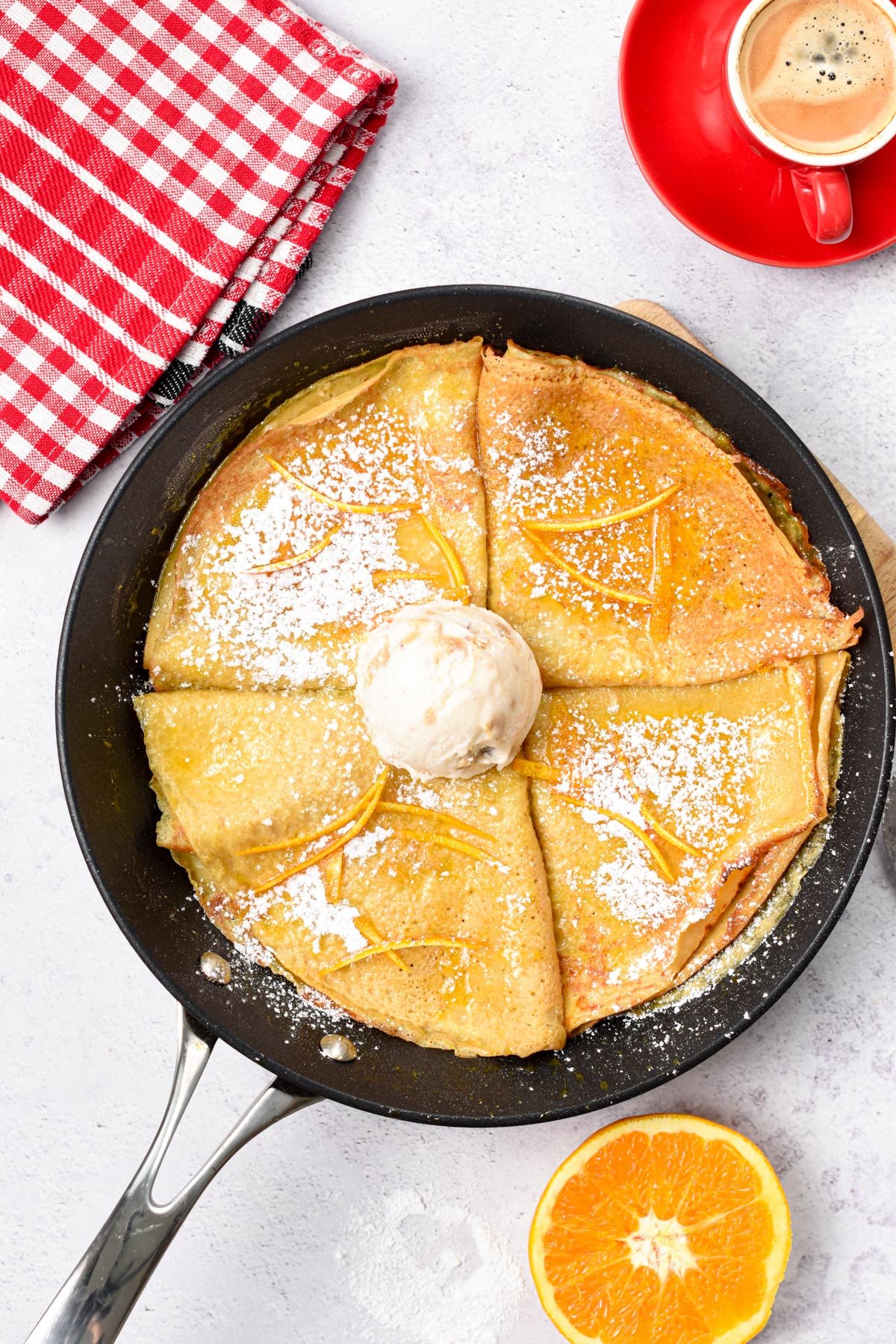 As a French person, I have a passion for French desserts like French crepes, floating Island, Liege Waffles, or these Crepes Suzette!
Let me share with you how to make this fancy French dessert in the comfort of your own kitchen.
What Is A Crepe Suzette?
A crepe Suzette is a classic French dessert where a French crepe recipe, often flavored with a touch of rum in the batter, is cooked with orange butter caramel and then topped with Grand Mariner alcohol and ignited just before serving.
It's a very sensational French dessert, similar to the Madeleine, to serve in a restaurant because it's served with a flame on and the smell of Grand Mariner and oranges diffuses in the room.
It's one of the most common desserts in the Grand Restaurants of Paris.
History Of The Crêpes Suzette
Like many other culturally significant dishes, the Crepe Suzette has a debated history.
The legend has it that it was invented by mistake while preparing a dessert for the Prince of Wales in 1895 when he was visiting Paris and named in honor of one of the guests.
According to the story, the crepes were flambee by accident, and that's what impressed these famous guests the most.
What Is In A Crepe Suzette?
The inside of a crepe Suzette is empty. Crepes Suzette are not filled, but instead, they are cooked in orange caramel butter and ignited with orange liquor.
How To Make Crepe Suzette
To make a delicious crepe Suzette at home, you must start by making a French Crepe batter.
Ingredients For Crepe Batter
Eggs – Prefer free-range eggs for a better taste.
Milk – Any milk works in this recipe. You can use regular dairy milk, but if you want to reduce the carbs, opt for a plant-based alternative such as almond milk.
All-Purpose Flour – The classic Crepe Suzette recipe is always made with all-purpose flour, but you can use some alternatives if you are gluten-intolerant.
Butter – You can use classic butter or some of the plant-based alternatives. Use an unsalted option.
Vanilla Extract – Vanilla adds a delicious flavor to these sweet crepes.
Sugar – You can use classic sugar or coconut sugar. For a low-sugar alternative, try Allulose or Erythritol.
Rum – Rum is optional but frequently used for crepe Suzette recipes, You can take white Rum or dark Rum. Avoid spicy options.
Suzette Butter Ingredients
Orange Juice – Freshly-squeezed orange juice is the best, but you can also use bottled orange juice as long as it's made only from fresh oranges and not reconstituted juice.
Orange Zest – Use freshly grated zest from an untreated orange. Even if your orange is organic, it's good practice to wash it thoroughly.
Unsalted Butter – Or a plant-based alternative.
Powdered Sugar – Any powdered sweetener works, from classic powdered sugar to powdered erythritol.
Grand Marnier – Grand Marnier is an orange-flavored liqueur used to serve and ignite the crepe Suzette. Grand Mariner is a blend of Orange Liqueur (also known as Triple Sec or Cointreau) and Cognac (a type of French Brandy, or distilled wine). If you can't find Grand Marnier, you can make your own blend of Triple Sec and Brandy.
Preparation
First, prepare the crepe mixture. In a large bowl, whisk flour, and sugar and stir in the eggs, milk, melted unsalted butter, vanilla extract, and rum until a smooth batter forms.
It's fine if there are a few lumps of flour showing.
Cooking The Crepes
You can cook the crepe the day you intend to serve the dessert or make the crepes ahead and store them in the fridge on a plate covered with plastic wrap.
Warm a crepe pan or non-stick pan over medium-high heat.
Add a teaspoon of butter or oil to the pan and use a piece of absorbent paper to rub the pan with the butter.
Don't keep too much oil or butter in the pan or fry the crepes.
Next, ladle about 1/3 cup of crepe batter, pour in the center of the warm pan, and tilt the pan in a circular motion to spread the crepe batter as thin as possible all over the crepe pan.
Cook until the sides of the crepes unstick from the pan and get dry and crispy.
Flipping The Crepes
Now slide a flat spatula under the crepe and flip it on the other side.
Keep cooking the crepes until golden brown.
Place the cooked crepe onto a clean plate, and don't foil the plate because you want the crepes to cool down before adding the orange butter.
Repeat the process above to cook the remaining crepe batter.
Folding Crepes
The particularity of the crêpes Suzette is the way crepes are folded into a triangle shape before being cooked in orange caramel.
To fold the crepes, fold them in half, then in half again until a triangle forms.
Store them on a plate folded as a triangle until no more batter is left.
Crepe Suzette Sauce
Now that you have cooked your crepes, it's time to prepare the orange caramel or Suzette Sauce.
In a large skillet, add the caster sugar and cook over medium heat without stirring until the sugar melts.
Keep cooking until the sugar forms a golden caramel.
Remove the skillet from heat and carefully pour orange juice and orange zest – watch out it may splash, and caramel will crystalize, that's normal.
Return to medium heat until the caramel form again, then add butter.
Melt butter and bring to a light boil.
Cook the orange sauce for a few minutes to slightly reduce, then cook the crepes in the orange butter.
Cooking Crepes In Orange Butter
Reduce heat and add the folded crepe to the warm orange butter.
You can add 3 crepes at once in a large pan, if your pan is smaller, cook one crepe at a time without overlapping the Crepe Suzette in the pan.
Serving Crêpes Suzette
Meanwhile, warm the Grand Marnier in a small saucepan over low-medium heat.
When the crepes are warm, place them on a plate. Sprinkle the white sugar all over the crepes.
Pour the warm Grand Marnier on top of the crepe, and using a lighter or long match, ignite the crepes.
The flame stops when there's no more alcohol. You can stop the flame after a few seconds to keep a stronger Grand Marnier flavor in their crepes.
Serve plain or with a scoop of vanilla ice cream.
Allergy Swaps
If you have some food allergies, I listed some options for you below.
Gluten-Free – Use my gluten-free crepes recipe for a gluten-free crepe batter. The filling of the crepe is already made without gluten.
Dairy-Free – You can use dairy-free butter and non-dairy milk like almond milk or oat milk in the recipe. Alternatively, you can use my vegan crepe recipe.
Sugar-Free – you can use sugar-free sweeteners that are 1:1 replacements for sugar like allulose or erythritol. Alternatively, try my keto crepe recipe.
Storage
Below I listed all the storage options for this recipe:
Uncooked Crepe Batter – Store the crepe batter in the fridge for up to 2 days in an airtight container. Stir it before using it. Thin it with almond milk and cook it straight away, no need to bring it to room temperature.
Cooked Crepes – Place the cooked crepe on a plate, film it with plastic wrap to prevent them from drying out, and store them for up to 3 days in the fridge. You can freeze cooked crepes, flat, wrapped individually, or in a plastic bag for up to 3 months. Thaw in the fridge the day before
Suzette Orange Butter – Store the butter for up to 2 days in an airtight container in the fridge or freeze it for later and thaw it in the fridge the day before using.
Frequently Asked Questions
What Can I Use Instead Of Grand Marnier?
You can ignite the crepe Suzette with many different liqueurs like Cognac, Cointreau, or any orange liqueur like Triple Sec.
Since Grand Marnier is, in fact, a blend of Cognac and Orange Liqueur, you can make your own by combining Brandy and Triple Sec.
Grand Marnier is also very similar to Curaçao, though the latter is often sold with a blue dye.
What's Grand Marnier?
Grand Marnier is a brand of French liqueur made from a combination of Cognac (French Brandy) and Orange Liqueur (Triple Sec) with a sophisticated but delicate orange flavor.
Can I Make Alcohol-Free Crepe Suzette?
Yes, you can! Just omit the alcohol in the recipe or use orange syrup instead and skip the ignition at the end.
Why Is It Called Crêpes Suzette?
The legend says that when the future Edward VII of the United Kingdom visited Paris with a guest name Suzette, he was served a dessert that was accidentally flambéed.
He was so impressed by the taste that the crepes prepared this way were named after Suzette.
Can I Make A Chocolate Crepe Suzette?
Yes, you can! Use my chocolate crepe recipe for the base and continue the crepe Suzette recipe.
More Crepes Recipes
There are so many ways you can make crepes healthier, below are some more ideas for you to try.
Have you made this crepe Suzette recipe? Share a comment or review below.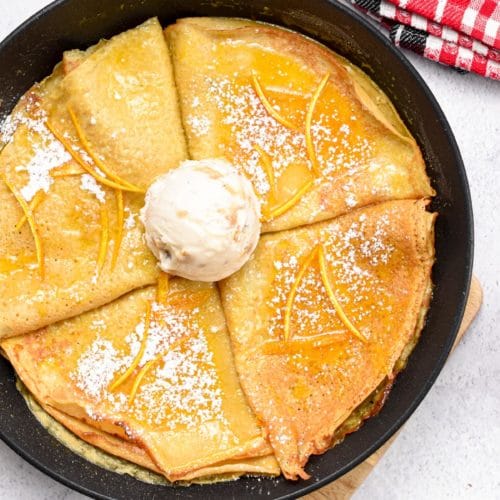 Crepes Suzette
This Crepe Suzette recipe are the most delicious thin French crepes, cooked in a orange butter caramel and ignited with Grand Marnier. An easy French dessert recipe guarantee to impress your guest anytime!
Nutrition Snapshot
Want My Kitchen Equipment?
Instructions
Whisk the flour, sugar, and salt in a mixing bowl.

Whisk in the beaten eggs, milk, vanilla, and rum (if used). The batter should be smooth, with few lumps of flour.

Preheat a non-stick skillet or crepe pan over medium heat and grease the surface with a teaspoon of butter that you rub all over the surface with absorbent paper.

Pour 1/3 cup of batter into the center of the pan, tilt, and rotate the pan to spread the crepe batter all over the pan as thin as possible.

Cook until the sides are dying out. It takes about 2 minutes.

Slide a flat tool under the crepe, flip and keep cooking on the other side for about 1 minute or until golden brown.

Set aside the cooked crepes on a plate and fold them into a triangle shape to keep them soft and lukewarm.
Orange Butter
In a large non-stick skillet, over medium heat, add sugar and cook, without stirring until it melts. Keep cooking until it reaches a light brown caramel color.

Remove the pan from heat and carefully pour the orange juice. Watch out, if the liquid is cold, it may splash outside the pan. Caramelization is going to form sugar crystals, and that's normal. Fold in the orange zest and return to medium heat until the sugar melts again into a caramel.

Stir in the butter, melt it, and bring it to a light boil for 3 minutes until it reduces slightly.

Reduce heat and add 3 folded crepes to the pan and cook them for 1-2 minutes until warm, then place the crepes on a serving plate. They are ready to be ignited.

Cook the 3 remaining crepes in the remaining orange butter.
Igniting Crepes
Meanwhile, warm the Grand Marnier in a small saucepan over medium heat.

Sprinkle the white sugar all over the crepes. Remove the skillet from the heat and pour the hot Grand Marnier over the crepes.

Ignite the crepe carefully with a match or lighter. The flame stops when there's no more alcohol. To keep some extra Grand Marnier flavor, use the back of a spoon to stop the flame a bit before.

Serve with extra grated orange zest or a scoop of ice cream.
My Recipe Notes
Nutrition
Serving:
1
crepe
Calories:
441.9
kcal
(22%)
Carbohydrates:
53.7
g
(18%)
Fiber:
1.1
g
(5%)
Net Carbs:
52.6
g
Protein:
9.9
g
(20%)
Fat:
19.4
g
(30%)
Saturated Fat:
9.6
g
(60%)
Polyunsaturated Fat:
2.1
g
Monounsaturated Fat:
6
g
Trans Fat:
0.4
g
Cholesterol:
129.9
mg
(43%)
Sodium:
290.1
mg
(13%)
Potassium:
232.8
mg
(7%)
Sugar:
25.4
g
(28%)
Vitamin A:
780.6
IU
(16%)
Vitamin B12:
0.7
µg
(12%)
Vitamin C:
8.3
mg
(10%)
Vitamin D:
1.4
µg
(9%)
Calcium:
127.4
mg
(13%)
Iron:
2.2
mg
(12%)
Magnesium:
23.1
mg
(6%)
Zinc:
0.9
mg
(6%)
Posted In: