Chickpea Crepes are thin savory chickpea pancakes made with healthy chickpea flour.
Bonus, these are easy, healthy, gluten-free vegan crepes made with only 3 ingredients in a blender.
How to make chickpea flour?
In order to make these delicious chickpea flour crepes you need chickpea flour also known as garbanzo bean flour. While you can buy chickpea flour from the store you can also make your own.
Obviously, to make chickpea flour you need to grind raw dried garbanzo bean into a flour.
This means that you need a powerful blender or food processor to pulse your garbanzo beans into a fine flour. First, cover the blade of your food processor with garbanzo beans.
Next, blend on high speed to grind the beans into flour. This requires 2 or 3 attempts. Blend for 1 minute, stop the food processor, scrape the bowl and repeat until you obtain a fine flour.
Finally, sift the flour to remove any big parts. Store chickpea flour in an airtight container, glass or plastic, in the pantry for up to 3 months.
Why is chickpea flour healthy?
Chickpea flour nutrition benefits are various.
ⓧ
Are you new to Keto?
Receive my Keto Quick Start email series to learn all about the Keto diet and kick start your keto journey!
First, it is a high protein flour with 22 grams of plant-based protein per 100 grams. Therefore it is a great flour to get your protein on a vegan diet.
Next, the amount of carbs per 100 grams is moderate with only 47g net carbs which is way less than white-wheat flour. Finally, it contains a lot of magnesium, iron, and vitamin B6.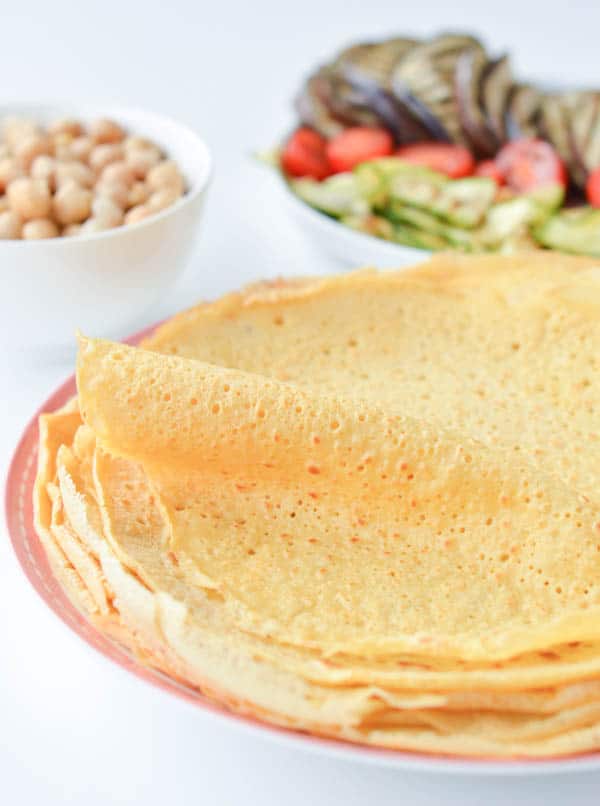 How to make chickpea crepes?
This said, let's talk about turning chickpea flour into delicious thin chickpea pancake aka chickpea crepes. Surprisingly, there is nothing easier than a chickpea crepes recipe.
All you have to combine are 3 simple ingredients:
Garbanzo flour – also known as chickpea flour
Water
Salt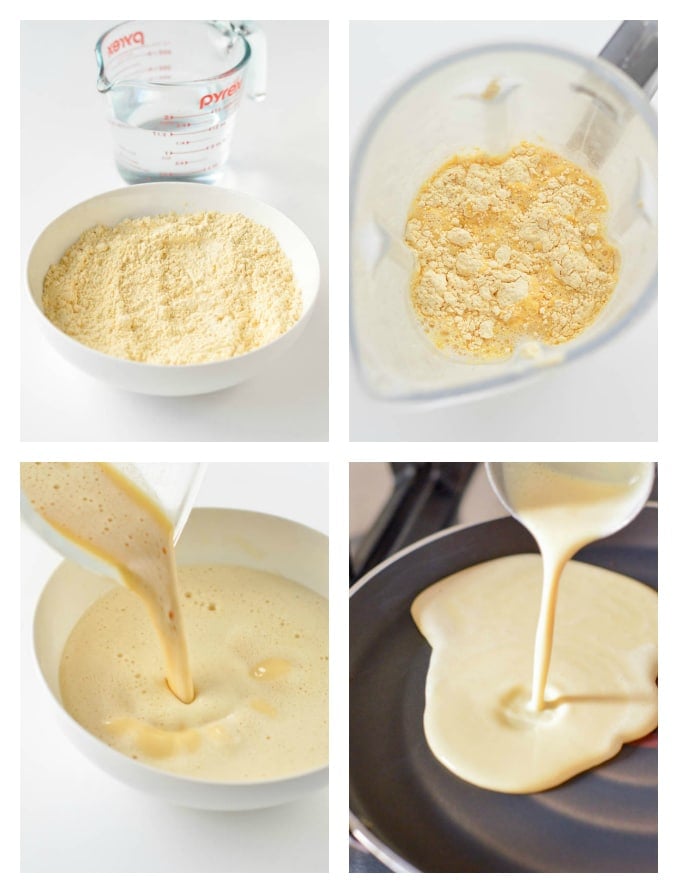 How to make thin chickpea crepes?
The most difficult part of making crepes of any kind is to make thin crepes. Those are the 3 tips to follow to make the most beautiful crepes anytime.
Batter. Your batter must be liquid, thinner than a pancake batter but not as liquid as water. It is very important to use a blender to make your batter to achieve this result and avoid any lumps. Also, if your batter is too liquid don't be afraid to adjust, adding 1 or 2 tablespoons of chickpea flour at a time to get the right consistency.
Non-stick Tefal pan. A non-stick crepe pan or non-stick pancake griddle is required to make thin crepes that won't stick.
Slightly grease the pan. Don't add lots of oil in your pan, always use a spray or piece of absorbent paper to spread a thin layer of oil on the pan. Indeed, too much oil will fry your crepes.
What to eat with chickpea vegan crepes?
Basically anything goes well into those savor chickpea crepes. My recommendation is to bring back the crepe to the pan with your filling especially if you add vegan cheese.
This will melt your cheese and make the whole filling hot. Grilled vegetables lie zucchini, eggplant, red peppers are delicious in those vegan crepes.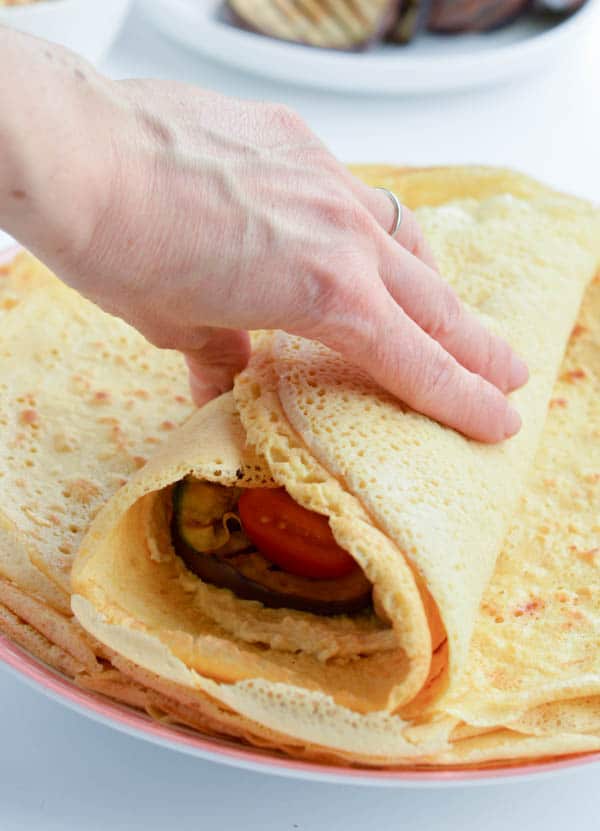 How to store your vegan crepes
This recipe makes 5 chickpea crepes. I stored mine on a plate in the fridge – make sure you wrap the plate with a piece of plastic film to prevent the crepes from drying out.
The next days, I fill my crepes and rewarm in a sandwich press. It adds a little crisp all around the crepe that is absolutely delicious.
And if you are not keen to eat with your fingers, it is also lovely crepes to eat on your plate with some green salad on the side.
More vegan crepes recipe
If you love vegan crepes I recommend you try my others vegan crepes recipe:
Or simply more low-carb crepes recipes !
Enjoy the recipe!
xoxo Carine
Recipe Card
Chickpea Crepes
Vegan Chickpea flour Crepes, a 3-ingredient recipe that makes gluten-free wraps with garbanzo bean flour only 5 grams of net carbs per small crepe.
Ingredients
1 ¼

cup

Garbanzo bean flour

1 ⅓

cup

Water

¼

teaspoon

salt
Instructions
In a blender, add the garbanzo bean flour, water, salt, and spices.

Blend on high for 30 seconds - 1 minute or until no more lumps appear. It will form a very liquid yellowish batter.

Transfer into a bowl. Set aside at room temperature for 30 minutes before cooking. 

Warm a 10-inch crepe pan, under medium/high heat, and use absorbent paper to rub the coconut oil on the pan and grease the pan.

Scoop 1/3 cup of the crepe batter into the frying pan and tilt the pan in a circular motion to ensure that the batter coats the surface evenly. The batter is very liquid, and that is what you want. The thickness of the crepes will depend on how much batter you use for each. Usually, 1/3 cup is what you need to make a 10-inch (26 cm) crepe, but you may want to add a little more to make a thick crepe. I love mine super thin as it gets crispier. 

Cook the crepe until the sides start to crisp up and lift off easily from the frying pan. It should take about 2 minutes each, over medium heat.

Loosen with a spatula and flip over to cook the other side. Both sides should be lightly brown, and the crepes should be crispy on the sides and softer in the middle.

Repeat for the next crepe until no more batter is left. I made 5 crepes with this recipe.

To serve, fill each crepe with the savory filling of your choice. I spread hummus, mashed avocado, grilled zucchini, grilled eggplant, fresh cherry tomatoes, raw chickpeas, and a drizzle of Dijon mustard. 
Storage: I store my crepes in the fridge for up to 4 days. Simply place the crepes on a plate, cover them with a piece of plastic wrap/film to prevent them from drying out. Rewarm on a crepe pan or fill with your favorite filling, roll, and warm up in a sandwich press. Garbanzo flour is also known as chickpea flour. It is gluten-free flour.
My Recipe Notes
Tools
Starting Keto
What Is Keto Diet?
Macro Calculator
Sweetener Converter
Keto Meal Plans
Keto Recipe Ebooks
Intermittent Fasting
Keto Fruits
Keto Vegetables
Keto FLours
Fighting Keto Flu
Keto Sweeteners
Nutrition Facts
Chickpea Crepes
Amount Per Serving (1 crepe)
Calories 89
Calories from Fat 14
% Daily Value*
Fat 1.5g2%
Carbohydrates 13.3g4%
Protein 5.5g11%
Net Carbs 10.8g
* Percent Daily Values are based on a 2000 calorie diet.
This recipe makes 5 chickpea crepes. Nutrition panel is for one crepe without fillings.