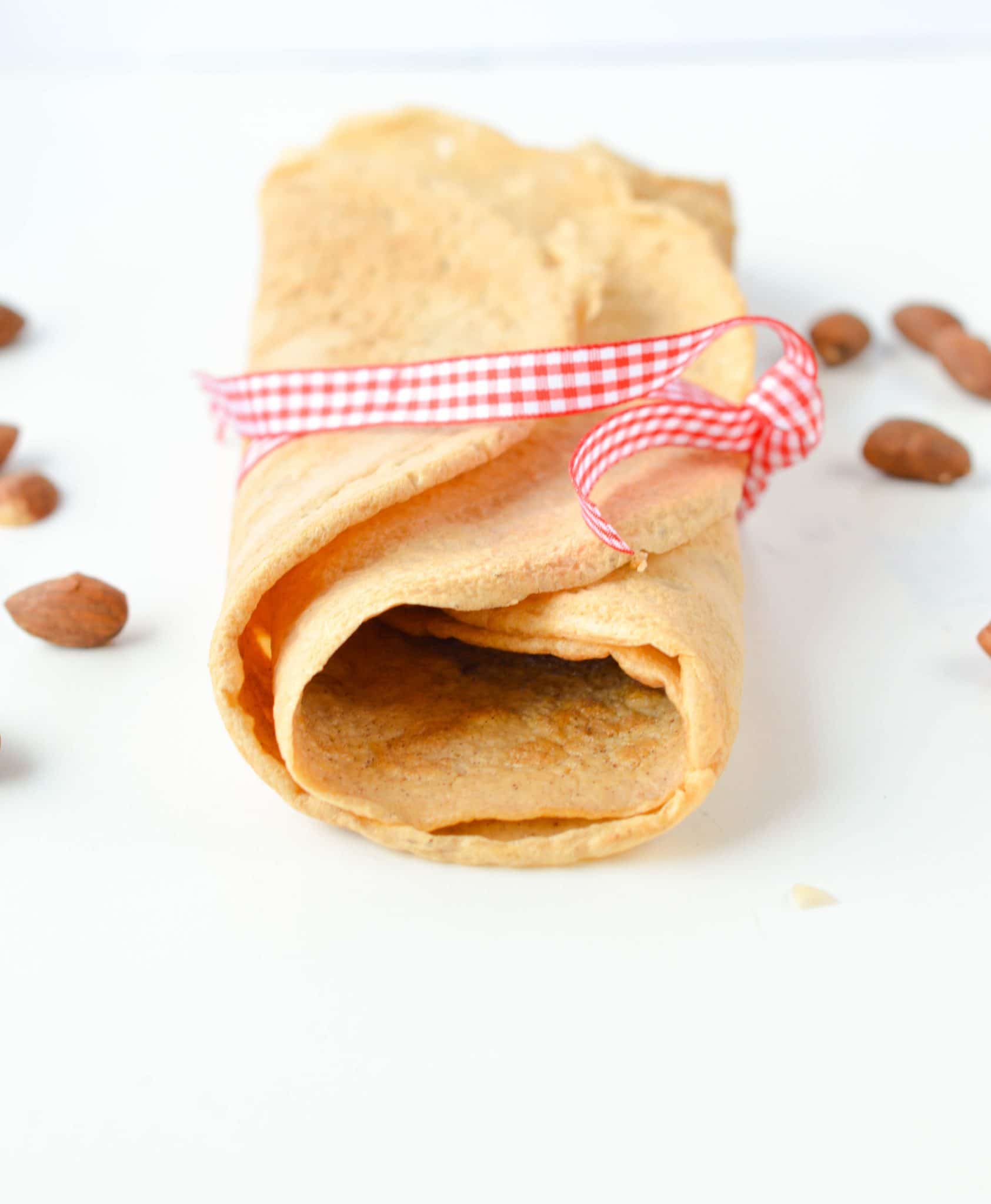 Say hello to my delicious low carb crepes recipe : those almond flour crepes are thin, light and crispy made with only 4 ingredients and NO dairy at all !  If you are missing
low carb bread recipes
those almond flour crepes will fix it in no time!  100% Paleo, Keto, Low carb and gluten free.
French almond flour crepes :  An easy 4-ingredients crepes recipe
As a French girl blogging about clean food recipes I MUST share an healthier version of my favorite french crepes recipe. Plus,  mum visit me in new Zealand right now – she is coming from France, she is diabetic and those almond flour crepes are a great gift for mum: a 100% diabetes friendly recipe.
She can finally enjoy some french crepes that will not raise her sugar level too much.
My mum always had many different French crepe recipe for us as a kid. She loves to makes buckwheat crepes with savory filling and wheat flour crepes for the sweet fillings. Today I want to surprise her with a new french crepe recipe using only almond flour.
So all you need to make those easy low carb crepes are 4 ingredients :
Eggs,
Almond meal – also known as almond flour or ground almonds
Vanilla – vanilla essence or vanilla paste, check the ingredients list some contains sugar!
Ground cinnamon – optional but super tasty
Thin, light and crispy almond flour crepes
I discovered this recipe in a cookbook two years ago and I adapted the recipe until it reach the texture of a classic french crepe as you could eat in Paris – minus the extra carbs! My almond flour crepes are 100% dairy free. I know many people add cream cheese in their almond flour crepes, but I don't.
Why ?
I don't eat dairy
I am French, crepes are French and this almond flour crepe recipe is most closer in taste and texture to the authentic French crepe recipe. Yes! the dairy free French crepes recipe made with water instead of milk are thin, light and crispy with a light egg flavor. 
Almond flour crepes – low carb crepes filling ideas
Those almond flour crepes are made to be filled with sweet fillings or they may be slightly tasteless on their own. I recommend many different low carb crepes filling below. Choose the one you like the most depending on the time of the day you make the crepes. For dessert I love whipped coconut cream and berries but for breakfast I prefer sugar free nutella or nut butter.
Whipped coconut cream filling sweetened with swerve – a natural sweetener similar to stevia. In the picture above I also cooked some plums in water with ginger, cinnamon and vanilla. Spicy water is a great way to poached fruits without sugar. As I am a coconut lover I sprinkle lots of desiccated coconut on my crepe plus fresh mint. It is very optional but I highly recommend it for a tasty fancy low carb dessert! Plums are not very low carb though so for mum I used grapefruits.
Sugar free nutella – my chocolate hazelnut spread recipe is 100% sugar free and keto friendly. It is absolutely amazing in those crepes for breakfast
Yogurt, berries, drizzle of nut butter and sliced almonds – I don't eat dairy so I used dairy free coconut yogurt. You can also use greek yogurt if you can eat dairy
Erythritol, ground cinnamon and coconut – simple but always a delicious combo.
Sugar free jam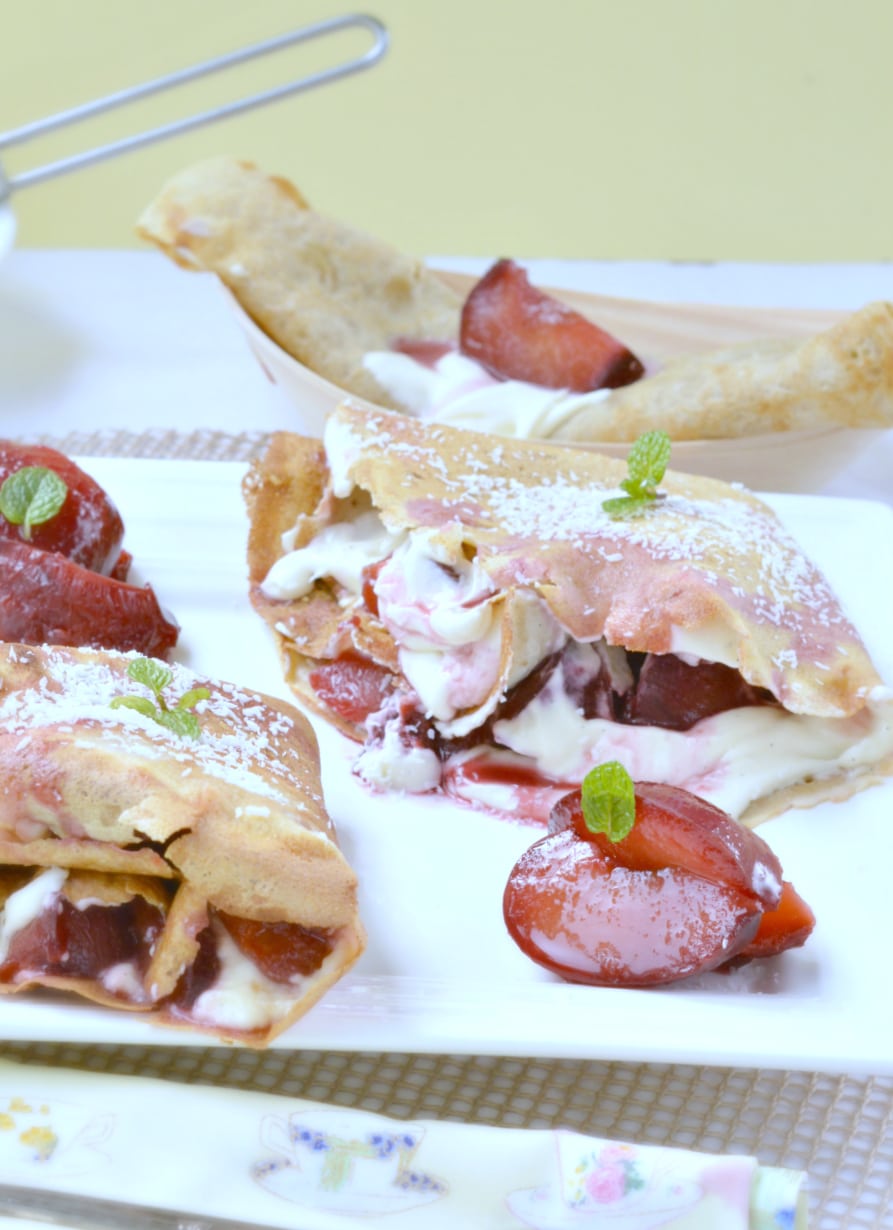 How to cook them?
Those almond flour crepes are very simple to make so don't be afraid to try this recipe even if you are not a chef! It is a NO FAIL recipe for sure. Whatever you have a crepe pan or not, if your pan is hot enough the batter will spread evenly and cook beautifully. Only 2-3 minutes on both sides and they are ready to eat. You will love the delicious crispiness of the borders.  The texture is light,crispy and perfect to make a dessert or a sweet breakfast.
 Watch the recipe video and make those simple almond flour crepes now !
Print Recipe
Almond Flour Crepes
Those Almond Flour Crepes contains only 3.8 g net carbs per crepes. Easy 4 ingredients recipes with eggs, almond flour, coconut oil and cinnamon. Best Low carb dairy free crepes. Gluten free, paleo and sugar free too. Those almond flour crepes are crispy, light and a delicious low carb breakfast crepes.
Servings:
4
crepes, 10 inches
Instructions
In a medium bowl whisk the eggs, ground almond, vanilla extract and ground cinnamon until combined and no lumps forms. Set aside.

Scoop the crepe batter into the frying pan and tilt the pan with a circular motion to ensure that the batter coats the surface evenly. The thickness of the crepes will depend on how much batter you use for each. Usually 1/4 cup is what you need to make a 10 inches (26 cm) crepe.

Cook the crepe until the sides start to crisp up and lift off easily from the frying pan. It should take about 2 minutes each, over medium heat.

Loosen with a spatula and flip over to cook the other side. Both sides should be lightly brown, and the crepes should be crispy on the sides and softer in the middle.

Repeat for the next crepes.

To serve fill each crepes with the whipped coconut cream, fold in a triangle and top with the fruits of your choice fresh berries, spicy plum jam etc.
Notes
Storage: 
The crepes, unfilled can be stored in a fridge, on a plate. Make sure you cover the plate with plastic wrap to avoid the crepes to dry out. Can be store up to 3 days. Rewarm on a crepe pan and fill with filling of your choice.
Low carb sweet filling ideas:
whipped coconut cream sweetened with stevia, berries, sugar free jam, yogurt, sugar free melted chocolate, desiccated coconut, unsweetened cocoa powder, nut butter (almond, cashew, peanut), seed butter or even coconut butter.
Savory filling:
those crepes makes a delicious savory meal as well. Simply don't add the vanilla and cinnamon in the batter, add 1/4 teaspoon salt instead.  After you cook the almond flour crepes, bring back to the pan, add a handful of grated cheese, some ham/bacon, grilled vegetables, fold the crepes in half and return to eat in the pan for few minutes until the cheese is melted.  Favorite combo are cheddar + bacon + fried onion or cream cheese, spinach  and ham.
Crepes pan:
I used
a 9 inches Tefal crepe pan with non stick coating.
Net carbs per crepes, no filling (Carbs take away fiber): 3.8 g 
Nutrition
Serving:
1
crepe (10 inch)
|
Calories:
127
kcal
|
Carbohydrates:
4.6
g
|
Protein:
7.6
g
|
Fat:
8.5
g
|
Fiber:
0.8
g
|
Sugar:
0.5
g