Pumpkin Crepes (Keto, Gluten-Free)
Pumpkin crepes are a low-carb and gluten-free healthy breakfast or dessert for any occasion—a delicious recipe made with coconut flour, almond meal, and a coconut cream pecan maple filling.
If you're missing bread for breakfast, these keto pumpkin crepes will make a tasty low-carb bread replacement.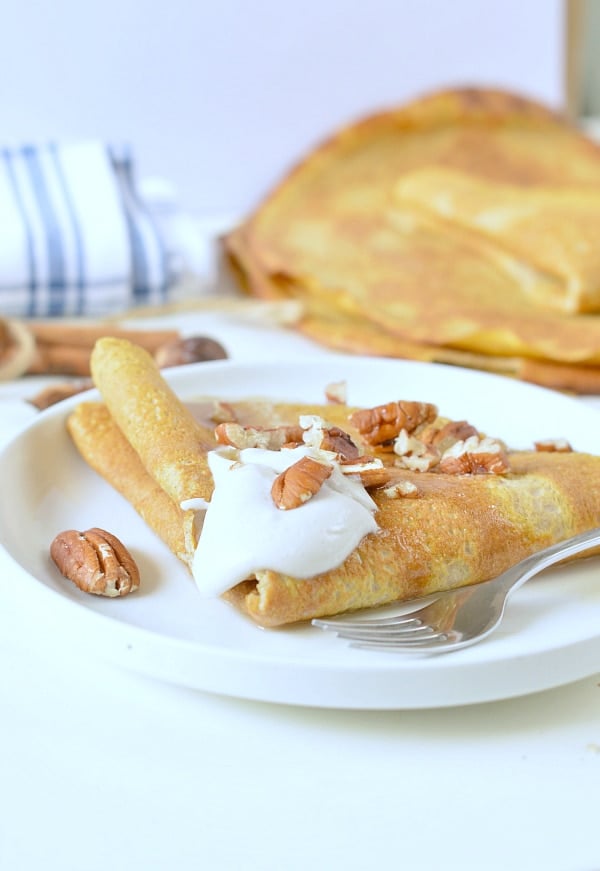 Are Regular Pumpkin Crepes Keto?
No, you can't eat an authentic French crepe recipe, with or without pumpkin on a keto diet because it's most likely made with wheat flour, milk, and white sugar.
These ingredients are high in carbs and would take you out of ketosis quickly.
Why You'll Love This Recipes
This recipe is one of my favorite crepes:
Full of Pumpkin Spice Flavors
Gluten-Free
Dairy-Free
Sugar-Free
Keto-Friendly (3.1 grams Net Carbs)
How To Make Keto Pumpkin Crepes
This recipe uses a combo of my favorite low-carb flours, plus some delicious pumpkin puree and pumpkin spices.
These pumpkin spice crepes are the best healthy crepes for breakfast, dessert, or any occasion where you need a sweet treat!
Ingredients
All you need to make this batter is 6 simple ingredients:
Almond flour or almond meal both work very well.
Coconut flour, make sure it is sifted before you measure it, or at least make sure there are no lumps in your flour. It tends to happen if you store your coconut flour for a while as it is highly water absorbent, lumps form with time and humid air. Read how to choose your keto flours.
Pumpkin puree – Use 100% pumpkin puree from a can, with no added sugar. Pumpkin is a good keto-friendly vegetable. Check out how it ranks against other low-carb vegetables. Learn how to make your own pumpkin puree.
Eggs
Sugar-free crystal sweetener – you can also use stevia drops or any natural sweetener you like.
Pumpkin spices – there's no Pumpkin Spice Crepe without the traditional pumpkin spices!
Making The Crepes
Keto Pumpkin Crepes are very easy to do.
Start by beating the eggs, vanilla essence, and pumpkin spices in a bowl.
Then add the pumpkin puree, almond flour, coconut flour, sweetener that you then whisk vigorously, manually, or with an electric beater.
Once the batter is sticky, put it in the fridge to let it set properly – count about 5 minutes.
Grease a crepe pan and pour 1/3 cup of batter in the middle of the pan. Tilt the pan to make the batter cover the whole surface.
Use a flat tool to flip the crepe after 2 to 3 minutes of cooking and let the other side cook for one minute.
Store the cooked pumpkin crepes on a plate while you cook the whole batter.
The Best Pumpkin Crepe Fillings
You can fill these low-carb pumpkin pancakes with the fillings of your choice. It is delicious as a savory pumpkin crepe. I highly recommend this delicious combo of whipped coconut cream, chopped pecan, and sugar-free flavored maple syrup. To make your own sugar free whipped coconut cream, you need:
Canned Coconut cream – make sure it contains more than 91% of coconut cream, or it won't work.
Stevia Vanilla drops
Bring your can of coconut cream to the fridge for at least 24 hours. The next day, open without shaking the can.
Scoop out the thick cream on top of the can, discard the water. Whip the cream in a cold bowl as you would do with regular cream. After 3 minutes, a lovely whipped cream forms, flavor with stevia drops.
This is a very easy pumpkin crepe recipe, ready in 15 minutes. It tastes delicious for any time of the day, and they are very fulfilling are they are loaded with fiber and protein.
More Crepes Recipes
If pumpkin is not your thing, here are some other delicious keto crepes recipes to try:
More Keto Pumpkin Recipes
Pumpkin Crepes
These Pumpkin Crepes are low-carb and gluten-free pumpkin spice crepes. A delicious recipe made with coconut flour, almond meal, pumpkin spices, and a coconut cream pecan maple filling.
Ingredients
Pecan Maple Coconut Cream filling
¼

cup

Coconut Cream

whipped

2

tablespoons

Sugar-Free Maple Syrup

1

tablespoon

Pecan Nuts

finely chopped, toasted
This recipe may contain Amazon or other affiliate links. As an Amazon Associate I earn from qualifying purchases.
Instructions
In a large mixing bowl, beat the eggs with vanilla essence and pumpkin spices.

Add in pumpkin puree, almond meal, coconut flour, and sugar-free crystal sweetener. Vigorously whisk to avoid, as much as possible, forming coconut flour lumps. It's fine if there are a few small ones, don't worry. Or you can also use an electric beater for a smoother batter.

You should have a slightly thick batter by now. Set aside 5 minutes to let the fiber absorb the liquid. The batter will get slightly thicker.

Grease a crepe pan with an oil spray or rub vegetable oil on your pan using a piece of absorbent paper. I usually use 1/2 teaspoon before cooking each crepe. Don't leave the oil on the pan or you will fry the crepe.

Warm the non-stick crepe pan for 2 minutes on medium heat. When your pan is very hot, pour 1/3 cup of crepe batter in the middle of the pan. Tilt the pan quickly, making a round movement, to spread the batter evenly. Add more batter if needed to cover the surface of your pan.

Cook 2-3 minutes on one side or until the edges are getting crispy and don't stick to the border of the pan.

Using a flat tool or your finger, flip over the crepe. If it is too fragile, keep cooking for a few more seconds on that side before flipping the crepe. Cook for 1 minute on the other side.

Place the cooked crepes on a plate and repeat this process until all are cooked. This batter makes 6 crepes of 20 cm (8 inches) or 4 large crepes of 24 cm (9.5 inches).
Pecan Coconut cream filling
Fill each crepe with 1/4 cup of whipped coconut cream. Close the crepe. Sprinkle chopped pecan and drizzle sugar-free maple-flavored syrup on top.
Storage
Store crepes for up to 3 days in the fridge. Place them on a plate covered with plastic wrap to prevent them from drying out.

Rewarm on the crepe pan for 1 on both sides on medium heat.
Notes
Toasted pecans: I simply melt 1/2 teaspoon of coconut oil in a saucepan on medium heat, add the chopped pecan, and toasted them for 2 minutes. Drizzle some sugar-free liquid syrup at the end if you like them sticky and sweet.
Want My Kitchen Equipment?
Serving:
1
crepe
Calories:
188.6
kcal
(9%)
Carbohydrates:
5.4
g
(2%)
Fiber:
2.3
g
(10%)
Net Carbs:
3.1
g
Protein:
9.3
g
(19%)
Fat:
14.6
g
(22%)
Saturated Fat:
4.7
g
(29%)
Polyunsaturated Fat:
1.5
g
Monounsaturated Fat:
3.5
g
Trans Fat:
0.1
g
Cholesterol:
202.2
mg
(67%)
Sodium:
81.1
mg
(4%)
Potassium:
110.1
mg
(3%)
Sugar:
1.5
g
(2%)
Vitamin A:
2012.6
IU
(40%)
Vitamin B12:
0.5
µg
(8%)
Vitamin C:
0.5
mg
(1%)
Vitamin D:
1.2
µg
(8%)
Calcium:
58.9
mg
(6%)
Iron:
1.5
mg
(8%)
Magnesium:
11.4
mg
(3%)
Zinc:
0.8
mg
(5%)
Posted In: