Pumpkin crepes are low-carb and gluten-free healthy breakfast or dessert for any occasion. A delicious recipe made with coconut flour, almond meal and a coconut cream pecan maple filling. If you're missing bread for breakfast these crepes will make a tasty low-carb bread replacement.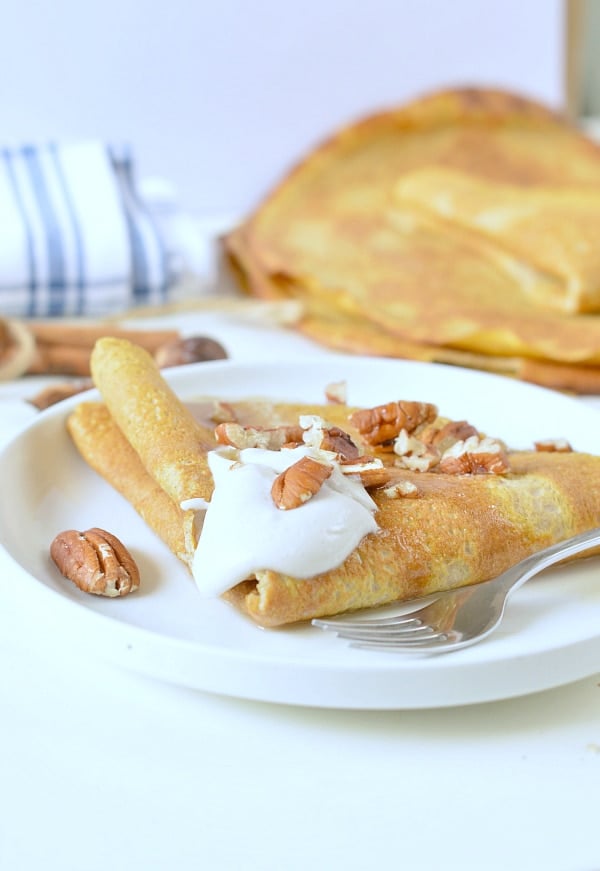 Pumpkin crepes – low-carb and gluten-free
This recipe uses a combo of my favorite low-carb flours, plus some delicious pumpkin puree and pumpkin spices. This pumpkin crepes are the best healthy crepes on for breakfast, dessert or any occasion where you need a sweet treat!
All you need to make this batter is 6 simple ingredients:
Almond flour or almond meal, both work very well
Coconut flour, make sure it sifted before you measure it or at least make sure there is no lumps in your flour It tends to happen if you store your coconut flour for a while as it is highly water absorbent, lumps form with time and humid air.
Pumpkin puree – Use 100 % pumpkin puree from a can, with no added sugar. Pumpkin is a good keto-friendly vegetable, check out how it ranks against other low-carb vegetables.
Eggs
Sugar-free crystal sweetener – you can also use stevia drops or any natural sweetener you like
Pumpkin spices
Homemade coconut cream and pecan
You can fill those crepes with the fillings of your choice but I highly recommend this delicious combo of whipped coconut cream, chopped pecan and sugar free flavored maple syrup. To make your own sugar free whipped coconut cream you need:
Canned Coconut cream – make sure it contains more than 91% of coconut cream or it won't work
Stevia Vanilla drops
Bring your can of coconut cream to the fridge for at least 24 hours. The next day, open without shaking the can. Scoop out the thick cream on top f the can, discard the water. Whip the cream in a cold bowl as you would do with regular cream. After 3 minutes a lovely whipped cream form, flavor with stevia drops.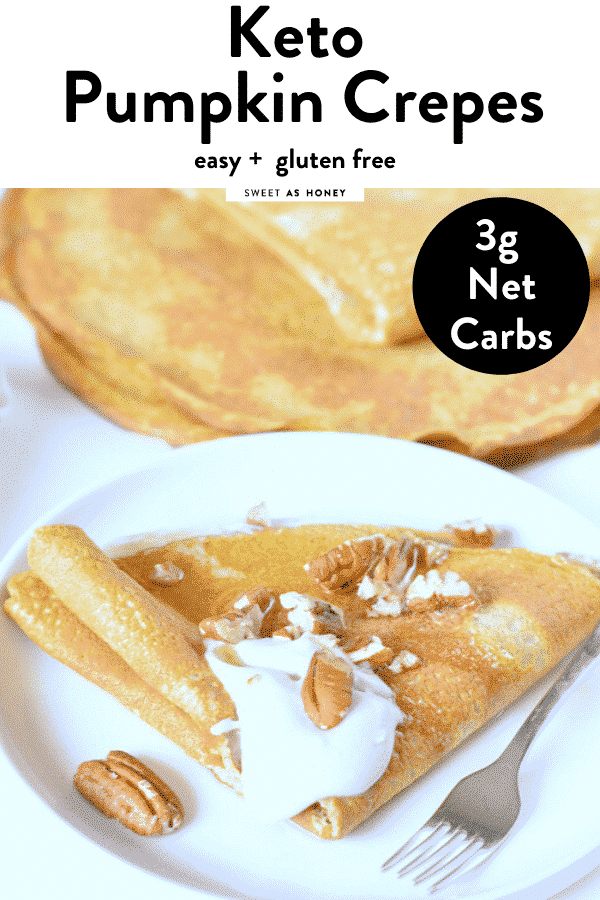 This is a very easy pumpkin crepe recipe, ready in 15 minutes. It tastes delicious for any time of the day and they are very fulfilling are they are loaded with fiber and protein.
More keto crepes recipe
If pumpkin is not your thing here are some other delicious keto crepes recipes to try
If you've enjoyed the recipe, don't forget to share a picture with me on instagram if you make it  !
xoxo Carine