Protein Crepes (Low-Carb, Keto, Gluten-Free)
Protein Crepes are healthy, low-carb, high-protein, and gluten-free breakfast crepes made of simple ingredients and only 1.8 grams of net carbs.
A sweet keto breakfast recipe, perfect to refuel after a workout.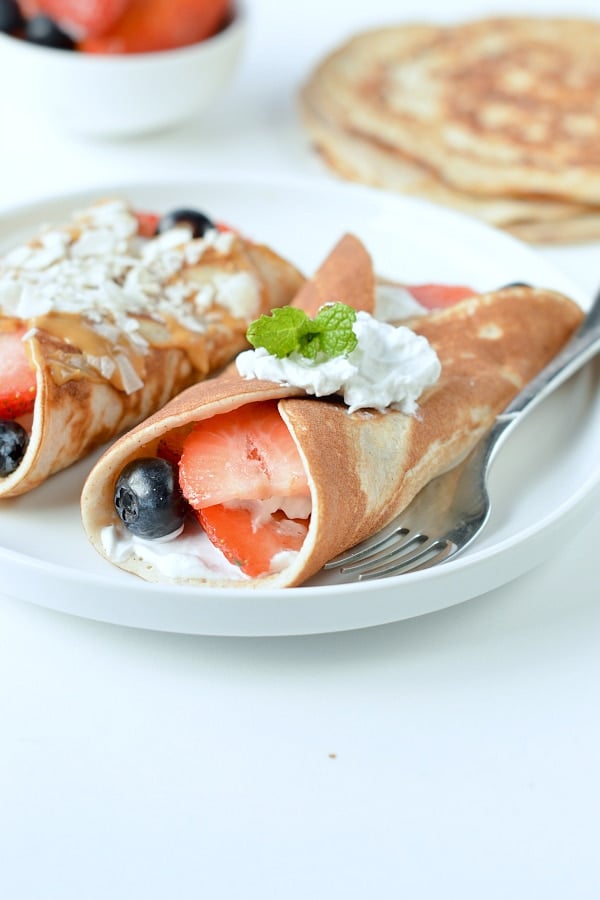 What Are Protein Crepes?
Crepes are delicious healthy breakfast or dessert options that come in many fashions. Protein crepes are high-protein versions of classic crepes, typically made by adding more eggs to the batter.
Protein crepes are high in protein but low in carbs.
For more classic crepe recipes, check out my classic Crepe Recipe, Coconut Flour Crepes, Keto Crepes, or Almond Flour Crepes.
How To Make Protein Crepes
Protein Crepes are a delicious post-workout breakfast recipe.
Ingredients
This protein crepe recipe is made without protein powder, so this one is made of 3 simple required ingredients.
Egg white – I am using a regular size egg size. I keep the egg yolk to make a custard. You can also buy organic egg white directly from the store. It makes the recipe faster. Eggs are perfectly keto-friendly.
Coconut flour – don't be fooled by the 'flour'. This is keto-friendly flour. Coconut flour is coconut meat ground finely into flour. It is full of fiber, so good for your gut, has a good amount of protein, and is very keto-friendly.
Unsweetened almond milk – feel free to use unsweetened almond milk or vanilla unsweetened almond milk if you want to add a hint of vanilla to your crepes.
Sugar-free crystal sweetener – optional. I like my protein crepes sweet, so I am adding Monk fruit crystal sweetener to this recipe. If you want to eat those savory, replace them with 1/4 teaspoon of sea salt.
Cinnamon – this is entirely optional, just something I love to add to my crepes.
Tips And Tricks
These protein crepes are very easy to make.
My three tips to make the most beautiful and delicious crepes will be:
Measure your egg white in cups or grams! I am using regular-size eggs, but it is more precise if you measure the egg white in volume or weight. Same for the coconut flour. Weigh it if you are unsure of your tablespoon measurement.
Use a stand mixer to mix the batter gently. This ensures there is no coconut flour lump in your batter. Don't use a manual whisk, which will result in many lumps. You can also use a blender on low speed, the one for soup, not for smoothies. Don't over-blend it for more than 30 seconds. Also, if you choose the immersion blender method, use a tall bowl to avoid making a mess! Your batter must be slightly thicker than a regular crepe recipe, closer to a pancake batter, and somewhat thick and grainy.
Don't swirl the pan to spread the crepes! This is not a regular French crepe recipe. Instead, I found it easier to scoop 1/4 cup batter in the center of my hot, greased non-stick Tefal pan. Then use the back of a tablespoon, and starting from the center of your batter, make motion circles to spread the batter from the center to the side and form a round crepe. It takes time and practice to have the perfect motion circle move – see my recipe video – but as soon as you get it, your protein crepes will be beautiful.
Protein Crepe Fillings
To fill these crepes, you can try the following healthy, low-carb fillings:
Protein yogurt, Greek yogurt, or cream cheese.
Raspberries, strawberries, and blueberries
Coconut flakes
Kiwifruit slices
Nut butter like peanut butter or almond butter
Dairy products like cream cheese unsweetened whip cream
Storage Instructions
You can store these protein crepes in the fridge, on a plate, covered with plastic wrap to prevent them from drying out for up to 4 days in the fridge.
Rewarm them on a hot pan for 1 minute or microwave for 30-45 seconds.
Frequently Asked Questions
How Many Carbs Are In Protein Crepes?
One of these little protein crepes contains 9.7 grams of protein for only 1.8 grams of net carbs.
To increase your protein intake even more, you can fill the crepe with 1/4 cup of protein yogurt, some fresh berries, and an extra tablespoon of almond butter.
Altogether, it reaches 20 grams of protein for only 1 crepe!
Are Protein Crepes Keto-Friendly?
Yes, these high-protein crepes have only 1.8 grams of net carbs per serving, making them very much keto-friendly.
Can I Add Protein Powder To Crepes?
Yes, you can add some protein powder to the protein crepe batter.
Stick to about 1/4 cup of protein powder added to the mixture and remove a tablespoon of coconut flour.
How Can I Have More Protein On Keto?
If you work out often, I recommend drinking a protein shake and eating a protein bar after your training.
More Crepes Recipes
If you like crepe recipes, you'll love these:
Protein Crepes
Protein crepes are healthy low-carb, high-protein, gluten-free breakfast crepes made of 3 simple ingredients. A sweet clean eating recipe perfect for breakfast or post-workout.
Ingredients
8

Egg Whites

(1 cup + 1/4 cup)

5

tablespoons

Coconut Flour

2

tablespoons

Unsweetened Almond Milk

or unsweetened vanilla almond milk

3

tablespoons

Erythritol

optional, adjust to desired sweetness or replace with 1/4 tsp sea salt for savory crepes

¼

teaspoon

Ground Cinnamon

optional
For the pan
½

teaspoon

Coconut Oil

or vegetable oil of your choice
This recipe may contain Amazon or other affiliate links. As an Amazon Associate I earn from qualifying purchases.
Instructions
Make the crepe batter
In a large mixing bowl, add all the ingredients.

Use an immersion blender to combine all the ingredients. You can also use a blender at low speed. Blend for less than 30 seconds to avoid adding too much air to the batter. Using one of these methods avoids coconut flour lumps in the batter. A manual whisk is not recommended!

Set aside 5-10 minutes to let the fiber absorb the moisture. You should obtain a slightly thick batter, not as thick as pancake batter but thicker than a regular french crepe batter. It is a bit 'grainy' too, that is normal. If too liquid – it could happen if you didn't measure the egg whites in cups or grams – adjust adding 1 teaspoon coconut flour at a time until the batter is slightly thick as on my video.
Cook the crepes
Place an 8-inch crepe pan over medium heat. It is crucial to use a non-stick pan like mine here, or the crepes may stick to your pan!

Add 1/2 teaspoon of coconut oil to coat the bottom of the pan. I like to rub the oil with a piece of absorbent paper.

Let the pan for 1 minute under medium until it gets hot.

Pour 1/4 cup of crepe batter in the center of the pan.

Immediately use the back of a tablespoon to spread the batter into a round circle shape crepe. To do so, place the back of the spoon in the center of the scooped batter. By circular motion, spread the batter from the center to the outside until it forms a nice, thin, round crepe. Don't tilt the pan to spread this batter, or it will bread and won't work as for regular french crepes. See the recipe video for more details on spreading.

Cook for 2-3 minutes or until the bottom of the crepe has slightly browned, the border gets darker, and the top is drying out.
Flip the crepe
Carefully work a spatula underneath it and flip the crepe. Cook on the other side for barely 30 seconds or just to set the batter.

Cool down on a plate for a few minutes then spread your favorite toppings.
Protein/low carb sweet filling
Fill your crepe with 1/4 cup of protein yogurt, fresh berries, and a tablespoon of almond butter. Feel free to sprinkle extra sugar-free icing powder on top, or sliced almonds!
Storage/rewarm
Store your crepes in the fridge, on a plate, covered with plastic wrap to prevent them from drying out. You can store them for up to 4 days in the fridge.

Rewarm slightly on a hot pan for 1 minute or microwave for 30-45 seconds.
Want My Kitchen Equipment?
Serving:
1
crepe
Calories:
49.2
kcal
(2%)
Carbohydrates:
3.9
g
(1%)
Fiber:
2.1
g
(9%)
Net Carbs:
1.8
g
Protein:
9.7
g
(19%)
Fat:
1.3
g
(2%)
Saturated Fat:
1.1
g
(7%)
Sodium:
85.2
mg
(4%)
Potassium:
65.2
mg
(2%)
Sugar:
0.7
g
(1%)
Calcium:
8.8
mg
(1%)
Iron:
0.2
mg
(1%)
Posted In: