French Buckwheat Crepes (Spinach Mushroom Savory Galette)
French Buckwheat Crepes are gluten-free, savory crepes made of 100% buckwheat flour, water, egg, and salt.
It is an easy and healthy 4-ingredient crepes recipe with a moist center and crispy borders that French people love to eat for dinner stuffed with spinach and mushroom or ham and cheese.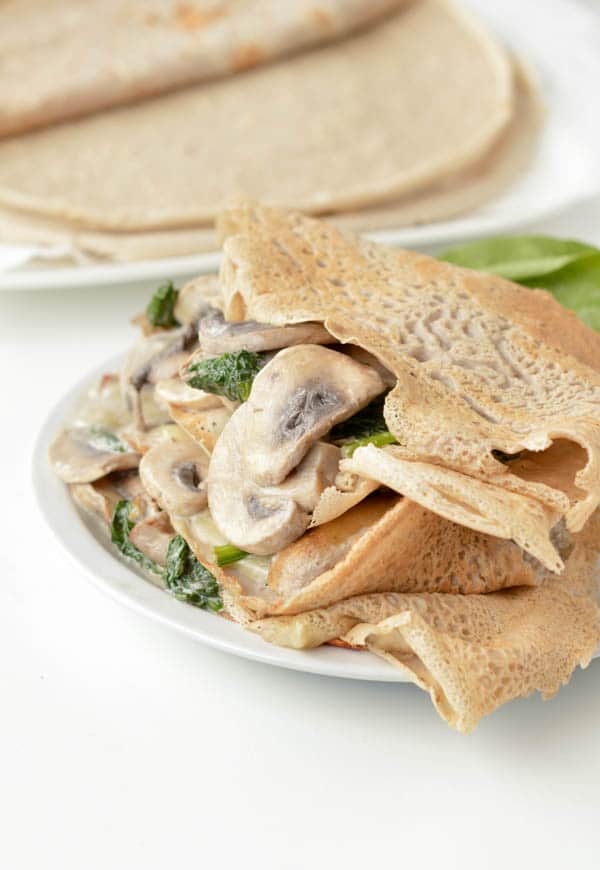 What Are Buckwheat Crepes?
Buckwheat crepes are similar to a regular Crepe Recipe, but they are made with Buckwheat flour instead of all-purpose flour and they normally contain savory fillings.
What Is Buckwheat?
Buckwheat is a grain-like seed that despite its name has nothing in common with wheat.
It's not a cereal and is actually closer to rhubarb than to any other grain.
Why You'll Love This Recipe
This recipe makes delicious crepes for a savory dinner and they are:
Gluten-Free
Vegetarian
Egg-Free Option
Vegan Option
Rich in Vitamin A (50% of Daily Value)
Good source of Iron and Magnesium
How To Make Buckwheat Crêpes
As a French person, I love crepes. There is not a week without making crepes in my house.
I do any kind of crepes but my favorite is the authentic French crepes recipe – the sweet one made of white flour, eggs, and milk, not the healthiest, right.
However, the Savory French Galette or French buckwheat crepes are made of healthy buckwheat flour rich in fiber, protein, and vitamin B.
It is a super easy recipe to make – honestly, most French people make them without even following a recipe – just looking at the texture of the batter.
Ingredients
So all you need to make the best french buckwheat crepes are:
Buckwheat flour – Buckwheat is despite its name not related to wheat flour and is gluten-free flour.
Water
Salt
Egg – if you are vegan, you can easily use a flax egg substitute in this recipe – mix 1 tablespoon of flaxseed meal in 3 tablespoons of water, stir and let sit for 15 minutes.
Tools
A crepe pan or French crepe maker – a very, very hot non-stick pan! That's the trick to making a good crepe.
I used to make my batter in a mixing bowl and whisk it manually, but I am now using my blender – much faster, and I am sure there are no lumps in the batter.
Tips For The Best Buckwheat Crepes
French people named the French Buckwheat crepes Galettes.
While it is a very simple no-fail recipe, they are some tips to succeed in making delicious French Buckwheat crepes.
Follow the recipe – use 100% buckwheat flour- no blend with white flour, please! and don't swap water for milk.
Let it sit at least 2 hours in the fridge to thicken – look at the two pictures below. When the batter rests in the fridge, it thickens and gets darker. It is a very important step to make beautiful golden crepes that are not chewy but moist with crispy sides. The best is either to let it rest overnight in the fridge.
Use a very hot crepe pan oiled with a piece of absorbent paper – you don't want to fry the batter, so don't add too much oil/butter/coconut oil.
Adjust the batter with water – even in the best restaurant in Brittany, people adjust the batter with water to get a perfect consistency. It should look like melted ice cream, thick but easy to spread on the very hot pan.
The first crepes is a test one! Any French people discard the first buckwheat crepes – sort of tradition. It is always an ugly one, either too thick – batter did not spread well because you did not add up enough water after it sits in the fridge, or the crepe is too white – the pan wasn't hot enough, etc. The batter is not perfect for the first time, and that is ok.
Making crepes is easy – making beautiful, evenly thick crepes is an art. It takes time and practice to learn how to quickly tilt the pan, grease, and warm the pan, but the good news is a buckwheat crepe always tastes good however bad it could look! My husband is French, and he makes the most delicious ugly crepes. That is what I love about crepes. Anyone can make a delicious crepe. It also takes skills to flip the crepes without using a spatula.
Authentic Buckwheat Crepes Texture
A beautiful buckwheat crepe is moist, slightly chewy in the center, with some small holes all other the crepe.
The first side you cook on the pan has circle brown shapes, while the other side has little brown dots.
Serving Buckwheat Crepes
Buckwheat crepes are like regular crepes. They are used with savory fillings. It is not a wrap to eat with your hands.
French people eat them on a plate with a fork and a knife.
This is how French people eat buckwheat crepes:
Butter the crepe pan and warm under medium eat
Place the crepe on the crepe pan and garnish half of the crepes with layers of grated cheese, ham, cooked potatoes or vegetables, and more grated cheese.
Close the crepes
Cook again on both sides until golden and crispy!
Below I shared my vegan spinach mushroom crepes pictures made with coconut cream. Recipe coming soon on the blog!
Allergy Swaps
This recipe is already gluten-free, but you can also make it:
Vegan: Replace the egg in this recipe with a flaxseed egg. Simply combine 1 tablespoon of flaxseed meal with 3 tablespoons of water. Set aside for 15 minutes. Add the flaxseed egg to the batter as an egg. Use vegan cheese or no cheese at all in the filling.
Coconut Free: replace the coconut cream with regular cream or cashew cream.
Storage Instructions
You can store unfilled cooked crepes for up to 3 days in the fridge in an airtight container or wrapped in plastic.
If you have already filled the crepes, you can keep them in the fridge overnight, but not more.
Reheat them in the crepe skillet for a few minutes.
Frequently Asked Questions
Is Buckwheat Gluten-Free?
Yes, buckwheat is a seed that is not related to wheat and contains no gluten at all. Therefore, buckwheat flour is 100% gluten-free.
How Does Buckwheat Taste?
Buckwheat has a toasty and nutty flavor that makes its flour more suitable for savory crepes than sweet crepes.
Can you use buckwheat flour for crepes?
Absolutely! Buckwheat crepes are traditionally used for savory crepes.
Are buckwheat crepes gluten-free?
Yes, buckwheat crepes are gluten-free, as long as the batter is not blended with all-purpose flour. My buckwheat crepe recipe is 100% gluten-free.
More Crepe Recipes
If you like easy crepe recipes, you'll love these:
French Buckwheat Crepes
French Buckwheat Crepes are gluten-free savory crepes made of 100% buckwheat flour. An easy, healthy 4-ingredient savory crepes recipe to stuff with ham and cheese or spinach and mushrooms.
Ingredients
2 ¼

cups

Buckwheat Flour

(300g)

3

cups

Water

(750ml)

1

Egg

or flaxegg if vegan – see note

½

teaspoon

Salt

(4g)
Optional
⅓

cup

Water

to adjust the batter consistency if needed
Spinach Mushrooms Filling
2

tablespoons

Extra Virgin Olive Oil

1

Shallot

or brown onion, chopped

10

oz

Button Mushrooms

washed, feet trimmed, finely sliced

1

tablespoon

Dried Oregano

¼

teaspoon

Ground Nutmeg

1

Garlic Clove

crushed

¼

teaspoon

Salt

1

pinch

Ground Pepper

optionnal

5

oz

Baby Spinach

⅓

cup

Coconut Cream

¼

cup

Grated Cheese
This recipe may contain Amazon or other affiliate links. As an Amazon Associate I earn from qualifying purchases.
Instructions
Buckwheat Crepes
In a blender, add the buckwheat flour, water, egg, and salt. Blend for 30 seconds or until smooth. If you don't have a blender, use a large mixing bowl. Add buckwheat flour, egg, and salt, and beat in the water gradually until a smooth batter forms with no lumps.

Cover the batter and let it rest in the refrigerator for at least 2 hours or overnight.

After 2 hours – or the next day – check the consistency of your batter and thin it out until it has the consistency of melted ice cream. I usually add up to 1/3 cup water (except for the vegan recipe using flaxseed egg).

Heat a lightly oiled crepes pan over medium/high heat. I use a piece of absorbent with a 1/4 teaspoon of coconut oil (or butter) on it. Rub the paper on the pan to slightly grease the pan.

Make a first crepe to test your batter consistency. Pour or scoop about 1/3 cup of batter onto the pan, then tip and rotate the pan to spread the batter as thinly as possible. Keep in mind that an authentic French buckwheat crepe is thicker than a regular French crepe. And it doesn't spread as well. If it's difficult to spread, add a bit more water to the batter – up to 1/3 cup. French people always discard their first crepe!

Brown on both sides for about 1-2 minutes on each, store on a plate, and repeat until no more batter is left.
Spinach Mushroom filling
In a pan, under medium heat, warm the olive oil then add the shallots. Stir for 1-2 minutes until fragrant.

Add the sliced button mushroom all at once, stir and cook for 5-8 minutes until fried on all sides until they begin to brown.

Stir in the dried oregano, nutmeg, garlic, salt, and pepper if you like.

Stir in the spinach. Cover with a lid and cook until just wilted – 1 or 2 minutes.

Uncover and stir in the canned coconut cream. Simmer 2-3 minutes.
How to eat French Buckwheat crepes the French way
Grease a hot crepe pan with coconut oil, butter, or vegetable oil

Place the crepes in the pan – the first side you cooked on the pan. Garnish half the crepe with grated cheese, spinach mushrooms filling with more cheese, and close the crepe.

Cook 1-2 minutes on both sides until brown, crispy, and the cheese is melted.

You can omit the cheese if you are vegan or use vegan dairy-free cheese.
Notes
Make it Vegan: Replace the egg in this recipe with a flaxseed egg. Simply combine 1 tablespoon of flaxseed meal with 3 tablespoons of water. Set aside for 15 minutes. Add in the batter as an egg. We use vegan cheese or no cheese at all in the filling.
The vegan recipe usually doesn't need added water after the batter sits for 2 hours in the fridge, the consistency is spreading well, and the crepes hold perfectly together.
Want My Kitchen Equipment?
Serving:
1
crepe
Calories:
334.7
kcal
(17%)
Carbohydrates:
34.7
g
(12%)
Fiber:
5.5
g
(23%)
Net Carbs:
29.2
g
Protein:
18.1
g
(36%)
Fat:
15.2
g
(23%)
Saturated Fat:
5.7
g
(36%)
Polyunsaturated Fat:
1.8
g
Monounsaturated Fat:
6.3
g
Trans Fat:
0.1
g
Cholesterol:
91.8
mg
(31%)
Sodium:
408.6
mg
(18%)
Potassium:
560.6
mg
(16%)
Sugar:
2.1
g
(2%)
Vitamin A:
2522.3
IU
(50%)
Vitamin B12:
0.4
µg
(7%)
Vitamin C:
7.2
mg
(9%)
Vitamin D:
0.4
µg
(3%)
Calcium:
112.4
mg
(11%)
Iron:
3.4
mg
(19%)
Magnesium:
150.3
mg
(38%)
Zinc:
2.6
mg
(17%)
Posted In: