Vegan crepes are easy and sweet French crepes 100% eggless and dairy-free, made with healthy spelt flour, almond milk and coconut oil.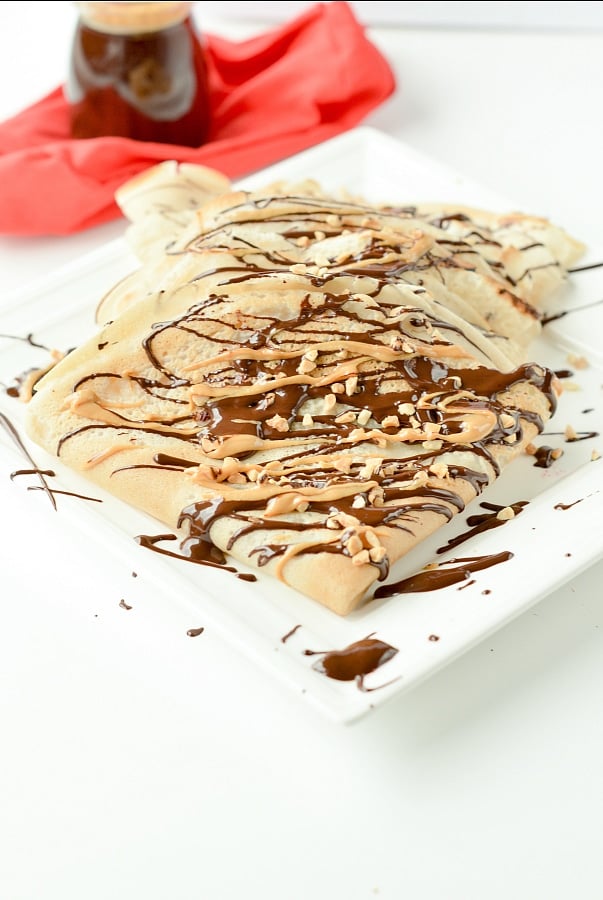 What is a crepe?
A crepe (or in its traditional spelling "crêpe"), is a very thin pancake-style specialty that are typical of the Brittany region of western France. Crepes are much larger than pancakes and also much thinner, similar in shape and size to wraps. Their texture is very close to a pancake but slightly softer. Crepes are either served with a sweet filling or with a savory filling. This recipe will give you 6 delicious sweet crepes.
How to pronounce crepe?
Pronouncing crepes like the French way can be tricky, but the best approximation is "krep", though try to make a guttural "r". The final "e" is silent end the first "e" is the same as in "best".
What should crepes look like?
One of the most popular recipes on my blog the past 5 years has been my french crepes recipe. No surprise, I am French, I made them many times and the recipe is a no-fail. Since my husband is vegan, I'm not making these delicious sweet French crepes anymore. I also love healthy recipes so I worked hard to recreate my favorite french crepes recipe in an eggless and dairy-free version using healthier flour. A delicious French crepe must be:
Thin – it's not a pancake it must be super thin
Elastic – it's easy to fold, won't break and slightly elastic/chewy when you eat it
Vanilla sweet flavor – that's why the choice of flour is important. A strong flavor flour – like buckwheat, chickpea or brown rice flours – won't make vegan crepes taste as good as the real french crepes.
I choose to make spelt flour crepes. If you are not familiar with spelt flour or can't find it in the store use regular white wheat flour. The recipe will work too. I simply love to use spelt because it has a similar flavor to wheat flour with an extra boost of nutrient, low level of gluten – it means it is more digestible for people with a sensitivity to gluten. Plus, it has a light nutty flavor that makes those vegan crepes absolutely amazing!
How to make vegan crepes?
The ingredients you need to make these crepes are:
White spelt flour – or white wheat flour if you can't find spelt in your store
Almond milk – or any dairy free milk you like
Coconut oil – I used melted unrefined coconut oil, I simply love the flavor of it. If you don't like the coconut oil flavor, use any other light vegetable oil like canola or avocado oil
Sweetener – I love my sugar-free crystal sweetener but if you can eat sugar, use coconut sugar (for a healthy touch) or sugar
Vanilla extract
Making crepes is relatively easy. First, blend all the ingredients together – using a blender makes this a breeze. Then the keys to making perfect crepes are a hot pan and an even spread of the batter.
If you are adventurous, you can then try to flip the crepe without touching it. Once the first side is crispy and doesn't stick to the pan anymore, hold the panhandle firmly and a quick but strong movement of the wrist should throw the crepe in the air with enough rotational momentum to make it land on its other side.
What to put in crepes?
Traditionally, sweet crepes have been eaten with raw sugar, lemon juice or maple syrup. Nowadays, the more common fillings are jam (any jam!) or chocolate spread. Just roll or fold your crepes into a triangle shape and eat while they are still warm. I like to drizzle melted dark chocolate, peanut butter and crushed peanuts.
Are crepes gluten-free?
Traditional crepes aren't gluten-free. This recipe uses spelt flour, it's not gluten-free either. However, if you are after a gluten-free option, I recommend you try my vegan gluten free crepe recipe. It's made with buckwheat flour, a nutrient-dense flour that has no gluten. Buckwheat flour crepes are often preferred with savory fillings but it's a also delicious with sweet jam, nut butters and maple syrup.
Enjoy these lovely vegan crepes !
Vegan crepes
Vegan crepes are easy sweet french crepes 100 % eggless and dairy free.
6 crepes
Print The Recipe
Vegan crepes batter
1 3/4 cup White wheat flour - I used white spelt flour but any white flour are fine
2 3/4 cup Unsweetened almond milk or any dairy-free milk of your choice
1 teaspoon Vanilla extract
2 tablespoon Coconut oil or vegetable oil of your choice (Avocado oil, canola oil)
1 tablespoon Erythritol I used sugar-free sweetner
To grease the crepe pan
1 teaspoon cooconut oil - to grease the pan
In a blender add all the ingredients.

Blend on high speed for 30 seconds. Stop, scrap the side of the blender and blend again for 30 seconds.

Transfer the batter into a bowl. If you don't have a blender, feel free to combine all the ingredients into a large mixing bowl using a whisk to avoid lumps.

Heat a lightly oiled crepe pan over medium/high heat. I recommend to use coconut oil and to rub the oil onto the pan using a piece of absorbent paper to avoid adding too much oil.

Scoop the batter onto the pan, then tip and rotate the pan to spread batter as thinly as possible.

Brown on both sides about 1-2 minutes on each sides and serve hot with your favorite fillings.
Almond milk: I always start with 2 3/4 cup of liquid (any milk work here), then if you like very thin crepes you can go up to 3 cups of liquid. No blender? you can make this recipe in a medium mixing bowl with a manual whisk. Add the dry ingredients first then stir in the liquid. Whisk vigorously until the batter is thin and there is no lumps (that is ok if there is few small lumps, all french crepes have some and you won't feel them)
Nutrition Facts
Vegan crepes
Amount Per Serving (1 crepe)
Calories 153 Calories from Fat 15
% Daily Value*
Fat 1.7g3%
Carbohydrates 28.6g10%
Fiber 1g4%
Sugar 0.2g0%
Protein 4.5g9%
Net Carbs 27.6g
* Percent Daily Values are based on a 2000 calorie diet.