These Pannekoeken, also known as Dutch Crepes, are thin, large pancakes filled with sweet or savory food for breakfast or light dinner.
What Are Pannekoeken?
Many countries have their own version of pancakes. French people eat French Crepes, Americans love Classic Pancakes, and in the Netherlands, Dutch people eat Pannekoeken.
In a way, the Pannekoek recipe is similar to a French crepe, except that the Dutch don't always add sugar or vanilla to the batter.
They often use this recipe to add savory filling as well, so the recipe is most of the time unflavored.
While French people prefer to make buckwheat crepes for savory filling, Dutch use all-purpose flour for all types of crepes.
How To Make Pannekoeken
It's very easy to make Dutch pancakes called Pannekoeken.
Ingredients
All you need for the batter are:
All-Purpose Flour – or any white flour like spelt flour or gluten-free all-purpose flour.
Salt
Eggs – Prefer large free-range eggs.
Milk of Choice – You can use dairy milk, but also almond milk, coconut milk, soy milk, or cashew milk.
Melted Butter – Prefer unsalted butter.
Then, depending on your favorite fillings, add the sweet ingredients below or just skip them for savory crepes.
Batter
To make the Pannekoeke batter, sift flour and salt in a large bowl. Whisk to combine, adding sugar if used.
Set aside. In another bowl, beat eggs, milk, and melted butter, and add the vanilla if desired.
Make a well in the center of the dry ingredients, and add the liquid ingredients.
Use a whisk or electric beater on the low-speed setting to whisk and combine. The batter should be smooth with no lumps.
Cooking Pannekoeken
Warm a large non-stick pan or crepe pan over medium-high heat. Ladle some of the batter, and pour on the preheated pan.
Tilt and rotate the pan to spread the batter and cover the pan surface evenly.
Return over medium heat and cook until the sides of the crepes unstick from the pan and turn golden brown.
Use a spatula to lift the crepes and flip them to the other side to cook again. In total, the cooking time can vary from 2 to 3 minutes.
Remove from the heat and place on a serving plate while cooking the remaining batter.
You can tent the plate with foil to keep the cooked Pannekoeken warm.
Serving
You can serve this recipe with any savory or sweet filling you like.
For savory filling containing cheese, it's better to bring the cooked Pannekoeke back to the pan.
Spread grated cheese or soft cheese spread on half of the round shape.
Top up with some of the below:
Cooked Bacon Bits
Ham
Cooked Mushrooms or try my mushroom sauce.
Spinach
Sundried Tomatoes
Olive Slices
Fold again to form half moon shape and cook until the cheese melts.
Serve warm with extra salt and pepper if desired.
Sweet Fillings
For the sweet filling, you don't have to bring the crepe back to the pan.
Spread some of the below:
Allergy Swaps
Below are some allergy swaps ideas if needed:
Storage Instructions
You can store cooked pannekoeken in the fridge on a plate covered with plastic wrap.
It stores well for up to 2 days.
Frequently Asked Questions
Is Dutch Baby The Same As Pannekoeken?
No! A Dutch Baby is a thick pancake cooked on a cast-iron pan in the oven, while Pannekoeken are much closer in shape and texture to a French Crepe.
How Do You Eat Pannekoeken?
Pannekoeken can be eaten with sweet or savory fillings.
What Nationality Is Pannekoek?
Pannekoeken are thin crepes originating from the Netherlands and are also very popular in South Africa.
More Pancake And Crepe Recipes
Below are some more pancakes and crepes for you to try.
Have you tried this Pannekoeke recipe? Share a comment or review below.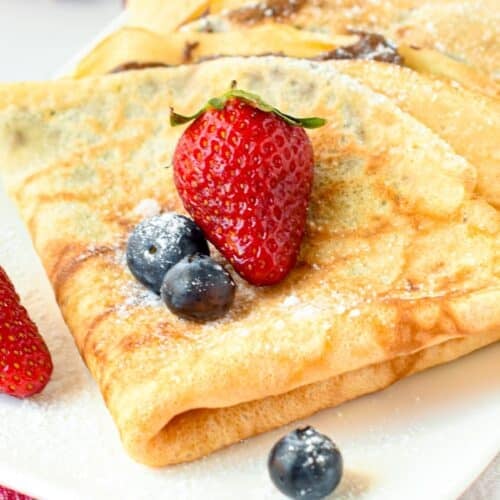 Pannekoeken
These Pannekoeken, also known as Dutch Crepes are thin, large pancakes to fill with sweet or savory food as a breakfast or light dinner.
Nutrition Snapshot
Want My Kitchen Equipment?
Ingredients
Optional – For Sweet Pannekoeken
Instructions
In a large bowl, sift flour, salt, and sugar if used. Give a quick whisk to combine evenly.

In another bowl, beat eggs, melted butter, vanilla extract (if used), and milk.

Make a well in the center of the dry ingredients and beaten egg mixture. Whisk in the milk gradually until a smooth batter forms with no lumps.

Heat a lightly buttered crepe pan over medium-high heat.

Pour or scoop 1/3 cup to 1/2 cup of the batter onto the pan, then tip and rotate the pan to spread the batter as thinly as possible.

Cook over medium heat until lightly brown and crispy on the sides – about 1 minute.

When the sides start to unstick from the pan, slide a long thin spatula under the Japanese crepe, flip and cook them for an extra 30 to 60 seconds or until light round brown spots form on the crepe.

Remove from heat and cool on a plate. Cover with foil to keep warm while cooking the remaining batter. Grease the pan before you cook a new crepe.

Fill with whipped cream and berries or Nutella. See my picture above for tips on how to fill and fold Japanese crepes.
My Recipe Notes
Nutrition
Serving:
1
crepe
Calories:
212.7
kcal
(11%)
Carbohydrates:
28.5
g
(10%)
Fiber:
0.8
g
(3%)
Net Carbs:
27.7
g
Protein:
7.6
g
(15%)
Fat:
6.9
g
(11%)
Saturated Fat:
3.6
g
(23%)
Polyunsaturated Fat:
0.7
g
Monounsaturated Fat:
1.9
g
Trans Fat:
0.1
g
Cholesterol:
84.6
mg
(28%)
Sodium:
145.8
mg
(6%)
Potassium:
154.1
mg
(4%)
Sugar:
4.8
g
(5%)
Vitamin A:
287.5
IU
(6%)
Vitamin B12:
0.5
µg
(8%)
Vitamin D:
1
µg
(7%)
Calcium:
91.3
mg
(9%)
Iron:
1.8
mg
(10%)
Magnesium:
16.7
mg
(4%)
Zinc:
0.7
mg
(5%)
Posted In: