These Chocolate Crepes are thin French crepes made with a batter rich in chocolate. They are perfect for filling with whipped cream, yogurt, or berries.
It's an easy pancake recipe for breakfast or a delicious French dessert sure to impress.
I am French and French people love their crepes! To the French, crepes are what pancakes are to Americans.
Crepes are a basic recipe that we make all the time for any occasion and that we decline in so many flavors.
For example, we love buckwheat crepes to make savory crepes for dinner or a quick lunch.
But we also love a simple batch of my crepe recipes for breakfast. And when it comes to celebration, we stack crepes to make a crepe cake.
But, when Valentine's day comes or if you just have chocolate cravings, it's time for chocolate crepes.
What Are Chocolate Crepes?
A chocolate crepe is a thin large chocolate-flavored pancake.
It's an easy French-style pancake recipe flavored with unsweetened cocoa powder, sugar, and vanilla.
It's a very tasty dessert or breakfast for chocolate lovers.
How To Make Chocolate Crepes
It's super simple to make chocolate crepes, especially if you already made crepes before.
The only tricky part of making crepe is the cooking method. Apart from that, a chocolate crepe recipe is pretty basic to put together, a bit like a pancake recipe.
Ingredients
All you need to make these easy crepes with chocolate flavors are:
All-Purpose Flour – This is the classic flour. While the recipe might also work with some other flour, it won't have the same texture.
Eggs – This recipe requires eggs. You can't replace them with flax eggs or chia eggs.
Milk – This recipe works perfectly with cow milk and most dairy-free milk such as almond milk, oat milk, or coconut milk.
Vanilla Extract
Unsweetened Cocoa Powder – Use cocoa powder or cacao powder.
Method 1: Making The Batter In A Bowl
I make all my crepe recipes by hand, in a simple bowl using a hand whisk.
To do so, pour all the dry ingredients into a mixing bowl: flour, cocoa powder, and sugar, and whisk until all the cocoa powder lumps are broken into fine flour. Set it aside.
In a small bowl, roughly beat the eggs with a fork.
Make a well in the center of the dry ingredient and add the beaten eggs, milk, and vanilla extract.
Whisk again until the batter has a light chocolate color and there are almost no lumps in the mixture.
It's not a big deal if there are a few lumps.
Method 2: Blender Option
It's possible to also use a blender for crepe batter to make it super smooth batter.
In the classic French crepe recipe, a few lumps of flour or cocoa in the batter don't matter.
But, if you love ultra-smooth crepes, bring all the ingredients into the jug of a high-speed blender and blend for 30 seconds on high speed until smooth.
Transfer the batter to a large mixing bowl and set it aside for 10 minutes. It's crucial to let the batter rest if blended, or the crepes come out super gummy.
Method 3: Stand Mixer Or Electric Beater
You can use a stand mixer with a whisk attachment or an electric beater to bring the chocolate crepe batter together.
First, beat the dry ingredients until well combined, and no lumps show.
Next, add the wet ingredients. You don't need to beat the eggs before adding them. Whisk on low-medium speed until a smooth chocolate mixture forms.
Cooking Crepes
To make thin perfect chocolate crepes, you need a 10-inch crepe pan or crepe turner. A classic non-stick pan or skillet works, but you will never get the crepe as thin as with a crepe pan.
Warm the pan over medium-high heat. Lightly oil the surface with melted butter or oil spray.
Pour 1/2 cup of batter into the pan and tilt it. Rotate the pan in a circular motion to spread the batter all over the surface.
If difficult to spread, keep the pan tilted and use a rubber spatula to tear and spread the uncooked batter on the empty spots of the pan.
Cook the crepe for 2 to 3 minutes.
Once the sides of the crepe are dry, lift the crepe from one side of the pan and check if the batter in the center is set and dry. If so, now is a good time to flip the crepe.
You can either flip the crepe with a long flat spatula to slide under the crepe to avoid breaking it or with the traditional technique.
Traditional crepe flipping involves flipping the crepe in the air. To do so, make sure it's not sticking to the pan by lifting the edges with your finger.
Then hold the pan from the handle and give it a sharp vertical lift and break the wrist at the last moment. This will give the crepe angular momentum and you should be able to catch it on the other side.
Cook the crepe for about a minute on the other side.
Repeat the steps above until no more batter is left. Make sure you grease the crepe pan before cooking another crepe.
Chocolate Crepe Fillings
These easy chocolate crepes are made to be filled with cream, chocolate spread, or yogurt, but you can let your creativity go wild!
Here are some of the most common chocolate crepes fillings:
Pastry Cream or vanilla custard
Vanilla Greek yogurt
Peanut Butter
Whipped Cream
Fresh berries like raspberries or sliced strawberries
Drizzle melted dark chocolate or chocolate sauce – melt 1/4 cup dark chocolate with 1 tablespoon of butter or heavy cream.
Icing Sugar
Cream Cheese
Sliced Almonds
Toasted Hazelnuts
Fresh Fruit like banana slices, apple slices, or pineapple chunks
Storage Instructions
These cooked crepes must be stored in the fridge. Stack the cocoa crepes on a plate, then film it with plastic wrap and keep it in the refrigerator for up to 4 days.
It's always better to store crepes unfilled, or they get soggy. Fill the crepes just before serving using some of the favorite crepe fillings listed above.
Allergy Swaps
If you need them, here are some ingredient substitution ideas for you.
Dairy-Free – You can use any dairy-free milk for crepes, like almond milk, soy milk, or coconut milk. Replace the melted butter with avocado oil or melted margarine.
Egg-Free – Use my vegan crepe recipe and replace 1/3 cup of flour with 1/4 cup of unsweetened cocoa powder.
Frequently Asked Questions
Below are my answers to your most frequent questions about chocolate crepes.
Can You Freeze The Crepes?
Yes, you can freeze the cooked crepes. You can roll them or freeze them flat.
Always wrap in plastic wrap or foil before freezing. Thaw the crepes in the fridge the day before.
Why Are My Crepes Thick?
If your batter is too thick, your pan is not warm enough, or you are using a classic pan, not a crepe pan.
All these reasons can lead to thick heavy crepes because the batter won't spread, and the crepes end up thick and packed.
Make sure you measure ingredients precisely and use large eggs.
What Are Chocolate Crepes Made Of?
Chocolate crepes are like classic crepes but some of the flour is replaced with cocoa powder to give the batter a rich chocolate taste.
Are Chocolate Crepes Served Hot Or Cold?
Chocolate Crepes are delicious hot and cold. They're perfect when hot with hot custard, chopped peanuts, and chocolate chips.
More Crepes Recipes
If you like crepes, you're in the right place. Here are some more crepe recipes for you.
Have you tried this cocoa crepe recipe? Share a comment or review below to let me know what's your favorite crepe filling!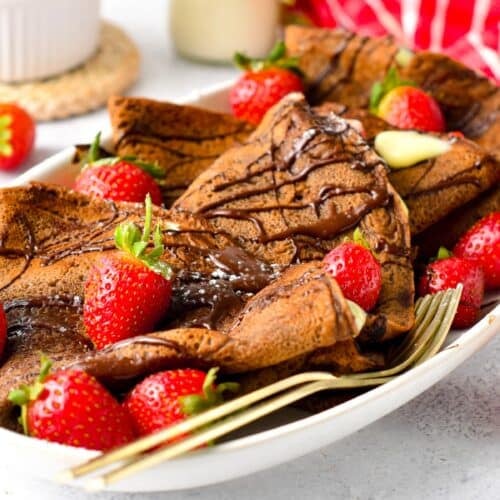 Chocolate Crepes
These Chocolate Crepes are thin chocolate French crepes perfect for filling with whipped cream, yogurt, or berries. It's an easy pancake recipe for breakfast or a delicious French dessert.
Yield:
crepes (10 inches)
Ingredients
1 ½

cup

All-Purpose Flour

2

tablespoons

Sugar

¼

cup

Unsweetened Cocoa Powder

¼

teaspoon

Salt

3

large

Eggs

beaten

2

tablespoons

Unsalted Butter

melted

1

tablespoon

Vanilla Extract

2

cups

Milk
This recipe may contain Amazon or other affiliate links. As an Amazon Associate I earn from qualifying purchases.
Instructions
In a large bowl, whisk the dry ingredients: flour, sugar, salt, and unsweetened cocoa powder until well combined and no lumps of cocoa can be seen.

Make a well in the center of the dry ingredients and add the beaten eggs, milk, vanilla extract, and unsalted melted butter.

Whisk until the chocolate crepe batter is smooth.

Warm a 10-inch crepe pan over medium heat and lightly oil the surface with oil spray or melted butter. I like to use a piece of absorbent paper to rub the surface of the crepe pan with the melted butter.

Pour 1/2 cup of batter into the pan and quickly tilt and rotate the pan to spread the chocolate crepe batter all over the pan surface.

Cook for 2-3 minutes, until the sides are crispy and unstick from the pan.

Slide a spatula under the crepe and flip it. Cook for an extra 1 minute on the other side or until dark brown spot shows.

Set aside on a plate and cover it with foil to keep warm while cooking the remaining crepes.

Re-grease the pan before cooking another crepe.
Storage
Store leftover chocolate crepes in the refrigerator on a plate sealed with foil for up to 3-4 days.
Want My Kitchen Equipment?
Yield:
crepes (10 inches)
Serving:
1
crepe
Calories:
261.6
kcal
(13%)
Carbohydrates:
34.2
g
(11%)
Fiber:
2.2
g
(9%)
Net Carbs:
32
g
Protein:
9.8
g
(20%)
Fat:
9.6
g
(15%)
Saturated Fat:
5
g
(31%)
Polyunsaturated Fat:
0.9
g
Monounsaturated Fat:
2.6
g
Trans Fat:
0.2
g
Cholesterol:
112.8
mg
(38%)
Sodium:
194.9
mg
(8%)
Potassium:
248.8
mg
(7%)
Sugar:
8.4
g
(9%)
Vitamin A:
383.4
IU
(8%)
Vitamin B12:
0.7
µg
(12%)
Vitamin D:
1.4
µg
(9%)
Calcium:
124.8
mg
(12%)
Iron:
2.4
mg
(13%)
Magnesium:
37.9
mg
(9%)
Zinc:
1.1
mg
(7%)
Posted In: