This Crepe Cake is a beautiful, decadent French cake made from layers of vanilla crepe filled with a thin layer of vanilla cream.
It's a tasty cake for a birthday or dessert to impress your guest.
My little girl is turning 10 years old, and this will be her birthday cake. Nothing better to remind our French roots than crepes, right?
But crepe cake is much more beautiful, decadent, and perfect for celebrations.
So let me share with you this all-time favorite french cake made from the easiest ingredients.
What's A Crepe Cake?
A crepe cake is a French dessert inspired by two popular french dessert recipes: French crepes and Millefeuilles, translated as thousand layers.
Millefeuilles are vanilla slices made from packed puff pastry sheets filled with pastry cream.
A crepe cake, also called Gâteau de Crêpes in French, is made from layers of French crepes filled with the same cream used in the French millefeuille dessert.
The mille-crepe cake has also become very famous in Japan and everywhere worldwide; now, you can see many versions.
The most popular version is the matcha crepe cake, where the crepe batter is flavored with matcha powder.
Or tiramisu crepe cake, filled with mascarpone cream and decorated with dust of unsweetened cocoa powder.
This is my favorite mille-crepe cake recipe made from 16 crepes filled with a sweet vanilla mascarpone cream and served with berries.
How To Make Crepe Cake
This crepe cake can be intimidating because of its complicated look. However, it's very easy and very quick to put together.
Ingredients
For this cake recipe, you need to prepare a French cake batter first, using the same ingredients as my crepe recipe but in a different ratio.
All-Purpose Flour – Don't use self-rising flour.
Sugar – You can use classic table sugar or coconut sugar for a healthier alternative.
Eggs – I like large free-range eggs.
Milk – You can use whole milk or skim milk for lighter crepes. The recipe also works with dairy-free alternatives.
Melted Butter – Use unsalted grass-fed butter.
Salt
Then, for the filling you need:
Mascarpone – Mascarpone is a soft Italian cream cheese with a sweet taste.
Vanilla Extract – To add a perfect taste.
Heavy Whipping Cream
Powdered Sugar – or confectioner's sugar.
Making The Crepe Batter
Crepes are not overly complicated, it's all about whisking all the ingredients together in a large bowl.
There's no need to break all of the lumps of flour. Do your best, but even if you have a few in your crepes, they will always come out great.
While many recipes make the crepe batter in a blender, it's not the right way!
It's unnecessary, and then, because you blend the batter, you will have to let it rest for at least 30 minutes, or your crepes will form bubbles.
In a large bowl, add the flour, sugar, and salt, and whisk to combine. Then, add the milk, beaten eggs, melted butter, vanilla extract, and, optionally, the dark rum.
Whisk to beat the eggs and milk into the dry ingredients and form a light, thin batter. Again, it's okay if there are a few lumps.
Cooking The Crepes
Now, warm a crepe pan over medium-high heat, and lightly rub butter on the pan using a piece of absorbent paper.
You can also use an olive oil spray to lightly oil the surface.
When the pan is warm, pour the crepe batter – about 1/2 cup per crepe – tilt and rotate the pan to spread it evenly.
As the pan is warm, it sets easily and spreads all over the surface as you tilt the pan.
Place the pan over medium heat and cook for 2-3 minutes until the sides of the crepes get brown and golden and dry and crispy. Lift the side of the crepe and slide a long spatula under the crepe to flip it to the other side.
Bake for an extra 1-2 minutes until little brown spots form on the other side of the crepe.
Remove from heat, and slide onto a plate to cool down.
Re-grease the pan and repeat the step above until all the batter has been turned into crepes.
You should end up with 15-16 crepes for this cake crepe.
Stack the cooked crepes on top of each other and keep them at room temperature to cool down
Cooling
Let the crepes cool completely before assembling the cake. As a general rule, one hour at room temperature and chill for one hour in the fridge to provide enough cooling.
You can also cook the crepes the day before making the mille-crepe cake. the plate with plastic wrap or foil and refrigerate overnight.
Mascarpone Cream
When the crepes are cold, prepare the mascarpone vanilla cream. This cream recipe is similar to the one you use for a tiramisu recipe.
In a large bowl or the bowl of a stand mixer, add mascarpone, powdered sugar, heavy cream, and vanilla extract.
Beat the ingredients into a fluffy mixture using an electric beater or the whisk attachment of your stand mixer.
It takes 2 to 3 minutes. Stop beating as soon as the cream and mascarpone firm up, or the frosting will split.
Assembling Crepe Cake
Place the first crepe on a cake stand or plate.
Then, spread 2 to 3 tablespoons of cream all other the crepe until up to the edges. You don't want a thick layer of cream filling because you will need enough for the 14 to 16 layers.
It should be thin and light to keep the balance of texture and flavor in each slice of cake perfect.
Place the second crepe on top of the first one covered with cream and repeat the application of the frosting.
Keep processing until all the crepes have layered into a cake.
Refrigerating
Now, place the cake in the fridge for a few hours until the cream is firm and cold.
Serving
You can serve this cake topped with different ingredients like:
Extra mascarpone cream on top.
Fresh berries like strawberries, blueberries, or raspberries.
Dust of powdered sugar
Dust of unsweetened cocoa powder
Shredded dark chocolate pieces
Shredded coconut
Dust of matcha powder
Storage Instructions
You can store leftover crepe cake in an airtight cake box in the fridge for up to 3 or 4 days. After that, the cream will start turning, and the crepes will dry out on the outside.
You can also freeze cake leftovers in slices or whole and thaw them in the refrigerator the day before. It lasts one month in the freezer.
Allergy Swaps
Below are some options to make this delicious cake if you have food allergies.
Frequently Asked Questions
Below are my answers to your most common questions about this lovely crepe cake recipe.
Can I Make Matcha Crepe Cake With This Recipe?
Add two tablespoons of good-quality matcha powder to the flour to turn this recipe into a matcha crepe cake.
Serve the matcha crepe cake with dust of matcha powder and powdered sugar but keep the vanilla cream in the layers. Don't add matcha there.
How Can I Serve A Rainbow Crepe Cake?
You can split the crepe batter into four batches and add liquid food coloring in each batch to make crepes of different colors.
Can I Make A Chocolate Ganache?
Yes, you can make a chocolate crepe cake by replacing the vanilla extract with cocoa powder in the filling ingredients.
More Crepe Recipes
If you like this recipe, you'll love all these other crepe recipes:
Have you made this crepe cake recipe? Share a comment or review below.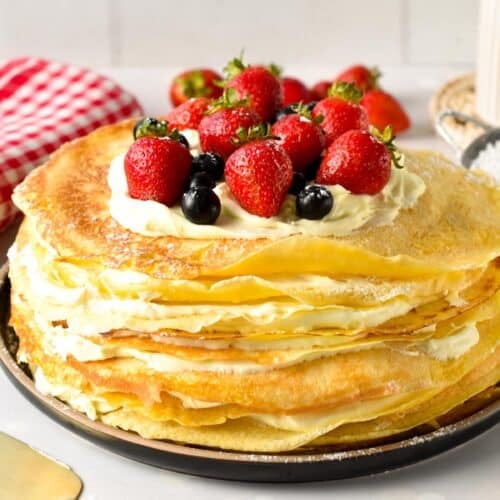 Crepe Cake
This Crepe Cake is a beautiful, decadent French cake made from layers of vanilla crepe filled with a thin layer of vanilla cream. It's a tasty cake for a birthday or dessert to impress your guest.
Nutrition Snapshot
Want My Kitchen Equipment?
Ingredients
For the crepes (cake layers)
Instructions
Make The Crepes
In a large bowl, add flour, sugar, and salt, and whisk to combine.

Add the beaten eggs, milk, vanilla, and rum (if used). Whisk until the batter is creamy, slightly thick, but thinner than a pancake batter. It's ok if a few lumps remain. Set aside.

Warm a crepe pan over medium-high heat and lightly oil the surface with butter or olive oil. I like to rub the butter with a piece of absorbent paper all over the pan.

Pour the crepe batter into the warm pan. Use about 1/2 cup for a 10-inch pan (25cm) and tilt and rotate the pan to spread the batter all other the surface.

Cook for 2-3 minutes until the sides are dry and start to crisp.

Slide a large spatula under the crepe, flip it, and cook it for an extra 1-2 minutes on the other side until small brown spots appear.

Cool on a plate and repeat the steps above with the remaining batter. Don't forget to grease the pan before each crepe.

Stack the cooked crepes on the plate and let them cool down for 30 minutes at room temperature, then for 1 hour in the fridge before frosting. You can make the crepes the day before and cover the plate with the stack of crepes with a piece of foil to keep them fresh in the fridge.
Mascarpone Frosting
In a large mixing bowl or the bowl of a stand mixer, add mascarpone, heavy cream, vanilla, and powdered sugar.

Using an electric beater or the whisk attachment of a stand mixer, beat on low speed to incorporate.

Increase to medium-high speed to beat the mixture to a soft peak. It takes about 1-2 minutes. Don't over-beat to avoid splitting the frosting.
Assembling The Mille Crepe Cake
Place a cold crepe on a large plate, add 3-4 tablespoons of frosting, and spread it evenly into a thin layer, almost up to the sides of the crepes.

Add another cold crepe on top and repeat the frosting and layering steps until no more crepes are left.

When the crepe cake is assembled, refrigerate it for at least one hour or freeze it for 30 minutes to set the cream. It also makes it easier to slice.
Before serving
Add a dust of powdered sugar on top and fresh berries to decorate.
Storage
Store the cake in the fridge in an airtight container for up to 3-4 days or freeze it for up to 1 month and thaw it in the fridge the day before.
My Recipe Notes
Nutrition
Serving:
1
slice
Calories:
533.5
kcal
(27%)
Carbohydrates:
50.8
g
(17%)
Fiber:
1
g
(4%)
Net Carbs:
49.8
g
Protein:
12.7
g
(25%)
Fat:
36.3
g
(56%)
Saturated Fat:
21.8
g
(136%)
Polyunsaturated Fat:
1.5
g
Monounsaturated Fat:
6.1
g
Trans Fat:
0.2
g
Cholesterol:
186.1
mg
(62%)
Sodium:
220.9
mg
(10%)
Potassium:
235.9
mg
(7%)
Sugar:
9.5
g
(11%)
Vitamin A:
1364.9
IU
(27%)
Vitamin B12:
0.7
µg
(12%)
Vitamin C:
0.2
mg
Vitamin D:
2
µg
(13%)
Calcium:
186.7
mg
(19%)
Iron:
2.2
mg
(12%)
Magnesium:
23.8
mg
(6%)
Zinc:
1
mg
(7%)
Posted In: