These Japanese Crepes are thin, large pancakes served in a cone shape and perfect eaten as an on-the-go sweet treat.
They are filled with freshly whipped cream, berries and chocolate sauce for a delicious sweet dessert.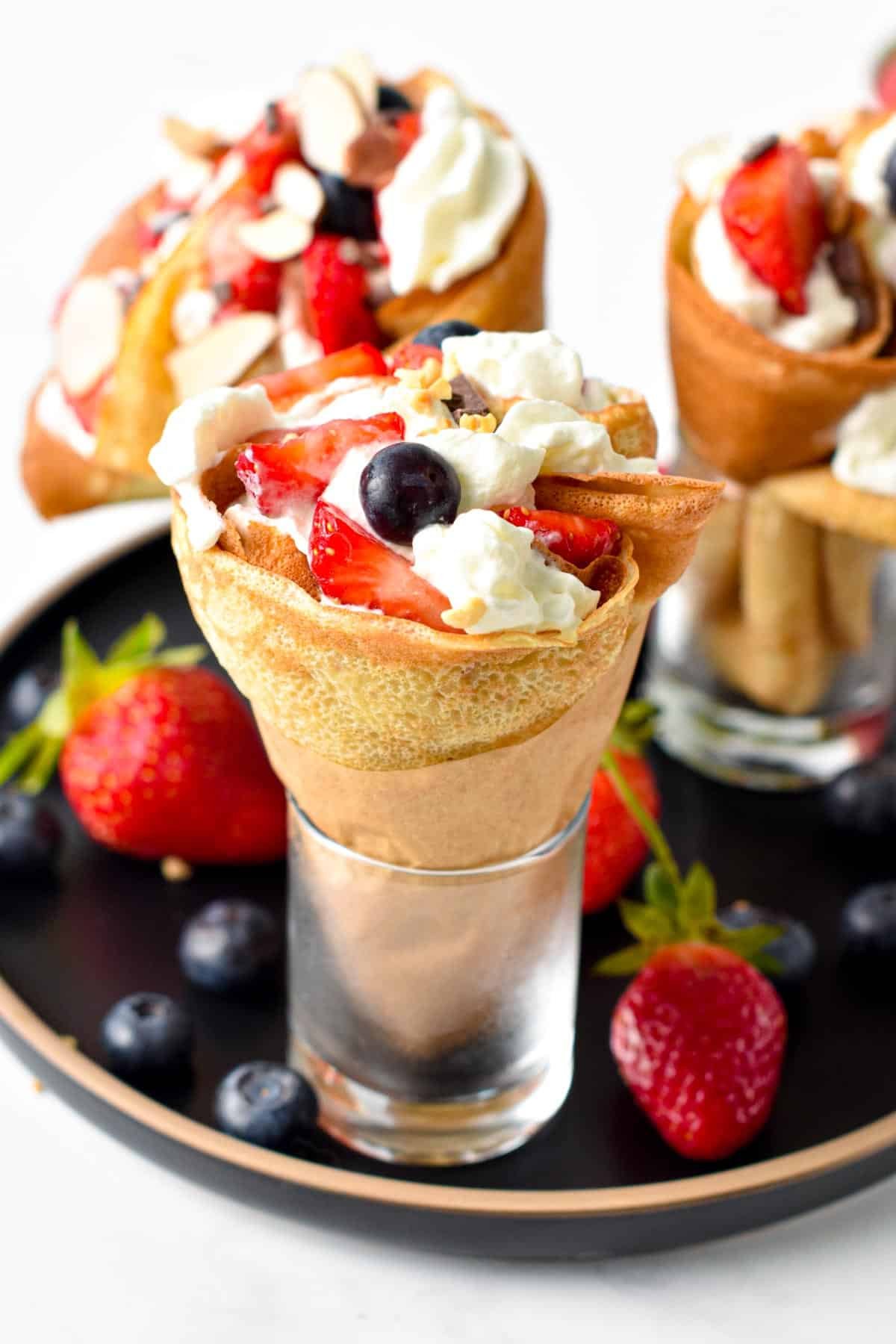 I have a passion for crepes recipe and as a French I make crepes all the time.
When I don't cook my French crepes recipe, chocolate crepes, or crepes Suzette, I like to make these Japanese street crepes.
They are a bit different from French crepes in that they are crispier, containing fewer egg yolks and more egg whites.
As a result, they are perfect for serving in a cone shape, and less soft than a French crepe. In addition, they carry the filling easier.
What Are Japanese Crepes?
Japanese crepes, also known as Japanese street crepes, are popular sweet treat food in japan.
It's a large thin pancake filled with cream, berries, ice cream, or chocolate sauce and rolled into a cone shape.
It's a bit like eating ice cream, but the filling is in the crepe instead of an ice cream cone.
How To Make Japanese Crepes
Everyone loves street food, especially when it comes to Japanese desserts like these thin crepes.
So let me share my secrets to making them perfect every time.
Ingredients
To make these delicious Japanese style crepes, you need:
All-Purpose Flour or cake flour, or any white flour you have at home, including gluten-free all-purpose flour.
Eggs – Prefer free-range eggs for a better taste.
Egg Whites – Keep the yolks for another recipe.
Milk – or any other plant-based milk alternative.
Sugar – use sugar-free crystal sweeteners for a sugar-free version.
Vanilla Extract
Melted Butter
Preparation
In a large bowl, sift the flour, sugar, and salt. Using a hand whisk, whisk the mixture to combine.
Whisk the eggs and egg whites in another bowl. Set aside.
Make a well in the center of the dry ingredients, and pour in the beaten eggs, half the milk, vanilla extract, and melted butter.
Whisk while you gradually add the remaining milk. The batter should be smooth and thin. If some small lumps form, it's ok.
Cooking Crepes
Preheat a crepe pan or a pancake griddle over medium heat. Use a piece of absorbent paper to rub some butter or oil all over the surface.
When the pan is hot, scoop out the crepe batter in the center of the pre-heated pan.
Then tilt and rotate the pan to spread the batter evenly on the surface.
After one minute, the edges start to turn golden brown and crisp. Lift the edges of the crepe using a flat spatula and slide under the crepe gently.
Quickly flip the crepe and cook for another minute on the other side.
The crepe should show small round brown spots.
Remove the crepe from the heat and let it cool down on a plate. As the crepes stand at room temperature on the plate, they cool down.
To keep them warm, foil the plate while you cook the remaining Japanese crepes.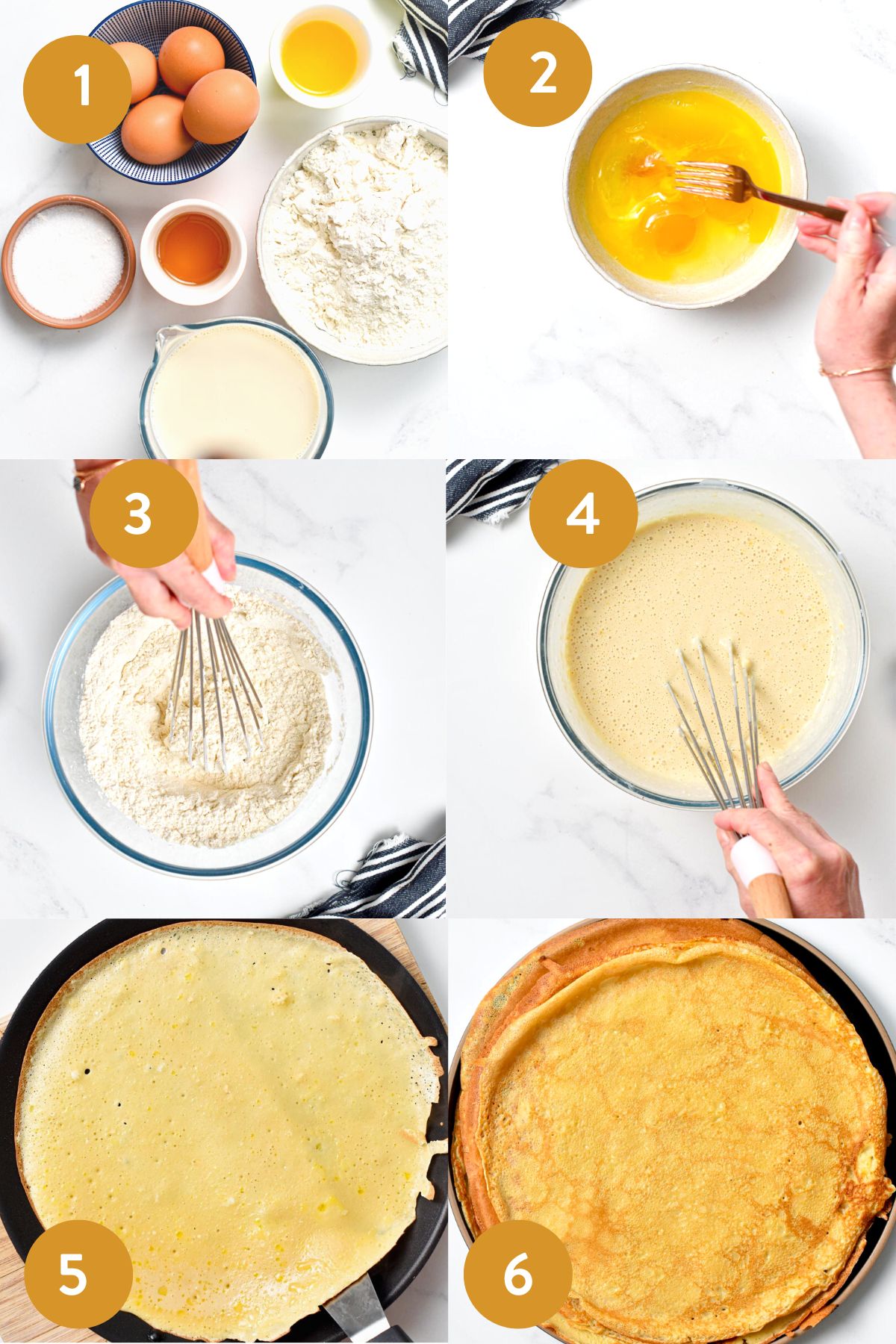 Serving
The particularity of Japanese crepes is their filling and folding.
Most Japanese street crepes are filled with whipped cream, strawberries, and chocolate sauce. While you can see different fillings, the freshly whipped cream is often the base.
Other ideas of filling are:
Banana Slices
Nutella
Jam
Blueberries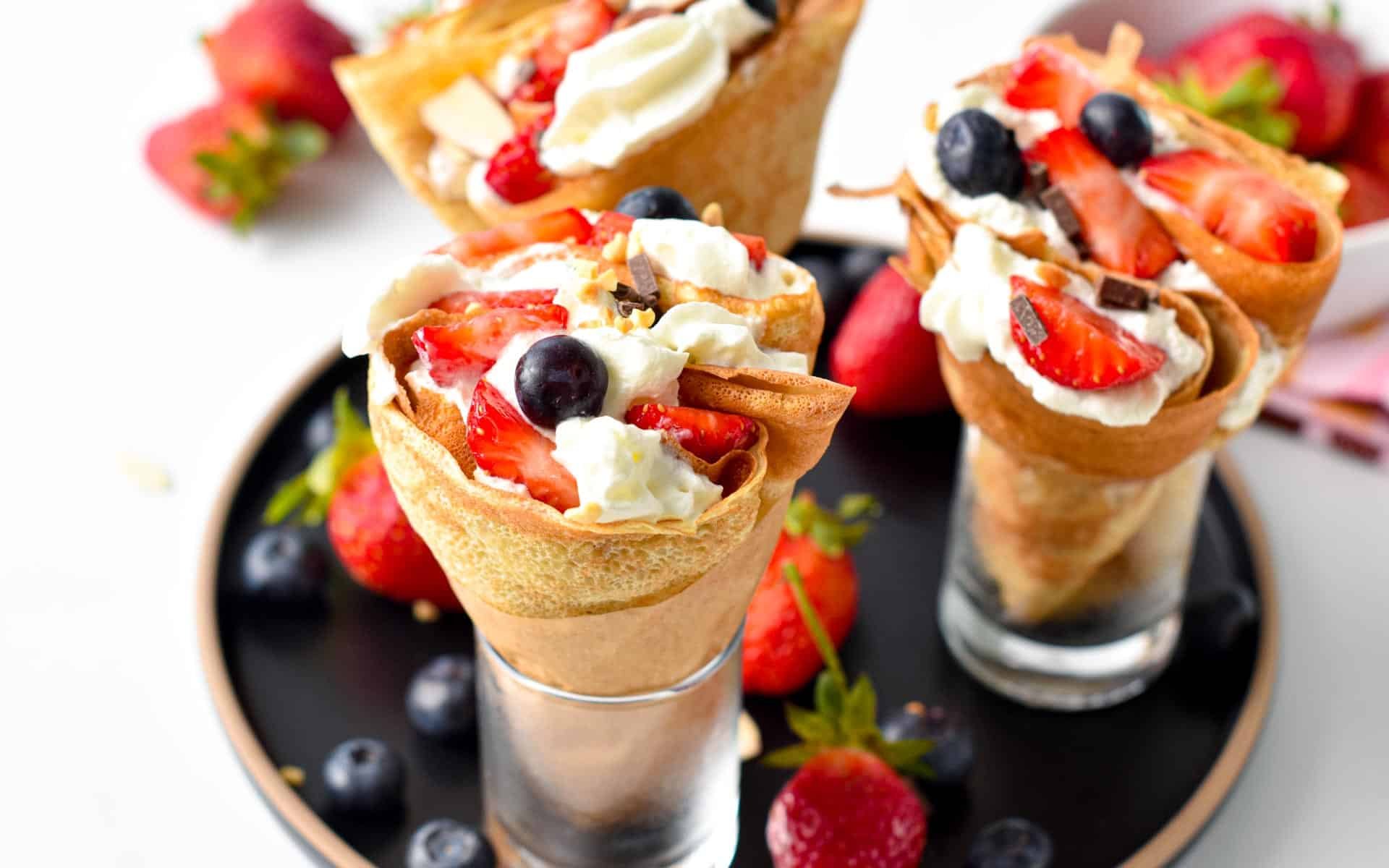 Folding In A Cone Shape
Japanese fold crepe mimic a cone shapes, like ice cream cones.
To fold and fill them, add the filling as seen below.
I like to fold the crepe in half so you end up with a half moon shape.
Then, fold them again, They will look like a large triangle. Next, fold again into a smaller triangle.
Roll the bottom of the cones into parchment paper so it holds well when filled.
Hold it in your hand like an ice cream cone, and you will see the layers of crepes opening.
Then, fill the cone with whipped cream, berry slices, and melted chocolate.
Storage Instructions
Crepes contain eggs and dairy, so they must be stored in the fridge, preferably on a plate covered with foil to prevent their sides from drying out.
Store in the fridge up to 3 days.
To freeze crepes, it's preferable to not fill the crepes and separate them with a piece of parchment paper so they don't stick to each other.
Allergy Swaps
Below are some ideas to make these crepes if you have food allergies:
Dairy-Free – Any plant-based milk works, like almond milk or coconut milk. Swap butter for melted coconut oil or any vegetable oil you like.
Egg-Free – Feel free to use my vegan crepe recipe to make egg-free crepes.
Sugar-Free – Swap sugar for any sugar-free crystal sweetener like erythritol.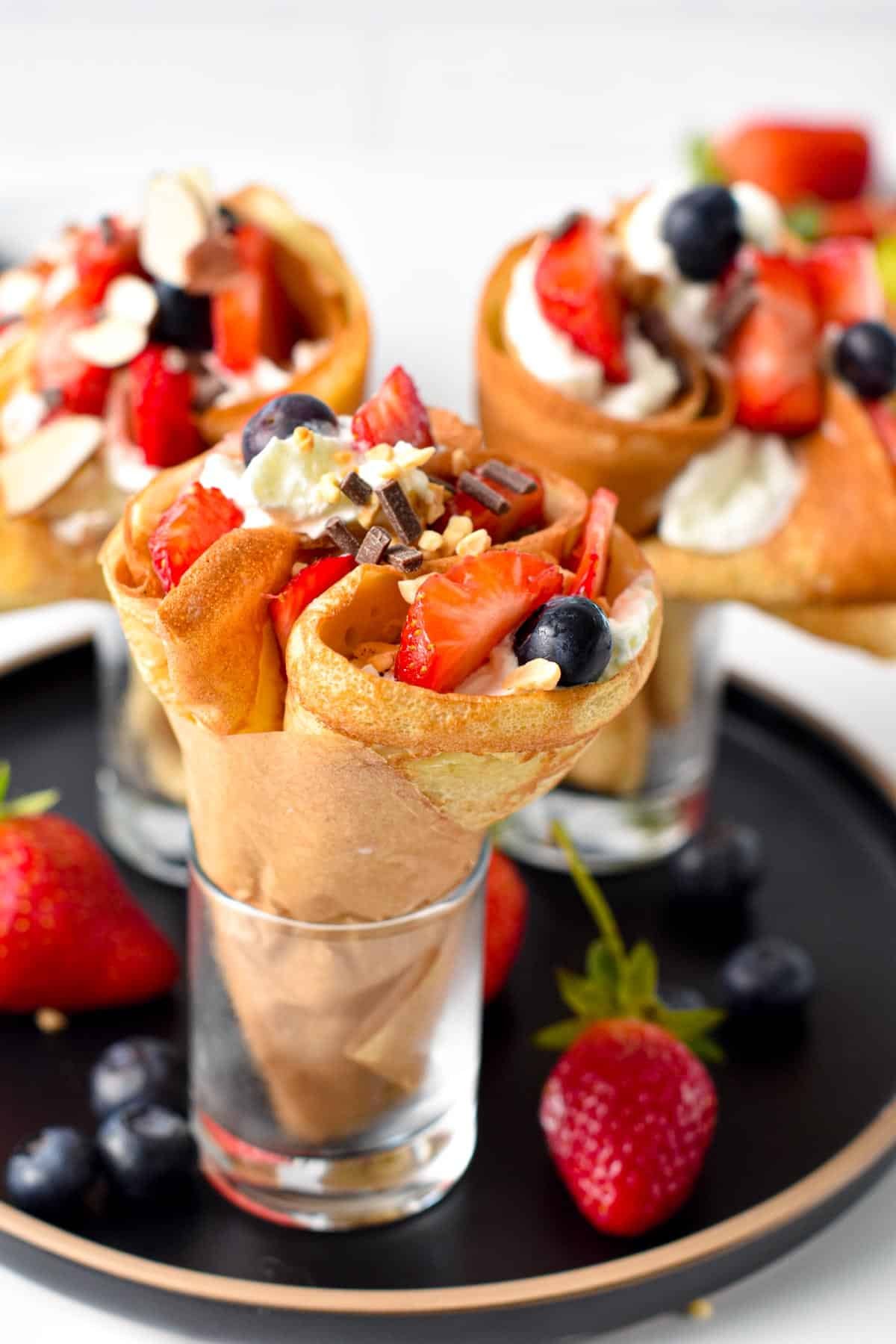 Frequently Asked Questions
Below are my answers to your most common questions about this recipe.
Can I Make Savory Japanese Crepes?
Traditionally, Japanese crepes are sweet but skip the sugar and vanilla extract in the batter to use this recipe as a base for savory crepes.
Can I Cook Crepes Without A Pan?
You can cook crepes on a pancake griddle or a regular large non-stick pan.
The thicker the pan surface is, the longer it takes for crepes to cook. Also, the crepe batter will spread less thin in regular pans and end up thicker.
Crepes pans are thin and warm really fast, which quickly sets the batter into a thin layer.
More Crepe Recipes
If you like crepes, you'll love these:
Have you tried this Japanese crepe recipe? Share a comment or review below.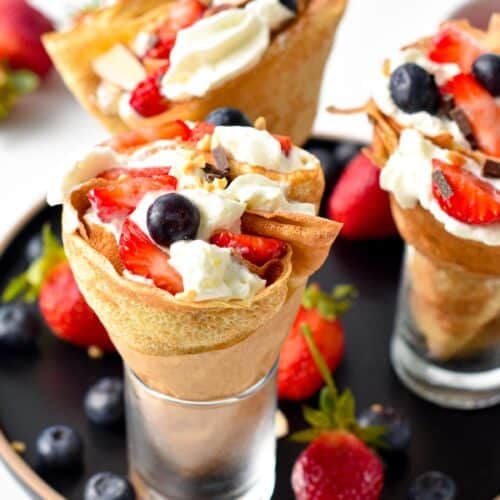 Japanese Crepes
These Japanese Crepes are thin, large pancakes served in a cone shape and are perfect to eat as an on-the-go sweet treat. They are filled with freshly whipped cream, berries and chocolate sauce for a delicious sweet dessert.
Ingredients
2

cups

All-Purpose Flour

1

tablespoon

White Sugar

optional

¼

teaspoon

Salt

2

large

Eggs

2

large

Egg Whites

2

tablespoons

Unsalted Butter

melted or vegetable oil of your choice

1

tablespoon

Vanilla Extract

2 ¼

cups

Milk
This recipe may contain Amazon or other affiliate links. As an Amazon Associate I earn from qualifying purchases.
Instructions
In a large bowl, sift flour, salt, and sugar. Give a quick whisk to combine evenly.

In another bowl, beat eggs and egg white. Set aside.

Make a well in the center of the dry ingredients, and add melted butter, beaten eggs, and vanilla extract. Whisk in the milk gradually until a smooth batter forms with no lumps.

Heat a lightly buttered crepe pan over medium-high heat.

Pour or scoop 1/3 cup to 1/2 cup of the batter onto the pan, then tip and rotate the pan to spread the batter as thinly as possible.

Cook over medium heat until lightly brown and crispy on the sides – about 1 minute.

When sides start to unstick from the pan, slide a long thin spatula under the Japanese crepe, flip and cook for an extra 30 seconds to 1 minute or until light round, brown spots form on the crepe.

Remove from the heat, let them cool on a plate, and cover with foil to keep warm while cooking the remaining batter. Grease the pan before you cook a new crepe.

Fill with whipped cream and berries or Nutella. See my picture above for tips on how to fill and fold Japanese crepes.
Want My Kitchen Equipment?
Serving:
1
crepe
Calories:
212.7
kcal
(11%)
Carbohydrates:
28.5
g
(10%)
Fiber:
0.8
g
(3%)
Net Carbs:
27.7
g
Protein:
7.6
g
(15%)
Fat:
6.9
g
(11%)
Saturated Fat:
3.6
g
(23%)
Polyunsaturated Fat:
0.7
g
Monounsaturated Fat:
1.9
g
Trans Fat:
0.1
g
Cholesterol:
84.6
mg
(28%)
Sodium:
145.8
mg
(6%)
Potassium:
154.1
mg
(4%)
Sugar:
4.8
g
(5%)
Vitamin A:
287.5
IU
(6%)
Vitamin B12:
0.5
µg
(8%)
Vitamin D:
1
µg
(7%)
Calcium:
91.3
mg
(9%)
Iron:
1.8
mg
(10%)
Magnesium:
16.7
mg
(4%)
Zinc:
0.7
mg
(5%)
Posted In: