Almond Flour Crepes (Low-Carb, Gluten-Free)
These almond flour crepes are thin, light, and crispy crepes made with only 4 ingredients and no dairy!
The perfect low-carb crepe recipe for the whole family and perfect to pair with a cup of my bulletproof coffee for breakfast.
Yes, it is a crepe recipe without milk, a gluten-free crepe recipe perfect for dessert or breakfast.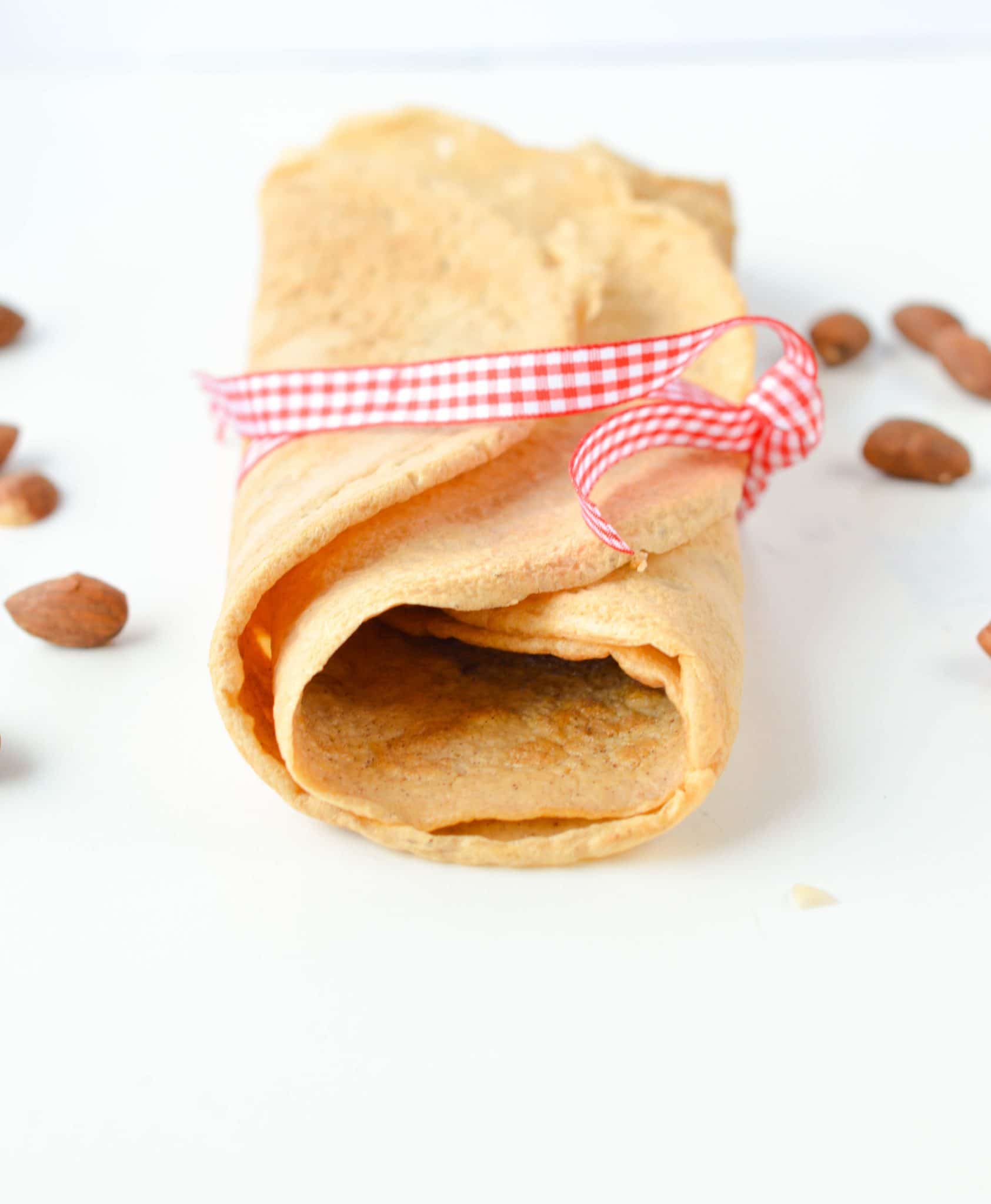 What Are Almond Flour Crepes
Almond flour crepes are delicious, thin, low-carb crepes that are also gluten-free. It is an amazing sweet crepe recipe for breakfast or dessert.
And it is much healthier and far lower in carbs than the authentic crepe recipe.
Why You'll Love These Crepes With Almond Flour
This recipe is amazing because it's:
Gluten-Free
Dairy-Free
Low-Carb
Keto-Friendly
Diabetes-Friendly
Ready in under 20 minutes
5 Ingredients only
Tastes like real Crepes
How To Make Almond Flour Crepes
This crepe recipe is one of the best keto diet recipes using almond flour.
Ingredients
Plus, all you need to make these easy low-carb crepes are 4 simple ingredients:
Eggs
Almond flour – also known as almond meal or ground almonds.
Vanilla – vanilla essence or vanilla paste, check the ingredient list as some vanilla pastes or essences contain sugar!
Ground cinnamon – optional but super tasty.
Almond Flour Pancakes vs Almond Flour Crepes
There is some confusion between crepes and pancakes, so let me help you understand the difference between them.
First, the texture of a crepe recipe batter is always thinner and more liquid than pancakes. It is because you want crepes to be larger, thin, and crispy.
Secondly, crepes can be eaten with savory or sweet fillings, while pancakes are mostly eaten sweet.
Finally, crepes are originally from France, while pancakes were eaten first by Roman and Greek.
So if you like thick crepes, use my almond flour pancake recipe. But otherwise, keep reading for a tasty, thin almond flour crepe.
Almond Flour Crepe Filling
There are many ways to appreciate those almond flour crepes. You can either add a sweet filling or a savory filling.
The best low-carb sweet crepes fillings are:
Sugar-free crystal sweetener – the easiest and most delicious crepe is filled with sugar-free crystal sweetener. I recommend a Monk fruit crystal sweetener and a dash of cinnamon or lemon juice.
Whipped coconut cream and berries or regular whipped cream.
Sugar-free maple syrup – I use Monk fruit syrup as it has no carbs, no sugar, and it is natural.
Sugar-free hazelnut spread– my chocolate hazelnut spread recipe is 100% sugar-free and keto-friendly. It is absolutely amazing in these crepes for breakfast.
Yogurt, berries, a drizzle of nut butter, and sliced almonds – If you don't eat dairy, use dairy-free coconut yogurt. You can also use greek yogurt if you can eat dairy.
Sugar-free chia seed jam
How To Cook Keto Crepes
These almond flour crepes are very simple to make. So don't be afraid to try this recipe, even if you are not a chef!
It is truly a no-fail recipe for sure. The batter will spread evenly and cook beautifully as long as your pan is hot enough.
Only 2-3 minutes on both sides, and they are ready to eat. You will love the delicious crispiness of the borders.
The texture is light, crispy, and perfect for making a dessert or a sweet breakfast.
Storage Instructions
The unfilled keto crepes can be stored in a fridge on a plate for up to three days.
Make sure you cover the plate with plastic wrap to prevent the crepes from drying out. It's also possible to freeze them, but you'd have to put them in individual plastic wrapping.
Rewarm them on a crepe pan and fill them with the filling of your choice.
More Crepe And Pancake Recipes
For more crepes recipes, check my recipes below:
Almond Flour Crepes
Those Almond Flour Crepes contain only 1.4 grams of net carbs per crepe. An easy 4-ingredient recipe with eggs, almond flour, coconut oil, and cinnamon. The Best low-carb dairy-free crepes. Gluten-free, paleo, and sugar-free. These almond flour crepes are crispy, light, and a delicious, low-carb breakfast.
Ingredients
4

Eggs

¼

cup

Almond Flour

1

teaspoon

Vanilla Extract

¼

teaspoon

Ground Cinnamon

1

tablespoon

Coconut Oil

to grease the crepe pan

1-2

tablespoons

Erythritol

Monk fruit or erythritol
This recipe may contain Amazon or other affiliate links. As an Amazon Associate I earn from qualifying purchases.
Instructions
In a medium bowl, whisk the eggs, ground almond, vanilla extract, ground cinnamon, and sugar-free crystal sweetener of your choice. Whisk until all the ingredients are perfectly combined and no lumps form. Set aside.

Warm a 9-inch crepe pan under medium heat, and use absorbent paper to rub the coconut oil on the pan and grease the pan.

Scoop the crepe batter into the frying pan and tilt the pan in a circular motion to ensure that the batter coats the surface evenly. The thickness of the crepes will depend on how much batter you use for each. Usually, 1/4 cup is what you need to make a 9-inch crepe.

Cook the crepe until the sides start to crisp up and lift off easily from the frying pan. It should take about 2 minutes each, over medium heat.

Loosen with a spatula and flip over to cook the other side. Both sides should be lightly brown, and the crepes should be crispy on the sides and softer in the middle.

Repeat for the next crepes.

To serve, fill each crepe with the whipped coconut cream, fold in a triangle, and top with the fruits of your choice fresh berries, spicy plum jam, etc.
Notes
Storage: Unfilled crepes can be stored in a fridge on a plate. Cover the plate with plastic wrap to prevent the crepes from drying out. They can be stored for up to 3 days. Then, rewarm on a crepe pan and fill with the filling of your choice.
Low-carb sweet filling ideas: whipped coconut cream sweetened with stevia, berries, sugar-free jam, yogurt, sugar-free melted chocolate, desiccated coconut, unsweetened cocoa powder, nut butter (almond, cashew, peanut), seed butter, or even coconut butter.
Savory filling: these crepes make a delicious, savory meal as well. Don't add the vanilla and cinnamon to the batter. Add 1/4 teaspoon salt instead. After you cook the almond flour crepes, bring them back to the pan, add a handful of grated cheese, some ham/bacon, and grilled vegetables, fold the crepes in half, and return to eat in the pan for a few minutes until the cheese is melted. My favorite combos are cheddar + bacon + fried onion or cream cheese, spinach, and ham.
Want My Kitchen Equipment?
Serving:
1
crepe
Calories:
135.8
kcal
(7%)
Carbohydrates:
2.2
g
(1%)
Fiber:
0.8
g
(3%)
Net Carbs:
1.4
g
Protein:
7
g
(14%)
Fat:
11.2
g
(17%)
Saturated Fat:
4.6
g
(29%)
Polyunsaturated Fat:
0.9
g
Monounsaturated Fat:
1.8
g
Trans Fat:
0.1
g
Cholesterol:
163.7
mg
(55%)
Sodium:
62.6
mg
(3%)
Potassium:
62.7
mg
(2%)
Sugar:
0.5
g
(1%)
Vitamin A:
238
IU
(5%)
Vitamin B12:
0.4
µg
(7%)
Vitamin C:
0.1
mg
Vitamin D:
0.9
µg
(6%)
Calcium:
40.7
mg
(4%)
Iron:
1
mg
(6%)
Magnesium:
5.5
mg
(1%)
Zinc:
0.6
mg
(4%)
Posted In: