Coconut flour flatbread also known as coconut flour tortillas are easy, soft and flexible keto tortilla with only 2.6 g net carbs per serve.
One of the best vegan keto bread recipes perfect for lunch sandwich wraps or to serve as a side dish to your curry. Bonus, those coconut flour keto bread have no eggs, no dairy or cheese and can be integrated on a vegan keto diet.
Coconut flour flatbread – NO eggs !
I finally find a way to make a delicious soft, tender and light coconut flour flatbread without eggs ! Well, I love my eggs but since my husband goes vegan almost 2 years ago, I love to develop recipe that we can both enjoy. This coconut flour flatbread has been 100% validated by my family crew! Yep, even the kids LOVES them. My 5 years old even ask those to make sandwich in her lunchbox so BIG success. This is a very easy low carb recipe made of only 7 ingredients. But first let me answer few low carb keto questions to guide you through this recipe.
Is coconut flour good for keto diet?
Yes, coconut flour is one of the best low carb flour for keto baking including for keto breads or keto wraps with only 21 g net carbs per 100 g. Note that coconut flour is very absorbent and keto recipes use only a tiny amount of it, a serve is usually inferior to 1/2 cup per recipe, adding only 10g net carb to the recipe, like in those coconut flour tortillas.
How many carbs are in coconut flour ?
Coconut flour contains 38 g of non digestible fiber per 100 g which means there is only 21 g net carbs per 100 g. Keep in mind that regular flour contains 74 g net carbs meaning that coconut flour has 3.5 times less carbs than regular white flour.
Coconut flour tortillas ingredients
As mention above, those Coconut flour tortillas are very easy to make. All you need are few simple keto vegan ingredients:
Coconut flour – of course DONT use other flour, it is the base ingredient to make coconut flour flatbread. Coconut flour is low carb, high fibre flour and that is the key to make a delicious low carb bread.
Psyllium husk – same here you MUST use psyllium husk. As the recipe is eggless the husk is what brings the flour together, create a soft and slightly chewy bread as a regular flatbread or roti. It is zero net carb food as it is basically 100% fibre.
Baking soda – I am not using much but it is what I thought brings the light fluffy texture to the flatbread, feel free to omit the recipe will still work
Salt – optional but I love my bread slightly salty
Water – I used lukewarm water, think bath temperature. I used tap water about 38C
Olive oil – any other vegetable oil can be use in this recipe. Other healthy option would be avocado oil, sunflower oil or melted coconut oil.
The dough is pretty easy to make. Simply bring all the dry ingredients into a mixing bowl and combine with the wet ingredients, any order works! I found it easier to directly knead the dough by hands as it is not sticky or messy. It brings the ingredients together easily. It is moist at first but it gets dryer after 1 minute. Then, rest the whole dough in the bowl for 10 minutes to let the psyllium husk suck the moisture and create an elastic soft dough.
Gluten free flatbread
Coconut flour flatbread are by definition vegan gluten free flatbread has they contains no wheat, no eggs, no butter or cheese. Coconut flour and psyllium husk create the most delicious gluten free flatbread texture that wont break when filled.
How to shape round coconut flour tortillas ?
Follow the steps below to shape beautiful round coconut flour tortillas. Otherwise, feel free to shape the coconut flour bread has you like, square, rectangle anything you fancy will work!
Cut the dough ball into 4 even pieces.
Roll each pieces in a ball, place this ball between two piece of parchment paper
Press the ball with your hand to squeeze it between the paper and start rolling.
Roll as thin as you like your bread – keep in mind that they puff a bit when cooking so thin is ok ! mine are super thin and they don't break
Peel off the top piece of paper
Optional – use a lid or any round shape to cut out beautiful round flatbread and keep the outside dough to reform more bread.
Flip over the flatbread onto a hot non stick pan, peel off the last piece of paper carefully to release the bread.
Cook 2-3 minutes on both sides.
Vegan keto bread recipes Tips and tricks
Vegan keto bread recipes don't use eggs, cheese or dairy. It doesn't mean the recipe is complicate. This coconut flour bread dough is pretty easy to work with and I never had any issue with this recipe. However I listed below the two ways it could go wrong, why and what to do to help you create the most delicious coconut flatbread in no time! Note that the dough must be soft, elastic, not sticky to your hands. You must be able to form a ball of dough before setting aside for 10 minute. The dough must be slightly soft, elastic and a bit dryer after resting time – meaning not sticky !
Too moist, can't form a ball ?
That is ok, add slightly more psyllium husk add this gradually 1/2 teaspoon at a time! Knead the dough and keep adding more husk until it comes together into a dough. Make sure you knead at least 1 minute between each addition to make sure the husk adsorb the moisture and bring the dough together. You shouldn't need more than 1 teaspoon extra ! Recipe always works well for me without adding any extra husk.
Too crumbly, too dry?
You probably added to much coconut flour or yours wasn't fine – sometimes coconut flour forms small lumps that make it difficult to precisely measure in a cup. Simply add a bit more water 1 teaspoon at a time, knead 30 sec and see how it goes. I also recommend measuring the coconut flour after removing any lump in your batch – if any. Simply use a fork to smash them, then measure.
How to heat flatbread?
Pan tips
A non stick tefal crepe pan or pancake griddle is the best to cook or reheat your flatbread. Slightly grease your pan with 1 teaspoon of olive oil, rub onto a piece of absorbent paper. You want the pan to be oiled but no oil drop should remind in the pan or your fry the flatbread.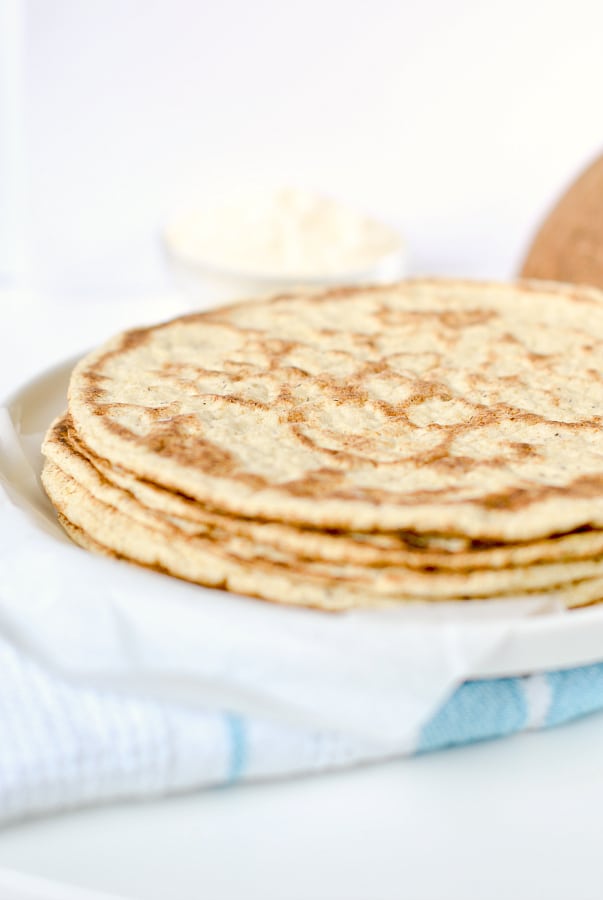 What goes good on flatbread?
Any of your favorite sandwich wraps can be made with those keto coconut flour flatbread. Whatever you are craving can be made with a flatbread like:
BLT sandwich wraps – Bacon, lettuce, tomatoes
Chicken Souvlaki wraps
Tuna wraps
Ham & cheese wraps
Vegan TLT wraps – tempeh or tofu, lettuce, tomatoes

More low carb flatbread recipes
If you love low carb flatbread recipes I recommend you try my others gluten free flatbread recipes :
Keto naan bread – delicious Indian flatbread to use as a side to curry, soup or to wrap any lunch sandwiches favorite filling. Only 3.5 g net carbs.
Flaxseed wraps – 3 ingredients wrap recipe with only 1.2 g net carb, 100 % keto, gluten free, vegan made with flax meal
Almond flour flatbread – easy 4 ingredients almond flour flatbread, 100 % keto, gluten free and vegn with 3.2 g net carbs
XOXO Carine
Coconut flour flatbread
Coconut flour flatbread Ketogenic flatbread perfect as a side to curries or a low carb tortillas wraps. 100% Vegan + eggless + gluten free soft breads.

Prep Time: 10 mins
Cook Time: 5 mins
Total Time: 15 mins
6 flatbreads
Print The Recipe
Cooking
1 teaspoon olive oil to rub/oil the non stick pan
Make the dough
In a medium mixing bowl, combine the psyllium husk and coconut flour (if lumps are in your flour use a fork to smash them BEFORE measuring the flour, amount must be precise).

Add in the lukewarm water (I used tap water about 40C/bath temperature), olive oil, and baking soda. Give a good stir with a spatula, then use your hands to knead the dough. Add salt now if you want. I never add the salt in contact with baking soda to avoid deactivating the leaving agent.

Knead for 1 minute. The dough is moist and it gets softer and slightly dryer as you go. It should come together easily to form a dough as on my picture. If not, too sticky, add more husk, 1/2 teaspoon at a time, knead for 30 sec and see how it goes. The dough will always be a bit moist but it shouldn't stick to your hands at all. It must come together as a dough.

Set aside 10 minute in the mixing bowl.

Now the dough must be soft, elastic and hold well together, it is ready to roll.
Roll/ shape the flatbread
Cut the dough into 4 even pieces, roll each pieces into a small ball.

Place one of the dough ball between two pieces of parchment paper, press the ball with your hand palm to stick it well to the paper and start rolling with a rolling pin as thin as you like a bread. My breads are 20 cm diameter (8 inches) and I made 6 flatbread with this recipe.

Un peel the first layer of parchment paper from your flatbread. Use a lid to cut out round flatbread. Keep the outside dough to reform a ball and roll more flatbread - that is how I make 2 extra flatbread from the 4 balls above!
Cook in non stick pan
Warm a non stick tefal crepe/ pancake pan under medium/high heat- or use any non stick pan of your choice, the one you would use for your pancakes.

Add one teaspoon of olive oil or vegetable oil of your choice onto a piece of absorbent paper. Rub the surface of the pan to make sure it is slightly oiled. Don't leave any drops of oil or the bread will fry!

Flip over the flatbread on the hot pan and peel off carefully the last piece of parchment paper.

Cook for 2-3 minutes on the first side, flip over using a spatula and cook for 1-2 more minute on the other side.

Cool down the flatbread on a plate and use as a sandwich wrap later or enjoy hot as a side dish. I recommend a drizzle of olive oil, crushed garlic and herbs before serving ! (optional but delish!)

Repeat the rolling, cooking for the next 3 flatbread. Make sure you rub the oiled absorbent paper onto the saucepan each time to avoid the bread to stick to the pan.

Store in the pantry in an airtight box or on a plate covered with plastic wrap to keep them soft, for up to 3 days.

Rewarm in the same pan or if you want to give them a little crisp rewarm in the hot oven on a baking sheet for 1-2 minutes at 150C.
Blue color ? Some psyllium husk bran turns out blue or purple when cooked. Mine doesn't (see here) try different brand to find out the one that is right for you. If your wraps turns out blue or purple, you can still eat the wraps, the color is a natural reaction from the husk, that is all. It doesn't change the flavor or properties of the recipe.
Recipe size: I made 6 flatbread with this recipe - I reused the border of the 4 fltbread cut into round shape to reform 2 extra flatbread. Feel free to double up the recipe to make more flatbread!
Storage: store in the pantry up to 3 days onto a plate covered with plastic wrap to keep them soft or in the fridge up to 5 days.
Rewarm tips: they are softer when cold and stored few days. i rewarm mine in the pan or in hot oven or if I make a sandwich wrap, in a toaster press.
Freeze: you can freeze them as you will freeze regular flatbread. Rewarm in the oven or in a sandwich toaster to give them a little crisp
Net carbs is carbs minus fibre, 2.6 g net carbs per flatbread in this recipe
Nutrition Facts
Coconut flour flatbread
Amount Per Serving (1 flatbread)
Calories 66 Calories from Fat 30
% Daily Value*
Fat 3.3g5%
Carbohydrates 7.3g2%
Fiber 4.7g20%
Sugar 2g2%
Protein 2g4%
Net Carbs 2.6g
* Percent Daily Values are based on a 2000 calorie diet.