Keto Coconut Flatbread Recipe (2.6g Net Carbs)
An easy keto flatbread recipe made with coconut flour with a flexible texture perfect for wrapping any food.
Also, this coconut flour flatbread recipe is so fluffy that it makes the best keto low-carb pita sandwich for lunch.
Bonus these coconut flour flatbreads are also grain-free, paleo-friendly, and egg-free!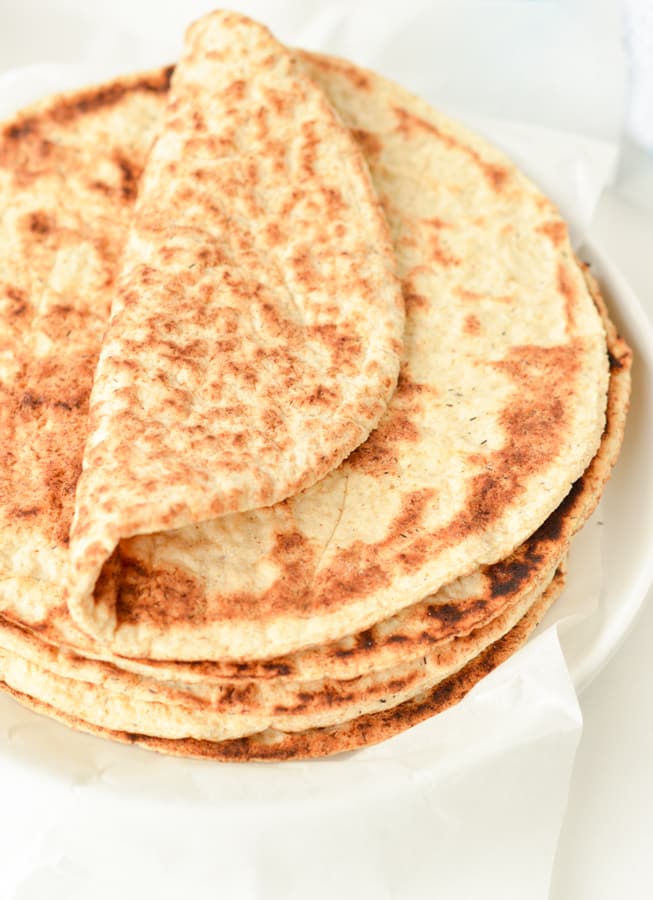 Do you miss a soft, flexible tortilla recipe on your keto diet? It's actually easy to make your own coconut flour flatbread at home with a few basic ingredients!
Plus, this coconut flour tortilla wraps recipe is egg-free, which means they taste like real bread!
No eggy taste is guaranteed with these flatbreads made with coconut flour.
What Are Coconut Flour Flatbreads?
A coconut flour flatbread recipe is a soft, flexible keto low-carb tortilla recipe made with coconut flour, one of the best low-carb flour to make soft keto bread.
It's a low-carb version of the classic 2-ingredient tortillas or the flour tortilla recipe.
A keto tortilla recipe with coconut flour contains only 2.6 grams of net carbs per serving, making it perfect to create low-carb sandwiches or low-carb pita bread for lunch.
But most of all, these coconut flour flatbreads are extremely flexible. They fold so well that they won't crack or break when filled with your favorite food.
So say hello to many keto tacos, keto gyros, or keto pita night with this amazing and simple quick keto flatbread recipe.
How To Make Coconut Flour Flatbread
It's very easy to make this keto flatbread recipe with coconut flour at home.
Ingredients
All you need to make this pita bread keto recipe are 6 wholesome pantry ingredients, no eggs or dairy!
Coconut flour – these keto coconut flour wraps are made entirely with coconut flour to achieve the best taste and texture. Don't skip or replace it with any other keto flour like almond flour, or your flatbread dough won't hold together. You can use my keto almond flour tortilla recipe if you don't have coconut flour at home. They are less fluffy than these coconut flour flatbread, so if you are after a keto pita bread recipe, rather use this coconut flour tortillas recipe!
Psyllium husk – you must use psyllium husk for success in this keto flatbread recipe. In fact, this is an egg-free keto wrap recipe, and without husk, the dough wouldn't stick together. Psyllium husk is mostly made of fiber and binds the coconut flour, plus it creates a soft, fluffy texture similar to an Indian roti or pita bread that you will love.
Baking soda – or double the amount if you prefer to use baking powder.
Salt
Lukewarm water – think bath temperature about 38C/100F. It's important not to use cold water in this coconut flour tortilla recipe, or the keto dough wouldn't form. In fact, the temperature activates the fiber quickly in the husk, creating the most beautiful bread dough.
Olive oil – or any other healthy oil with a high smoke point like avocado oil, MCT oil, or melted coconut oil.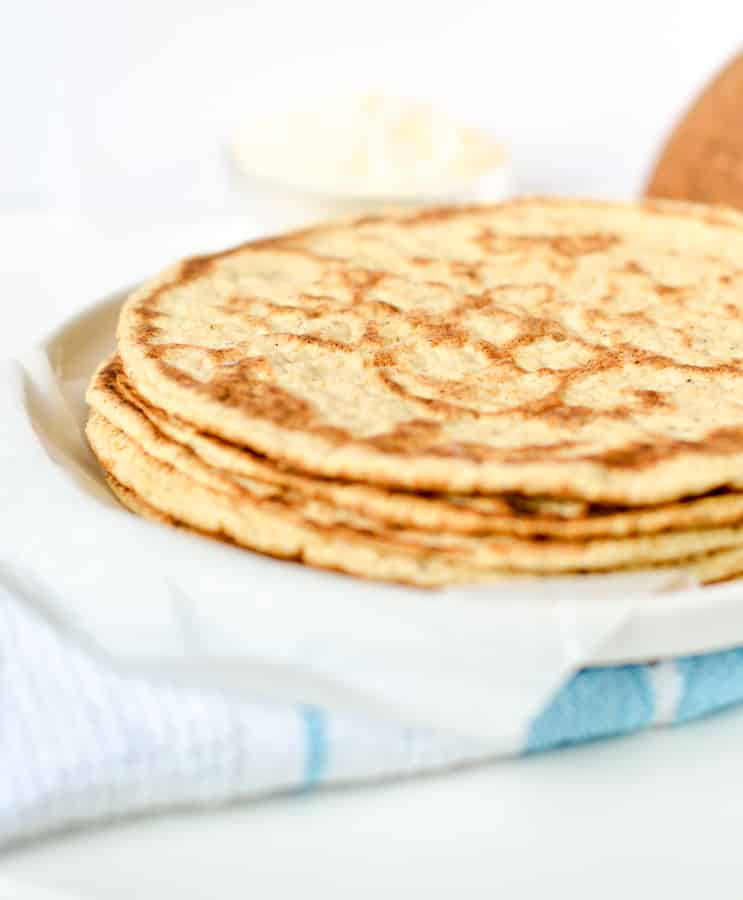 Preparing the keto flatbread dough
This coconut flour tortilla dough is super to put together.
Kneading dry ingredients to the wet ingredients
First, add all the dry ingredients into a large mixing bowl and give it a good stir to evenly spread and combine the fibers.
Next, add the lukewarm water and olive oil. Finally, knead the dough with a spatula at first, then when the keto flatbread dough starts to dry out, use your hands or the dough hook of a stand mixer to knead the dough for at least 1 minute.
Your dough will be very wet at first, coming dryer as you go, knead vigorously until you can form a soft ball of dough.
Resting the dough
Finally, rest the low-carb flatbread dough in the bowl for 10 minutes at room temperature. In fact, this coconut flour psyllium husk flatbread recipe is very high in insoluble fiber.
It means that the fiber needs time to suck out the liquid from the dough to bind the flour together. After that time, your dough should be soft and easy to roll.
For more tips on how to make these keto flatbreads, watch my step-by-step story about how to make keto coconut flour flatbreads!
Rolling The Keto Flatbread
The trickiest part in keto baking and especially using low-carb, gluten-free flour is rolling dough. In fact, keto flatbread dough or pizza dough easily sticks to the rolling pin.
To avoid that, follow the step-by-step instructions below to shape beautiful round-shaped coconut flour roti that won't stick to your roller pin.
Cut the dough into 4 even pieces.
Roll each piece of dough into a small ball and then place this ball between two long pieces of parchment paper. You can lightly oil the parchment paper if yours tends to stick to the food.
Press the dough ball with the palm of your hand and start rolling.
Roll your bread as thin as you like – for keto flatbreads, roll the dough thinner and for keto pita bread, keep the dough thicker.
When the dough is rolled to the thickness you like, peel off the top piece of parchment paper. Set aside.
Use a saucepan lid – 5 inches/15cm in diameter – or use any round shape of similar size to use as a guide and cut out nice round keto flatbreads.
Keep the outside dough to reform more balls and roll additional low-carb flatbreads.
Cooking the low-carb wraps
Now, warm a cast-iron skillet or non-stick pan over medium heat.
When the pan is hot, flip over the flatbread onto the pan and gently peel off the last piece of parchment to release the keto pita bread into the pan.
Finally, cook for 2 minutes on one side, then slide a spatula under the flatbread and flip it over. Cook for an extra minute until dry and slightly puffy.
Storage Instructions
These keto flatbreads can be stored in the fridge for up to 3 days.
Place the low-carb coconut flour flatbread on a plate, and wrap it with plastic wrap to prevent moisture from going in. Store in the middle rack of the refrigerator.
Frequently Asked Questions
It takes a bit of patience and practice to bake with low-carb flour, especially coconut flour.
In fact, coconut flour is one of the best low-carb flours for keto baking, but it's also the one with the most insoluble fiber.
It absorbs liquid very fast and dries out keto dough quickly. That's why it's crucial to measure coconut flour precisely with a scoop and sweep method or weight with a kitchen scale.
Why are my coconut flour flatbreads too moist?
If your dough is too moist after 1 minute of kneading, it means your dough is missing fiber. To fix that, add slightly more psyllium husk – add this ingredient gradually 1/2 teaspoon at a time!
Knead the dough between each addition for at least 1 minute to incorporate and keep adding more psyllium husk until the dough comes together into a soft ball of dough.
As a general rule, you shouldn't need more than 1 extra teaspoon of husk to bring the ingredients together.
Why is my keto flatbread dough crumbly and dry?
This happens if you added too much coconut flour into the bowl.
It can be because you didn't sweep the measuring cup after scooping the flour, or your coconut flour contains lumps – meaning some fibers are already activated by moisture.
To fix that issue, add a bit more water, 1 teaspoon at a time, and knead the dough for 60 seconds until it is soft and comes together.
Why are my keto flatbreads blue or purple?
Some people report blue or purple color in the keto bread recipes when using husk powder.
That's why we recommend Now Foods Whole Psyllium Husk for the best result in our keto tortilla recipes.
How to rewarm my keto flatbreads?
Just before serving, remove one coconut flour roti from the plate. Place in a hot non-stick pan or pancake griddle and cook for 1-2 minutes.
Then, add the topping of your choice, fold the low-carb tortilla, and keep cooking until the filling is hot and the cheese has melted.
You can also add your low-carb toppings into the cold keto tortillas, wrap and bring in a hot sandwich press.
Which keto fillings are best for the coconut flatbreads?
These coconut flatbreads can be used for many different purposes and recipes. The best way to use these low-carb wraps are:
Keto Low-carb Pita Bread Sandwiches – Keto Gyros, and Keto Souvlaki Wraps, are delicious with Greek food like grilled chicken, keto tzatziki, and keto-friendly vegetables like cucumber, tomatoes, lettuce, or olives.
Keto Wraps for Lunch – make low-carb wraps for lunch like:

Keto BLT sandwich, wrap with Bacon, lettuce, and tomatoes.
Low-carb tuna melt wraps – add canned tuna, tomatoes, and mayonnaise.
Ham & cheese wraps.

Keto Roti Bread as a with a Vegan Indian Curry or a Chicken Curry.
Vegan Low-carb Wraps – add any keto vegetables with tempeh or tofu, lettuce, and tomatoes for vegan keto tortillas.
Low-carb Taco Shell – fill them with ground beef cooked with my taco seasoning mix and add grated cheddar.
Mexican – cooked ground beef in taco seasoning, keto salsa, and keto avocado dip
Why make flatbread with coconut flour?
Coconut flour is a gluten-free, grain-free, low-carb flour which makes it perfect for keto baking.
Plus, coconut flour contains only 21 grams of net carbs per 100 grams since 38 grams of the total carbohydrates in coconut flour are non-digestible fiber.
As a reminder, wheat flour contains 74 grams of net carbs per 100 grams!
So coconut flour has 3.5 times fewer carbs than regular wheat flour, and it's gluten-free!
As a result, this coconut tortilla recipe is perfect for anyone starting the keto diet or vegan gluten-free foodies looking for a healthy coconut flour tortillas egg-free recipe!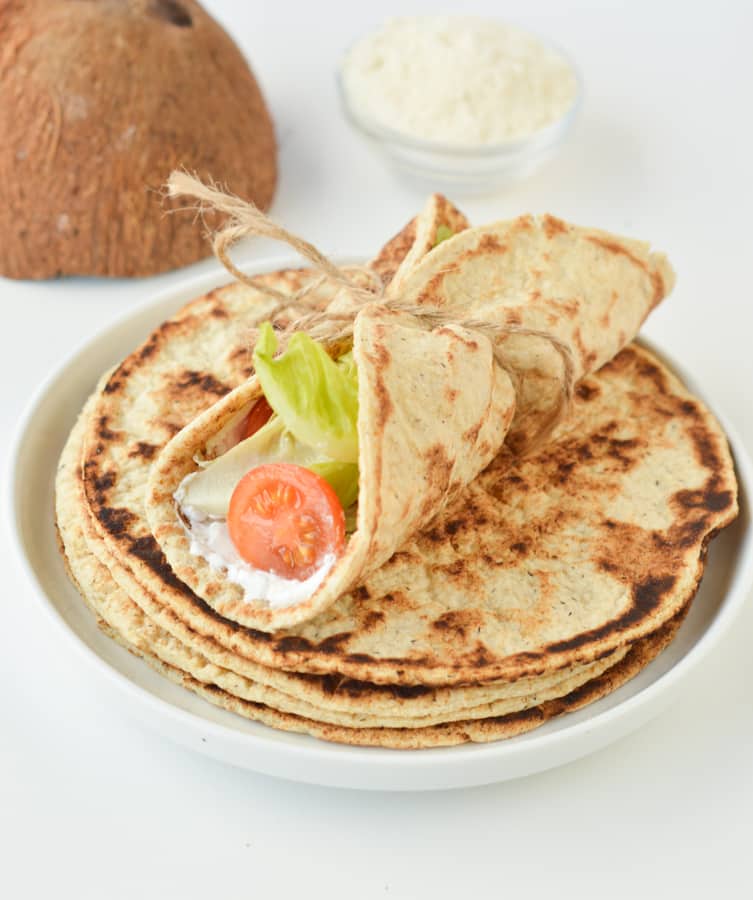 More Tortilla And Wrap Recipes
If you love healthy flatbread recipes like this coconut flour bread with no eggs, I recommend you try my other tortilla wrap recipes below:
Have you made this flatbread with coconut flour? Share a review or comment below. I love to hear your feedback on my recipes.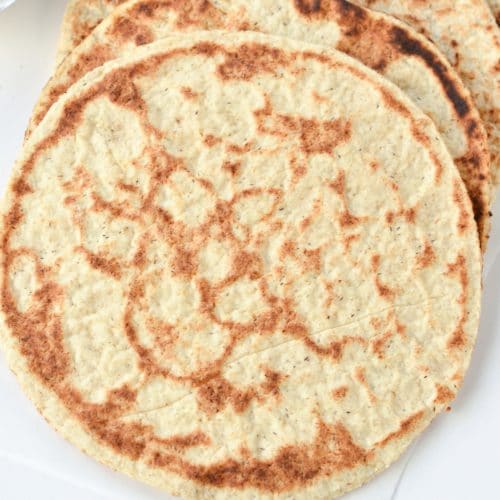 Keto Flatbread with Coconut Flour
An easy keto low-carb flatbread recipe that can be used as pita bread for keto lunch or low-carb wraps for taco nights.
Serving Size:
1
flatbread
Ingredients
2

tablespoons

Whole Psyllium Husk

½

cup

Coconut Flour

fine, fresh, no lumps

1

cup

Lukewarm Water

1

tablespoon

Extra Virgin Olive Oil

¼

teaspoons

Baking Soda

¼

teaspoons

Salt

– optional
Cooking
1

teaspoon

Extra Virgin Olive Oil
This recipe may contain Amazon or other affiliate links. As an Amazon Associate I earn from qualifying purchases.
Instructions
Make the dough
In a medium mixing bowl, combine the psyllium husk and coconut flour (if lumps are in your flour, use a fork to smash them before measuring the flour, the amount must be precise).

Add in the lukewarm water (I used tap water about 40°C/100°F bath temperature), olive oil, baking soda and salt. Give a good stir with a spatula, then use your hands to knead the dough.

Knead for

1 minute

. The dough is moist, and it gets softer and slightly dryer as you go. It should come together easily to form a dough, as in my picture. If it is too sticky, add more husk, 1/2 teaspoon at a time, knead for 30 sec and see how it goes. The dough will always be a bit moist, but it shouldn't stick to your hands at all. It must come together as a dough.

Set aside

10 minute

in the mixing bowl.

Now the dough must be soft, elastic, and hold well together. It's ready to roll.
Roll and shape the flatbread
Cut the dough into 4 even pieces, roll each piece into a small ball.

Place one of the dough balls between two parchment paper pieces, press the ball with the palm of your hands to stick it to the paper, and start rolling with a rolling pin as thin as you like your bread. My bread dough is 8 inches in diameter, and I made 6 keto flatbreads with this recipe.

Unpeel the first layer of parchment paper from your flatbread. Use a lid to cut out round flatbread. Keep the outside dough to reform a ball and roll more flatbread – that is how I make 2 extra flatbreads from the 4 balls above!
Cook in non stick pan
Warm a non-stick Tefal crepe or pancake pan under medium/high heat- or use any non-stick pan of your choice, the one you would use for your pancakes.

Add one teaspoon of olive oil or vegetable oil of your choice onto a piece of absorbent paper. Rub the surface of the pan to make sure it is lightly oiled. Don't leave any drops of oil, or the bread will fry!

Flip over the flatbread on the hot pan and peel off carefully the last piece of parchment paper.

Cook for

2-3 minutes

on the first side, flip over using a spatula and cook for

1-2 more minutes

on the other side.

Cool the flatbread down on a plate and use it as a sandwich wrap later or enjoy hot as a side dish. I recommend a drizzle of olive oil, crushed garlic, and herbs before serving! (optional but delicious).

Repeat the rolling, cooking for the next 3 keto flatbread. Make sure you rub the oiled absorbent paper onto the saucepan each time to prevent the bread from sticking to the pan.

Store in the pantry in an airtight box or on a plate covered with plastic wrap to keep them soft for up to 3 days.

Rewarm in the same pan, or if you want to give them a little crisp, rewarm in the hot oven on a baking sheet for 1-2 minutes at 300F/150C.
Notes
Psyllium husk: don't use Metamucil fiber supplements in this recipe. This is not the same product as whole psyllium husk fiber. Metamucil is a husk powder that is not suitable for baking keto bread. It will turn the bread dry, purple, or blue. Recipe size: I made 6 flatbreads with this recipe – I reused the border of the 4 flatbreads cut into a round shape to reform 2 extra flatbreads. Feel free to double up the recipe to make more flatbread! Storage: Store in the pantry for up to 3 days on a plate covered with plastic wrap to keep them soft or in the fridge for up to 5 days. Rewarm tips: they are softer when cold and stored for a few days. I rewarm mine in the pan or a hot oven or make a sandwich wrap in a toaster press. Freeze: you can freeze them as you will freeze regular flatbread. Rewarm in the oven or in a sandwich toaster to give them a little crisp.
Want My Kitchen Equipment?
Serving Size:
1
flatbread
Serving:
1
flatbread
Calories:
66
kcal
(3%)
Carbohydrates:
7.3
g
(2%)
Fiber:
4.7
g
(20%)
Net Carbs:
2.6
g
Protein:
2
g
(4%)
Fat:
3.3
g
(5%)
Sugar:
2
g
(2%)
Posted In: