Almond Flour Tortillas (Keto, Vegan)
This Almond Flour Flatbread recipe makes delicious soft, flexible almond flour tortillas with only 3 grams of net carbs.
They are ideal as a keto wrap or a keto taco to fill with your favorite Mexican food!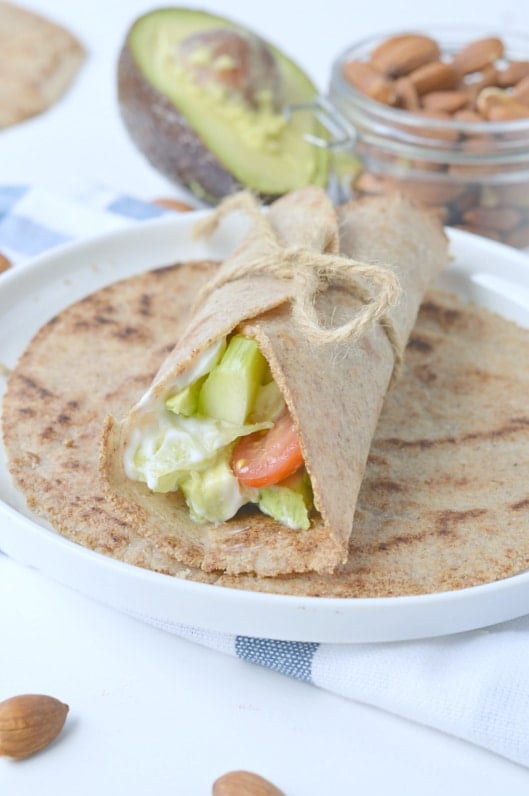 Plus, this easy keto almond flour tortilla recipe makes delicious homemade sandwiches that won't blow your carb count.
Yes, one tortilla only has 3.2 grams of net carbs! So if you are missing bread on your low-carb keto diet, there are the ones to try.
If you are a bread lover starting on a keto diet and you never gave up on bread, recipes like these will help you keep your carbs under control while eating a bread-like tortilla.
These keto tortillas will soon become your favorite!
What Are Almond Flour Tortillas?
These almond flour flatbreads are flexible gluten-free keto tortillas made with almond flour. They are the low-carb version of my flour tortillas or my 2-ingredient tortillas.
They are perfect for rolling any food and creating delicious sandwich wraps. I guarantee that they won't break when you fold them!
They are also egg-free, dairy-free, and therefore perfectly vegan!
The magic ingredient that provides this flexible texture without using eggs is psyllium husk. Keep reading. I will tell you more about it!
How To Make Almond Flour Tortillas
This is such an easy low-carb recipe with very few ingredients and no baking powder to keep things simple.
Ingredients
So here, you only need 5 ingredients to make tasty almond flour tortillas.
Almond Flour or almond meal both work.
Whole Psyllium Husk – don't substitute for something else. It gives the perfect elasticity to these egg-free wraps. Also, don't use Metamucil fiber supplements in this recipe. This is not the same product as whole psyllium husk fiber. Metamucil is a husk powder that is not suitable for baking keto bread. It will turn food dry, purple, or blue.
Salt
Olive Oil or vegetable oil of your choice.
Spices – they are optional, but I love to add a combo of garlic powder and ground cumin. Other spices you can use are smoked paprika, turmeric, and dried oregano. I love to use a spice that matches the filling I will add to my wrap. I use oregano for Italian wrap, turmeric for Indian fillings, and paprika or cumin for Mexican fillings.
Instructions
Weigh your ingredients
It can be tricky to bake with low-carb flour for a few reasons:
Flours can be different from brand to brand. Some almond meals are coarser than almond flour, and the same applies to the whole husk.
They contain lots of fiber. Fiber is highly water absorbent, and the finer your meal, the more liquid it will be absorbed.
For these reasons, I recommend weighing your dry ingredients to ensure total success with low-carb baking recipes.
Use parchment paper
Low-carb flatbread dough is often sticky. To roll your dough, use two pieces of parchment paper. This will prevent the dough from sticking to your roller pin.
Serving Keto Tortillas
There are tasty tortillas for any occasion, like:
Mexican food – fill your tortillas with chicken fajita or beef fajita made with my Mexica spice mix. Add a dollop of guacamole, cheddar, and sour cream.
Lunch wraps – cold meat like chicken, turkey with bacon, lettuce, and mayonnaise.
Indian wraps – a great keto dosa substitute for rolling chicken tikka masala.
Storage Instructions
Store your keto tortillas for up to 4 days in the fridge. Place them on a plate covered with plastic wrap to prevent them from drying out.
Rewarm them for 1-2 minutes in a hot pan.
You can also freeze these almond flour tortillas for up to 2 months in individual zip-lock bags.
Frequently Asked Questions
What Is Psyllium Husk?
Psyllium husk is made almost entirely of fiber, so it means it has very low carbs.
To learn more about the carbs in various flour, read my article on choosing your keto flour!
Psyllium husk is the amazing ingredient that makes these almond flour tortillas a plant-based keto recipe.
Indeed, psyllium husk is extracted from a plant's seeds.
It's a great gluten-free low-carb baking flour to add elasticity to bread without using eggs. It should be noted that some husk brands can turn purple when baked.
Therefore, I recommend you use a specific psyllium husk brand to avoid purple-ish tortillas.
How Do Almond Flour Tortillas Taste?
These are very similar to the wholemeal wraps you have been used to eating.
In fact, they are easy to roll with some coarse texture from the almond flour and husk that gives them a lovely wholemeal flavor.
Of course, they don't contain gluten and only 3.2 grams of net carbs per wrap.
If you prefer soft and light tortillas, I should note that I have a lovely keto coconut flour flatbread recipe for you and a flax meal wrap recipe.
Can I Cook These Keto Tortillas In The Oven?
I wouldn't recommend baking these flatbreads in the oven. They wouldn't have the right texture and might not be flexible enough.
Can I Skip The Psyllium Husk?
Unfortunately not, psyllium husk is essential for the texture of this recipe.
More Flatbread Recipes
If you like tortillas, you'll love these other keto flatbreads:
I hope you enjoy this almond flour tortilla recipe. Don't forget to share a review or comment below to share your feedback!
Almond Flour Tortillas
These Almond Flour Tortillas are delicious soft, flexible keto, low-carb, vegan flatbreads.
Nutrition Snapshot
Want My Kitchen Equipment?
Instructions
In a medium mixing bowl, add all the dry ingredients: almond flour, psyllium husk, and salt and spices if used.

Add olive oil and lukewarm water. Combine with a spatula. The batter is moist at first and will come together as you knead the dough.

When the dough comes together, use your hands to form a ball. Divide the ball into 4 even pieces. Roll each piece into a small ball.

Place the first ball of dough between two pieces of parchment paper.

Slightly press the ball with your hand palm and roll the dough with a rolling pin. Don't roll too thin, or your wrap won't be as soft when cooked. The thinner, the crispier they become.

Gently peel off the top layer of parchment paper.

If you want to shape a circle tortilla, use a saucepan lid, place it on top of the rolled tortillas, and use a knife to cut out the border. Remove the border with your fingers. If you don't have a lid, cut out a rectangle or square.

On a non-stick crepe pan (make sure your pan is a non-stick one, or the tortillas will stick to the pan!), flip over the tortillas onto the pan. Peel off the last piece of parchment paper to release the rolled tortilla onto the pan. Be careful! If the pan is too hot, the tortilla tends to break.

Bring to medium heat and cook for 2-3 minutes or until brown on one side. Flip over, slide a spatula or flat tool under the tortilla, and flip over.

Cook for an extra 1-2 minutes. The longer you cook the tortilla, the crispier it will be and the more difficult it will be to roll it without breaking. I recommend you stop cooking them when the tortilla is still soft in the center.

Serve with the filling of your choice or as a side bread to a curry.
Storage
Store up to 4 days in the fridge. Place them on a plate covered with plastic wrap to prevent them from drying out. Rewarm for 1-2 minutes in a hot pan.

Freeze as regular tortillas for up to 2 months.
Notes
This recipe makes 4 almond flour tortillas. The nutrition panel is for 1 wrap. Net carbs for one wrap are calculated as carbs minus fiber (3.2g net carbs per tortilla). Psyllium husk: don't use Metamucil fiber supplements in this recipe. This is not the same product as whole psyllium husk fiber. Metamucil is a husk powder that is not suitable for baking keto bread. It will turn food dry, purple, or blue.
My Recipe Notes
Nutrition
Serving:
1
tortilla
Calories:
190
kcal
(10%)
Carbohydrates:
9.2
g
(3%)
Fiber:
6
g
(25%)
Net Carbs:
3.2
g
Protein:
6.1
g
(12%)
Fat:
15.8
g
(24%)
Sugar:
1
g
(1%)
Posted In: