Low-carb naan bread or keto naan bread, call them as you like, are easy healthy naan bread made with wholesome keto flours, no cheese or dairy with a real bread flavor. A simple keto vegan recipe that ticks all diets, 100% vegan, dairy-free, egg-free, paleo, and gluten-free.
You won't believe that these low-carb naan bread with almond flour contain only 3.5 grams of net carbs per bread.
Can you make keto-friendly naan bread?
I think we will all agree that the best thing about eating Indian food is the naan bread, right? I absolutely love garlic naan bread on its own or dipped into my low carb tikka masala curry sauce.
If you just started a low carb diet, you may miss this delicious Indian side bread so here is my recipe. Because, yes you can make a keto-version of the popular flatbread from India.
An easy keto naan bread recipe with almond flour and 6 wholesome ingredients for a delicious comforting dinner. And good news, there is no dairy in this recipe so if you are on a keto vegan diet is for you too!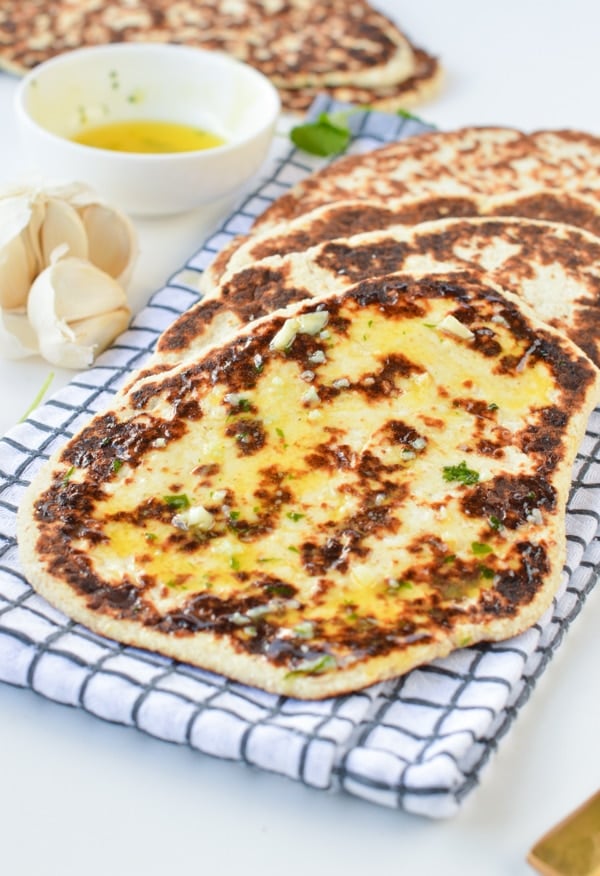 ⓧ
Are you new to Keto?
Receive my Keto Quick Start email series to learn all about the Keto diet and kick start your keto journey!
All you need to make them is:
Dry yeast – this is optional but it adds the amazing bread flavor to the naan bread plus an extra fluffy texture that I love.
Lukewarm water – think bath temperature around 40C, that's the best to activate fibers from the flour quickly and the yeast – without adding sugar.
Coconut flour – I recommend you weigh the flour if you can, coconut flour contains 10 times more fiber than regular flour and it requires precision for perfect results.
Almond flour– I use blanched almond flour but the almond meal would work too in this recipe.
Olive oil – I love the flavor of olive oil in bread, it makes it more real but any other vegetable oil will work well in this recipe.
Whole psyllium husk – this is 100% fiber and it gives a chewy texture to the bread while gathering all the ingredients perfectly together without using any egg. Don't use Metamucil fiber supplements in my recipes, this is not the same product as whole psyllium husk fiber. Metamucil is a husk powder that is not suitable for baking keto bread. It will turn food dry, purple, or blue.

Low-carb baking tips
Low-carb baking is very different from baking regular recipes and below are my tips to success every time:
Weigh the ingredients – low-carb baking uses high-fiber flour, for full precision it's better to measure the flours in grams. Cups work but are not as precise. A bit too much of one flour will get your dough dry and difficult to roll without breaking.
Parchment paper – low-carb doughs are stickier and must be rolled between pieces of parchment paper. This prevents the dough from breaking or sticking to the rolling pin.
Patience – low-carb flours contain lots of fiber, meaning they are highly water/liquid absorbent. But the fiber needs time to absorb the water, that's why it is important to knead the dough for at least 2 minutes to help the fibers be in contact with the water and make their job. Same with resting time, this ensures full fiber activation.

What to eat with keto naan bread?
I love to eat my low-carb naan bread with garlic butter on top as a side to an Indian curry or low-carb soup or as a sandwich base to roll some keto vegetables. If you are vegan you can make garlic butter using dairy-free margarine or olive oil.
I hope you enjoy this new low carb baking recipe. If so, share a pic with me on Instagram before you dig in! I love to see your creations.
XOXO Carine.
Recipe Card
Low-carb Naan Bread
The low-carb naan bread is a simple keto vegan recipe that ticks all diets, Vegan, Dairy-free, Egg-free, Paleo, and Gluten-free.
Ingredients
Yeast mixture
1

cup

Lukewarm Water

2

teaspoons

Dry Yeast
Instructions
Place lukewarm water in a measuring jug. Stir in dry yeast. Set aside 5 minutes to activate the yeast.

In a large mixing bowl, combine all the dry ingredients: coconut flour, psyllium husk, almond flour, and salt. 

Pour in yeast mixture and olive oil. Use a spatula to combine at first, then knead the dough energetically with your hands for 2 minutes - not less! The texture is very wet at first, drying out as you go. Knead for at least 2 minutes to make sure that the husk and coconut flour fiber absorbs all the moisture.

Form a ball of dough. Set aside for 10 minutes in the mixing bowl at room temperature.

After 10 minutes, knead the dough again for 30 seconds. If too wet, add a little more husk and repeat the waiting process until the dough is soft and easy to shape into a ball. Split the dough into 4 pieces. Shape 4 balls. This recipe makes 4 large naan bread, you can also shape 6 small naan bread by dividing the dough into 6 balls if preferred. 

Prepare two pieces of parchment paper. Place one on the benchtop, place the dough ball in the middle of the parchment paper sheet, and cover the ball with the second piece of parchment paper. Press the ball slightly to stick the paper to the ball.

Use a rolling pin to roll the dough into a naan shape. Keep the dough slightly thick to mimic real naan bread. Remove the top parchment paper layer. Reshape the sides of the naan bread with your fingers if needed for lovely smooth sides.

Warm a non-stick crepe pan or pancake griddle under medium-high heat. When the pan is hot, flip over the rolled naan onto the pan, peel off parchment paper carefully and cook the naan bread for 1-2 minutes on high heat until black spots appear.

Slide a large spatula under the bread to flip over and cook for 1 minute on that side or until brown/black spots form. These naan bread are large and heavy so a large spatula is a must to flip them over without breaking them. Shape smaller naan bread if you don't have a large spatula.

Serve immediately, spread 1/2 teaspoon of olive oil or melted butter on top of each bread, crushed garlic, and chopped coriander if desired.

Repeat the rolling and cooking process for the following naan bread until no more dough is left.
Storage
You can store the cooked naan bread for 2 days in the pantry, on a plate. Cover the plate with a clean kitchen towel to keep them soft and moist. Rewarm in a non-stick pan for 1 minute on both sides before serving.
Freezing
You can freeze the cooked naan bread. Freeze them wrapped individually in plastic wrap. Defrost at least 3 hours before, make sure you remove the plastic wrap when out of the freezer to avoid extra moisture getting into the naan bread when they defrost. Rewarm in a hot non-stick pan on both sides for about 1 minute. 
Psyllium husk: Don't use Metamucil fiber supplements in my recipes. This is not the same product as whole psyllium husk fiber. Metamucil is a husk powder that is not suitable for baking keto bread. It will turn food dry, purple, or blue.
Non-stick pan: you don't need to grease the pan if you are using a non-stick crepe pan as I am using in this recipe. If your pan tends to stick, make sure you rub the surface with some oil and a piece of absorbent paper. Too much oil will fry the naan bread. That is not what you want.
Some additional tips:
If your dough is too sticky or too moist, add a bit more whole psyllium husk (1 teaspoon), knead, and see how it goes.
If your dough is too dry, add more water (1 tablespoon), knead, and repeat if needed. 
My Recipe Notes
Tools
Starting Keto
What Is Keto Diet?
Macro Calculator
Sweetener Converter
Keto Meal Plans
Keto Recipe Ebooks
Intermittent Fasting
Keto Fruits
Keto Vegetables
Keto FLours
Fighting Keto Flu
Keto Sweeteners
Nutrition Facts
Low-carb Naan Bread
Amount Per Serving (1 naan bread)
Calories 182
Calories from Fat 136
% Daily Value*
Fat 15.1g23%
Carbohydrates 9.8g3%
Protein 4.1g8%
Net Carbs 3.5g
* Percent Daily Values are based on a 2000 calorie diet.