These healthy taco shells are low-carb, keto, baked taco shells made with only 5 ingredients and coming at 3.3 grams of net carbs per shell!
Plus, they are gluten-free and grain-free.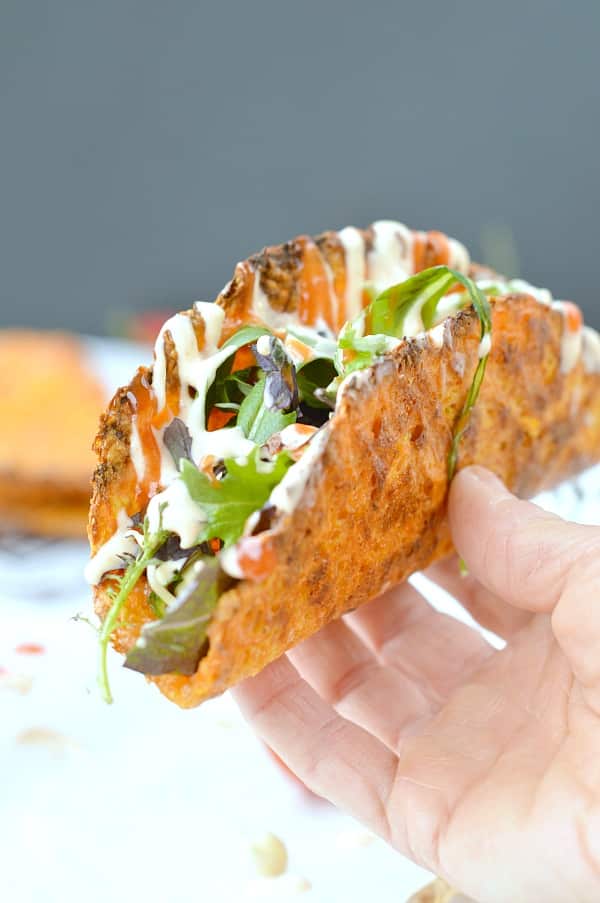 Are Carrots Keto-Friendly?
Carrots often have a bad reputation because they are seen as very high in carbs and sugar.
However, 100 grams of carrots only contain 6.8 grams of net carbs per 100 grams and 4.7 grams of sugar.
Let's compare this to a keto-approved fruit like blueberry. Blueberries contain 10 grams of sugar and 11.6 gram of net carbs.
Do you see what I mean now? Even if most keto vegetable lists say that carrots are NOT keto-approved, they are still lower in carbs than blueberries!
So yes, carrots will probably keep you out of ketosis if you eat too many!
However, one of these shells contains only 3.3 grams of net carbs, and if you manage to fit them into your 25-gram net carbs daily macro, you will be all fine!
For example, serve 1 of these shells with ground beef or chicken, lettuce, and aioli, and you will get around 4 grams of net carbs for a fulfilling dinner.
Also, keep in mind that to compare, 100 grams of sweet potatoes has 17 grams of net carbs!
So yes, having too many carrots is not keto, but some are fine on a low-carb diet.

How To Make Healthy Taco Shells
It's a very easy 5 ingredients taco shell recipe.
Ingredients
Carrot taco shells are cheesy taco shells made of 5 wholesome ingredients. All you need to make these are:
Instructions
First, you have to precook your vegetable. Many options can be used, microwave, steamer, or boiling.
Then, pat dry the grated carrots to remove any moisture.
Finally, combine with eggs, cheese, and flour of your choice. I recommend using almond flour as a low-carb flour. However, oat flour is also a very healthy option.
To make carrot taco shells of a similar size, scoop out the batter with a mechanical ice cream scoop.
Place the Carrot Taco Shells on a lightly oiled baking sheet.
Then, bake them for 15 minutes in an oven preheated to 400°F (200°C). You know they are ready when the edges start to darken and get crispy.
Don't let them dry out in the oven or they wouldn't be foldable!
How Many Carbs Per Taco Shell?
One carrot taco shell contains 3.3 grams of net carbs. The best low-carb fillings to keep your meal low in carbs are:
Meat – roasted chicken, ground beef cooked in olive oil, and taco spices.
Greens – lettuce, baby spinach leaves, arugula, avocado.
Sauce – olive oil mayonnaise, mustard, aioli, homemade ketchup.
Cheese – cheddar, gouda, Emmental.
More Healthy Baked Taco Shells
If you love taco shells made of vegetables and you are looking for a lower-carb recipe, I recommend you also try my keto baked taco shells recipe below:
It is simple, low-carb, and full of good complex carbs! I made 4 medium size taco shells of about 15 cm (6 inches) in diameter.
Made these carrot taco shells yet? Share a review or comment below!
Keto Carrot Taco Shells
Carrot taco shells are low-carb healthy baked taco shells made of 5 ingredients.
Ingredients
1 ½

cup

Grated Carrots

packed + 1/2 cup tap water to cook

½

cup

Grated Cheese

I used cheddar

2

Eggs

3

tablespoons

Almond Flour

¼

teaspoon

salt

if desired, optional
This recipe may contain Amazon or other affiliate links. As an Amazon Associate I earn from qualifying purchases.
Instructions
Preheat oven to 400°F (200°C).

Wash, peel, grate, and measure the grated carrots.

Place them into a bowl cover with 1/2 cup tap water. Microwave 2-3 minutes.

Drain and place the cooked grated carrots onto a clean absorbent paper or towel.

Firmly squeeze out the extra water until the grated carrots don't contain any water. You can also pat dry the cooked grated carrots between two sheets of absorbent paper to prevent too much moisture. This is a crucial step. If the carrots are too moist, the tacos won't hold.

Place the carrots into a bowl with grated cheese, eggs, almond flour, salt, and pepper. Combine until it forms a batter.

Prepare a baking tray covered with baking paper. If your paper tends to stick to food, you can spray a little oil on it to prevent the shells from sticking to the paper. Set aside.

Divide the whole batter into 5 even portions (1 portion makes 1 shell, and I am using a mechanical ice cream scoop tool to divide the batter evenly. Place each portion of carrot batter onto the tray, leaving about a 3-thumb space between each.

Press each portion of batter with your finger to compact the carrot onto the tray as a flat circle. The thinner, the crispier they will be!

Bake at 400°F (200°C) for 15 minutes or until crispy on the sides.

Gently remove the carrot tacos from the baking paper by lifting them from the side, using your finger or tongs.

Eat warm, filled with the filling of your choice.

If you want to create a taco-like shape, cool down the shells onto a small bottle or any cylinder shape.
Notes
Cheese options: you can use any hard-grated cheese in this recipe, low-fat or full-fat cheese. My favorite options are grated Edam, mozzarella, or cheddar. Cooking carrots without a microwave: Bring 1/2 cup water to a boil, add the grated carrots, and cook for 3 minutes. Drain and pat dry on absorbent paper before adding to the batter. Storage: store the carrot taco shells on a plate covered with plastic wrap to prevent them from drying out. They will soften when cold. Freeze: Freeze the baked taco shells in an airtight plastic bag or container. You can add a layer of parchment paper between each taco shell to prevent them from sticking together. Defrost in a warm oven within 3 minutes.
Want My Kitchen Equipment?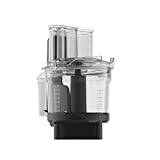 Serving:
1
shell
Calories:
110.2
kcal
(6%)
Carbohydrates:
4.8
g
(2%)
Fiber:
1.5
g
(6%)
Net Carbs:
3.3
g
Protein:
6.3
g
(13%)
Fat:
7.6
g
(12%)
Saturated Fat:
3.1
g
(19%)
Trans Fat:
0.1
g
Cholesterol:
77.3
mg
(26%)
Sodium:
237.9
mg
(10%)
Potassium:
158.3
mg
(5%)
Sugar:
2.1
g
(2%)
Vitamin A:
6623.4
IU
(132%)
Vitamin B12:
0.3
µg
(5%)
Vitamin C:
2.3
mg
(3%)
Vitamin D:
0.4
µg
(3%)
Calcium:
112.9
mg
(11%)
Iron:
0.7
mg
(4%)
Magnesium:
9.9
mg
(2%)
Zinc:
0.7
mg
(5%)
Posted In: