French Green Beans are tender sauteed green beans cooked in garlic butter with crunchy sliced almonds.
This is a delicious keto green beans recipe to serve as a side to grilled meat or fish.
I was born and raised eating these French green beans, which is actually a delicious Keto French recipe by itself.
Are Green Beans Keto-Friendly?
Green beans or haricots verts as they are called in France are keto-approved vegetables, with 4.3 grams of net carbs per 100g.
This authentic French recipe only uses keto ingredients. Let me share with you my favorite french way to cook green beans!
How To Make French Green Beans
Making these green beans is straightforward. It only takes a handful of basic ingredients and less than 30 minutes.
Ingredients
Fresh Green Beans – Green beans are a keto-friendly vegetable, read below on how to pick them.
Shallots – or if you can't find any, swap for small yellow onions.
Garlic – for the taste.
Lemon Juice – to deglaze the green beans. Make sure to pick raw, unsweetened lemon juice.
Salt & Pepper
Butter – or olive oil to cook the green beans. Both are keto-friendly fat.
Sliced Almonds – to decorate. You can also use chopped peanuts.
Fresh Parsley – or any fresh herbs you like.
Choosing Green Beans
Before you jump into this recipe, let me share the tips to select the best fresh green beans. A fresh green bean should be:
Green with no dark spots on the shell.
Firm – try to break green beans it must crack instantly, not bend or be soft. Crispness is essential for crispiness when cooked.
Preparing Green Beans
While you can make this recipe with frozen green beans, see the last paragraph. I highly recommend fresh green beans for the best texture and flavor.
First, before you start this easy green beans recipe, you must trim the tough, curly ends of both sides of each bean.
Next, you may want to peel off the edge to remove any fibrous texture in the dish. I personally don't, as fresh crunchy green beans usually don't have a fibrous texture.
Finally, it is up to you to cut each bean into pieces. Usually, French cut green beans are cut in third. It means each bean is cut into 3 even pieces.
It is up to you to do so. Classic French Green Beans, as you would eat in a French restaurant, are served whole.
Cooking French Green Beans
Recipes with french green beans are generally quite easy to make. This one is no exception.
Step 1: Blanching the Green Beans
The secret to the most delicious French green beans is to pre-cook the beans in boiling water.
This technique is called blanching and refers to a quick-cooking process where the vegetables are plunged into boiling water for a short time and then cooled under cold water or even ice water.
In fact, this shocking process allows the green beans to be crunchy, not mushy, and highly green in color.
Step 2: Sauteed In Garlic Butter
The next step to making the best french green beans is to melt a good amount of butter to fry the shallots and garlic in a large skillet.
Then, the blanched green beans are cooked in garlic butter over medium-high heat with the addition of sliced almonds.
The trick is to sautee the green beans long enough to be fork-tender but still crunchy.
Step 3: Deglazing With Lemon Juice
This is the ultimate trick to make the most delicious French-style green beans. The last step consists of deglazing.
If you are not familiar with this french cuisine technique, it simply means pouring lemon juice or water into the pan over medium heat to unstick all the cooking fat from the pan to create the most simple and tasty juice.
Step 4: Seasoning
Of course, seasoning is the key to any side dish, salt, pepper and if you really want to make this a classic french dish, add fresh chopped parsley just before serving!
Follow all these steps, and you will achieve the most simple, fancy yet, keto green beans recipe.
Storage Instructions
You can store the French Green Beans once cooked for up to 3 days in the fridge.
They can also be frozen for up to three months in an airtight container in the freezer.
Thaw the green beans in the fridge and pop them in a frying pan for a few minutes.
Frequently Asked Questions
Why Blanching Green Beans?
Blanching green beans has many advantages.
First, it cleansed the green beans from dirt and organism.
Next, it is a culinary French cuisine technique for boosting the bright green bean color, enhancing the crunchy texture and flavor.
Finally, it is also a great method to preserve nutrients and vitamins and a recommended method to freeze green beans.
What Are French Green Beans Called?
Green beans are called haricots verts in France.
Do you cut the ends off French green beans?
Yes, it's essential to remove the last half inch from the ends of the green beans. It's a part of the beans that is much harder and more difficult to digest
What Is The Difference Between Green Beans And Haricot Vert?
None. Haricot Vert is just the French name for green beans. The cultivar used in France is slightly different from the one used in other parts of the world.
As a result, the French cultivar is often slightly longer. But it's still exactly the same regular green beans from the same plant.
What Does Frenching Green Beans Mean?
To "French" a green bean means cutting the green beans in a very specific way. It's generally used for salads like a Julienne.
French-cut beans are cut longitudinally, leaving most of the inside of the pods exposed.
What Are The Carbs In Green Beans?
Green beans contain 7 grams of carbs per 100 grams. With the fiber excludes, there are 3.6 grams of net carbs in green beans.
Can I Use Frozen Green Beans?
Yes, you can use frozen green beans to make this keto green bean recipe. However, since frozen green beans are already blanched, follow the tips below to make french green beans with frozen green beans.
Skip the first step of the recipe. In fact, frozen green beans are always blanched before freezing, so you don't have to do this twice.
Thaw the frozen green beans. You can either leave the frozen green beans in a sieve for 60 minutes at room temperature or microwave a few minutes to defrost them faster. However, the microwave technique sometimes cooks the green beans, so be careful about timing! You don't want mushy green beans, or the recipe won't taste the same.
Follow the rest of the recipe as if you were using fresh green beans.
More Keto Vegetable Side Dishes
Below I listed some delicious keto dish ideas to bring more vegetables to your keto diet.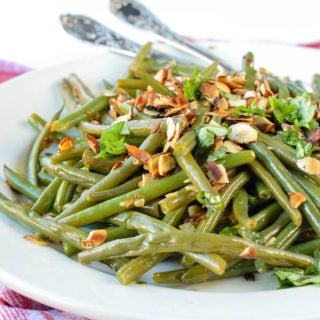 French Green Beans
Authentic French Green Bean recipe from sauteed in olive oils with almonds, shallots, garlic, and deglazed with lemon juice. An easy side dish for any occasion. Dairy-free, gluten-free, vegan, and low-carb.
Ingredients
17

oz

Fresh Green Beans

small, firm, thin

4

cups

Boiling Water

2

small

Shallot

peeled, chopped (or onion)

3

Garlic Cloves

peeled, crushed

2

tablespoons

Lemon Juice

¼

teaspoon

Salt

⅛

teaspoon

Black Pepper

2

oz

Unsalted Butter

or Extra virgin olive oil

2

oz

Sliced Almonds

¼

cup

Fresh Parsley

finely chopped
This recipe may contain Amazon or other affiliate links. As an Amazon Associate I earn from qualifying purchases.
Instructions
In a large Dutch oven, bring the water to a boil.

Add the green beans and cover with a lid.

Blanch the green beans cooking them for 3 to 5 minutes. Check the texture with a fork, the green beans must stay firm but tender.

Drain and rinse under cold water, this will keep the green color of the green beans!

Just before serving, warm the butter in a skillet, add the shallots, garlic and saute for about 1 minute or until golden and fragrant.

Add the sliced almonds and roast/saute them for 1 minute until slightly brown. Stir often to prevent them from burning.

Add the green beans and stir with the cooked shallots, garlic, and almonds to blend the flavors. Add salt and pepper, and saute briefly for no more than 2-3 minutes.

Deglaze with lemon juice – it means you will use the lemon juice to create a tasty sauce with the oil that sticks to the skillet.

Serve immediately as a side dish for any meat or fish. Top up with extra chopped fresh basil.
Want My Kitchen Equipment?
Serving:
6
servings
Calories:
114
kcal
(6%)
Carbohydrates:
7.6
g
(3%)
Fiber:
2.9
g
(12%)
Net Carbs:
4.7
g
Protein:
2.6
g
(5%)
Fat:
9.2
g
(14%)
Sugar:
3.2
g
(4%)
Posted In: