These Air Fryer Green Beans are the most delicious crispy green beans for a quick 15-minute side dish.
This recipe is also dairy-free, vegan, and healthy.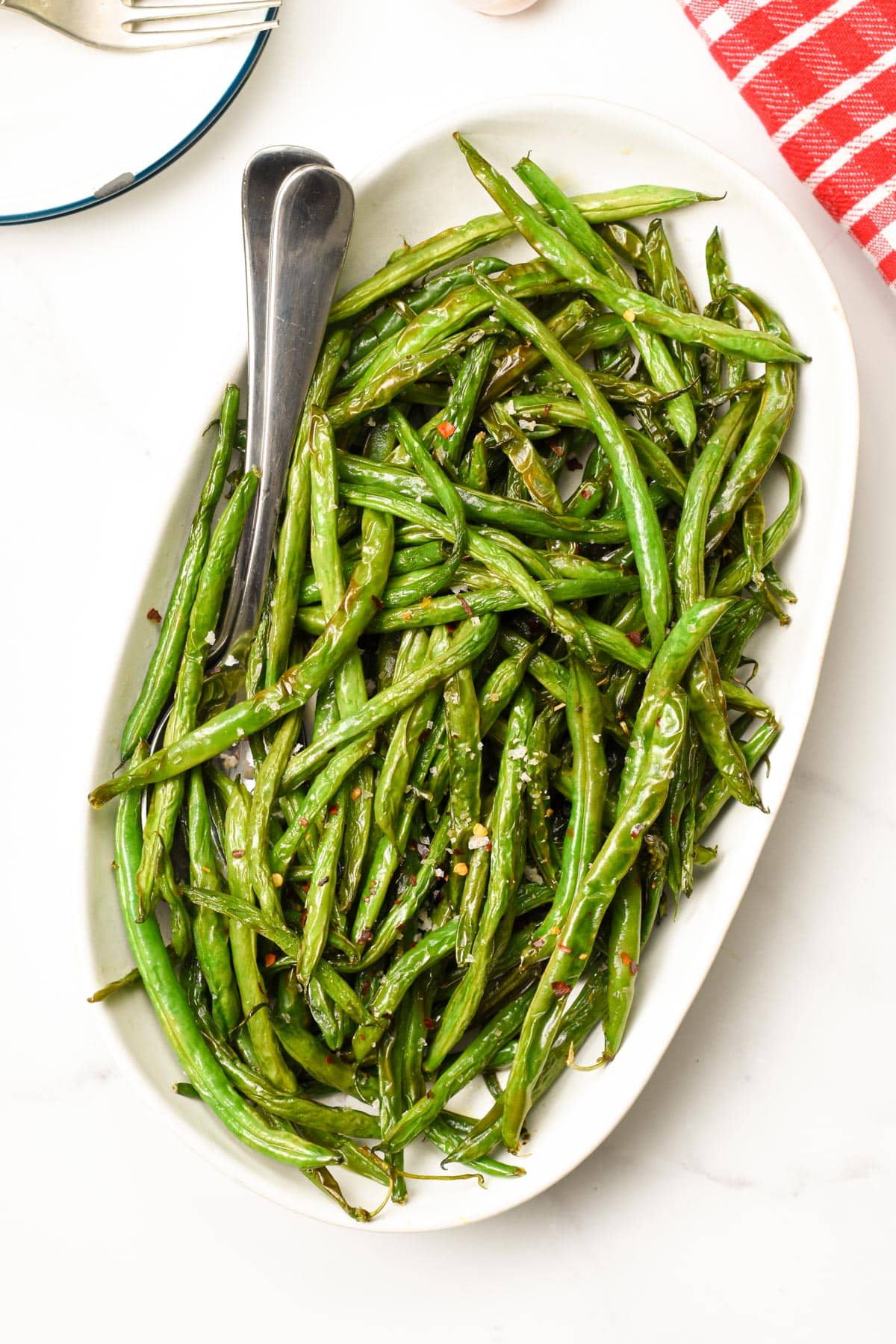 I love my air fryer when it comes to vegetables! Nothing is easier than air fryer broccoli or air fryer green beans.
What Are Air Fryer Green Beans?
Air fryer green beans are green beans cooked in the air fryer with a touch of oil and spices.
The texture of green beans in the air fryer is very different to sautee green beans, like in a French Green Bean Recipe.
The green beans are dried by the pulse air circulating in the air fryer, and therefore they are not as dense and crunchy but lighter and crispier, closer to air-fried vegetable chips like my Brussels sprouts chips.
How To Make Air Fryer Green Beans
This is the easiest recipe for crunchy green beans!
If you don't have an instant pot and are looking for a fast way to cook green beans, try these air fryer green beans! It will turn everyone into green bean lovers.
Ingredients
All you need are the following:
Fresh Green Beans – Green beans are also known as haricots verts, the French term for green beans. They are exactly the same vegetables, just with a fancier name. For this recipe, there's no need to trim the ends of the green beans.
Olive Oil – Use extra-virgin olive oil or any high-smoke-point oils like grapeseed oil or avocado oil.
Salt and Pepper
Garlic Powder or onion powder
Preparing The Green Beans
Clean the green beans under cold water to remove any potential dirt or dust.
I don't like trimming the ends of the green beans because I like their crunch, and the look of the dish is also much more appealing untrimmed.
However, if some of your green bean ends look unhealthy, trim them before.
Place the green beans into a large bowl.
Sprinkle salt, pepper, and garlic powder on top and drizzle olive oil.
Stir the green beans until the oil and spices coat each green bean evenly.
Placing In The Air Fryer
Add the green beans into the air fryer basket and spread them in a single layer.
It's fine to have some green beans overlapping but avoid too thick a layer of green beans, or they won't cook at the same speed.
My air fryer has an XXL basket, and it perfectly fits a 1-pound bag of green beans.
If your basket is smaller, you can air fry it in two batches for the best results and crispy texture.
For easier cleaning of the air fryer basket, you can add a little spray of olive oil to the basket.
I don't recommend covering the basket with foil because the green beans won't get as crispy.
Air Frying Time
Air fry the green beans at 350°F (180°C) for 9 to 10 minutes for cooked tender green beans.
Toss the green beans in the air fryer every few minutes to make sure they cook evenly.
Of course, the cooking time depends on the texture you love for your green beans.
Keep air-frying the green beans for a crunchier crispier texture.
Note that the longer you air fry vegetables, the dryer they get as they lose all their water.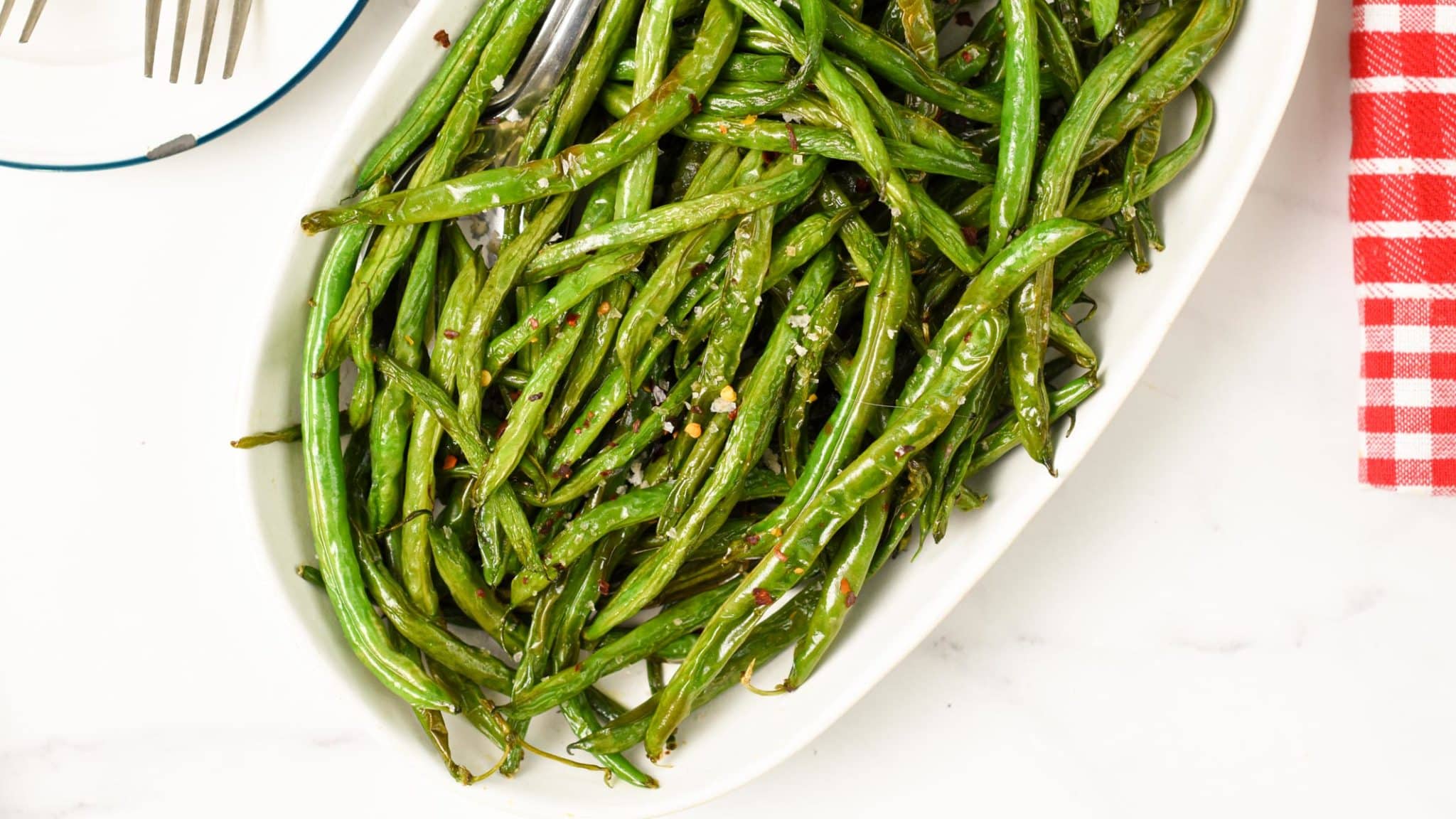 Serving Green Beans
These cooked green beans in the air fryer are delicious on their own as a side to any meal like chicken marsala, Tuscan chicken, or homemade chicken nuggets, or just with a couple of air-fried eggs.
However, you can also add some of the following on top of the air-fried green beans:
Freshly grated Parmesan cheese and some olive oil cooking spray.
Fresh herbs like Italian parsley and a drizzle of lemon juice.
A dollop of butter
Red pepper flakes or chili powder.
Sea salt flakes
Another option is to dip green beans in some sauce like:
Frequently Asked Questions
Do I Need To Soak Or Boil Green Beans Before Air Frying?
Absolutely not! You can safely air-fry green beans raw.
It's simply recommended to give them a quick wash under cold water to remove dirt and dust.
Do I Need To Preheat My Air Fryer?
No, there's no need to preheat the air fryer before adding the green beans to the basket.
Can I Air Fry Frozen Green Bans?
Yes, you can use this recipe to air-fry frozen green beans.
You don't need to thaw the green beans before, but it will take longer to air fry, between 14 and 16 minutes.
Also, note that cooked frozen green beans will never be as crunchy as fresh vegetables.
Frozen vegetables are higher in moisture, and even if you air fry the green beans longer, expect the frozen green beans to be softer and even a bit mushy in the center.
For the best flavor and texture, I still recommend fresh green beans.
Do I Need To Trim Green Beans?
It's safe to eat the ends of green beans, and they usually hold their texture better if not trimmed.
Then, it's up to you to trim or not the green beans.
How Can I Keep Air Fryer Green Beans Warm?
Most of the time, you are working in batches, which means you air fry small amounts of green beans at a time to keep them in a single layer in the basket.
Therefore, to keep the air-fried beans warm, place them on a glass dish and cover them with foil.
When all the green beans are warm, place all of them back into the air fryer basket and air fry for an extra 1 to 2 minutes to rewarm.
Can I Cook Them In The Oven?
Yes, but they tend to turn much softer in the oven, I prefer the air fryer for crispier green beans.
Are Green Beans Keto?
Yes, green beans are low-carb, keto-friendly vegetables perfect as a side dish to any keto meal.
They contain only 4.3 grams of net carbs per 100 grams or about the same as broccoli.
More Green Beans Recipes
If you love green beans try some of my other green bean recipes below.
Have you tried this air fryer green beans recipe? Share a comment or review below.
Air Fryer Green Beans
This Air Fryer Green Beans are crispy delicious side dish ready in less than 15 minutes!
Ingredients
1

pound

Fresh Green Beans

1

tablespoon

Olive Oil

½

teaspoon

Sea Salt

¼

teaspoon

Garlic Powder
This recipe may contain Amazon or other affiliate links. As an Amazon Associate I earn from qualifying purchases.
Instructions
Clean the green beans under cold water and pat dry in a clean kitchen towel.

Place the green beans in a large mixing bowl and drizzle olive oil, salt, pepper, and garlic powder on top.

Stir to evenly coat the green beans with olive oil.

Place the green beans in the air fryer basket, it's fine if they slightly overlap but keep in mind that a too thick layer of green beans takes much longer to cook.

Air fry for 8 minutes, shaking the basket halfway. Check the green beans, using a fork, prick one green bean and taste it. If too hard and undercooked, keep air frying for 2 minutes and check again.

For ultra-crispy green beans air fry for 12 minutes.
Storage
Store leftover air-fried green beans in an airtight container in the fridge for up to 3 days. Rewarm in the air fryer or microwave. You can also freeze air-fried green beans and thaw them in the fridge the day before.
Want My Kitchen Equipment?
Serving:
1
serving
Calories:
66.7
kcal
(3%)
Carbohydrates:
8
g
(3%)
Fiber:
3.1
g
(13%)
Net Carbs:
4.9
g
Protein:
2.1
g
(4%)
Fat:
3.8
g
(6%)
Saturated Fat:
0.5
g
(3%)
Polyunsaturated Fat:
0.5
g
Monounsaturated Fat:
2.6
g
Sodium:
297.7
mg
(13%)
Potassium:
241.6
mg
(7%)
Sugar:
3.7
g
(4%)
Vitamin A:
782.4
IU
(16%)
Vitamin C:
13.8
mg
(17%)
Calcium:
42.3
mg
(4%)
Iron:
1.2
mg
(7%)
Magnesium:
28.5
mg
(7%)
Zinc:
0.3
mg
(2%)
Posted In: