Keto Green Bean Casserole
The best Keto Green Bean Casserole with a homemade cream cheese cream of mushrooms sauce. You will love the crunchy green beans coated in a thick cream of mushroom sauce and crispy onions!
Bonus, the recipe is also gluten-free, so you can share it with your whole family this Thanksgiving season!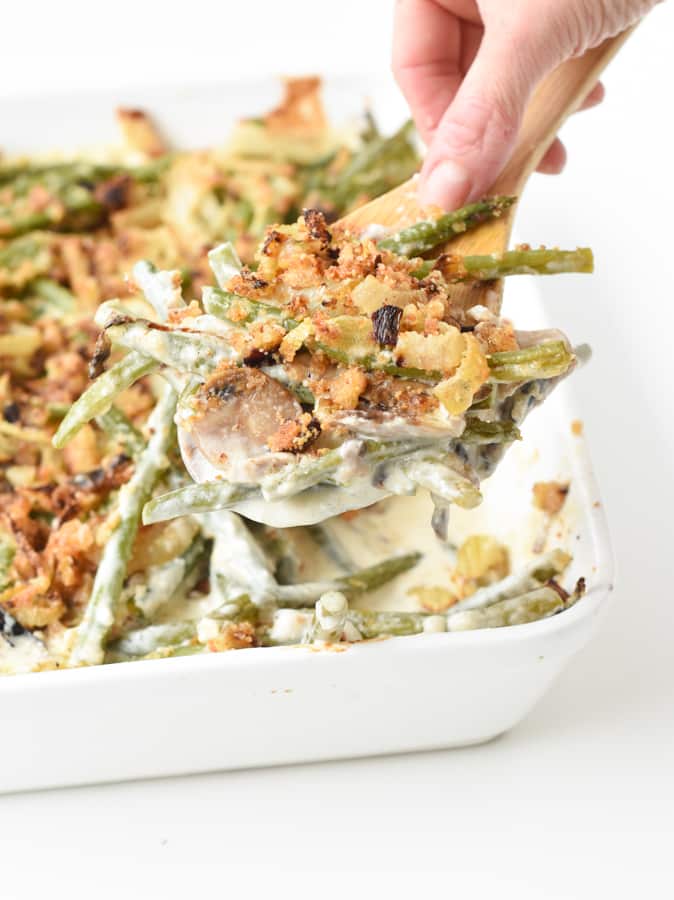 Is Traditional Green Bean Casserole Keto?
Unfortunately, no. The authentic green bean casserole recipe is made of a high-carb white sauce combining wheat flour and milk.
One serving of classic green bean casserole contains 19 grams of net carbs per serving, almost 3 times what this low-carb recipe brings!
Plus, the crunchy onion toppings are also rolled into flour, adding more carbs.
How To Make Keto Green Bean Casserole
The great news is that you can make a delicious keto green bean casserole at home with a few simple ingredients.
It takes a bit of time in the kitchen to prepare this keto casserole recipe, but it so worth the effort!
Step 1: Making the Keto crispy onions
The first step in this recipe consists of preparing the casserole topping.
To make low-carb, crispy, peeled, and finely sliced onions. Stir the onions with olive oil, then coat them with a mixture of:
Almond flour – Almond Flour is one of the best keto-friendly flour. How to choose your Keto flours.
Crushed pork rinds – if you don't like pork, you can replace it with more almond flour or shredded Parmesan.
Garlic salt
Pepper
Spread the coated sliced onions on a large baking tray covered with parchment paper.
Cook the onions in a hot oven at 425°F (225°C) until brown and crispy.
Set aside on a plate covered with a paper towel to absorb any extra oil and saturated fat from the pork rinds.
Step 2: Cooking the green beans
While the onions are in the oven, cook the green beans. Trim the fresh green beans, and bring water to a boil in a large pot that fits all your green beans.
Then, cook the green beans for only 3-4 minutes. You don't want mushy green beans, so a quick-cooking is the best.
Finally, drain cooked green beans and rinse them under cold water.
The shock of temperature will boost their green color! A must for a colorful casserole on your Thanksgiving table.
You can also air-fry the green beans using my Air Fryer Green Bean recipe.
Step 3: Cooking the mushrooms
Meanwhile, melt butter in a large skillet over medium heat. Cook the sliced mushrooms until they reduce in size, and season with salt and pepper.
Cook for about 5 minutes, often stirring until golden brown and liquid evaporated. Use a slotted spoon to reserve in a bowl while you make the creamy sauce.
Step 4: Making the cream of mushroom sauce
In a large saucepan over medium heat, melt butter with cream cheese, heavy cream, and chicken stock.
This will replace the classic cream of mushroom soup used in a traditional green bean casserole recipe.
Heavy cream is quite low in carbs. Learn more about keto-friendly dairy products.
Stir and cook until melted, remove from the heat and stir in shredded Parmesan and drained cooked mushroom.
Finally, sprinkle xanthan gum and return to low heat for 1 minute to thicken the sauce.
Step 5: Assembling the casserole dish
Preheat the oven to 350°F (180°C). Grease a large 9-inch x 13-inch baking dish with butter and add the green beans.
Pour the cream of mushrooms sauce all over the green beans. You can use a spoon to stir the green beans into the sauce and cover them evenly.
Wrap the casserole dish with foil and bake for 25-30 minutes or until the sauce is bubbly.
Remove from heat and sprinkle the crispy onions on top of the dish.
Return to the oven, without the piece of foil, for 5-10 minutes until the onions are warm and crispy.
Storage Instruction
This keto green bean casserole recipe stores very well in the fridge for up to 5 days.
Tent the dish with plastic wrap or foil. Rewarm in a hot oven to give back some crispiness to the onions.
How Many Carbs Are In Keto Green Bean Casserole?
Green beans are delicious keto-approved vegetables. They have slightly more carbs per serving than other keto vegetables but are still very low among all the vegetables.
This keto green bean casserole serves 10 servings of 7 oz. (200 grams) each, which is a large serving perfect as a side to grilled turkey, for example.
The net carbs per large serving (7oz/200g) are 7.2 g. You can halve the serving to 100g (3.4oz) to reduce the carbs per serving to 3.5g if desired.
Jump to the recipe card for the full nutrition panel.
Making Green Bean Casserole Ahead
Like any holiday recipe, this low-carb green bean casserole involves many steps and a bit of preparation time.
My tip for making ahead this recipe is to prepare:
24 to 36 hours before
The 2 steps below can be made up to 3 days before assembling the casserole.
Cook the green beans, and store them in the fridge in an airtight container.
Cook the mushrooms, drain them, and store them in the fridge in another sealed container.
24 hour before
You can also make the sauce 24 hours before, store it in a sealed box, but you will have to rewarm the sauce in a saucepan before adding it to the baking dish.
The sauce will thicken in the fridge and can form a film on top. It means that you must rewarm the sauce in a non-stick saucepan until creamy and smooth.
Add a splash more heavy cream or chicken stock to thin the sauce if it is too thick. Stir in mushrooms and then add over the cooked green beans in the dish.
The day of serving
You can prepare the crispy onion in the morning, up to 8 hours before assembling the casserole.
Don't store them in the fridge, or they will soften. Store at room temperature on a paper towel until you assemble the casserole.
Keto Green Bean Casserole
A delicious keto holiday casserole with crunchy green beans, creamy mushroom sauce and crispy onions.
Yield:
people (200g/7oz per serving)
Ingredients
For the crispy onions
2

medium

Onions

thinly diced 200g

2

tablespoons

Extra Virgin Olive Oil

⅓

cup

Almond Flour

½

cup

Pork Rinds

crushed into a crumb 45g

½

teaspoon

Garlic Powder

½

teaspoon

Salt
For the mushrooms
2

tablespoons

Butter

½

pound

Mushrooms

sliced

¼

teaspoon

Garlic

¼

teaspoon

Salt
Creamy sauce
2

tablespoons

Butter

8

ounces

Cream Cheese

1

cups

Chicken Broth

1

cup

Heavy Cream

¼

teaspoon

Garlic Powder

1

cup

Shredded Parmesan
Optional – for a thicker sauce
This recipe may contain Amazon or other affiliate links. As an Amazon Associate I earn from qualifying purchases.
Instructions
Preheat oven to 425°F (225°C).

Line a large baking sheet with parchment paper. Slightly spray the paper with olive oil. Set aside.

In a large mixing bowl, combine sliced onions with 2 tablespoons olive oil, stir to coat.

Add in almond flour, crushed pork rinds, garlic powder and salt. Toss onions using your hands to evenly coat with the dry ingredients.

Spread the onions onto the baking sheet, make sure they don't overlap, they will be crispier!

Bake for 15-20 minutes and toss with tongs every 6-8 minutes to crisp evenly.

When the onions are crispy, remove them from the oven, keep on the tray and reduce the oven to 350°F (180°C). Meanwhile, cook the green beans.
Cook the green beans
Bring a large pot of water to a boil. Make sure the pot is large enough to fit all the green beans or cook in two batches!

Add the trimmed green beans, you may have to cook them in 2 batches if your pot is not wide enough. Make sure the water boil, before adding the second batch.

Cook green beans for 3-4 minutes (per batch) then remove them from the water and place on a sieve to steam out. You can run cold water on the beans to stop the cooking and enhance their green color too.
Cook the mushrooms
In a large skillet, warm the 2 tablespoons butter over medium-high heat.

Once melted, add sliced mushrooms, garlic, salt, and pepper.

Cook mushrooms, stirring often until golden brown and liquid evaporated. It takes about 5 minutes. Transfer mushrooms to a bowl using a slotted spoon. Discard any liquid remaining in the skillet.
Cream of mushroom sauce
In a saucepan, over medium heat, melt 2 tablespoons butter with cream cheese, heavy cream, and chicken stock.

Stir to melt the cream cheese and form a thick creamy sauce. You may have to use a whisk to dissolve the cream cheese easily.

Season with salt, pepper, and garlic powder.

When the sauce has no lumps, switch to low heat, stir in shredded Parmesan, and cook until melted and sauce slightly thicken like a regular cream of mushroom. The sauce shouldn't be runny, slightly thick and cheesy. However, if you like your sauce thicker sprinkle the teaspoon of xanthan gum all over the pan, or add a handful extra shredded cheese like mozzarella, or shredded parmesan, return to heat for 1 minute, stir to thicken.

Stir in the cooked mushrooms to flavor the creamy sauce and form the cream of mushrooms.
Assemble the keto casserole
Oil a large baking dish 9 x 13 inches with olive oil or butter.

Add in the cooked green beans, 1/2 cup of crispy onion, and pour the cream of mushrooms. Toss to combine.

Tent the dish with a large piece of foil and bake for 25-30 minutes.

Remove foil, add the remaining crispy onions and bake for an extra 5-10 minutes.
Want My Kitchen Equipment?
Yield:
people (200g/7oz per serving)
Serving:
1
serve
Calories:
241.8
kcal
(12%)
Carbohydrates:
10.4
g
(3%)
Fiber:
3.2
g
(13%)
Net Carbs:
7.2
g
Protein:
9.6
g
(19%)
Fat:
19.2
g
(30%)
Saturated Fat:
9.5
g
(59%)
Cholesterol:
47.1
mg
(16%)
Sodium:
645
mg
(28%)
Potassium:
359.5
mg
(10%)
Sugar:
4.8
g
(5%)
Vitamin A:
1157
IU
(23%)
Vitamin C:
15.6
mg
(19%)
Calcium:
179.6
mg
(18%)
Iron:
1.5
mg
(8%)
Posted In: