These are the best crispy, EASY keto chicken nuggets to make at home with real ingredients and only 3g net carbs per serve! Plus, this keto nugget recipe includes an oven fried option too. So keep reading to learn how you can enjoy simple crispy keto chicken nuggets with no guilt!
Before I start sharing this simple keto nugget recipe, let me answer a few questions that probably come in your mind as you started the keto diet.
Are chicken nuggets keto?
Unfortunately none of the store-bought keto nuggets or homemade classic nugget recipes are keto approved. All manufactured nugget recipes include a lot of carbs in the wheat flour and breadcrumb coating. Plus, you'd be surprised by the others additives that go in the coating like sugar or vegetable oils, that aren't keto either.
Are Mcdonald's chicken nuggets keto?
I couldn't skip answering this question, because I know that most of us have had some Mcdonald's chicken nuggets at some point, whether because it was convenient or tasty to you. The Chicken McNuggets are not keto. In fact, Mcdonald's Nuggets are coated with starch and natural flavoring made of dextrose. Both will raise your blood sugar level quickly and take you out of ketosis.
Can you eat chicken nuggets on keto?
So now you probably wonder if it is safe to eat chicken nuggets on a keto diet. Great news, yes you can make keto-friendly chicken nuggets! Read more to learn how!

How to make keto chicken nuggets?
There are many different keto chicken nugget recipes online, using different coating options like ground pork rinds, coconut flour or almond flour. My favorite way to make crispy, juicy keto nuggets that taste like the real thing is to make almond flour nuggets with a touch of parmesan. And great news, it is super EASY to make your own keto chicken nuggets at home. All you need is to follow 3 simple steps.
Prepare the chicken breast
The trick to perfectly cooked chicken nuggets, crispy outside and juicy, tender in the middle is the size of the chicken pieces. The best is to first cut the breast into 1-inch (2.5 cm) wide strips and then cut 2-inch (5cm) length chunks from each strips. Your keto nuggets should be small enough to perfectly cook inside without having to burn the coating. On the other hand, if your nuggets where too small, the meat would cook faster than the coating. So as a general rule the perfect nugget size is 1 inch x 2 inches (2.5 cm x 5 cm).
Soak the chicken in vinegar and water for 20 minutes to 1 hour
I know it sounds like a weird step but soaking your chicken into acetic acid like vinegar breaks down meat fibers. It results in a tender and flavorsome chicken meat. Regular homemade chicken nugget recipes soak the meat in pickle juice which I don't recommend as pickle juice is often loaded with sugar. Follow my recipe to properly soak your nuggets meat for tender keto chicken nuggets.
Double-coat the chicken pieces
The best part of a chicken nugget is the outside, the crispy coating. In order to achieve the best crispy keto chicken nugget recipe you must dip each piece of chicken into a egg-wash first. Then dip the chicken into the dry coating ingredients. I always recommend to make the egg-wash by combining beaten egg and cream, rather than milk or almond milk. The cream keeps the chicken meat juicier.
Keto chicken nugget ingredients
You only need few basic ingredients to make almond flour chicken nuggets. Let's see what you need to start:
Chicken breast – breasts are the best part of the chicken to make juicy, tender chicken nuggets.
Water and vinegar – to soak the meat, break the meat fiber and release the meat tenderness.
Almond flour or almond meal – almond flour is very low in carb and crisps very well when fried or oven fried. This is your keto four replacement to carb-loaded wheat, breadcrumbs or starch.
Grated parmesan – this is the BEST part for flavorsome keto cheesy chicken nuggets. A dairy-free option is to add more almond flour in the recipe. However, if you do so, this will slightly increase the carbs per serve.
Egg and heavy cream – to make a egg wash. If you are paleo or eat dairy-free coconut cream can be used.
Salt
Onion powder
Garlic powder
Oregano
Paprika
Pepper

Oven fried keto chicken nuggets option
While I prefer to fry my nuggets in coconut oil you can also oven-bake chicken nuggets. It takes a bit longer to bake as you will have to cook the nuggets 10 minutes on one side first, then flip them one by one of the other side and bake for 5-10 extra minutes. Oven-baked nuggets are firstly sprayed with oil then baked at 400F (200C) for a total of 15-20 minutes on a baking tray, leaving 0.2 inch (0.5 cm) space between each nuggets. Check the baking process by slicing one nuggets in the center, if the meat is still pink in the center it needs to bake for longer. The result of oven-fried nuggets is crispy, as well as pan fried nuggets, but they are less fatty and the meat is slightly less juicy.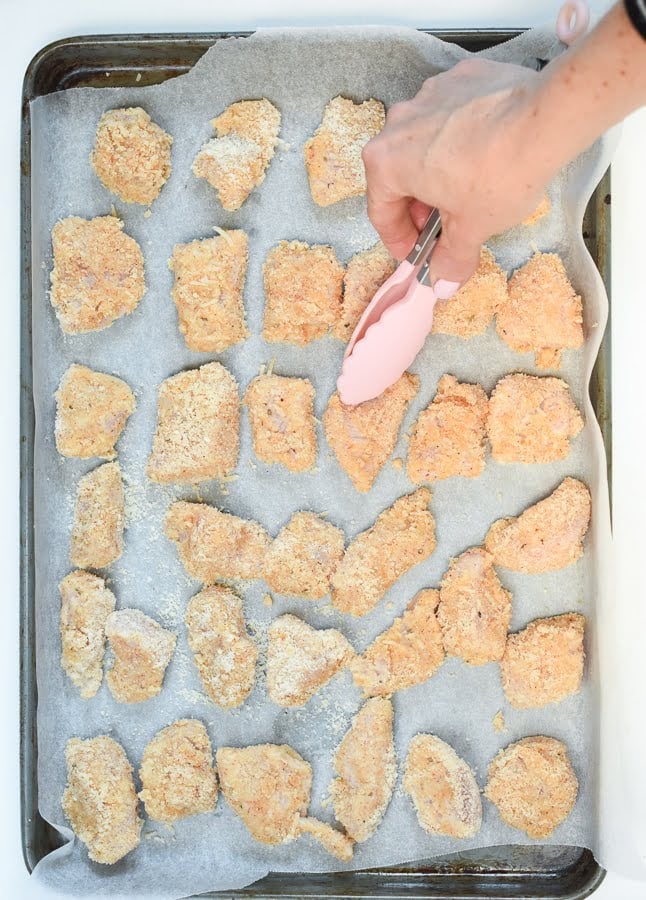 How to store almond flour chicken nuggets?
You can freeze your nuggets baked or unbaked. The best way to freeze nuggets is to lay them one by one on a plate covered with parchment paper. Leave a 1-inch space between each nugget. One hour later, the nuggets are slightly frozen and it's a good time to transfer them all into a zip bag. This two-step freezing method will prevent the nuggets from sticking to one another in the freezing bag.
How to rewarm homemade chicken nuggets?
You can rewarm your keto chicken nuggets with almond flour in a preheated oven at 400F (200C) for 15-20 minutes. Place the nuggets on a large baking tray covered with a piece of parchment paper or slightly oil the tray with coconut oil. Leave 1 inch (2.5 cm) between each nugget and bake for 20-25 minutes flipping over half way to make sure both side bake as well. You don't have to thaw the frozen nuggets before baking them.
Keto chicken nuggets dipping sauce ideas
The best sauce to dip your chicken nuggets are avocado oil mayonnaise, dijon mustard or these other keto dip recipes along with crunchy keto vegetables on the side.
Sugar-Free Ketchup
Sugar-free ketchup sweetened with stevia, lower carbs, no added sugar perfect for diabetic
Net Carbs:
1.9
g
per serving | Serves
20
30 minutes
Check out this recipe
Simple Avocado Dip
Simple avocado dip only 6 ingredients with cilantro, tahini and olive oils. A creamy simple guacamole recipe perfect to dip tortilla chips.
Net Carbs:
1.1
g
per serving | Serves
12
10 minutes
Check out this recipe
Have you made these keto chicken nuggets yet? Share a picture with me on Instagram! I love to connect with you.
XOXO Carine
Keto Chicken Nuggets
Juicy, crispy almond flour parmesan nuggets perfect to enjoy fast-food style food at home on your keto diet!
5 servings (30 nuggets)
Print The Recipe
Keto acidic solution to tender the meat
2 tablespoons white vinegar
1/3 cup water
1/2 teaspoon salt
Egg wash
1 large egg
2 tablespoon heavy cream or coconut cream
Nuggets
1 lb Chicken Breast
1 cup Almond Flour
1/4 cup Grated Parmesan or more almond flour if dairy-free
1/2 teaspoon Salt
1/4 teaspoon garlic powder
1/4 teaspoon Onion Powder
1/4 teaspoon Dried oregano
1/2 teaspoon Ground paprika
1/2 teaspoon Pepper
Cut the breast into 1-inch (2.5 cm) thick strips and then cut 2-inch (5cm) chunk from each strips. Your keto nuggets should be small enough to be perfectly cook inside without burning the coating. Small nuggets will also use more coating, increasing carbs per serve. So as a general rule the perfect nugget size is 2.5 cm x 5 cm (1 inch x 2 inch) and you should get roughly 30 nuggets from this recipe.

Place the chicken chunks in a bowl and cover with water, vinegar and salt. Refrigerate at least 20 minutes or up to 1 hour until the meat is whiter in color. This step makes the meat juicy and tender so it is highly recommended.

When ready to make the nuggets, drain the chicken chunks and roughly pat dry with absorbent paper. Set aside on a plate.

In a small shallow bowl, beat egg and heavy cream. Set aside.

In another bowl whisk the dry ingredients together: almond flour, grated parmesan along with all your spices.

Dip the drained chicken pieces one at a time, into the beaten egg using a tong. Then press down the chicken nuggets on both sides into the almond flour mixture to adhere.

Set aside each coated chicken piece on a baking tray, covered with parchment paper, leaving 0.2 inch (0.5cm) space between each nugget. Repeat these steps until all the chicken pieces have been fully coated.
Oven fried method
Preheat oven 400°F (200°C).

Slightly spray oil on top of the nuggets.

Bake on the baking tray for 10 minutes then flip each nuggets on the over side and bake for 5-10 more minutes or until golden, crispy and meat is white not pink in the center of the nuggets. The longer you bake the dryer the meat will be so check often.
Frying method
Heat a 1 cm-layer of oil in a fry pan over medium-high heat. The best oils are high-smoke-point oils like avocado oil or coconut oil.

Fry the chicken nuggets for 3-4 minutes on each side or until golden brown and crispy. Use a sharp knife to cut the center of one nugget and check the meat color. If it's pink, it needs to fry longer, keep frying until the meat is white and juicy.

Use a slotted spoon to remove the nuggets from the pan and transfer onto a plate covered with absorbent paper to soak the extra oil that could make the coating fall off the meat.

Keep frying until all the nuggets are cooked and serve immediately.

Serve with avocado oil mayonnaise, dijon mustard or sugar-free ketchup.
Storage: freezing & rewarming
You can store leftover of fried chicken nuggets in the fridge for 2 days, in an airtight container.

Otherwise freeze the fried or uncooked nuggets onto a plate covered with parchment paper for 1 hour leaving 0.5 inch between each nugget. Then transfer to a freezing bag. This 2-step method prevents the nuggets from sticking to one another.

Rewarm in the oven at 400°F (180°C). Lay the chicken nuggets onto a baking tray and rewarm for 5-6 minutes on one side then flip over each nuggets and bake for 5 extra minutes. You can turn the oven to broil mode for 1-2 minutes to crisp the nuggets even more.
Nutrition Facts
Keto Chicken Nuggets
Amount Per Serving (1 serving (120g/4.2 oz cooked nuggets about 6 nuggets))
Calories 313.5 Calories from Fat 188
% Daily Value*
Fat 20.9g32%
Saturated Fat 6.3g39%
Cholesterol 107.9mg36%
Sodium 664.3mg29%
Potassium 349.5mg10%
Carbohydrates 5.6g2%
Fiber 2.5g10%
Sugar 0.9g1%
Protein 27.4g55%
Vitamin A 311.2IU6%
Vitamin C 1.1mg1%
Calcium 116.5mg12%
Iron 1.5mg8%
Net Carbs 3.1g
* Percent Daily Values are based on a 2000 calorie diet.