This homemade Moo Shu Chicken is a 20-minute delicious Chinese chicken stir fry better than your favorite Chinese takeout.
Made from juicy chicken strips cooked with egg, mushrooms, and cabbage in a lightly sweet soy sauce.
We all love good Chinese takeouts, but most of them use unhealthy fat and far too much added sugar.
So here's an easy chinese chicken recipe that you can make at home with only a few ingredients and that is far healthier than your current takeaway.
Plus, this Chicken Moo Shu is flavorsome, low-carb, and gluten-free.
What's Moo Shu Chicken?
Moo Shu chicken is a Chinese recipe originating from Northern China and made from stir fry chicken strips, egg strips, shitake mushroom, and cabbage cooked in a sweet soy sauce.
It's typically served in a Mandarin pancake which is similar to a flour tortilla wrap.
How To Make Moo Shu Chicken
This recipe is even easier than my keto orange chicken recipe because you don't have to coat then fry the chicken.
Ingredients
All you need to make this delicious Chinese stir fry recipe are:
Sesame Oil or peanut oil
Eggs – beaten and large
Chicken Breast cut into thin strips
Shredded Cabbage or a mix or cabbage Napa cabbage, red cabbage and white cabbage.
Shiitake Mushrooms – Shiitake mushrooms have a much stronger flavor than classic button mushrooms, so I don't recommend swapping them.
Ginger – grated or minced
Garlic Cloves – minced
Hoisin Sauce
Oyster Sauce
Honey
Cornstarch
Water
Cooking The Egg
First, warm the oil in a large skillet over medium-high heat with 2 teaspoons of sesame oil.
Add the beaten egg and tilt the pan to spread it like an omelette.
Cook the eggs until dry and set, then slide a long spatula under them to flip them to the other side. Cook until set, which takes about 30 to 60 seconds.
Transfer the eggs to a large chopping board and roll them into a cylinder shape.
Then use a sharp knife to cut the omelette into thin strips. Once unrolled, they look like egg pasta. Set them aside in a bowl and cover them with foil to keep them warm.
Cooking The Chicken
Add two teaspoons of sesame oil to the same pan. No need to clean it. When the oil is warm, add the chicken strips and stir fry until the meat is no longer pink.
Remove from the heat and place the chicken in a bowl. Cover it with foil to keep the chicken warm.
In the same pan, add the last 2 teaspoons of sesame oil, warm over medium-high heat, then stir fry the shredded cabbage and sliced shitake mushrooms.
Cook and stir occasionally until the cabbage starts to wilt.
Return the cooked chicken and egg strips to the pan.
Preparing The Sauce
Whisk the sauce ingredients in a small bowl: soy sauce, hoisin sauce, oyster sauce, honey, cornstarch, and water until it looks light brown in color.
Pour over the cooked cabbage along with ginger and garlic. Stir to coat all the ingredients with the sauce and continue cooking until it has thickened.
Serving
Serve your Moo Shu Chicken on its own or with cooked rice noodles or cooked rice.
However, Moo Shu recipes are traditionally served with a sort of flour tortillas called Moo Shu Wrappers.
Here are some serving suggestions for you:
Coconut Cauliflower Rice – The best choice for a low-carb keto chicken side dish.
Jasmine Rice
Mandarin Pancakes, also known as Moo Shu wrappers. Surprisingly, these are very similar in texture to my easy crepes without the sweetener. It's a thin flour-based pancake, flexible like a tortilla but thinner and perfect for rolling and making Chinese wraps.
Storage Instructions
Store leftovers in the fridge in an airtight container for up to 3 days.
You can also freeze leftovers in a sealed box for up to one month. Thaw in the fridge the day before.
This Moo Shu chicken can be easily rewarmed in a non-stick saucepan over medium heat or in the microwave in a microwave-safe bowl.
Toppings
I like to serve this dish with some of the delicious toppings below:
Sesame seeds
Crushed peanuts
Chopped green onion
Extra soy sauce
Chili flakes
Allergy Swaps
Below are some substitution suggestions to accommodate your allergies or restrictions.
Corn-Free – You can swap the cornstarch for the same amount of tapioca flour or arrowroot flour. Both are grain-free healthier options. For a low-carb option, use 1/4 teaspoon of xanthan gum.
Meat-Free – You can replace the chicken strips with soy curls.
Shitake Mushrooms – If you prefer other Chinese restaurant-style mushrooms, try wood ear mushrooms. They have a gelatinous texture and earthy flavors.
Gluten-Free – Make sure to use gluten-free hoisin sauce and tamari instead of soy sauce.
Sugar-Free – You can replace the honey with a pinch of erythritol or sugar-free maple syrup. You can replace the hoisin with sugar-free Szechuan sauce. Also, thicken the sauce with 1/4 teaspoon of xanthan gum to avoid cornstarch.
Egg-Free – You can skip the eggs and use bamboo shoots finely cut into strips instead.
Frequently Asked Questions
Below are my answers to your most frequent questions about this recipe.
Can I Make Moo Shu Pork With This Recipe?
The best alternative to chicken strips is boneless pork chops finely cut into strips.
Is Moo Shu Chicken Keto-Friendly?
Yes, this recipe is very low in carbs.
There's a small quantity of higher carbs ingredients like cornstarch and hoisin sauce, but overall, one serving of this dish contains only 7.8g of net carbs.
You can cut down this number by using the sugar-free swaps listed above.
Can I Make Vegan Moo Shu?
Sure, you can use this recipe and adapt it a little to turn it vegan.
Swap the chicken strips for soy curls, replace the egg strips with sliced canned bamboo shoots, and use vegan fish-free oyster sauce.
Did you try this Moo Shu Chicken recipe? Share a comment or review below to connect with me .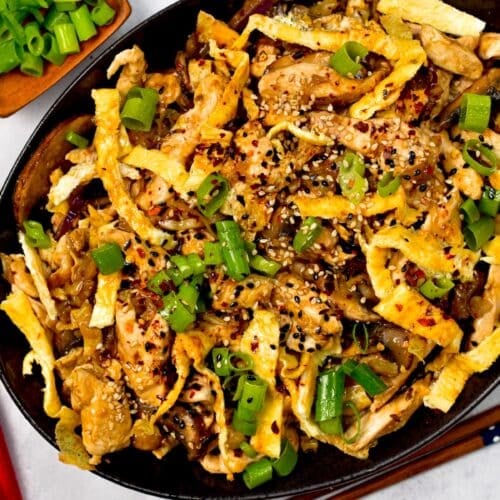 Moo Shu Chicken
This homemade Moo Shu Chicken is better than your favorite takeout. Juicy chicken strips cooked with egg, mushrooms, and cabbage in a lightly sweet soy sauce.
Ingredients
6

teaspoons

Sesame Oil

split in 3 batch of 2 teaspoons

2

large

Eggs

beaten

1

pound

Chicken Breast

cut into strips

1

cup

Shiitake Mushrooms

fresh, sliced

3

cups

Shredded Cabbage

I used a mix of napa cabbage, red and green cabbages

2

teaspoons

Ginger

finely minced or grated

5

Garlic Cloves

minced

2

tablespoons

Soy Sauce

2

tablespoons

Hoisin Sauce

1

tablespoon

Oyster Sauce

1

teaspoon

Honey

2

teaspoons

Cornstarch

3

tablespoons

Water
Serving
1

handful

Green Onion

sliced

1

pinch

Chili Flakes

1

pinch

Sesame Seeds
This recipe may contain Amazon or other affiliate links. As an Amazon Associate I earn from qualifying purchases.
Instructions
Cook the eggs
In a non-stick pan, warm 2 teaspoons of sesame oil over medium-high heat.

Pour the beaten egg to cover the pan, cook until set like a flat dry omelette, then slide a spatula under and flip to cook on the other side.

Remove from the pan and place on a chopping board. Slice into thin strips. Set aside in a bowl covered with foil to keep warm.
Cook the chicken
Return to medium-high heat with two teaspoons of sesame oil.

Add chicken strips, cook and stir occasionally. Cook uncovered until the meat is no longer pink and browned – about 5 minutes.

Remove the chicken from the pan and set it aside on a plate. Cover with a piece of foil to keep warm.

In the same pan, no need to clean, add shredded cabbage, ginger, garlic, and mushrooms and stir fry until slightly wilted but still a bit tender.

In a small bowl, whisk soy sauce, hoisin sauce, honey, oyster sauce, cornstarch, and water until smooth.

Return cooked chicken strips and cooked eggs to the pan and pour the soy sauce mixture on top.

Stir fry for a few minutes until fragrant and warm.
Storage
Store in the fridge for up to 3 days in a sealed container and rewarm in the microwave or warm saucepan. Freeze in an airtight container for up to 3 months. Thaw in the fridge the day before.
Want My Kitchen Equipment?
Serving:
1
serving
Calories:
180.7
kcal
(9%)
Carbohydrates:
9.5
g
(3%)
Fiber:
1.7
g
(7%)
Net Carbs:
7.8
g
Protein:
20.5
g
(41%)
Fat:
6.8
g
(10%)
Saturated Fat:
1.4
g
(9%)
Polyunsaturated Fat:
1.9
g
Monounsaturated Fat:
2.3
g
Trans Fat:
0.01
g
Cholesterol:
110.5
mg
(37%)
Sodium:
622.9
mg
(27%)
Potassium:
543.3
mg
(16%)
Sugar:
4.1
g
(5%)
Vitamin A:
240.7
IU
(5%)
Vitamin B12:
0.3
µg
(5%)
Vitamin C:
12
mg
(15%)
Vitamin D:
0.6
µg
(4%)
Calcium:
53.7
mg
(5%)
Iron:
1.1
mg
(6%)
Magnesium:
39.6
mg
(10%)
Zinc:
1.2
mg
(8%)
Posted In: