This low-carb keto orange chicken is made with crispy fried chicken coated with a sugar-free sticky orange sauce.
It tastes like your favorite Chinese restaurant recipe without the sugar or carbs! Bonus, this is a healthy recipe with only 300 calories and 5.8 grams of net carbs, so keep reading to learn more.
What's orange chicken?
The first question you will ask me is, can you eat orange chicken on keto? Before starting this keto orange chicken recipe, let's do a little reminder of a traditional orange chicken recipe!
Orange chicken is a popular Chinese dish made of juicy bite-size fried chicken, previously dipped into a cornstarch/egg mixture to create a crispy layer around the chicken pieces.
These pieces are then coated with a high-carb sugar-loaded orange sauce made of white sugar, orange juice, soy sauce, rice vinegar.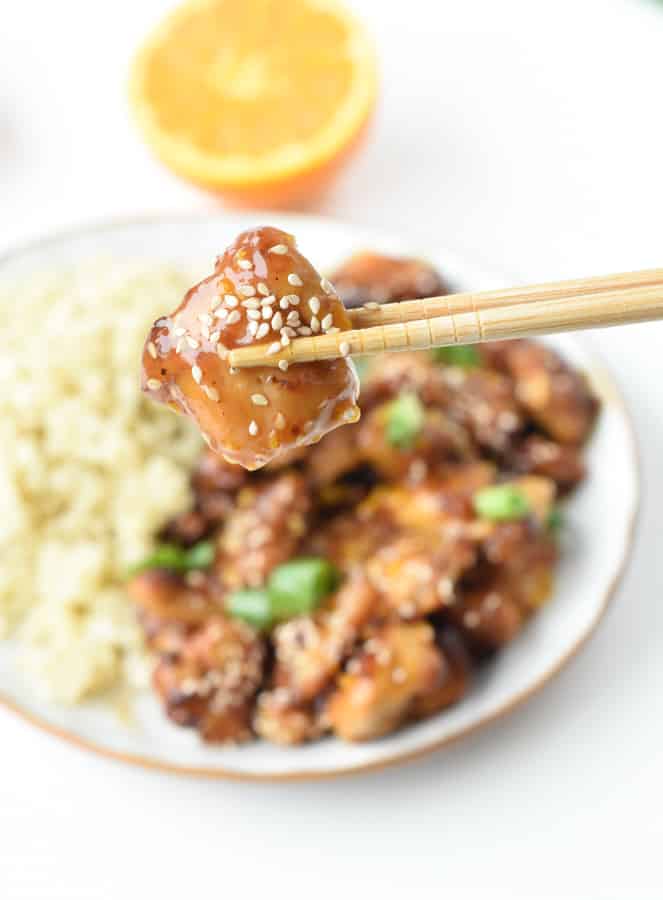 Is Orange Chicken keto-friendly?
With that, you've got your answer, a classic orange chicken recipe from your local restaurant is NOT keto-friendly. So, I am sorry, but NO, a Panda Express orange chicken is not okay on keto!
The traditional sauce is loaded with white sugar and rice vinegar, and the chicken pieces are full of cornstarch, one of the highest-carb flour. So let me guide you through the process of making a healthy homemade orange chicken within 30 minutes!
Are you new to Keto?
Receive my Keto Quick Start email series to learn all about the Keto diet and kick start your keto journey!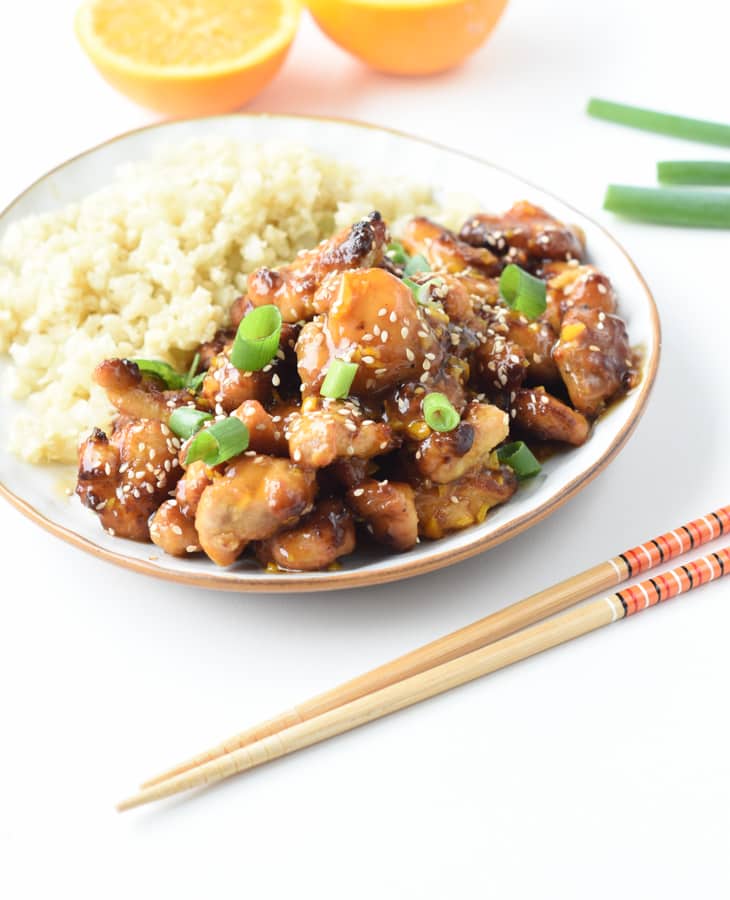 Is orange juice keto?
Yes, you can use a small amount of fresh orange juice on your keto diet to flavor a dish or baking.
Of course, do not question drink a large glass of orange juice during the day, or it will spike your blood sugar level.
But remember that what makes a recipe keto-friendly is the total amount of net carbs it contains per serving.
So, if you use orange sparingly in a recipe, like here, the net carbs per serving will still be very low.
Plus, you will be surprised to know that orange is actually not as high in carbs as other keto-approved fruits like blueberries! Yes, orange has less net carbs than blueberries per serve!
How to make keto-friendly orange chicken?
Choosing the right meat
First, you need to choose the right meat. The classic Chinese dish uses boneless skinless chicken thighs, cut into bite-size pieces.
This is the juiciest meat, and while regular chicken breast will work too, I recommend the thigh to keep the meat extra juicy.
Coat the meat
Since you want to achieve the same texture as a classic orange chicken recipe, you must coat the meat into an egg wash and coconut flour mixture.
Coconut flour is low in carbs compared to the cornstarch used in restaurants, and when fried, this coating mimics the classic starchy layer pretty well.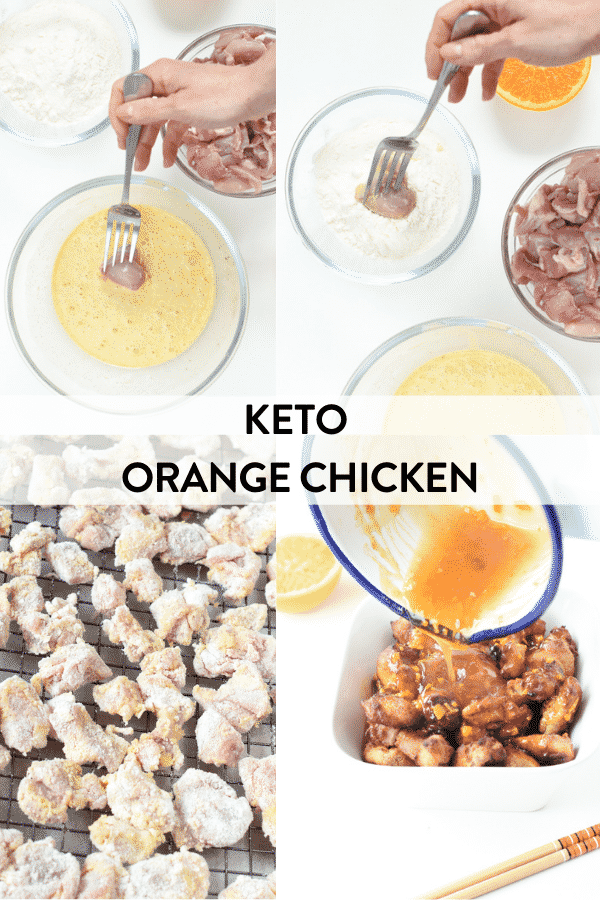 Frying the chicken
To fry your chicken the healthy way, choose avocado oil, it has a higher smoke point, and it's a keto-friendly oil. I don't recommend baking the chicken pieces for this recipe. You would end up with dry chicken bites.
Preparing the keto orange chicken sauce
This is a healthy orange chicken sauce recipe, very low in sugar since I am using a low amount of orange juice, no sugar but keto-friendly sweeteners, and no cornstarch to keep your carb in control.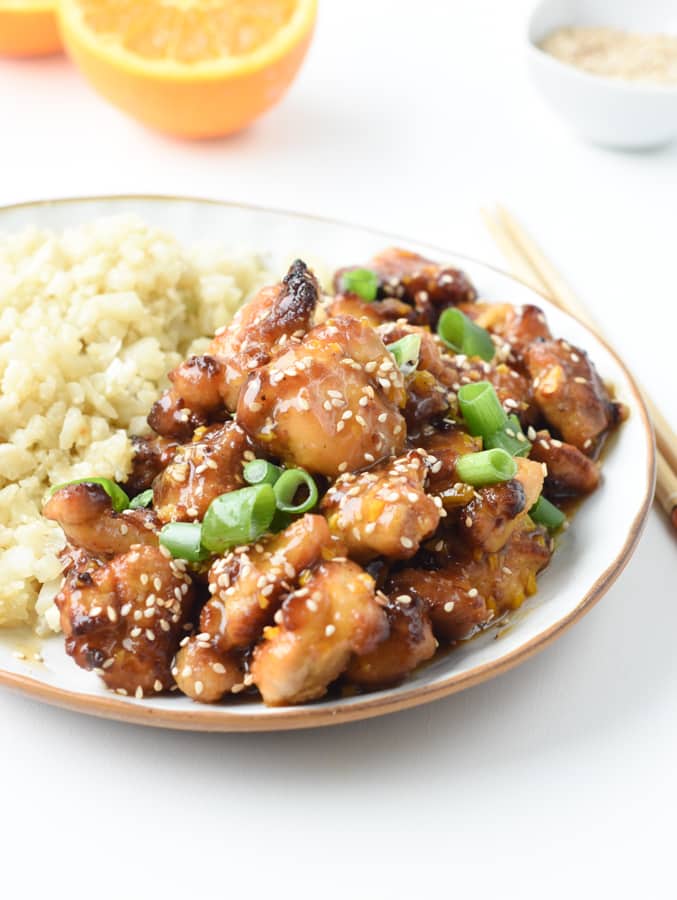 The ratio of ingredients brings the best balance of flavors to make a healthy orange chicken recipe that everyone loves! All you need to make this low-carb orange chicken sauce recipe are:
Fresh orange juice – fresh oranges bring the best orange flavor, so press your own rather than buying store-bought juice that will probably have additives or added sugar!
Chicken broth
White vinegar – it replaces the high-sugar rice vinegar used in traditional recipes.
Orange zest – make sure the orange is untreated, or the orange skin may contain additives that are not good for you.
Erythritol – you can play with sweetness depending on how sweet you like your sauce. Always start with 1/4 cup and increase, adding up to 2 extra tablespoons to taste. Since erythritol is a zero-GI sugar alcohol, adding more won't impact the recipe's net carbs. Learn how to convert sweeteners.
Low-carb sauce or coconut amino – check the nutrition panel to make sure there's no added sugar in the sauce you buy.
Garlic cloves
Xanthan gum – this is your keto sauce thickener. It replaces the classic high-carb cornstarch used in the traditional Chinese dish.
The keto orange sauce is pretty easy to make. All you have to do is simmer all the ingredients together in a saucepan over medium-high heat for about 5-7 minutes.
Whisk constantly to avoid having the sauce stick to the pan and remove from heat when sticky and thick.
To view the recipe a different way, have a look at my Web Story: Making the Keto Orange Chicken!
An easy keto orange chicken recipe
When your sauce is ready, it's straightforward to assemble your orange chicken keto recipe. First, pour the keto orange sauce onto the fried chicken and stir to coat the fried chicken pieces.
Then, serve immediately, topped with a pinch of sesame seeds and sliced green onions.
Cauliflower rice and orange chicken go very well together, and it's my recommendation as a side to this low-carb orange chicken recipe. However, any super greens like kale, green beans, or any keto vegetables from my list are great!
To make stir fry cauliflower rice, heat a tablespoon of olive oil in a frying pan, add the cauliflower rice, and stir fry 2-3 minutes—season with salt, pepper, and garlic.
Similar Keto Recipes
If you like this recipe, you'll love these:
Have you made this easy and healthy orange chicken recipe? Share a picture with me on Instagram and leave me a review or comment below.
Your friend, Carine
Recipe Card
Keto Orange Chicken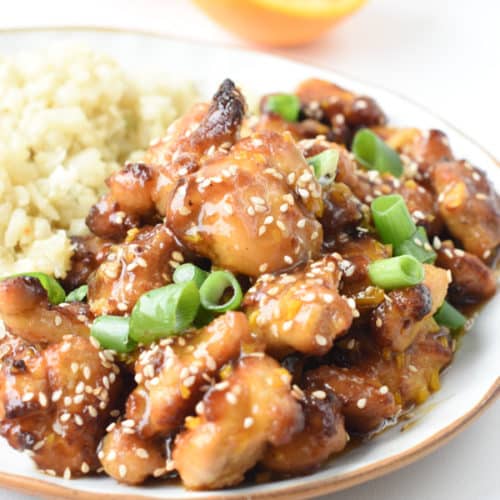 6
servings ( 90g chicken per serving)
This keto orange chicken recipe tastes like your traditional Chinese restaurant takeaway, without the sugar or carbs! Sticky pieces of fried chicken, coated in low-carb keto orange sauce!
Ingredients
Chicken
1

pound

Boneless Skinless Chicken Thighs

about 6 thighs or 3 chicken breast (450 g)

⅔

cup

Coconut Flour

½

teaspoon

Salt

¼

teaspoon

Black Pepper

2

large

Eggs

¼

cup

Heavy Cream

or coconut cream if dairy-free
Keto orange sauce
3

tablespoons

Fresh Orange Juice

about 1/2 medium-sized orange

3

tablespoons

Orange Zest

finely chopped, about skin of 1 orange

2

tablespoons

Low-carb Soy Sauce

or coconut aminos

¼

cup

White Vinegar

¼

cup

Water

¼

cup

Erythritol

you can add up to 2 extra tablespoons for a sweeter sauce, it won't impact net carbs.

3

large

Garlic Cloves

crushed

¼

teaspoon

Ginger

½

teaspoon

Xanthan Gum
Instructions
Cut chicken into 1-inch cubes. In a medium bowl, mix the coconut flour, salt, pepper. Set aside.

In a shallow bowl, whisk eggs and heavy cream. Set aside.

Using a fork, dip a piece of chicken into the egg mixture (gently shake it drain the extra egg) dip into the coconut flour on both sides to coat the chicken piece evenly.

Set aside the coated chicken pieces onto a rack, and repeat the previous step until all chicken pieces have been coated with the egg/flour mixture.

In a medium saucepan, add 2 inches (5 cm) of avocado oil and bring to high heat, 375°F (180°C).

Line a plate with paper towels. Set aside.

Add the marinated chicken cubes to the frying pan, about 10 pieces simultaneously, and deep fry for 2-3 minutes until golden. Turn halfway with a slotted spoon or fork and brown on the other side

Reserve the fried chicken onto the plate covered with absorbent paper.

Cover plate with foil to keep the chicken warm while you make the sauce
Orange keto sauce
In a medium saucepan, over medium-high heat, whisk together orange juice, orange zest, low-carb soy sauce, white vinegar, erythritol, water, ginger, and crushed garlic

Boil the sauce, then gently simmer for 2 minutes to reduce. Taste your sauce sweetness now. If not sweet enough, add up to 2 extra tablespoons of erythritol (this doesn't impact the net carb/serve) and keep simmering to dissolve the extra sugar-free sweetener.

Sprinkle xanthan gum all over the saucepan and constantly whisk until the sauce thickens and coats the whisk. This can take 1-2 minutes. If it's not sticky enough to your liking, add an extra sprinkle of 1/4 teaspoon of xanthan gum.

Remove the saucepan from heat when the sauce is thick and sticky.

Add the fried chicken into the sauce and toss until the sauce coats it thoroughly.
Tools
Starting Keto
What Is Keto Diet?
Macro Calculator
Sweetener Converter
Keto Meal Plans
Keto Recipe Ebooks
Intermittent Fasting
Keto Fruits
Keto Vegetables
Keto FLours
Fighting Keto Flu
Keto Sweeteners
Nutrition Facts
Keto Orange Chicken
Amount Per Serving (1 serving)
Calories 299.5
Calories from Fat 175
% Daily Value*
Fat 19.4g30%
Cholesterol 147.4mg49%
Sodium 653mg28%
Potassium 257.8mg7%
Carbohydrates 10.9g4%
Protein 19.6g39%
Vitamin A 283.5IU6%
Vitamin C 8.8mg11%
Calcium 30.1mg3%
Iron 1.4mg8%
Net Carbs 5.8g
* Percent Daily Values are based on a 2000 calorie diet.