These Kung Pao Brussel Sprouts are crispy Brussel sprouts served with a spicy, sweet, and sour sticky Chinese sauce famous in Chinese restaurants.
This recipe is also gluten-free, dairy-free, and easy to adapt in a low-carb version.
I love serving Brussel sprouts as a side dish to grilled meat or as a light dinner.
It's such a delicious, low-carb vegetable with a lovely crispy texture when roasted or air fried. Of course, like any vegetables, Brussel Sprouts are even better when covered with a sauce!
Last time, I shared my Asian Brussel Sprouts, a pretty close recipe but less spicy or sweet.
So today is time for a new Chinese-style recipe with brussels sprouts.
What's Kung Pao?
Kung Pao is a popular Chinese sauce often served in Chinese restaurants to make stir-fry dishes, the most popular is a sticky sweet and sour chicken kung pao recipe.
The sauce is spicy, made of chili and peanuts, and originated in the Sichuan Province that's why the authentic kung pao contains Sichuan black peppercorn.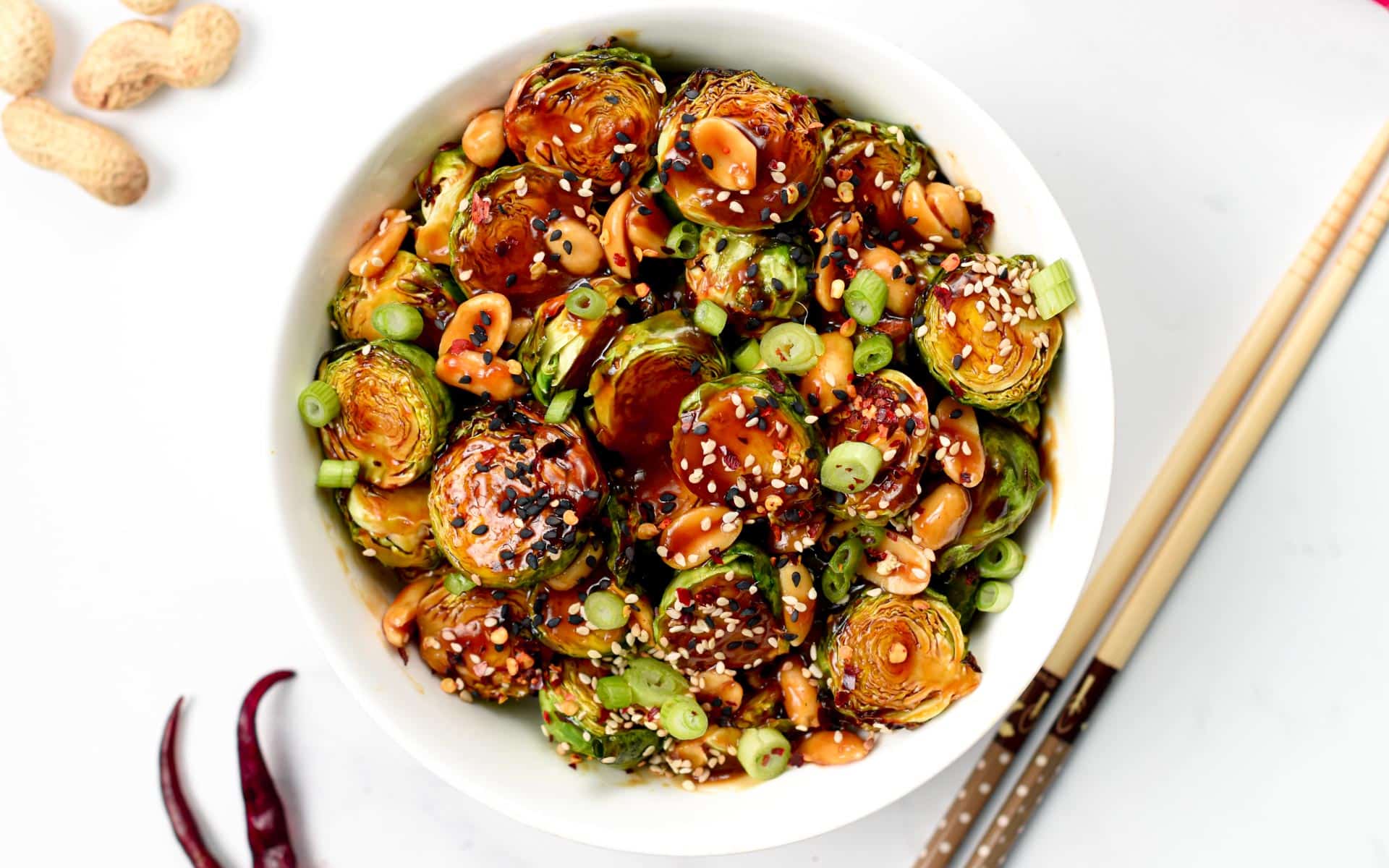 How To Make Kung Pao Brussel Sprouts
It's very easy to turn your Brussel sprouts into a lovely kung pao dish.
Ingredients
All you need to make this recipe are:
Brussel Sprouts – Trim the feet and cut in halves or check my post on how to cut Brussel sprouts for help.
Soy Sauce – I am using dark soy sauce, but you can also use a soy-free option like coconut aminos.
Sesame Oil – Use sesame oil or peanut oil.
Garlic – Freshly peeled and crushed.
Water
Chinese Black Vinegar
Sichuan Black Peppercorn – It's optional, but if you can find some at the store, this makes all the difference in a kung pao sauce.
Ginger – Freshly grated.
Dried Red Pepper Flakes – Or dried chili deseeded, but I found it easier to use chili flakes as the size of dried chili varies a lot, it's difficult to make the sauce to the right spiciness.
Hoisin Sauce – it's made of fermented soybean a little bit like BBQ sauce but with Asian food flavors.
Roasted Peanuts
Sesame Seeds
Brown Sugar or brown erythritol for a sugar-free option
Scallion – also known as Green onions.
Picking Method
First, you need to roast the Brussel sprouts.
Wash, trim the end of the sprouts and cut each of them halfway lengthwise, following my tutorial on how to cut brussels sprouts if needed.
There are two ways of roasting Brussel sprouts for this recipe, Oven-roasting or Air Frying.
Pick the method that suits you the best. However, these posts have been written using spices that won't taste right with the Kung Pao sauce.
So follow the tutorial using only Brussel sprouts and olive oil and no additional spices.
Overall it takes between 25 minutes and 30 minutes to make golden brown crispy Brussel sprouts.
If some Brussel sprout leaves come out, remove them and turn them into Brussel Sprout Chips.
Making The Sauce
The best part is the kung pao sauce, and it's ridiculously easy to make.
In a small bowl, whisk cornstarch with water, soy sauce, brown sugar, hoisin sauce, black Chinese vinegar, ginger, and ground Sichuan peppercorn. Set it aside.
In a non-stick saucepan, over medium heat, warm sesame oil, then add garlic, and dried chili, and stir fry for 10 seconds until fragrant.
Add the soy sauce mixture, stir and simmer until the sauce has thickened.
Assembling The Dish
Place the roasted Brussel sprouts onto a large mixing bowl, top with roasted peanut and the warm sticky kung pao sauce.
Stir well to combine and coat all the Brussel sprouts.
Serve with sesame seeds and freshly chopped green onions or scallions. Adjust with salt and pepper if desired.
Serving Kung Pao Brussels Sprouts
Serve hot with some extra salt and pepper if you like and freshly chopped scallions or dill.
You can also serve it with a side of:
Storage Instructions
You can store the cooked Kung Pao Brussel Sprouts in a sealed container for up to 4 days in the fridge.
Rewarm in a non-stick saucepan over medium heat until warm or in a microwave-safe dish.
This side dish can be frozen for up to 3 months in an airtight container.
Allergy Swaps
If you have some food allergies, you can pick some of the below options to adjust the recipe to your food preferences:
Sugar-Free – Use a sugar-free granulated sweetener in the same amount of sugar and replace cornstarch with xanthan gum. Also, pick a low-sugar hoisin sauce or skip it.
Gluten-Free – Check that your hoisin sauce and soy sauce are gluten-free, or use tamari sauce instead.
Soy-Free – Skip hoisin sauce and use coconut aminos instead of soy sauce.
Peanut-Free – Use sesame oil and cashews instead of roasted peanuts on top.
Frequently Asked Questions
Below are your most frequent questions answered.
What Can I Use Instead Of Chinese Black Vinegar?
Chinese black vinegar is a dark color, sweet vinegar that can be swapped for rice vinegar.
How Can I Make The Recipe Low-Carb Keto-Friendly?
To decrease the carbs, replace the sugar with a keto granulated sweetener like allulose or erythritol. You can replace cornstarch with 1/2 teaspoon xanthan gum.
Have you made this vegetarian kung pao recipe? Share a review or comment below.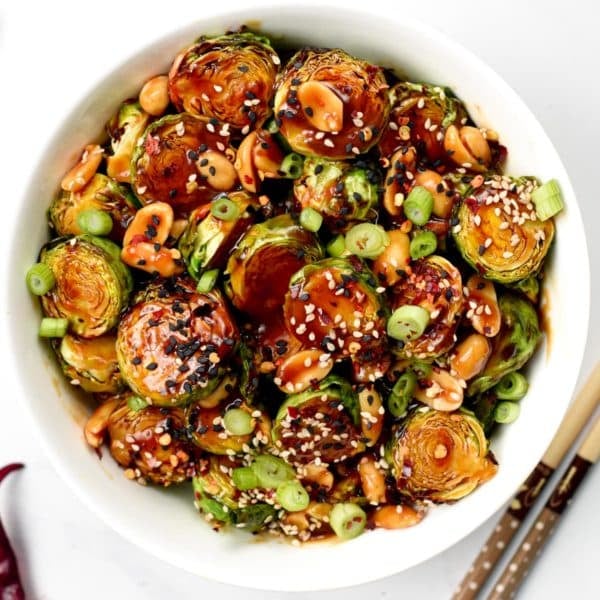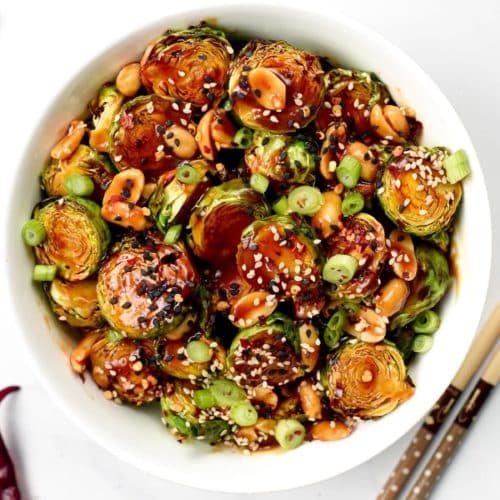 Kung Pao Brussel Sprouts
This Kung Pao Brussel Sprouts are crispy Brussel sprouts served with a sweet and sour sticky Chinese sauce famous in Chinese restaurant
This recipe may contain Amazon or other affiliate links. As an Amazon Associate I earn from qualifying purchases.
Instructions
In a small mixing bowl, whisk soy sauce, water, black vinegar, hoisin sauce, sugar, ground Sichuan peppercorn, ginger, and cornstarch. Set aside.

In a non-stick saucepan, warm sesame oil, add garlic and dried chili flakes, and cook for 10 seconds, then pour in the soy mixture made previously.

Simmer sauce for 3-4 minutes, stirring often until it thickens.

Add the roasted peanuts to the sauce and the roasted Brussel sprout halves.

Stir to coat the vegetables with the sauce and cook for 1-2 minutes until warm.

Serve with freshly chopped green onions and sesame seeds.
Storage
Store up to 3 days in a sealed container in the fridge or freeze it for up to 3 months.
Notes
Note 1: Sugar can be replaced with erythritol for a low-carb version. Note 2: Chinese black vinegar can be substituted for rice vinegar. Note 3: Use 1/4 teaspoon guar gum for a low-carb option.
Want My Kitchen Equipment?
Serving:
1
serving
Calories:
202.1
kcal
(10%)
Carbohydrates:
18.9
g
(6%)
Fiber:
6.3
g
(26%)
Net Carbs:
12.6
g
Protein:
10.6
g
(21%)
Fat:
11.4
g
(18%)
Saturated Fat:
1.8
g
(11%)
Polyunsaturated Fat:
4.2
g
Monounsaturated Fat:
4.9
g
Cholesterol:
0.1
mg
Sodium:
900.2
mg
(39%)
Potassium:
638.3
mg
(18%)
Sugar:
5.4
g
(6%)
Vitamin A:
974.3
IU
(19%)
Vitamin C:
97.7
mg
(118%)
Calcium:
77.2
mg
(8%)
Iron:
2.5
mg
(14%)
Magnesium:
64.7
mg
(16%)
Zinc:
1
mg
(7%)
Posted In: