Oven Roasted Brussel Sprouts
This easy Oven Roasted Brussel Sprouts recipe will make everyone love Brussel Sprouts!
They are the most crispy Brussel sprouts with delicious soft garlic flavors and are also 100% dairy-free, keto, and vegan.
There are many ways to roast Brussel sprouts. You can air fry, roast in a stir fry pan, or oven roast them!
I prefer oven-roasted sprouts because you can prepare a large batch, and they come out really crispy!
How To Roast Brussel Sprouts
All you need to make quick and easy Brussel sprouts are:
Ingredients
Fresh Brussel sprouts – See paragraph below for frozen option. Brussels Sprouts are delicious, healthy, and low-carb vegetables.
Extra Virgin olive oil
Kosher Salt
Black Pepper
Garlic powder
Cutting In Halves
First, prepare the vegetable. Wash the sprouts under clean water in a sieve.
Then cut the stems off each sprout and discard them before slicing the sprouts in halves. There are two ways to cut Brussels Sprouts, find your favorite in my Brussels Sprouts cutting guide.
Some outer leaves will fall out, and you can keep them for later to make Brussels Sprouts Chips. Discard yellow leaves.
Next, prepare the oil mixture. Stir all ingredients together in a small mixing bowl: garlic powder, olive oil, salt, and pepper.
Spread the oil mixture over the halves and massage or stir very well to evenly coat each half with the oil mixture.
Add-Ons And Variations
Of course, you can tweak this recipe by adding some extra flavors to your oil mixture like:
Red Pepper Flakes – optional, only use some for a touch of spice.
Maple Syrup – add one or two tablespoons to make maple-roasted Brussel sprouts.
Lemon Juice – or lemon zest
Balsamic Vinegar – or balsamic glaze
Soy Sauce
Rosemary and melted butter
Roasting Time
Preheat the oven to 400°F (200°C) and line two sheet pans or one large rimmed baking sheet with parchment paper.
You don't have to use parchment paper, but it makes it much easier to clean the tray later on.
Also, make sure the pans are large enough to spread the batch of vegetables in a single layer, leaving some space between each.
In fact, if they are too close to each other, they won't crisp as much.
Spray oil over the paper and toss the Brussels sprouts halves on the tray, cut-side face down first.
Bake the Brussels sprouts for 15 minutes, then flip and bake them for an extra 10 minutes.
Oven-roasted Brussels sprouts are ready within 25 to 35 minutes when they start to crisp on the outside.
Depending on the size of each, cooking time vary. It can take a little bit longer.
You know they are ready when the outside is crispy, golden brown, and slightly soft in the inside but still crunchy.
You should be able to prick a knife in the center of the half easily.
Roasting Frozen Brussel Sprouts
If Brussel sprouts are not in season, frozen vegetables are always a great way to add nutrients to your day.
To roast frozen Brussel sprouts, simply follow the recipe below, but roast the frozen sprouts (don't thaw them) for 15 minutes before adding the olive oil mixture around.
Then cover with olive oil and keep baking for 15 minutes or until crispy.
Note that frozen roasted vegetables never get as crispy as fresh vegetables. They are softer and can be slightly mushy.
Serving Plain
Serve these immediately to enjoy their best crispy texture.
Next, you can use these roasted sprouts plain or add on top some of the below:
Drizzle of lemon juice or honey
Freshly grated parmesan cheese and toasted bacon
Balsamic vinegar
Stir fry sauce – cook the sauce to thicken and drizzle on top of the roasted vegetable
Best Meals To Serve With Brussel Sprouts
This side dish is even more delicious and served with a meat-based dish. Below are some great ideas to serve with this perfect side dish.
Storage Instructions
You can store leftovers in an airtight container in the refrigerator for up to 4 days or freeze them for up to 3 months.
To rewarm cooked Brussel sprouts, you can:
Microwave them in a microwave-safe dish for 1-2 minutes or until hot.
In a nonstick pan over low-medium heat, cover with a lid, and occasionally stir until warm.
In the air fry, air fry the Brussel sprouts at 300°F (150°C) for 5 minutes or until warm in the center.
Frequently Asked Questions
Are Brussel Sprouts Keto-Friendly?
Yes, Brussel sprouts are approved keto vegetables. They contain only net carbs per 100 grams, and they are the perfect keto side dish recipe for keto meals.
Can I Use Frozen Brussel Sprouts?
Yes, you can roast frozen Brussel sprouts with this recipe. Read the paragraph above for instructions.
What Are The Best Oil For Roasting Vegetables?
The best oils for roasting at 400°F (205°C) are high-smoke point oil like avocado oil or grapeseed oil.
Can I Add Parmesan?
Yes, you can make Parmesan Brussel Sprouts by adding some onto the roasted vegetables when they are still warm so the cheese melt on top.
Another option is to sprinkle parmesan on top of the roasted sprouts and return the baking sheet to the oven on broil mode for 2 minutes so the cheese melt and broils on top.
More Side Dish Recipes
If you enjoy tasty, healthy side dishes, you'll love these other veggie-based recipes:
Have you made this easy 30-minutes side dish recipe? Share a comment or review below.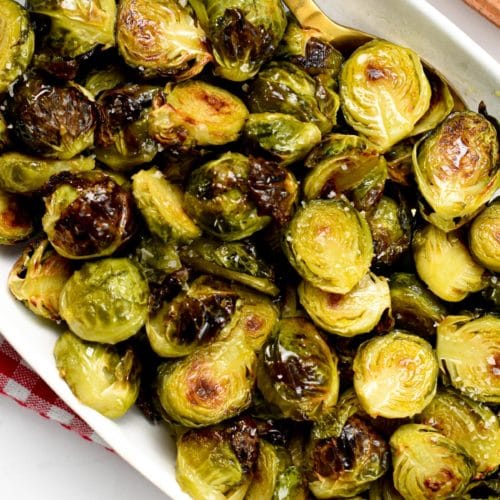 Oven-Roasted Brussel Sprouts
These Oven-Roasted Brussel Sprouts are a 30-minute recipe for a delicious side dish to any meal.
Ingredients
Roasted Brussel sprouts
2

pounds

Brussels Sprouts

2 ½

tablespoons

Extra Virgin Olive Oil

½

teaspoon

Salt

⅛

teaspoon

Ground Pepper

¼

teaspoon

Garlic Powder
This recipe may contain Amazon or other affiliate links. As an Amazon Associate I earn from qualifying purchases.
Instructions
Preheat the oven to 400°F (200°C). Cover one or two large baking sheets with parchment paper. Slightly oil paper.

Slice each sprout in half lengthwise and trim the stem side of the Brussels sprouts. Discard the loose outer leaves that fall off or keep them to make Brussels Sprouts Chips later.

In a small bowl, stir the garlic powder, olive oil, salt, and pepper.

Place the halved Brussels sprouts on a large baking tray. Drizzle the olive oil mixture and massage the halves to be fully covered with the mixture.

Place each half cut-side down onto the sheet.

Bake for 15 minutes, stirring halfway with a wooden spoon, and bake for an extra 10-15 minutes until golden brown and crispy.
Notes
Storage/freeze: store for up to 4 days in the fridge or freeze well in an airtight plastic container. Defrost in the fridge the day before and rewarm in the microwave or stove.
Want My Kitchen Equipment?
Serving:
1
serving
Calories:
106.7
kcal
(5%)
Carbohydrates:
13.6
g
(5%)
Fiber:
5.8
g
(24%)
Net Carbs:
7.8
g
Protein:
5.1
g
(10%)
Fat:
5.1
g
(8%)
Saturated Fat:
0.7
g
(4%)
Polyunsaturated Fat:
0.7
g
Monounsaturated Fat:
3.4
g
Sodium:
231.8
mg
(10%)
Potassium:
589.7
mg
(17%)
Sugar:
3.3
g
(4%)
Vitamin A:
1140
IU
(23%)
Vitamin C:
128.5
mg
(156%)
Calcium:
63.8
mg
(6%)
Iron:
2.2
mg
(12%)
Magnesium:
34.9
mg
(9%)
Zinc:
0.6
mg
(4%)
Posted In: