Almond Flour Chicken Tenders
These Almond Flour Chicken Tenders are easy healthy crispy chicken tenders coated with almond flour.
Bonus, this is a keto chicken recipe, low in carbs and perfectly diabetic friendly.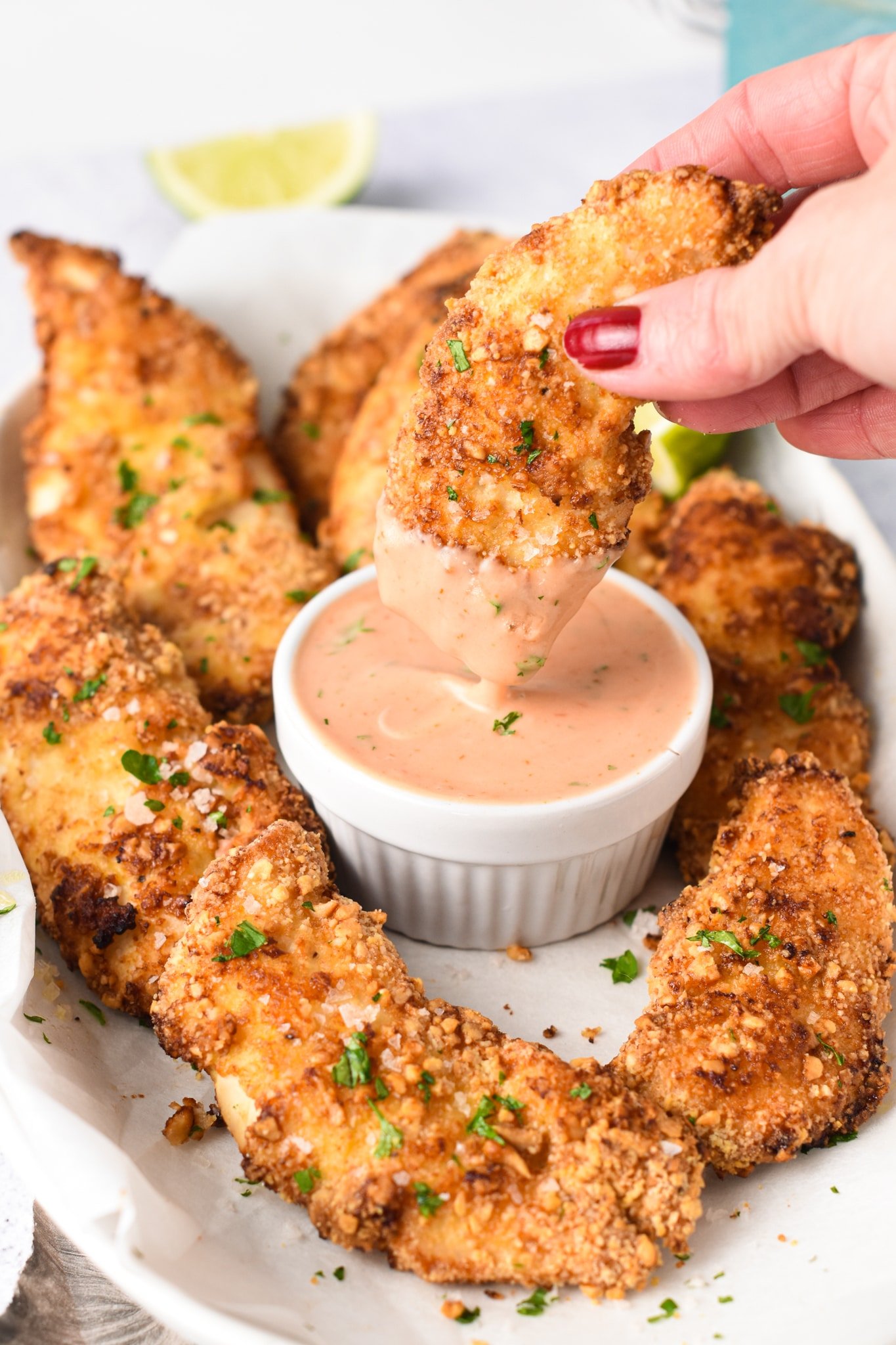 If you love crispy, juicy chicken tenders but want to avoid the carbs, grains, or gluten from panko crumb, then this low-carb chicken tender recipe is for you.
They are naturally:
Low-carb
Keto-friendly
Paleo-friendly
And a dairy-free option is provided
How To Make Almond Flour Chicken Tenders
It's so easy to make these healthy chicken tenders that you will bring this recipe to your family table weekly.
Ingredients
All you need to make juicy chicken tenderloins are an excellent marinade, also called egg wash, made of:
Mayonnaise or swap for Greek yogurt if you don't like mayonnaise.
Dijon Mustard
Lemon Juice – you can use store-bought lemon juice or make your own by juicing fresh lemons.
For the almond flour coating, you need:
Almond Flour – or almond meal both options work very well as low-carb flour.
Onion Powder
Garlic Powder
Salt and Pepper
Blanched Almonds – crushed in a grinder for a few seconds to add crunchy pieces of almonds to your coating.
You can also optionally add parmesan cheese.
Cutting The Chicken
If you can't find chicken tenderloins at the grocery store, buy chicken breast instead.
Then, place the chicken breast on a chopping board and cut into thick 2/3-inch slices that resemble chicken tenderloins.
Soaking The Tenderloins
The secret of juicy chicken tenderloins is the marinade.
If you have time, soak the tenderloins for 30 minutes in the fridge.
If you can't, the recipe will still work, but the meat won't be as juicy and flavorsome.
Whisk the egg, mayonnaise, lemon juice, and Dijon mustard in a large mixing bowl.
Place all the chicken pieces in the bowl, cover with a lid and set aside in the fridge for 30 minutes or while preparing the coating.
Coating
First, place the blanched almond in a herb mixer or Nutribullet and pulse them to form a thick, coarse crumb.
This adds a crunchy texture to the chicken.
Place the almond flour, garlic powder, salt, pepper, onion powder, and coarse almond chunks in a small, shallow bowl. Stir with a spoon to evenly combine.
Remove the chicken from the fridge.
Cover a baking sheet with lightly oiled parchment paper and set it aside.
Using tongs and working with one chicken tenderloin at a time, bring the tenderloin into the bowl with the almond flour coating.
Press to stick the coating on one side, and with your other dry hand, sprinkle some coating on the other side of the chicken piece. Press to stick.
Place the coated chicken tenders on the baking sheet.
Repeat the step above until all the chicken tenderloins are evenly coated.
Make sure the chicken pieces don't overlap on the baking tray.
Meanwhile, preheat the oven to 400°F (200°C).
Baking Chicken Tenders
When all the chicken tenders have been coated, spray olive oil on top and bake in the center rack of the oven for 10 minutes.
Remove from the oven using tongs and flip each chicken tender on the other side. Spray some oil on top of each of them again.
Return to the oven for 8 to 10 minutes – don't exceed 20 minutes, or the meat will be very dry. Bake until golden brown and crispy.
Air-frying Chicken Tenders
Another option is to air fry the chicken tenders.
Lightly oil the air fryer basket with oil spray.
Place the coated chicken strips in the basket, leaving some free space between each.
Spray some oil on the chicken and air fry for 6-8 minutes.
Flip the tenderloins over, spray some more oil, and air fry for an extra 6-8 minutes until crispy and golden brown on the outside.
Frying The Tenders
The last option consists of frying the tenders in oil. It's not my preferred method because the almond coating is fragile and often falls apart in the oil bath.
The best oils for frying chicken are high-smoke point oils like avocado oil.
Warm half an inch of oil in a frying pan and fry the chicken on both sides until golden brown – it takes about 6 minutes.
Cool down on absorbent paper to remove excess oil before serving.
Chicken Tender Sauces
Chicken tenders are delicious finger food also called chicken fingers and delicious served with a creamy dipping sauce like:
Dijon Mustard
Mayonnaise
Sriracha Sauce
Buffalo Sauce
Serving
You can use these chicken tenders to dip into a sauce as mentioned above or as:
Storage Instructions
You can store these chicken almond tenders in an airtight container in the fridge for up to 3 days.
You can also freeze the chicken tenders for later and thaw them in the fridge the day before.
Chicken tenders can be easily rewarmed in a hot oven, air fryer, or frying pan.
Avoid using your microwave as the chicken gets dry and the coating soft and soggy.
Allergy Swaps
Below I listed some options to make this recipe with other ingredients that suit your food allergy.
Nut Allergies – almond flour can be replaced with sesame flour, oat flour, or sunflower seed flour. Don't use coconut flour because the chicken would be too dry. Swap blanched almonds for sunflower seeds.
Egg Allergies – swap the egg for a flax egg by stirring one tablespoon of flaxseed meal with 3 tablespoons of lukewarm water.
Mayonnaise Allergy – swap for yogurt, dairy-free if needed.
Have you made these low-carb chicken tenders? Share a comment or review below to share your feedback about this chicken recipe.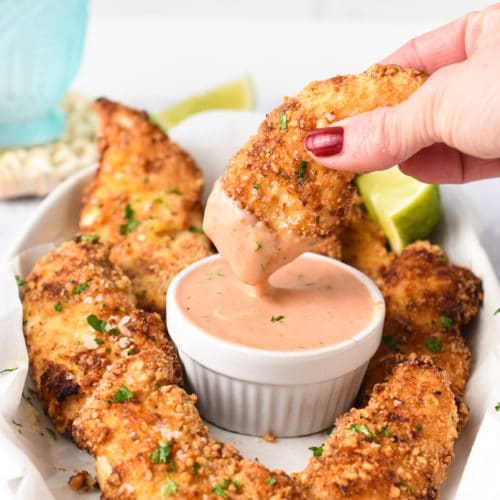 Almond Flour Chicken Tenders
These Almond Flour Chicken Tenders are easy healthy crispy chicken tenders coated with almond flour. Bonus, this is a keto chicken recipe, low in carbs and perfectly diabetic-friendly.
Nutrition Snapshot
Want My Kitchen Equipment?
Instructions
Preheat the oven to 400°F (200°C). Line a baking tray with lightly oiled parchment paper. Set aside.

In a large bowl, whisk all the liquid ingredients. Dip the chicken tenderloins in the egg mixture for 5 minutes. Meanwhile, prepare the coating.

Place the blanched almonds in a grinder or small food processor/Nutribullet and pulse in 5-second bursts until it forms a coarse crumb.

In a shallow bowl, whisk coarse almonds, almond flour, garlic powder, onion powder, salt, and pepper.

Pick up the chicken tenderloins one at a time with tongs and place them in the shallow bowl with almond flour coating. Sprinkle coating and press down with the tong to stick to the meat.

Place on the baking tray and repeat the steps above for the remaining chicken sticks.

Spray oil on the tenderloins before baking.

Bake for 10 minutes, flip over, spray oil again on the other side, and return to the oven for 10 minutes. Bake for a maximum of 20 minutes or the tenderloins get dry.
Air fryer
Place the chicken tenderloins in a slightly oiled air fryer basket – make sure they don't touch each other. Spray olive oil on the coated tenderloins.

Air fry at 400°F (200°C) for 8 minutes. Flip them, spray some oil again, and air fry for an extra 5-8 minutes.
My Recipe Notes
Nutrition
Serving:
1
serving
Calories:
308.3
kcal
(15%)
Carbohydrates:
6.7
g
(2%)
Fiber:
3.3
g
(14%)
Net Carbs:
3.4
g
Protein:
26.9
g
(54%)
Fat:
20.3
g
(31%)
Saturated Fat:
2.2
g
(14%)
Polyunsaturated Fat:
3.4
g
Monounsaturated Fat:
5.8
g
Trans Fat:
0.1
g
Cholesterol:
92
mg
(31%)
Sodium:
420.2
mg
(18%)
Potassium:
444.4
mg
(13%)
Sugar:
1.4
g
(2%)
Vitamin A:
80.8
IU
(2%)
Vitamin B12:
0.3
µg
(5%)
Vitamin C:
2.3
mg
(3%)
Vitamin D:
0.3
µg
(2%)
Calcium:
78.5
mg
(8%)
Iron:
1.6
mg
(9%)
Magnesium:
60.9
mg
(15%)
Zinc:
1.1
mg
(7%)
Posted In: