Keto Cobb Salad Recipe (Ready In 15 Minutes)
This Keto Cobb Salad Recipe is a healthy, complete keto lunch made of chopped romaine lettuce, crisp bacon, roasted chicken breast, hard-boiled eggs, avocado, and Roquefort cheese.
Bonus, you can choose from a Red Wine Vinaigrette or Keto Ranch Dressing to serve this salad to your liking.
Is A Cobb Salad Keto-Friendly?
Yes, most Cobb Salads are keto-friendly apart from their dressing which often contains honey or sugar.
So if you go to a restaurant, order your salad without dressing and simply ask for olive oil, vinegar, salt, and pepper to make your own salad dressing on the side.
Also, a regular cobb salad contains many tomato slices and red onions that quickly up the carbs per serving.
So if you order one at the restaurant, go easy on these two ingredients! Instead, focus on eating crunchy lettuce and all the good fat from avocado, bacon, chicken, and Roquefort cheese.
How To Make A Keto Cobb Salad
A Keto Cobb Salad is easy to put together in less than 15 minutes for an easy healthy keto lunch.
Salad Ingredients
All you need to make this keto cobb salad recipe are:
Romaine lettuce – a cobb salad is made of a bed of crunchy green lettuce. You can also use other crunchy greens like iceberg lettuce, watercress, and endives, all are keto-friendly vegetables.
Cherry tomatoes – a classic cobb salad uses a large number of tomatoes. In order to keep the net carbs low, this keto cobb salad use only a small amount of cherry tomatoes.
Red onions – they are high in carbs as well so the amount is also reduced in a keto cobb salad recipe to limit the net carbs per serving.
Roquefort cheese
Slice avocados
Bacon – I recommend streaky bacon slices cut into bits and fried until crispy.
Cooked chicken breast from a rotisserie chicken or grilled chicken breast.
Hard-boiled eggs – eggs are perfectly keto-friendly. You can follow my Air Fryer Hard Boiled Eggs Recipe to have perfectly hard-boiled eggs every single time. If you prefer soft-boil eggs, use my Jammy Egg Recipe.
Fresh chives
Cooking Chicken, Bacon, And Eggs
First, boil the eggs in boiling water. Next, grill the chicken breast on a grill or BBQ until cooked through. Fry the bacon in a frying pan until crispy.
Set aside the cooked bacon and chicken on a plate to cool.
Cool the boiled eggs in cold water. Then peel and chop them in quarters.
Chopping Vegetables
Meanwhile, chop all your vegetables, starting from the romaine lettuce, cherry tomatoes, and chives. Next, peel and slice avocado and red onions.
Assembling The Salad
Finally, in a large mixing bowl add the ingredients in this order chopped lettuce, tomatoes, sliced onion, avocado, grilled chicken pieces, diced crispy bacon, sliced boiled eggs, and chives.
Keto Cobb Salad Dressing
A classic Cobb Salad dressing is served with a red wine vinegar dressing.
Red wine vinegar is keto-friendly, but an authentic Cobb salad dressing contains sugar from honey, which adds up to your net carbs so not recommended on a keto diet.
Below I listed some delicious keto salad dressing recipe ideas you can use to serve this easy cobb salad recipe.
Red wine vinaigrette
In order to make a keto-friendly red wine vinaigrette you need the ingredients below:
Olive oil
Dijon mustard
Red wine vinegar
Sugar-free maple syrup or erythritol
Garlic powder
Onion powder
Dried parsley
Dried dill
Salt and pepper
To make the dressing, add all the ingredients to a glass mason jar, close the lid, and shake vigorously until the ingredients are well combined together.
Follow my Red Wine Vinaigrette recipe for all the measurements.
Ranch salad dressing
Another delicious way to serve this keto cobb salad is to add a drizzle of thick and creamy ranch salad dressing.
Also, on a keto diet we eat fat as a source of fuel, so adding a high-fat salad dressing is a great way to boost your fat intake and make this easy cobb salad more fulfilling.
You can make your own Keto Ranch Salad Dressing following my recipe.
Storage Instructions
You can store this Keto Cobb Salad in an airtight container in the fridge for a maximum of 24 hours.
After that time the lettuce starts to wilt and the avocado becomes brown and bitter in flavor.
You can halve this chicken cobb salad recipe if it is too big for you to eat in 24 hours.
Frequently Asked Questions
How Should I Serve The Keto Cobb Salad?
It's recommended to serve the salad with the dressing on the side, so you can store leftover salad for longer.
Simply serve the salad in a large salad bowl or serving board with the dressing in a side bowl.
You can also serve this salad as a side dish to a beef steak cooked to your preferred level.
When Should I Eat A Keto Cobb Salad?
This is a fulfilling lunch salad to add to your keto meal plan. It's also a complete meal to break a fast as it contains all the necessary proteins, fats, and only 3.7 grams of net carbs per large bowl.
You can also serve this keto cobb salad as a side dish to a summer BBQ.
More Keto Salad Recipes
If you love keto salad and vegetables as a meal or side dish, I have plenty more recipes for you to try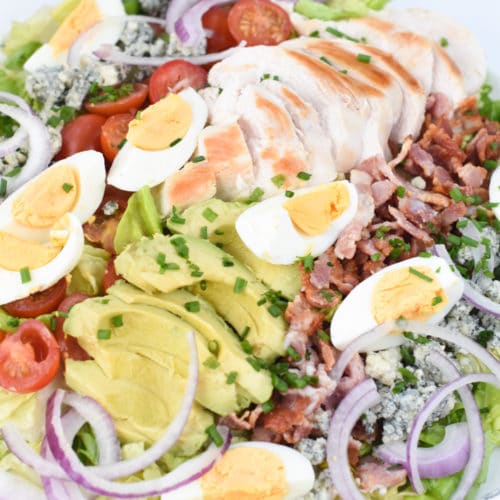 Keto Cobb Salad
An easy Keto Cobb Salad recipe with crunchy romaine lettuce, crisp bacon, Roquefort blue cheese, and red wine vinaigrette.
Yield:
servings (1 1/2 cup each)
Serving Size:
1
serving (1 1/2 cup)
This recipe may contain Amazon or other affiliate links. As an Amazon Associate I earn from qualifying purchases.
Instructions
Cook hard-boiled eggs, cool down in cold water, peel, and cut in quarters. Set aside in a bowl.

In a large skillet, cook bacon until crisp – about 5 minutes, then cool down on a plate covered with absorbent paper.

Meanwhile, prepare the salad dressing. Add all the dressing ingredients to a mason jar, close the lid and shake vigorously to combine.

Wash the lettuce and cherry tomatoes. Chop lettuce in pieces.

To assemble the salad, place the chopped lettuce first, then top with remaining ingredients: shredded cooked chicken breast, bacon, boiled-egg quarters, avocado, halved tomatoes, onion slices, crumbled Roquefort cheese, and chives.
Storage
This salad can be stored in an airtight container in the fridge for 2 days. The keto salad dressing lasts 7 days in the fridge in a sealed glass-mason jar.
Want My Kitchen Equipment?
Serving Size:
1
serving (1 1/2 cup)
Yield:
servings (1 1/2 cup each)
Serving:
1
serving (1 1/2 cup)
Calories:
405.2
kcal
(20%)
Carbohydrates:
7.4
g
(2%)
Fiber:
3.7
g
(15%)
Net Carbs:
3.7
g
Protein:
12.5
g
(25%)
Fat:
36.9
g
(57%)
Saturated Fat:
10.6
g
(66%)
Trans Fat:
0.1
g
Cholesterol:
129.2
mg
(43%)
Sodium:
782.2
mg
(34%)
Potassium:
433.3
mg
(12%)
Sugar:
1.7
g
(2%)
Vitamin A:
4572.7
IU
(91%)
Vitamin B12:
0.5
µg
(8%)
Vitamin C:
8.7
mg
(11%)
Vitamin D:
0.7
µg
(5%)
Calcium:
171.6
mg
(17%)
Iron:
1.5
mg
(8%)
Magnesium:
32.4
mg
(8%)
Zinc:
1.4
mg
(9%)
Posted In: