Keto Red Wine Vinegar Dressing
This easy Keto Red Wine Vinegar Dressing, also known as red wine vinaigrette, is 100% sugar-free, dairy-free and gluten-free.
It's a simple keto salad dressing that turns any keto salad into a tasty, flavorsome salad that everyone loves.
Is Classic Red Wine Dressing Keto?
A classic red wine salad dressing, also known as red wine vinaigrette, often contains sugar from honey.
On a keto diet, you should avoid added sugar, and therefore, store-bought salad dressings are often not your best friends as they contain added sugar.
They often contain vegetable oils or additives as well that are not recommended on a keto diet.
How To Make Keto Red Wine Vinegar Salad Dressing
It's so easy to make your own homemade salad dressings, and I already shared some with you, starting with my keto ranch dressing recipe.
This keto olive oil red wine vinegar dressing is even easier to make and so good that you will never buy salad dressing after that!
Ingredients
The simple pantry ingredients you need to make this simple keto red wine vinaigrette are:
Extra-virgin olive oil – you can use avocado oil as well if you enjoy its strong flavor. Other light oils to make this keto vinaigrette are almond oil, walnut oil, or peanut oil.
Red wine vinegar – of course, you must love the flavor of this particular vinegar before starting with this recipe. If you are not a big fan of red wine vinegar, the recipe works with apple cider vinegar for a traditional keto vinaigrette recipe. And, if you are wondering, red wine vinegar doesn't have any alcohol left.
Dijon mustard
Sugar-free maple syrup – optional, but it adds a lovely sweet flavor to the dressing. You can also use crystal erythritol, but it doesn't dissolve as well in the salad dressing.
Garlic powder
Onion powder
Dried parsley
Dried dill
Salt and pepper
Shaking It
Bring all the ingredients into a small bowl or glass mason jar.
Then, close the lid and shake vigorously to bring the oil in contact with the vinegar and form a cloudy red-ish vinaigrette.
Flavor Variations
Like many salad dressings, there's not only one way to make them. You can always add your own twist depending on what you crave or what ingredients you throw in your salad.
Below I listed some ads-on ideas to boost the flavor of this easy red wine vinegar salad dressing.
Creaminess – add a few tablespoons of sour cream, mayonnaise, or plain Greek yogurt. Greek Yogurt is keto-friendly.
Spicy – add a few drops of hot sauce or chili flakes or black pepper.
Cheesy – add 1-2 tablespoons of finely ground fresh parmesan. Parmesan is a keto-friendly cheese.
Tangy – add a dollop of unhulled tahini spread.
These are only some of the ideas, but of course, you can also have fun with the spices and swap some of the dried spices with your favorites like:
Italian seasoning – perfect to create keto Italian recipes or marinade meat to put on a keto pizza.
Dried mint for a Greek salad or dried dill for a keto cobb salad.
Salad Pairing
Any salad with a crunchy lettuce base goes well with red wine salad dressing like a cobb salad, Kale Quinoa Salad, or chicken bacon avocado salad.
You can also use this salad dressing as a marinade for meat, like chicken or pork, or even shrimp!
It's also a great dressing to deglaze stir-fry vegetables like Brussel sprouts or green beans.
Storage Instructions
This recipe is dairy-free and stores very well in an airtight container like a glass mason jar placed in the fridge. You can keep it in the refrigerator for up to 2 weeks.
Before serving, shake the jar vigorously as the layer of olive oil and vinegar will separate.
Some ingredients commonly solidify in the dressing, especially if you add tahini. So the key is to shake the jar like crazy to bring all the ingredients together.
Frequently Asked Questions
Is Red Wine Vinegar Keto?
Like many kinds of vinegar, except for balsamic vinegar which contains sugar, red wine vinegar is keto-friendly.
It contains zero carbs and 6 kcal for 100 grams.
Why Does Vinaigrette Solidify In The Fridge?
A vinaigrette is a combination of two ingredients that are not made to be together. It's called an emulsion.
It's a very natural reaction that happened to any emulsion high in monounsaturated fat – the one present in olive oil.
A way to avoid that is to increase the ratio of acid to oil in the recipe, but you end up with a very acid dressing.
So if these small particles of solidified oil annoy you, bring the amount of dressing you intend to use to the microwave for 10-15 seconds.
Warming up the dressing slightly melts the fat and reforms the emulsion.
More Keto Salad Recipes
I love to make keto salad recipes in summer or all year long. Keto is more than bacon and butter.
It's also nourishing and full of greens that add nutrients and vitamins to your plate.
Have you made this keto red wine vinegar dressing? Share a comment or review below. I love to hear back from you,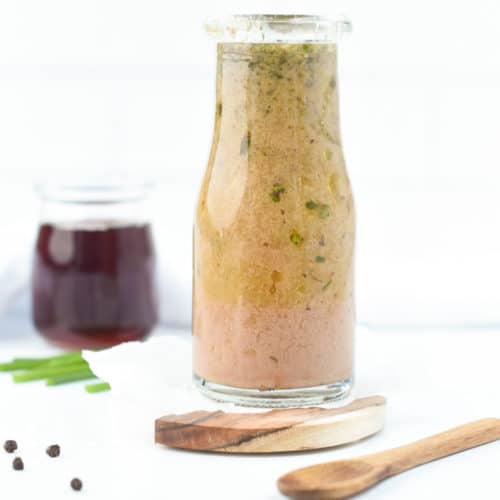 Keto Red Wine Vinegar Salad Dressing
An easy salad dressing recipe with red wine vinegar and olive oil.
Serving Size:
2
tablespoons
This recipe may contain Amazon or other affiliate links. As an Amazon Associate I earn from qualifying purchases.
Instructions
Add all the ingredients to a glass mason jar, close the lid, and shake vigorously to combine.
Storage
Store in the fridge for up to 2 weeks.
Want My Kitchen Equipment?
Serving Size:
2
tablespoons
Serving:
2
tablespoons
Calories:
49.2
kcal
(2%)
Carbohydrates:
0.2
g
Fiber:
0.1
g
Net Carbs:
0.1
g
Protein:
0.1
g
Fat:
5.4
g
(8%)
Saturated Fat:
0.7
g
(4%)
Sodium:
67.1
mg
(3%)
Potassium:
5.1
mg
Sugar:
0.1
g
Vitamin A:
3.7
IU
Vitamin C:
0.1
mg
Calcium:
2
mg
Iron:
0.1
mg
(1%)
Magnesium:
0.8
mg
Zinc:
0.1
mg
(1%)
Posted In: