This Asian Cucumber Salad is an easy 15-minute crunchy cucumber salad with a spicy soy dressing.
It's the perfect side dish for any Chinese or Asian dinner.
Asian sauces are delicious on vegetables, and you might have tried one of my crowd-favorite Asian Brussels Sprouts, which are absolutely scrumptious.
But when it's hot outside, or you feel like something fresh, light, and crunchy that doesn't need baking, this salad is convenient.
What's Asian Cucumber Salad?
An Asian cucumber salad is made from mini cucumbers, also called Persian cucumbers.
Some recipes use spiralized cucumber, which consists of cutting the cucumber in a spiral shape between chopsticks. It means that one cucumber creates one single long spiral.
But the most conventional recipe uses thinly sliced mini cucumber in a sweet, spicy sauce.
Let me share with you how I make a batch of this recipe in barely 15 minutes.
How To Make Asian Cucumber Salad
It takes only 15 minutes to make a batch of this easy Asian cucumber salad.
Ingredients
All you need are the following:
Persian Cucumber – These are tiny cucumbers, keep their skin on and slice them into 1/4-inch thick slices. You can use a mandolin or sharp knife.
Rice Wine Vinegar
Lime Juice or simply more rice vinegar.
Toasted Sesame Oil
Chili Oil – or more sesame oil if you don't have chili oil or want' a less spicy salad.
Soy Sauce – or tamari sauce if gluten-free.
Garlic – minced
Brown Sugar
Red Pepper Flakes – only if you didn't use chili oil or the salad will be too hot.
Cutting The Cucumber
First, wash and pat dry the cucumber. Cut off the extremities of each mini cucumber with a long sharp kitchen knife. Don't peel the cucumbers.
Now, use a mandolin or knife to cut each cucumber into thin slices of about 1/4 inches. Place the thinly sliced cucumbers in a salad bowl. Set aside.
Asian Salad Dressing
Make the Asian cucumber salad dressing by whisking all the dressing ingredients together in a small bowl: rice wine vinegar, sesame oil, chili oil, and soy sauce.
Assembling The Salad
Pour the salad dressing onto the thin slices of cucumber and toss to coat evenly.
Refrigerate the salad for one hour for the best flavors.
Roasted Peanut Topping
Meanwhile, preheat the oven to 325°F (160°C). Line a small baking sheet with parchment paper.
Arrange the peanuts on the prepared baking sheet and roast dry for 6 minutes.
Remove from the heat and cool down on the tray.
When cold to the touch, place on a chopping board and roughly chop the unsalted peanuts.
Serving Crunchy Asian Cucumber Salad
Remove the salad from the fridge and serve with the cooled, chopped roasted peanuts on top.
Toss to combine and add some more on the table if your guests want to give this salad more crunch.
Add some more chili flakes, fresh green onion slices, or cilantro.
Variations
Calling this salad 'Asian' is probably a bit general since there are so many different flavors in Asian cuisine.
Below I narrow down some ideas to adapt this recipe and make it fit your Asian theme:
Thai Cucumber Salad – Use lime juice instead of rice vinegar, add one tablespoon of fish sauce, and a bit of finely chopped Thai chili instead of chili oil. Keep peanuts on top and add cilantro for a perfect Thai-cuisine taste.
Japanese Cucumber Salad – Replace the chili oil with more sesame oil and use dried chili pepper flakes.
Chinese Cucumber Salad – Replace the rice vinegar with black vinegar, also called Chinkiang vinegar.
Korean Cucumber Salad – Replace the chili oil with Gochugaru, also called Korean chili paste. Serve with sesame seeds instead of peanuts and green onion slices.
Allergy Swaps
Below I listed some substitutions for you to try if you have some allergy to the ingredients used in this salad recipe:
Nut-Free – You can replace the roasted chopped peanuts with sesame seeds or sunflower seeds.
Gluten-Free – Replace the soy sauce with tamari sauce.
Chili-Free – Replace the chili oil with more sesame oil.
Sugar-Free– Replace brown sugar with any sugar-free sweetener you love, including brown erythritol.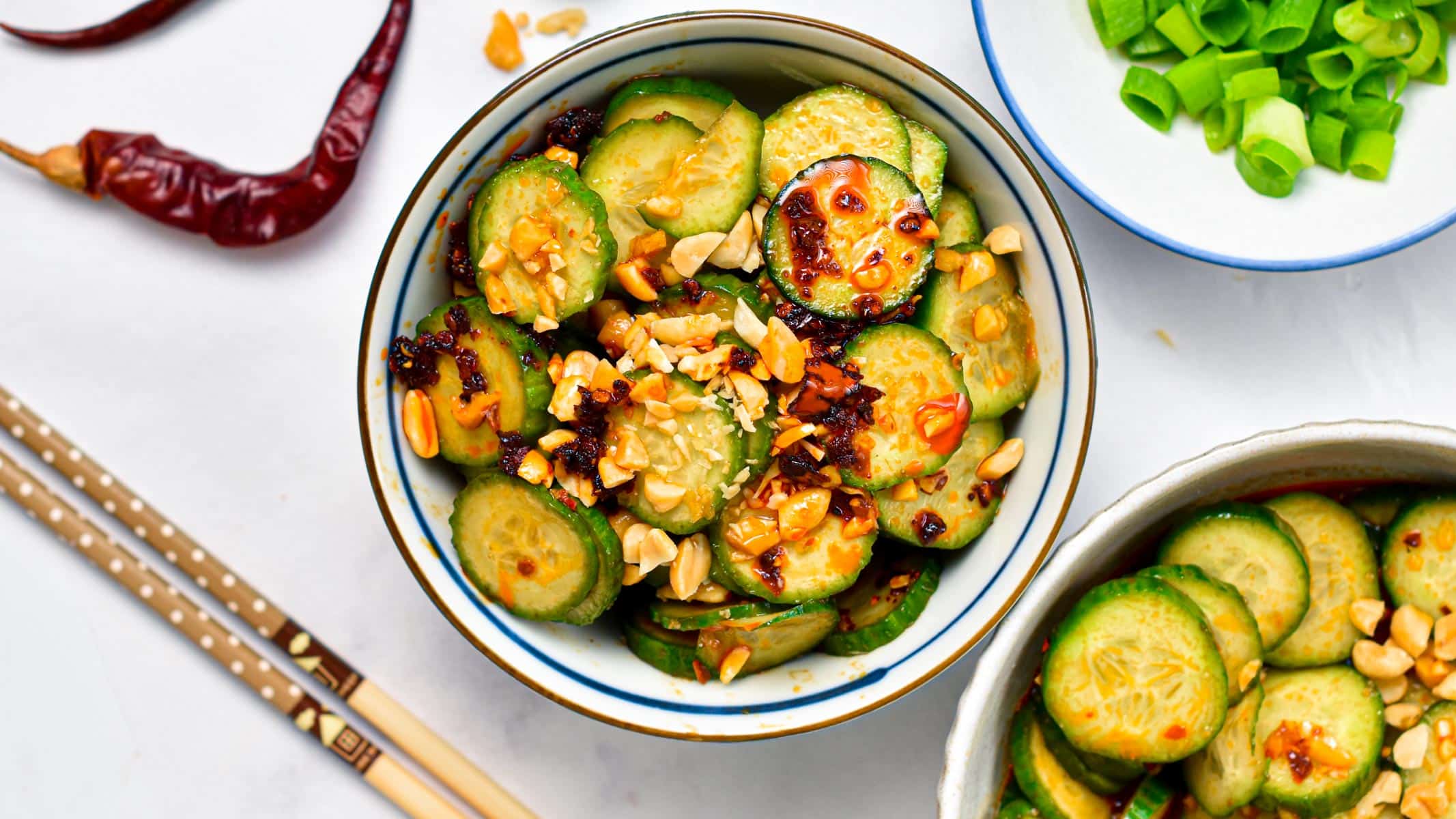 Frequently Asked Questions
Below are my answers to your most common questions about this easy Chinese-style salad:
Should I Salt The Cucumber?
No. One of the common mistakes people make when making this Asian cucumber salad is to sweat the cucumber slices in salt.
This is a technique used to extract the water from the cucumber, but it's not recommended for mini cucumbers.
In fact, Persian cucumbers don't contain much water, and therefore, they don't need this step.
If you make them sweat, they lose all their crunch. It results in soggy soft cucumber slices, so not very appetizing.
Can I Use Regular Cucumbers?
English cucumbers are larger, and, therefore, they contain more water in their flesh.
If you only have this type of cucumber for this Asian salad recipe, make sure you sweat the cucumber first.
Place the cucumber slices in a large bowl, sprinkle with salt, and let them sweat for 15 minutes.
Then, pat dry with absorbent paper before using them in the recipe.
Can I Freeze This Recipe?
This recipe won't store well in the freezer. It should be eaten within 24 hours after making it.
More Salad Recipes
If you like this easy Asian cucumber salad recipe, below are some more salad recipes you'll love:
More Asian-Inspired Recipes
If you love Asian cuisine as I do, try some of my other recipes below.
Have you tried this crunchy Asian cucumber salad recipe? Share a comment or review below to connect with me.
Asian Cucumber Salad
This Asian Cucumber Salad is an easy 15-minute crunchy cucumber salad with a spicy soy dressing. It's the perfect side dish for any Chinese or Asian dinner.
Nutrition Snapshot
Want My Kitchen Equipment?
Instructions
In a small bowl, whisk all the Asian salad dressing ingredients. Set aside.

Trim the cucumber ends but keep their skin on.

Cut the cucumbers into 1/4-inch slices with a sharp knife or a mandolin.

Place slices in a salad bowl and top with the dressing. Cover the bowl with plastic wrap.

Place the salad in the fridge for 1 hour before serving for the best flavors.

Serve with chopped roasted peanuts (read the post above to learn how to roast unsalted peanuts) and chili flakes.
Storage
This salad is better the day it's made, but you can store leftovers for 24 hours in the fridge in an airtight container. This recipe can't be frozen.
My Recipe Notes
Nutrition
Serving:
1
serving
Calories:
95.5
kcal
(5%)
Carbohydrates:
4
g
(1%)
Fiber:
1.2
g
(5%)
Net Carbs:
2.8
g
Protein:
3.5
g
(7%)
Fat:
7.6
g
(12%)
Saturated Fat:
1.1
g
(7%)
Polyunsaturated Fat:
2.6
g
Monounsaturated Fat:
3.6
g
Sodium:
514
mg
(22%)
Potassium:
109.1
mg
(3%)
Sugar:
1.2
g
(1%)
Vitamin A:
149.4
IU
(3%)
Vitamin C:
0.7
mg
(1%)
Calcium:
19.2
mg
(2%)
Iron:
0.7
mg
(4%)
Magnesium:
22.5
mg
(6%)
Zinc:
0.3
mg
(2%)
Posted In: