Keto Ranch Salad Dressing Recipe (0.5g Net Carbs)
An easy Keto Ranch Salad Dressing with only 0.5 grams of net carbs per serving to add the most delicious, creamy garlic herbs flavors to your keto salad.
Bonus, this homemade healthy Keto Ranch Salad Dressing is also lightened up using yogurt and almond milk!
Is Ranch Salad Dressing Keto-friendly?
No, most store-bought ranch dressing recipes contain non-keto ingredients, including sugar, vegetable oil, and buttermilk.
An average store-bought ranch dressing contains 3.5 grams of net carbs per serving of 2 tablespoons.
These are unnecessary carbs from processed ingredients, including sugar, that won't go in favor of your keto lifestyle.
Can You Eat Ranch Salad Dressing On A Keto Diet?
Yes, but not all brands! Some contain added sugar and added canola oils that are not keto-friendly.
Look for a dressing that only has clean ingredients and no added sugar, or make your own keto ranch salad dressing recipe at home.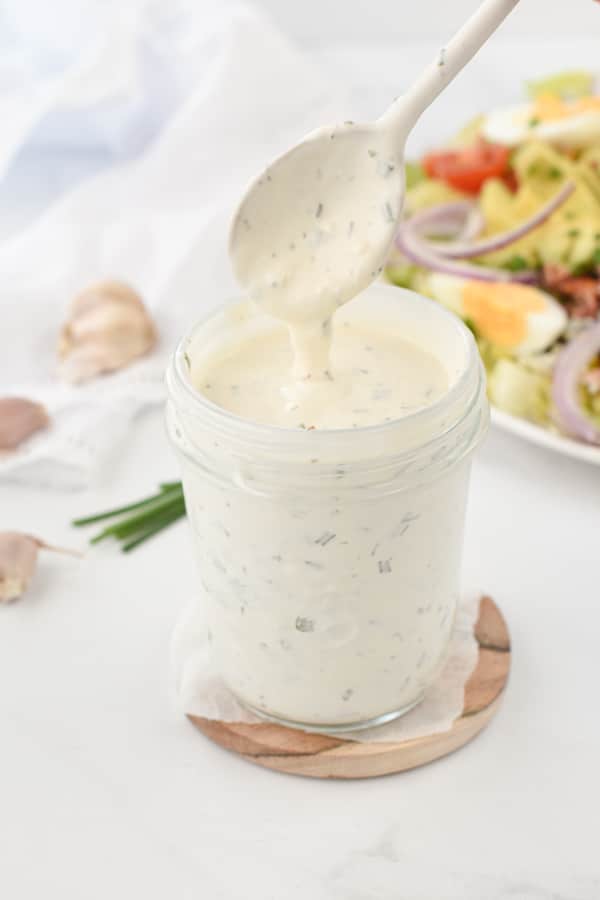 How To Make Keto Ranch Salad Dressing
Great news, it takes only 10 minutes to make homemade keto ranch dressing at home.
So let's see how you can make this easy keto salad dressing.
Ingredients
Mayonnaise – not all mayonnaise brands are keto-friendly. Choose mayonnaise without canola oils or without any vegetable oils. These are non-keto-friendly fats. Instead, use mayonnaise made with avocado oil or olive oil. These are the best mayonnaise choice on your keto journey. Primal Kitchen has a great range of keto-friendly mayonnaise.
Plain Greek Yogurt or sour cream dairy-free plain yogurt like coconut yogurt for a dairy-free option. Learn how to pick keto-friendly yogurt.
Lemon juice
Dried chives
Dried dill
Onion powder
Garlic powder
Unsweetened almond milk for a dairy-free option or heavy cream for a thicker, creamier dressing. Did you know that regular milk isn't keto-friendly?
Salt
Black pepper
Stir And Shake It
It's very easy to make this ranch salad dressing. Simply bring all the ingredients into a glass mason jar.
Then, give it a quick stir with a fork.
Finally, close the lid and shake it like crazy!
I mean vigorously or until all the ingredients come together.
If the sauce is too thick for your liking, add up to 1/4 cup of extra heavy cream or almond milk.
Storage Instructions
This keto ranch dressing stores for up to 1 week in the fridge or slightly more depending on your sour cream or Greek yogurt's best-before date.
Always store the salad dressings in the fridge in a sealed glass mason jar and shake it before serving.
Frequently Asked Questions
How Can I Use Keto Ranch Salad Dressing On A Keto Diet?
This keto salad dressing is delicious with:
Keto chicken salads – try my keto avocado chicken bacon salad with this classic ranch dressing. You will love the combination of creamy sauce and grilled chicken. You can also use it for regular salads like my Kale Quinoa Salad.
Keto chicken wings or keto nuggets.
Crunchy vegetable – use this as a veggies dip for any raw keto vegetables in your dressing like celery sticks, cucumber sticks, or radish.
Can I Freeze My Salad Dressing?
Yes, you can freeze this salad dressing. The best way to freeze your salad dressing is to pop it into an ice cube tray. This way, you can defrost only one serving at a time.
The salad dressing thaws fast at room temperature in a serving bowl or overnight in the fridge.
Can I Fix A Too Thick Dressing?
Simply thin out your ranch dressing by adding more almond milk or heavy cream.
We all have different tastes when it comes to salad dressings, some people love it thick and creamy, and others love their dressing liquid and thin.
Adjust the amount of liquid to fit your palate.
Which Green Goes Well With Ranch Dressing?
Basically, any kind of greens is delicious served with a ranch dressing, including romaine lettuce, rocket, baby spinach leaves, raw broccoli, and more!
Keto Recipes To Eat With Ranch Dressing
Below I listed some of my favorite keto recipes to go with your homemade keto ranch dressing recipe.
Have you made this homemade low-carb ranch dressing recipe? Share a comment or review below. I love to hear your feedback on my recipes,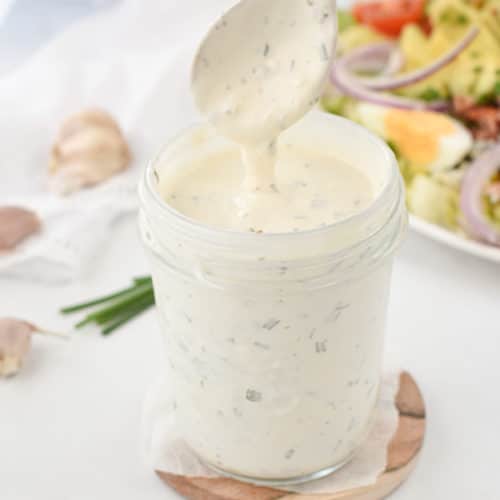 Keto Ranch Salad Dressing
An easy keto ranch salad dressing to add on top of any of your favorite salad.
Yield:
tablespoons (1 cup)
Serving Size:
2
tablespoons
Ingredients
½

cup

Mayonnaise

¼

cup

Greek Yogurt

or sour cream for a tangy flavor

2

teaspoons

Lemon Juice

2

teaspoons

Dried Chives

½

teaspoon

Dried Dill

½

teaspoon

Onion Powder

¼

teaspoon

Garlic Powder

¼

cup

Unsweetened Almond Milk

or Heavy Cream
This recipe may contain Amazon or other affiliate links. As an Amazon Associate I earn from qualifying purchases.
Instructions
Before you start, choose from either the light version, using Greek yogurt and almond milk, or the thicker, creamier option using sour cream and heavy cream.

Bring all the ingredients into a glass mason jar, close the lid and shake vigorously until all the ingredients come together.
Notes
Nutrition panel is for the Greek yogurt and almond milk version
Want My Kitchen Equipment?
Serving Size:
2
tablespoons
Yield:
tablespoons (1 cup)
Serving:
2
tablespoons
Calories:
53.3
kcal
(3%)
Carbohydrates:
0.7
g
Fiber:
0.2
g
(1%)
Net Carbs:
0.5
g
Protein:
0.6
g
(1%)
Fat:
5.4
g
(8%)
Saturated Fat:
0.9
g
(6%)
Trans Fat:
0.1
g
Cholesterol:
3.1
mg
(1%)
Sodium:
51.6
mg
(2%)
Potassium:
22.5
mg
(1%)
Sugar:
0.3
g
Vitamin A:
429.3
IU
(9%)
Vitamin B12:
0.1
µg
(2%)
Vitamin C:
4.3
mg
(5%)
Vitamin D:
0.1
µg
(1%)
Calcium:
15.3
mg
(2%)
Iron:
0.2
mg
(1%)
Magnesium:
4.3
mg
(1%)
Zinc:
0.1
mg
(1%)
Posted In: