This Cast iron chicken breast is an easy healthy way to cook chicken breast in less than 20 minutes for dinner.
Plus, this recipe requires only five ingredients, and it's easy to make by anyone.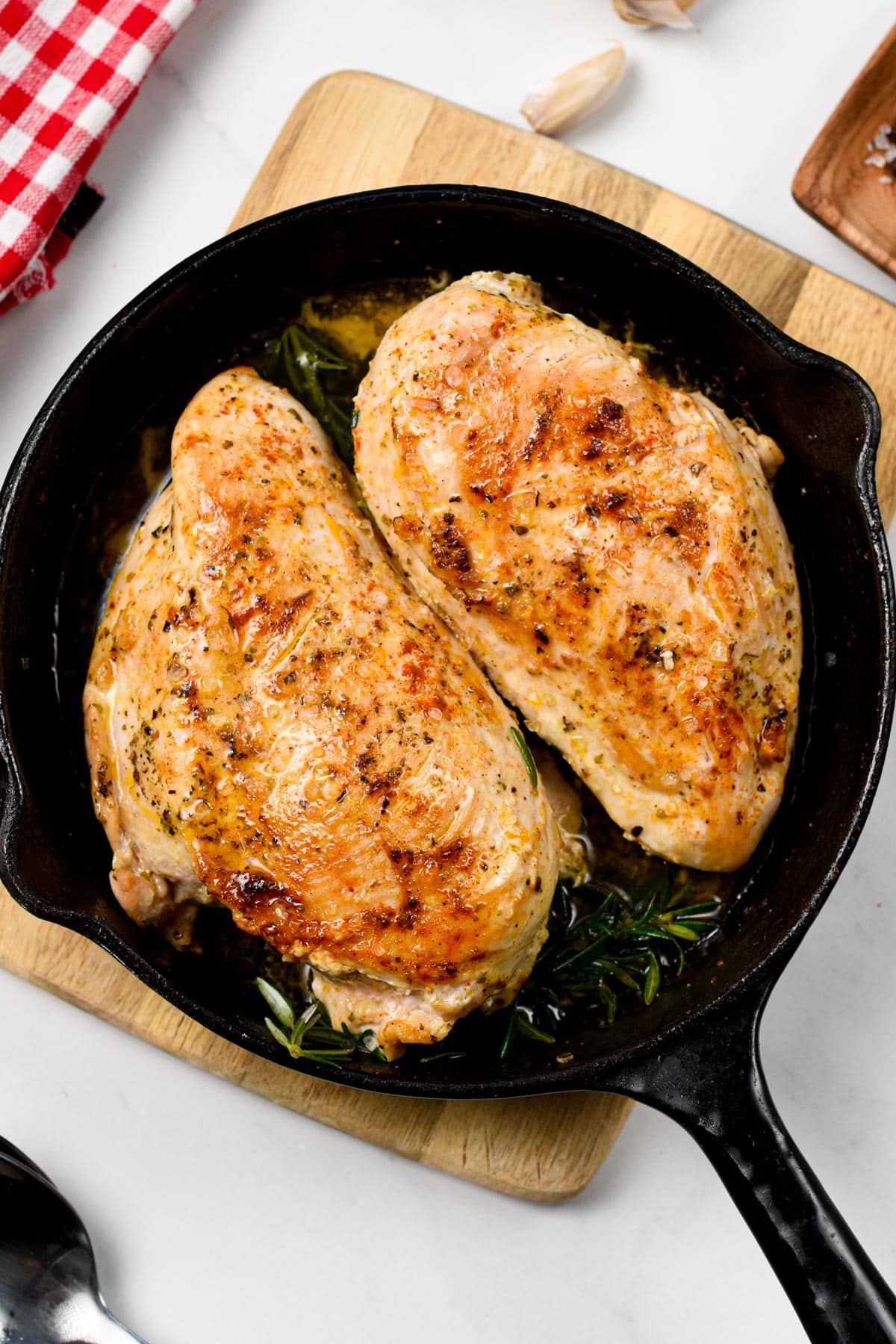 I am a big fan of cooking food in a cast-iron skillet for so many reasons.
Not only the flavor it adds to meat or vegetables, but also the color and added iron that transfers from the pan is a plus.
What's A Cast Iron Chicken Breast?
This Cast Iron Chicken Breast Recipe is exactly what it says on the label! Chicken breasts cooked in a cast iron skillet.
The secret to a perfect chicken breast is in the marinade and the cooking temperature.
This is one of my favorite easy chicken dinner recipes. A cast-iron skillet chicken breast recipe with delicious Mediterranean spices.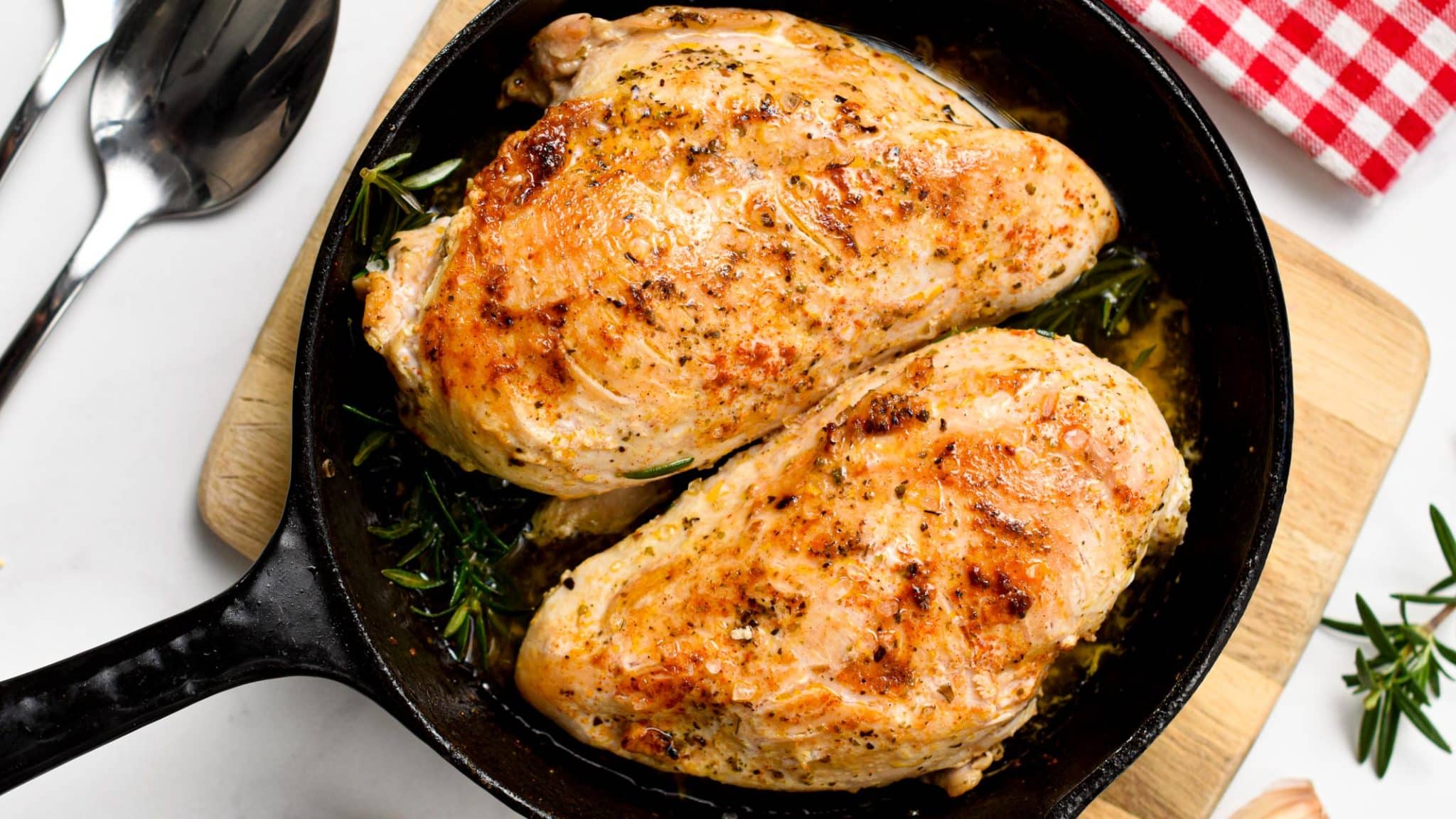 How To Make Cast Iron Chicken Breast
It's very easy to cook chicken in a cast iron skillet as soon as you follow some simple tips.
First, let's see the ingredients you need for this cast iron recipe.
Ingredients
Below are the ingredients you need to marinate the chicken. Of course, you can also use different spices or my lemon pepper chicken marinade or Greek Chicken Marinade for a different flavor.
Chicken Breast – The thicker, the longer it takes to cook through, so make sure both breasts have the same weight and thickness, so they cook evenly. I prefer boneless skinless chicken breasts, but you can also make the recipe with skin-on breasts.
Salt and Pepper
Dried Paprika
Garlic Powder
Onion Powder
Italian Seasoning
Olive Oil
Fresh Rosemary or other fresh herbs.
Butter or dairy-free butter or coconut oil for a dairy-free option
Preheating The Oven
The trick to making the best cast-iron meat is to pop the cooked chicken breast in the oven at the end on grill mode.
So preheat the oven to 350°F (180°C) on the grill heat mode so the meat will grill but still cook in your oven.
Prepare the chicken by placing it on a paper towel and pat drying it to remove excess moisture.
Season Chicken Breasts
The first step to cooking any meat in a cast iron skillet is seasoning.
In a small bowl, whisk olive oil, salt, pepper, paprika, and Italian seasoning. Rub the chicken breast with the mixture on both sides.
Warming The Cast Iron
Now that the meat is ready to be cooked, pre-warm the skillet over medium-high heat for a few minutes with half a tablespoon of olive oil rubbed all around.
Cooking Chicken Breast
Next, add the marinated chicken breast to the well-seasoned cast iron skillet and bake it for about 2 minutes before turning the meat.
If you have seasoned the cast iron skillet properly, the meat should not stick at all.
Repeat this step on the other side, cooking the breast for 2 more minutes.
Reducing The Heat
Now that meat is grilled on both sides, reduce to low, medium heat, foil the skillet or add a lid and cook until the meat is no longer pink in the middle.
Testing Temperature
The best way to make the perfect chicken breast in a cast iron skillet is to use a meat thermometer. Insert in the center of one of the breasts, it should be around 165°F (74°C).
When it reaches this temperature, stop the heat and remove the pan from the burner.
Broiling
Finally, remove the foil from the skillet and add a teaspoon of butter on top of each chicken breast.
Pop the cast iron pan on the top rack of the in the preheated oven and broil for 6 to 8 minutes.
Check often, as you want the breast to be grilled on top but not burn. The butter should melt and help the meat grill.
Serving Chicken Breast Cast Iron Recipe
This taste like grilled chicken breast with lovely Italian seasoning, so they marry very well with some vegetable side dish like:
But also, you can use these chicken breasts in slices and serve them as a filling for sandwiches, my homemade flour tortilla recipe, or tacos.
Best Sauces For Chicken
This chicken breasts recipe is also delicious served with some dipping sauce like:
Storage Instructions
This chicken breast recipe is perfect for the meal prep of a week of healthy lunch or dinner.
In fact, you can store the cooked cast iron chicken breast in a sealed container in the fridge along with your favorite sides for up to 3 days.
Or, you can freeze the container and thaw it in the fridge the day before serving.
It makes a convenient on-the-go lunch for work, and you can easily rewarm in a microwave, on a plate, or microwave-safe container.
Allergy Swaps
If you have some allergy to any of these ingredients, you can try some of the alternatives below:
Olive Oil Swap – Any high smoke point oil works, including avocado oil or grapeseed oil.
Dairy-Free – You can replace the butter with coconut oil, refined coconut oil won't add any coconut flavor to the meat. Or, pick your favorite dairy-free butter.
Spice Swaps – Feel free to swap the Italian seasoning for dried herbs you love, like oregano, thyme, and marjoram. You can also swap the paprika for smoked paprika to add a smoky flavor to your meat or use an Indian curry powder for a curry flavor like turmeric, curry powder, or garam masala.
Frequently Asked Questions
Below are the most common answers about this easy cast iron skillet recipe:
Can I Use Chicken Thighs With This Recipe?
Absolutely but use a skinless, boneless chicken thigh and watch the cooking time closely as they cook faster than breasts.
What Cast Iron Size Should I Use?
It really depends on how many chicken breasts you want to cook at once.
Mine is an 8-inch skillet (20cm), and I can fit 2 chicken breasts. You can double or triple this recipe and use a large skillet with the same great results.
Can I Skip The Oven Step?
You don't have to broil the chicken in the oven, but it's highly recommended for crispy skin on your chicken breast.
If you don't have an oven, keep cooking on the stove, but the meat will be softer and won't be as crispy on the top.
Why Is Chicken Sticking To My Cast Iron Skillet?
This can happen for a few reasons.
It can be that your skillet is not properly seasoned, and you don't have enough seasoning layers in the pan.
Should I Pan Sear Chicken Before Baking?
No, it's not necessary. You'll get all the taste and texture from oven baking as long as the internal temperature reaches 165-180°F (73-82°C).
Is Cast-Iron Chicken Breast Gluten-Free?
Yes, this cast iron chicken breast is made with no gluten-containing ingredients.
What Is The Secret To Juicy Chicken Breast?
There are a few secrets to making perfectly juicy chicken breast.
First, the marinade is essential. It moisturizes the chicken and some of the juices penetrates the meat.
Then, adding butter on the meat before broiling keeps the moisture tucked in.
Is There Iron In Chicken Breast?
One 3.5-ounce serving of chicken breast contains 1mg of iron, or 6% of the recommended daily value.
However, cooking anything in a cast-iron skillet has been found to naturally bring iron and increases blood hemoglobin (source).
More Chicken Recipes
Below I listed some more chicken recipes for you to try.
Did you try this chicken breast in a cast iron recipe? Share a comment or review below.
Cast Iron Chicken Breast
This Cast iron chicken breast is an easy healthy way to cook chicken breast in less than 20 minutes for dinner. Plus, this recipe requires only 5 ingredients.
Nutrition Snapshot
Want My Kitchen Equipment?
Instructions
Make sure the skillet is properly seasoned (oiled) before starting the recipe, or the meat can stick to the skillet.

Pre-warm the skillet on medium-high heat.

Preheat the oven to 350°F (180°C) on the broiling mode.

In a small mixing bowl, stir all the marinade ingredients: olive oil, garlic powder, paprika, Italian seasonings, salt, and pepper.

Rub each chicken breast with the marinade on both sides.

Place both chicken breasts in the hot skillet and cook for 2 minutes then flip and cook for 2 extra minutes.

Reduce to low-medium heat, and add the two rosemary strands on the sides of the chicken in the skillet. Foil the skillet and keep cooking until the meat is cooked in the center and reaches 165°F (74°C) and the meat is no longer pink in the middle. Depending on the thickness of your meat, it can take between 6-10 minutes.

Remove foil and place one teaspoon of butter on top of each breast.

Place the skillet on the top rack of the oven for 4-8 minutes on broil mode, until meat is grilled on top. Check often and remove as soon as the meat is grilled.
My Recipe Notes
Nutrition
Serving:
1
serving
Calories:
180.3
kcal
(9%)
Carbohydrates:
0.8
g
Fiber:
0.4
g
(2%)
Net Carbs:
0.4
g
Protein:
18.2
g
(36%)
Fat:
11.3
g
(17%)
Saturated Fat:
2.8
g
(18%)
Polyunsaturated Fat:
1.2
g
Monounsaturated Fat:
6.3
g
Trans Fat:
0.1
g
Cholesterol:
59.8
mg
(20%)
Sodium:
260.8
mg
(11%)
Potassium:
336.1
mg
(10%)
Sugar:
0.1
g
Vitamin A:
343.1
IU
(7%)
Vitamin B12:
0.2
µg
(3%)
Vitamin C:
1
mg
(1%)
Vitamin D:
0.1
µg
(1%)
Calcium:
14.6
mg
(1%)
Iron:
0.7
mg
(4%)
Magnesium:
24.7
mg
(6%)
Zinc:
0.5
mg
(3%)
Posted In: