Smoked Gouda Mac and Cheese
Are you looking for a delicious and easy way to make Smoked Gouda Mac and Cheese at home?
If so, you are in the right place! In this post, I will show you how to prepare this cheesy and smoky dish using simple ingredients and a smoker. You will love the creamy text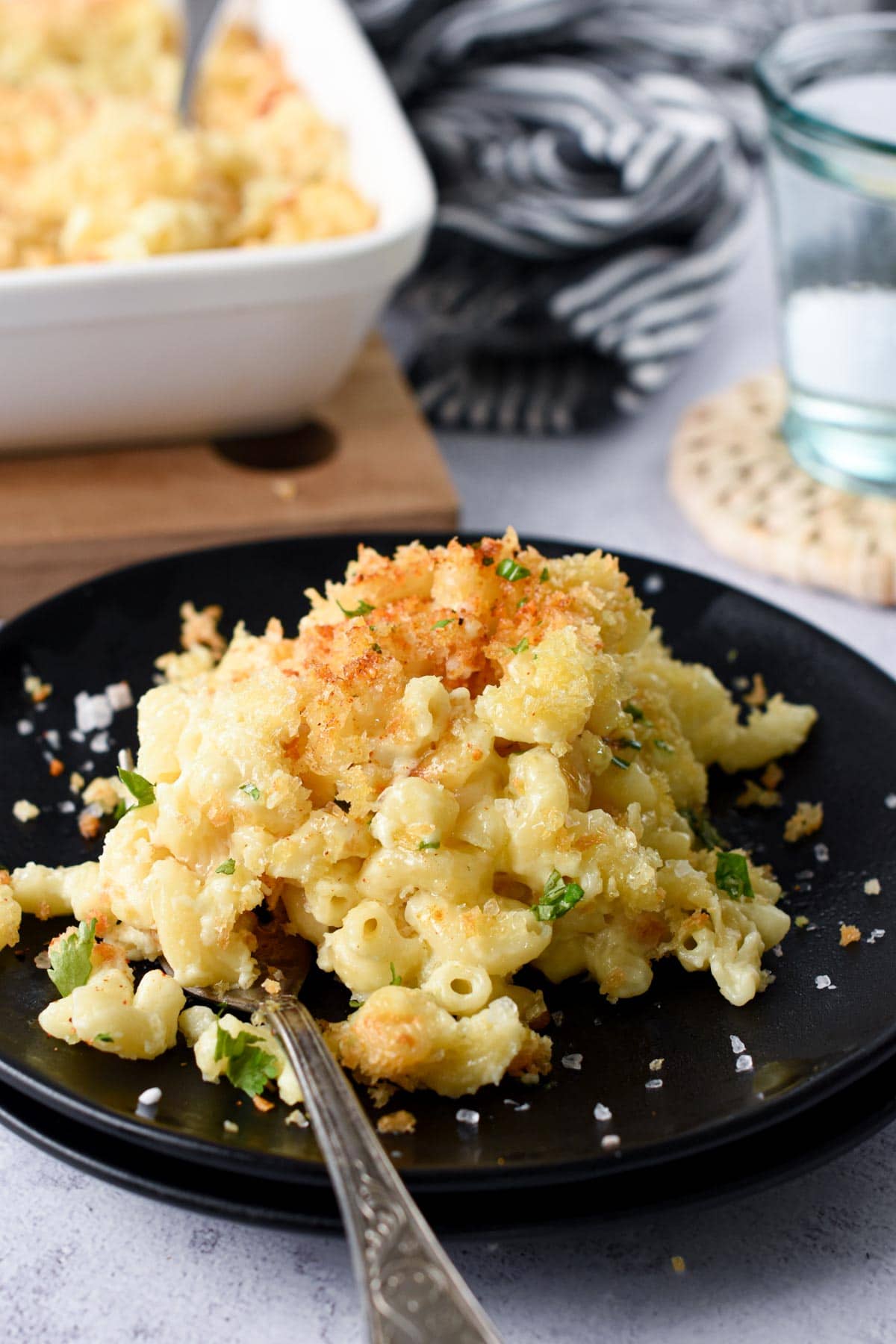 What Is Smoked Gouda Mac And Cheese?
Smoked Mac And Cheese is the smoked version of the classic Mac And Cheese casserole made with Smoked Gouda.
It's the same cheesy dish but with a raft of smoked flavors to give it a completely different and surprising taste.
While the base version is delicious, you can supercharge it with Smoked Bacon for a Smoked Bacon Mac and Cheese.
Why You'll Love This Recipe
If you love mac and cheese, smoked mac and cheese is a must-try as a comforting summer side dish to your grilling. It's also:
Made in 15 Minutes of Preparation
Low-Carb Option
Keto Option
Gluten-Free Option
Vegetarian
How To Make Smoked Gouda Mac And Cheese
This smoked macaroni and cheese casserole is a fantastic comforting family dinner to add a smoky flavor to your classic cheesy pasta casserole.
Ingredients
Let's see what you need to make a smoky cheese casserole:
Elbow Macaroni – Macaroni is small pasta that you can be made with wheat (the classic pasta), with low-carb ingredients (pea protein, egg whites), or even with zero-carb ingredients such as Konjac noodles.
Milk of Choice – full-fat milk works better, or you can also use half and half. You can also use high-fat dairy-free milk.
Cream Cheese – cream cheese brings a ton of creaminess.
All-purpose Flour – or sunflower seed flour for a lower-carb option.
Salt & Black Pepper
Shredded Smoked Gouda Cheese – You can also use sharp Cheddar Cheese, regular Gouda Cheese, Colby Cheese, Parmesan Cheese, or Emmental. I recommend shredding the cheese yourself for a full flavor. Pre-shredded cheese brings less cheesy flavors.
Mac And Cheese Toppings
This is optional but delicious. Melt the butter, and stir with panko crumb, onion powder, salt, and garlic powder.
Panko breadcrumb
Melted butter
Onion powder
Garlic powder
Pinch of salt
Sprinkle the crumb on top of the dish before smoking or baking.
Cooking The Pasta
The trick to making a delicious smoked casserole is undercooking the pasta, or cooking them until al dente.
Follow the time recommended on your pasta packaging to do so.
Depending on the pasta variety you use, the timing varies. You can use any elbow pasta:
Low-carb pasta
Gluten-free pasta
Regular pasta
Bring water to a boil and cook the pasta with a pinch of salt and a drizzle of olive oil.
When the pasta is cooked, drain it over a sieve and wait 10 minutes before using it in the recipe.
Making The Sauce
Meanwhile, make the Mac n Cheese sauce.
In a large saucepan, melt butter, then stir in the flour. Stir with a spoon over medium-low heat until the mixture forms a roux. A roux is when pieces of flour and butter start to crumble.
Add the milk gradually and whisk to combine and create a thick sauce.
When the white sauce has thickened, add the grated cheese, salt, and pepper, stirring over medium heat until the cheese is melted.
Sprinkle some additional flavoring to the sauce, like onion powder, garlic powder, or salt and pepper.
Always taste the sauce and adjust salt if needed before assembling the casserole.
Smoker-Safe Pan
Select an oven-safe pan made from glass, ceramic, or cast iron pan.
A 9-inch x 13-inch pan is excellent for this recipe, but you can also use a 12-inch (30 cm) skillet.
Assembling The Mac And Cheese Casserole
Return the drained cooked macaroni noodles to the large pot you used to cook them.
Pour the white sauce on top, and stir to combine. Pour in the cast iron skillet or baking dish you choose.
Sprinkle panko bread crumbs on top of the dish.
To turn this Smoked Mac n Cheese into a Smoked Bacon Mac And Cheese, add pan-fried diced bacon to the dish.
Smoking The Casserole
First, preheat the smoker or grill to 225°F (110°C). Use mild wood chips you like in the tray. I recommend using applewood, cheery, or pecan chips, or it enhances the cheese flavor in the dish.
If your smoker can't reach high temperatures, the recipe will work well but requires a longer smoking time to get flavorsome.
Smoke the casserole for about 1 hour in indirect heat or until a delicious smoke flavor develop in the dish.
Don't over-smoke the casserole or the sauce dries out.
Tips For The Best Smoked Mac And Cheese
Making this recipe is relatively straightforward, but if you follow these 5 tips below, you're sure they'll be perfect every time!
Cook your pasta just to al dente, so it doesn't get mushy in the smoker.
Use mild-flavored wood chips or pellets, such as applewood, cherry or pecan, to avoid overpowering the cheese flavor.
Keep your smoker temperature low and consistent, around 200 to 225°F (100°C to 110°C), to infuse the smoke flavor without drying out the dish.
Use a cast iron skillet or a disposable aluminum pan for easy transfer and cleanup.
Use freshly shredded cheese instead of pre-shredded cheese, as it melts better and has less additives.
Serving
This smoked Mac And Cheese is perfect served as a side dish to grilled meat, fish, or roasted vegetables.
My favorite options are:
You can add fresh chopped parsley or dill on top of the dish before serving.
The dish can also be supercharged with a drizzle of Dijon mustard, Bearnaise sauce, or by making your own sauce:
Storage Instructions
Store your smoked mac'n cheese leftovers in an airtight container in the fridge for up to 3 days.
You can also freeze individual portions in the freezer for up to 3 months in sealed containers.
Frequently Asked Questions
Find below my answers to the most common questions about smoked mac and cheese.
Can I Bake Mac And Cheese?
You can use this recipe in your oven to make baked mac and cheese casseroles.
Bake the dish at 350°F (180°C) for 25 to 30 minutes in the center rack of the oven.
How Can I Add Smoky Flavor Without A Smoker?
Use smoked grated cheese in the recipe, like smoked gouda or smoked cheddar, or add drops of smoked sauce in the mac n cheese sauce.
Bake the recipe as per the recipe below, or smoke for double smoky flavors.
Can I Make This Recipe Low-Carb?
Yes, use low-carb pasta in the recipe and swap the panko crumb for low-carb breadcrumbs like crushed pork rinds.
You can also skip flour in the sauce and balance the texture by adding more cream cheese.
How Long Do You Smoke Mac And Cheese?
It takes about one hour to smoke a mac and cheese casserole when the casserole is already cooked.
What Wood Is Best For Smoked Mac And Cheese?
The best woods to use for smoking a Mac And Cheese are Apple wood, Cherry, Maple, or even Pecan Chips. They are the woods that bring the best flavors.
More BBQ And Smoker Recipes
Below are some more recipes for using your smoker or barbecue this summer.
Have you tried this mac and cheese recipe? Feel free to share a comment or review below to let me know how it goes.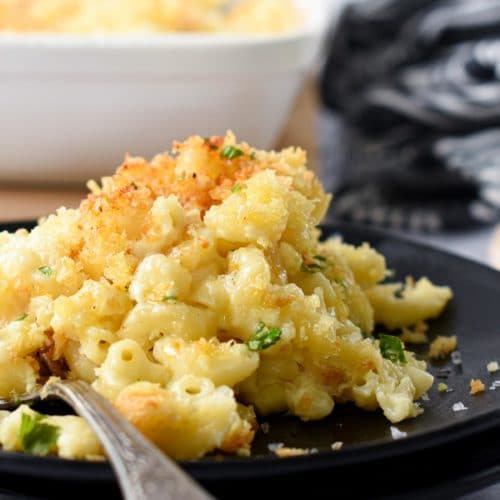 Smoked Gouda Mac And Cheese
This Smoked Gouda Mac and Cheese is a smoky, cheesy pasta casserole perfect to use your smoker and turn your classic family dinner into a flavorsome dinner.
Nutrition Snapshot
Want My Kitchen Equipment?
Instructions
In a large pot, cook the pasta until al dente – follow the packaging instructions for timing.

Drain over the sink in a sieve, and set aside 10 minutes to steam out.

Preheat smoker at 225°F (110°C) using applewood or pecan chips.

Slightly oil a smoker-friendly dish – ceramic, glass, or a 12-inch skillet is great for this recipe. Set aside.

In another large pot (size that fits the cooked pasta), melt butter, stir and cook flour with a wooden spoon until a crumble of flour forms – takes about 1 minute. This is the roux.

Add about 1 cup of milk, and whisk on medium heat, until the milk dissolves the pieces of flour/butter.

Keep adding milk and whisking until the sauce slightly simmers on the side of the pan and thickens. It takes about 3-5 minutes.

Add salt, pepper, and cream cheese and keep stirring until melted and combined.

Reduce to low heat, stir in cream cheese, and shredded smoked gouda cheese and stir with a wooden spoon until it has melted.

Taste the sauce and adjust it with salt if needed.

Pour the cooked pasta into the pot and stir in the sauce until evenly coated.

Pour the mac and cheese onto the prepared baking dish or skillet.

In a small bowl, mix melted butter, salt, onion powder, garlic powder, and panko crumb.

Sprinkle all over the mac n cheese dish.

Smoke on indirect heat for 1 hour. Taste and smoke for longer to increase the smoky flavors but don't exceed 90 minutes or the pasta will get too soft.
Storage
Store leftover in airtight containers in the fridge for up to 3 days or freeze up to 3 months in sealed containers.
My Recipe Notes
Nutrition
Serving:
1
plate
Calories:
439.6
kcal
(22%)
Carbohydrates:
34.2
g
(11%)
Fiber:
1.3
g
(5%)
Net Carbs:
32.9
g
Protein:
17.9
g
(36%)
Fat:
25.7
g
(40%)
Saturated Fat:
14.9
g
(93%)
Polyunsaturated Fat:
1.2
g
Monounsaturated Fat:
6.2
g
Trans Fat:
0.3
g
Cholesterol:
75.4
mg
(25%)
Sodium:
712.1
mg
(31%)
Potassium:
250.1
mg
(7%)
Sugar:
5.6
g
(6%)
Vitamin A:
827.5
IU
(17%)
Vitamin B12:
1.1
µg
(18%)
Vitamin C:
0.1
mg
Vitamin D:
1.1
µg
(7%)
Calcium:
399
mg
(40%)
Iron:
1
mg
(6%)
Magnesium:
39.8
mg
(10%)
Zinc:
2.3
mg
(15%)
Posted In: