Lemon Pepper Chicken Tenders
These Baked Lemon Pepper Chicken Tenders are juicy, healthy chicken tenders baked in a lemon olive oil juice for a tangy flavor.
What Are Lemon Pepper Chicken Tenders?
Lemon Pepper Chicken Tenders are delicious chicken tenderloins marinated in a tangy lemon pepper marinade and baked in the oven.
They are super juicy pieces of meat that are the perfect main for a salad or for a side of roasted vegetables.
Why You'll Love This Recipe
This recipe is amazing because it makes delicious juicy tenders, but it's also:
Gluten-Free
Low-Carb
Keto-Friendly
Grain-Free
Nut-Free
Ready In Under 30 Minutes
How To Make Lemon Pepper Chicken Tenders
This recipe is simple and amazing. Let's have a look at the key ingredients you need:
Key Ingredients
Chicken Tenderloins – Tenderloins are the best cut for this recipe, but you can also use chicken breast or even chicken thighs.
Lemon Pepper Marinade – make my Lemon Pepper Chicken Marinade or Chicken Marinade for marinating the chicken tenders.
Chicken Stock – or vegetable stock, pick what you have!
Lemon – this recipe uses fresh lemons to make slices and to extract some of the zest.
Paprika – you can also use smoked paprika or cajun spices.
Ground Black Pepper – or ground white pepper.
Black Peppercorn – if you don't have peppercorn, add some more ground pepper.
Cooking The Tenderloins
Once you've made the marinade, place the chicken tenderloins in a large 9-inch x 13-inch baking dish in a single layer. If you overlap them, they will take much longer to cook.
Pour the marinade on the chicken tenders and massage the meat with your fingers to fully coat them.
Seal the baking dish with a lid or with plastic wrapping and place the dish in the refrigerator for at least 30 minutes and up to 12 hours to let the meat tenderize.
Preheat the oven to 400°F (200°C) when you're ready to cook the meat.
Take the dish with the tenderloins out of the fridge and remove the lid or plastic wrap.
Pour the chicken stock on top of the tenders and sprinkle some paprika (or your favorite spices), lemon zest, ground black pepper, and black peppercorn.
Distribute 6 slices of lemon on top of the chicken tenders.
Bake the Lemon Pepper Chicken Tenders for 10 minutes at 400°F (200°C).
Baste the chicken tenders with the juice by using a large spoon.
Keep baking for another 10 to 15 minutes at which point the chicken should be tender and juicy.
Cooking chicken is similar to cooking steaks, you need to reach a certain temperature at the core of the meat to ensure proper cooking.
For Chicken, you need to reach 165°F (74°C) for it to be cooked through. You can use a meat thermometer for that.
Serving Lemon Pepper Chicken
Serve the Lemon Pepper Chicken Tenderloins with a side of:
Sauce To Serve
This baked lemon chicken is even more delicious if served with creamy sauce on the side like:
Storage Instructions
You can store the cooked chicken tenders for up to 3 days in the fridge in an airtight container.
It's also possible to freeze cooked tenderloins in individual containers for up to 3 months.
Rewarm your chicken tenders in the microwave for 2 minutes or in a frying pan using the sauce as oil.
You can also pop them back into the oven for 5 minutes.
Frequently Asked Questions
Can I Use Chicken Breast?
Yes, you can swap the chicken tenders for chicken breast or even for chicken thighs. What matters the most is the marinade!
Chicken breast and thighs might need an additional 5 to 10 minutes of cooking as the meat is thicker.
How To Cut Chicken Breast Into Tenders?
To cut chicken breast into tenders, place the meat on a chopping board lengthwise and slice thin tender-shaped pieces of meat.
Make sure to cut in the same direction as the muscle fibers.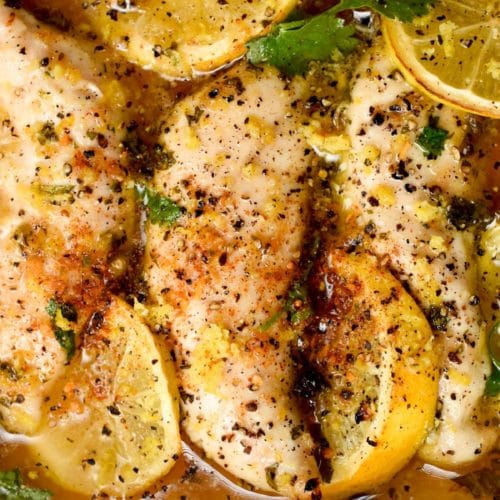 Lemon Pepper Chicken Tenders
These Lemon Pepper Chicken Tenders are easy juicy chicken pieces delicious as topping to salad or meals with grilled vegetables.
Nutrition
Want My Kitchen Equipment?
Instructions
In a large 9-inch x 13-inch baking dish, add the chicken tenderloins next to each other, don't let them overlap. Pour the lemon pepper marinade on top. Massage the chicken tenderloins to coat them evenly. Film the dish, and refrigerate from 30 minutes to 12 hours to tenderize the meat.

Preheat the oven to 400°F (200°C).

Remove the baking dish from the fridge, remove the plastic wrap and pour chicken stock on top of the chicken tenders.

Sprinkle paprika, lemon zest, ground black pepper, and peppercorn on top of the chicken tenders.

Add slices of lemons around the chicken if desired.

Bake in the center rack of the oven for 10 minutes. Baste the chicken with the juice, and keep baking for 10-15 minutes, or until the chicken is tender and cooked in the center – you can insert a thermometer in the center of the meat. If it shows 165°F (74°C) means it's cooked through. Don't over bake or the meat becomes dry.

Taste the sauce, add more salt, ground black pepper, and finely fresh chopped Italian parsley to serve.
My Recipe Notes
Nutrition Facts
Lemon Pepper Chicken Tenders
Amount Per Serving (1 serving)
Calories 295.4
Calories from Fat 136
% Daily Value*
Fat 15.1g23%
Cholesterol 102.2mg34%
Sodium 654.8mg28%
Potassium 685.2mg20%
Carbohydrates 4.6g2%
Protein 34.8g70%
Net Carbs 3.6g
Vitamin A 475.1IU10%
Vitamin B12 0.3µg5%
Vitamin C 16.1mg20%
Vitamin D 0.2µg1%
Calcium 30.2mg3%
Iron 1.2mg7%
Magnesium 49mg12%
Zinc 1.1mg7%
* Percent Daily Values are based on a 2000 calorie diet.