Keto French Fries (4 Ingredients)
Keto French Fries, also known as Rutabaga Fries or Turnip Fries, are the best keto substitute for French fries on a keto diet.
They are delicious gluten-free baked fries alternative to potatoes, slightly softer but with only 6 grams of net carbs per serving, or 5 times fewer carbs than regular French fries.
Can You Eat French Fries On Keto?
No, you can't eat regular French fries from your favorite fast food or grocery store. French fries are made from potatoes, a high-carb vegetable that will convert into sugar in your bloodstream, keeping you out of ketosis.
But luckily, you can make Keto French fries using rutabaga or turnip, lower-carb vegetables.
What Are Rutabagas?
Rutabagas have many names. In many Commonwealth countries, like here in New Zealand, we call them swedes. It refers to the same vegetables with the same nutritional values as rutabagas.
However, there's also another keto-friendly vegetable similar to rutabagas called turnip. Let's see how they differ and which one is the best to make keto fries.
How To Make Keto Fries
It's very easy to make keto French fries with only 4 ingredients. There are two keto-friendly vegetables that make delicious keto-friendly alternatives to French fries: Rutabaga or Turnip.
Both work the same and basically bake at the same speed. Feel free to use the vegetable you found in your local store.
Ingredients
All you need to make rutabaga fries are:
Rutabaga – it looks like a large white ball with shades of purple. As mentioned above, you can make baked turnip fries using this recipe, turnip is smaller than rutabaga, but they bake at the same speed. Remember that rutabagas have a sweet flavor, so if you prefer a neutral flavor, chose turnip.
Light olive oil – or avocado oil.
Smoked Paprika – that's the magic ingredient to make these keto fries so tasty.
Garlic powder
Preparing The Vegetable
First, peel the thick outer skin of your rutabaga using a veggie peeler. Next, trim both ends and cut the vegetable into 1/4 inch slices. You should have circular slices of vegetables.
Finally, place the circle on a chopping board and slice 1/4 inches matchsticks. Set aside in a bowl.
Coating
In another bowl, combine the coating ingredients: oil, salt, garlic powder, and paprika.
Pour the coating onto the fries, and toss to cover each matchstick evenly.
Baking The Keto Fries
You have two options to bake keto fries made rutabagas or turnip.
Oven-baked Fries
Cover a large baking sheet with parchment paper and arrange the fries on the rack, leaving some space between each fry to make sure they don't overlap.
Bake in preheated oven at 430°F (220°C) for 30 minutes. Then, switch the oven to broil mode and keep baking for 5-10 minutes until the fries are soft in the center and slightly crispy on top.
Add an extra pinch of garlic salt or regular salt and pepper just before serving, if desired.
Air Fryer Method
Air frying keto fries is great but time-consuming. Indeed, all the fries won't fit in the basket, so you will have to work in batches.
Since these keto fries with rutabagas soften really fast, you will have a batch ready in 30 minutes.
But then have to wait another 30 minutes to get the next batch which is not convenient if you want to serve a large portion.
For the air fryer method, lay the fries in an air fryer basket, make sure the fries don't touch each other, and air fry at 430°F (220°C) for 30 minutes.
Serving Keto Fries
These keto fries are a great side dish to keto lettuce burgers, grilled meat, a steak marinated with my 3-Ingredient Steak Marinade, Air Fryer Green Beans, or as a quick fries craving fix!
The best sauce to dip your keto fries are:
Mayonnaise
Dollop sour cream
Dijon mustard
Storage Instructions
These keto fries soften very quickly, after 10 to 20 minutes.
You can store them in the fridge in an airtight container and rewarm in a hot oven at 400°F (200°C) for 10 minutes and then broil them for a few minutes to bring back some texture.
Frequently Asked Questions
Can I deep fry rutabaga fries?
You can deep fry rutabaga fries for 6-8 minutes. However, rutabagas fries become very oily if deep-fried, so it's not my favorite method.
How Do Keto Fries Taste?
Keto fries with turnip have a mild flavor, but rutabagas fries are a bit sweet.
These keto fries are softer than potato fries because they don't contain starch and, therefore, carbs that will raise your blood sugar level.
Are turnip and rutabagas the same?
They are from the same family of root vegetables with pretty similar nutritional properties.
Swedes or rutabagas are bigger than turnips with thicker skin and with a yellowish skin and sweeter flavor. Turnips are smaller, with smoother skin and whiter flesh, and a lighter flavor.
Can I Use Another Low-Carb Vegetable?
If you miss a side to your keto burger, you can replace French fries with other keto-friendly Fries recipes like:
– Keto zucchini fries – baked fries made of zucchini.
– Jicama fries – made from jicama, a low-carb root vegetable.
– Keto cheese sticks – technically not fries, but if you miss a side to your keto burger, a mozzarella stick is often a great deal.
Rutabaga Nutrition
100 grams of rutabaga contain:
38 kcal
9 grams of total carbs
2.3 grams of fiber
6.7 grams of net carbs
1.1 grams of protein
0.2 grams of fat
Turnip Nutrition
28 kcal
6 grams of total carbs
1.8 grams of fiber
4.2 grams of net carbs
0.9 grams protein
0.1 grams of fat
In the kitchen, turnip and rutabagas are interchangeable. It means that you will achieve the same delicious keto fries using one or the other vegetable.
From a net carbs point of view, turnip contains 2.5 grams less net carbs per 100 grams than rutabagas, so if you can find turnip in store, it saves you a few net carbs per serving!
The flavor of turnip fries is also less sweet than rutabaga fries.
More Keto Side Dish Recipes
If you like these low-carb fries, you'll love these: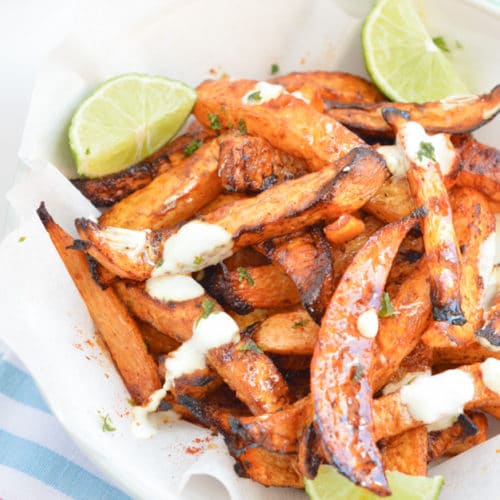 Keto French Fries with Rutabaga
Oven-baked keto French Fries with Rutabaga. A low-carb healthy French fries alternative recipe to regular fries.
Yield:
portions (3.5oz/100g each)
Serving Size:
1
portion (3.5 oz)
Ingredients
2

Rutabagas

medium size, about 28 oz or turnip
Coating
¼

cup

Extra Virgin Olive Oil

or avocado oil

1

teaspoon

Ground Smoked Paprika

up to 2 teaspoons for a strong paprika flavor

½

teaspoon

Garlic Powder

½

teaspoon

Salt

adjust more to taste
This recipe may contain Amazon or other affiliate links. As an Amazon Associate I earn from qualifying purchases.
Instructions
Preheat the oven to 430°F (220°C). Lay a large baking tray with parchment paper. Set aside.

Wash the rutabaga, peel off the thick skin, and using a sharp knife remove both ends. Discard.

Cut the rutabagas into 1/4 inch matchsticks. The easiest way is first to cut slices and then cut each slice into sticks of 1/4 inches. Set aside in a large mixing bowl.

In a small mixing bowl, combine olive oil, salt, garlic powder, and paprika. Pour onto the bowl with fries.

Toss the rutabagas matchsticks with your hands or a spoon until all fries are evenly covered.

Arrange the fries onto the baking tray, leaving half an inch of space between each fry.

Bake the fries for 30-40 minutes or until the center of the fries has softened.

Turn the oven to broil mode and broil for 5-10 minutes to add a light crisp to the fries.

Note that these fries must be enjoyed straight away as they soften fast.
Storage
Store leftover in a sealed container in the fridge and rewarm in 400°F (200°C) oven for 5-10 minutes.
Notes
Net carbs for 1 serving of Turnip fries, 3.5 oz/100 gram per serving, sauce not included.
Want My Kitchen Equipment?
Serving Size:
1
portion (3.5 oz)
Yield:
portions (3.5oz/100g each)
Serving:
1
portion (3.5 oz)
Calories:
96.1
kcal
(5%)
Carbohydrates:
8.5
g
(3%)
Fiber:
2.3
g
(10%)
Net Carbs:
6.2
g
Protein:
1.1
g
(2%)
Fat:
6.9
g
(11%)
Saturated Fat:
1
g
(6%)
Sodium:
11.9
mg
(1%)
Potassium:
300.1
mg
(9%)
Sugar:
4.3
g
(5%)
Vitamin A:
125.1
IU
(3%)
Vitamin C:
24.1
mg
(29%)
Calcium:
42.1
mg
(4%)
Iron:
0.5
mg
(3%)
Magnesium:
19.7
mg
(5%)
Zinc:
0.2
mg
(1%)
Posted In: