This Steamed Cauliflower recipe is an easy 15-minute recipe, perfect as a low-carb keto-friendly side dish or light dinner.
Is Cauliflower Keto?
Cauliflower is a low-carb keto-friendly vegetable perfect to use as a swap to flour in cauliflower pizza crust or as a potato replacement in cauliflower potato salad.
It contains only 1.7 grams of net carbs per 100 grams once cooked which is lower than most vegetables.
Why You'll Love This Recipe
Steamed cauliflower is the best low-calories side dish naturally:
Dairy-Free
Egg-Free
Vegan
Vegetarian
Paleo
Low-Carb
Keto
How Long Does It Take To Steam Cauliflower?
It only takes 8 minutes to steam cauliflower florets and make the most delicious tender cauliflower bites.
All you need to add flavor to the steamed cauliflower are:
Olive oil or butter
Salt and pepper
Garlic powder
How To Steam Cauliflower
Steaming cauliflower is the most method to cook a head of cauliflower in less than 10 minutes.
First, prepare the cauliflower head, Bring the head of cauliflower up-side-down on a chopping board and remove the stem and green leaves around. Discard these parts.
Next, cut the cauliflower into small florets, It's better to cut the florets into similar sizes so they steam at the same speed.
Clean the cauliflower florets under cold tap water into a sieve.
You can add a pinch of baking soda to the cauliflower to remove cauliflower impurities and smell.
Steaming Cauliflower In The Microwave
The main reason why I love steaming vegetables in the microwave are:
It's faster
Less cleaning
You can steam without a steaming basket
Place the cauliflower florets into a large microwave-safe bowl. Add about 3 tablespoons of cold water to the bottom of the bowl and cover the bowl with a microwave same lid or plate.
Microwave on high 900W for 3-4 minutes.
Check if cauliflower is cooked by inserting a knife or fork into the steamed florets. The florets should be soft but still tender.
If too hard, keep microwaving in 1-minute bursts until it reaches your favorite texture.
Steaming Cauliflower In A Steamer Basket
If you have a steamer basket, then warm some water at the bottom of a non-stick saucepan – about 1 liter or enough to cover the bottom of that pan but not too much.
You don't want the basket to dip in the water.
Place the steamer basket in the saucepan over the boiling water and fill the basket with the cauliflower florets.
Steam for about 7-8 minutes, cover the saucepan with a lid and bring to medium heat.
Check after 6 minutes if the florets are cooked, remove as soon as you are able to insert a toothpick or knife in the center of the florets.
Drain over a sieve and cool down before adding some flavors or use in any recipes calling for steamed cauliflower.
How To Use Steamed Cauliflower
Keto Side Dish
You can eat steamed cauliflower on its own as a low-carb side dish and low-calorie dinner.
The best topping to add to the warm florets are:
Butter or olive oil
Garlic
Salt and pepper
It's a delicious combo to many meat-based meals like: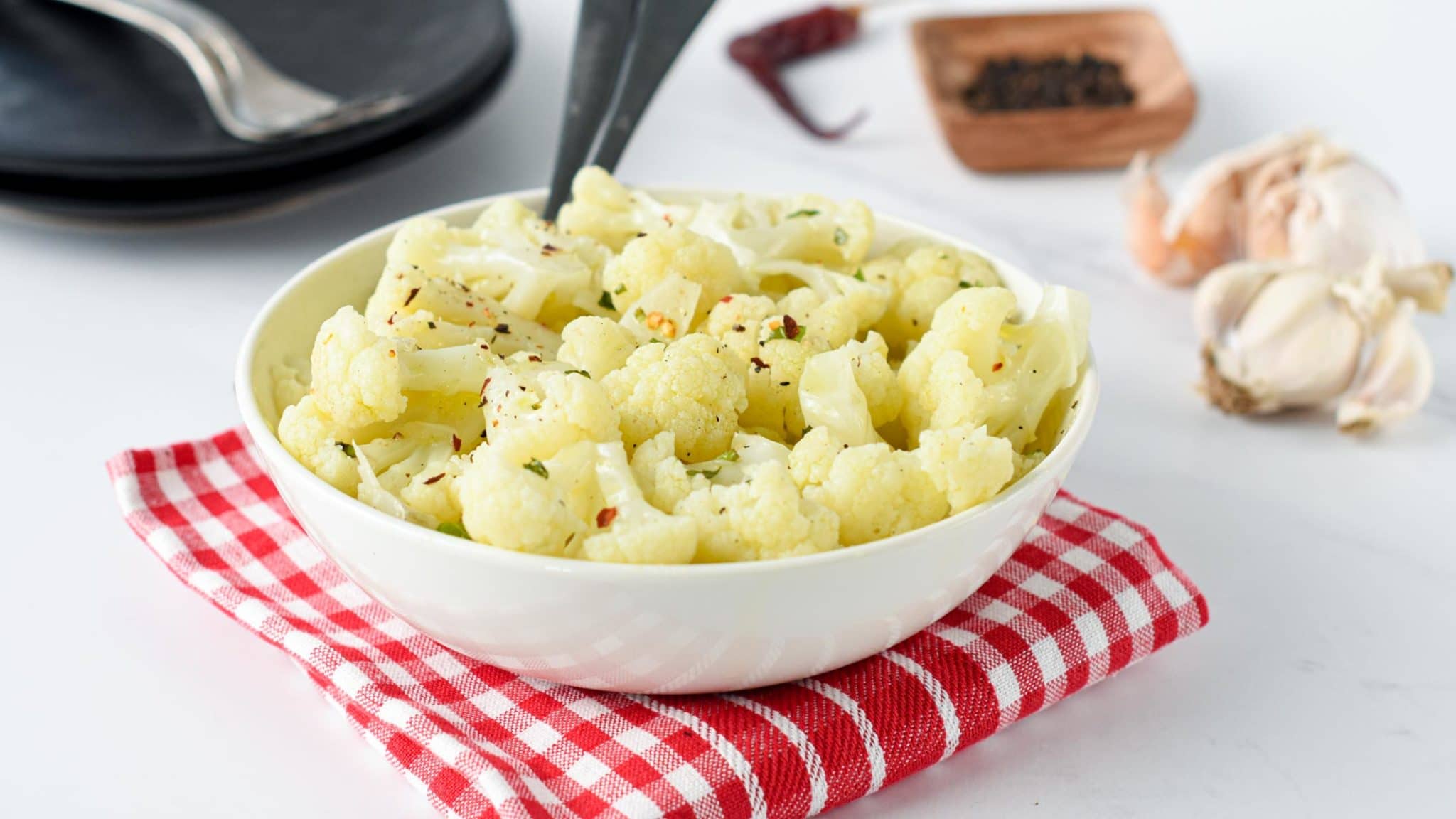 Keto Casserole
Steamed cauliflower, without the added butter, is a great base for making keto casserole recipes like:
Low-carb Mashed Potato Puree – steamed cauliflower is the best keto swap for potatoes and makes a low-carb puree. Mash it with butter, garlic salt, and pepper or add a touch of cream cheese for a creamy mock potato puree.
Storage
You can store leftovers in the fridge for up to 4 days in an airtight container or freeze cauliflower for later.
Freeze for up to 3 months and use frozen in any recipes. You don't need to thaw the cauliflower to use in a casserole or a dish with sauce.
Have you made this keto cauliflower recipe? Share a comment or review below.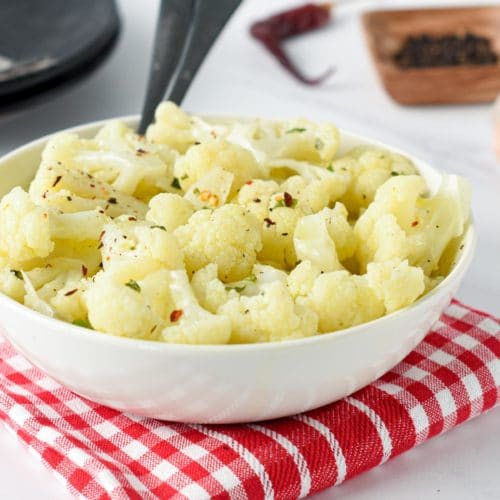 Steamed Cauliflower
This 15-minute Steamed Cauliflower recipe is the perfect light side dish for low-carb keto food lovers.
Serving Size:
1
serving (1 ½ cup)
Nutrition Snapshot
Want My Kitchen Equipment?
Instructions
Trim the cauliflower stems, remove the leaves, then break them into small bite-size florets about 1.5-inch wide.

Boil 1 liter of water in a non-stick saucepan or steamer.

Place the florets into a steamer basket over the boiled water and steam for 8 minutes or until fork-tender.

Cool down on a colander for a few minutes until completely steamed out, then transfer to a large baking dish.

Serve immediately with fresh butter or olive oil, salt, pepper, and garlic powder.
My Recipe Notes
Nutrition
Serving Size:
1
serving (1 ½ cup)
Serving:
1
serving (1 ½ cup)
Calories:
58.3
kcal
(3%)
Carbohydrates:
5
g
(2%)
Fiber:
2
g
(8%)
Net Carbs:
3
g
Protein:
1.9
g
(4%)
Fat:
4.1
g
(6%)
Saturated Fat:
2.5
g
(16%)
Polyunsaturated Fat:
0.2
g
Monounsaturated Fat:
1
g
Trans Fat:
0.2
g
Cholesterol:
10
mg
(3%)
Sodium:
252.7
mg
(11%)
Potassium:
291.4
mg
(8%)
Sugar:
1.8
g
(2%)
Vitamin A:
117.5
IU
(2%)
Vitamin B12:
0.01
µg
Vitamin C:
46.2
mg
(56%)
Calcium:
23.2
mg
(2%)
Iron:
0.4
mg
(2%)
Magnesium:
14.9
mg
(4%)
Zinc:
0.3
mg
(2%)
Posted In: