An easy low carb cheesy cauliflower breadstick recipe perfect as a keto low-carb appetizer recipe or side dish. Bonus, with only 4 grams of net carbs per serving, these cauliflower garlic breadsticks are also low-carb and keto-friendly.
What are cauliflower breadsticks?
Cauliflower breadsticks are low-carb breadsticks made of a low-carb vegetable, cauliflower combined with shredded mozzarella cheese and eggs.
It's a keto-friendly recipe delicious as a low-carb side dish or appetizers that mimic authentic garlic breadstick texture, but it's gluten-free, low-carb, and keto-approved.
How to make low-carb cheesy cauliflower breadsticks?
It's super easy to make cauliflower breadsticks and very similar to my cauliflower pizza crust recipe.
All you need to make cauliflower breadsticks are:
Cauliflower rice – you can use frozen cauliflower rice or make your own from a head of cauliflower. To make cauliflower rice, trim the cauliflower feet, cut them into small florets. Then, process by small batches, and process 2 cups of florets into your food processor and pulse until it comes into a rice-like texture.
Mozzarella cheese – part-skim mozzarella, you can also use low-fat shredded mozzarella to decrease saturated fat, but don't use soft buffalo mozzarella! It's too wet, and the dough won't form up with it.
Eggs – a combination of egg and egg white provide the best texture.
Salt and pepper
Garlic powder
Cook cauliflower rice
First, cook the cauliflower rice in a microwave or oven. Choose your favorite option.
Microwave method
Place the cauliflower rice into a large bowl, film with plastic wrap, and microwave on high for 6-8 minutes, until cauliflower is soft.
Oven method
Preheat oven to 350F (180C). Slightly oil a large baking dish. Lay the cauliflower rice onto the dish and bake for 15 minutes.
Are you new to Keto?
Receive my Keto Quick Start email series to learn all about the Keto diet and kick start your keto journey!
Cool down
Cool down the cooked riced cauliflower for at least 10 minutes. During this time, the cauliflower steam out the water trapped in the vegetable. If you microwave the cauliflower rice, don't forget to peel off the plastic wrap from the bowl to let the steam out.
Drain
Place the cooked cauliflower rice in the center of a clean kitchen towel, gather the 4 corners, and twist the towel to encase the cauliflower. Then, squeeze as hard as you can to release and extract all the water from the vegetable.
Combine ingredients
Place the cooked, drained cauliflower rice onto a large mixing bowl. Stir in egg white, egg, salt, oregano, garlic powder, and shredded mozzarella cheese. Stir until it forms a slightly wet dough
Bake
Spread the cauliflower mixture onto a 9-inch x 13-inch baking tray covered with oiled parchment paper. Spread into an 8-inch square or rectangle.
Bake for 20 minutes in an oven preheated to 400F (200C)
Flip over
After that time, remove the tray from the oven, slide a spatula under the breadstick and flip it over.
Sprinkle an extra 1/2 cup of mozzarella cheese or a combo of parmesan cheese and mozzarella.
Return to the oven until cheese is melted – about 5 -8 minutes. If you want to use this recipe a pizza base, you can also spread some marinara sauce before adding the extra cheese.
How to serve cauliflower breadsticks?
You can serve these cauliflower breadsticks as a keto appetizer or keto side dish.
These are delicious dipped into my sugar-free ketchup recipe or marinara sauce.
You can also top the cooked breadsticks with a drizzle of garlic-infused olive oil and fresh rosemary.
Can I store cauliflower breadsticks?
You can store this recipe in an airtight container in the fridge for up to 4 days. Rewarm in preheated oven 180C (350F) onto a tray covered with parchment paper until the breadsticks are hot and crispy on the sides.
You can also freeze this recipe and place the frozen breadsticks in the oven to rewarm immediately. You don't need to thaw the recipe overnight, which is very convenient.
More low-carb cauliflower recipes
Below I listed some of my favorite keto low-carb recipes using cauliflower. They are delicious and an easy keto dinner for the whole family to enjoy.
Have you made this cauliflower breadstick recipe? Share a comment or review below. I love to hear your feedback on my recipes.
XOXO Carine
Recipe Card
Low-carb Cheesy Cauliflower Breadsticks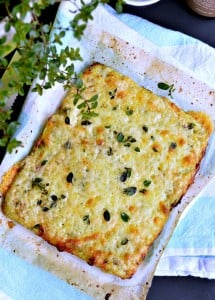 8
servings ( 1-inch x 1-inch piece)
An easy cauliflower breadsticks recipe, keto-friendly using cauliflower rice and mozzarella cheese.
Toppings
½

cup

Mozzarella

Shredded part-skim
Optional - to serve
1

tablespoon

Olive Oil

Garlic infused

1

teaspoon

Fresh Oregano

chopped
Preheat your oven to 200°C (400°F).
Make the cauliflower rice
Remove the cauliflower stem and cut the head into small florets.

In a food processor, using an S blade attachment, process 2 cups of cauliflower florets at a time until it turns into a thin rice-like texture. You should get 6 cups of raw cauliflower rice from a 2.5 lb cauliflower head. Otherwise, use frozen cauliflower rice.

Place the uncooked cauliflower rice into a microwave-safe bowl. Cover with plastic wraps, and microwave for 5-6 minutes or until soft. You can also bake at preheated oven 400°F (200°C), lay the cauliflower rice on a large baking tray, slightly oil, and bake for 15 minutes.

Peel off plastic wrap carefully, remove the tray from the oven, and set aside for 10-15 minutes. The cooked cauliflower rice will steam out, cool down, and that's an important step to avoid too much moisture in the breadsticks.

Place the cooked cauliflower rice in the center of a clean towel. Gather the 4 corners of the towel and squeeze as hard as you can to extract all the water from the cauliflower. Discard water. Set aside the drained cooked cauliflower rice in a bowl.

Stir in egg white, whole egg, shredded mozzarella, salt, oregano, and garlic powder.

Stir until all the ingredients come together into a slightly wet dough.

Cover a 9-inch x 13-inch baking tray with lightly-oiled parchment paper.

Transfer the mixture on the parchment paper and spread evenly onto the tray into roughly an 8-inch x 8-inch square, about 0.5 mm - 1 mm thick (0.02/0.04 inches thickness). The thinner, the crispier. Thicker dough results in a moist, cheesy breadstick in the center, which I prefer, but it's up to you!

Bake for 20 minutes at preheated oven 400°F (200°C) on one side, then slide a spatula under the breadstick and flip over.

Sprinkle grated mozzarella all over the dough and return to the oven for 5-10 minutes until sides are golden brown, crispy on sides, and the cheese broiled.

Serve with a drizzle of garlic-infused olive oil to increase the garlic flavor and some fresh oregano if desired.
Storage
Store leftovers in the fridge for up to 3 days, or freeze, and rewarm in the oven.
Starting Keto
What Is Keto Diet?
Macro Calculator
Sweetener Converter
Keto Meal Plans
Keto Recipe Ebooks
Intermittent Fasting
Keto Fruits
Keto Vegetables
Keto FLours
Fighting Keto Flu
Keto Sweeteners
Nutrition Facts
Low-carb Cheesy Cauliflower Breadsticks
Amount Per Serving (1 serving (1/8 recipe))
Calories 87.5
Calories from Fat 33
% Daily Value*
Fat 3.7g6%
Cholesterol 34.5mg12%
Sodium 233mg10%
Potassium 397.4mg11%
Carbohydrates 7g2%
Protein 7.9g16%
Vitamin A 126.4IU3%
Vitamin B12 0.2µg3%
Vitamin C 57.9mg70%
Vitamin D 0.2µg1%
Calcium 175.2mg18%
Iron 0.8mg4%
Magnesium 24.7mg6%
Zinc 0.9mg6%
Net Carbs 4.4g
* Percent Daily Values are based on a 2000 calorie diet.