Keto Cauliflower Casserole (Ready In 30 Minutes)
This Keto Loaded Cauliflower Casserole is an easy 30-minute keto comfort food for cheese and bacon lovers!
If you miss a classic loaded baked potato casserole on your keto journey, this keto cauliflower casserole will fix it!
The soft cauliflower bites coated with cheesy cream cheese dill sauce burst in flavors. Plus, one serving contains only 5.3 grams of net carbs so you can indulge with no guilt!
What Is Keto Cauliflower Casserole?
A cauliflower casserole is a one-pan dish made with cauliflower and a rich and creamy sauce.
It's a keto cauliflower recipe typically made with bacon, sour cream, and a lot of cheese.
How To Make Keto Cauliflower Casserole
Calling all the cauliflower lovers with this new keto cauliflower recipe! An easy, cheesy cauliflower gratin with soft, melt-in-your-mouth cauliflower florets coated in thick cheesy cream cheese and cheddar sauce.
Add to this some crispy bacon pieces, chives and it will taste like a keto carbonara dish, without the carbs, of course!
Ingredients
Let's see the simple ingredients you need to make this keto cauliflower cream cheese casserole.
Cauliflower – you need a large head of cauliflower which is about 6-7 inches in diameter cut into small florets. The smaller you cut the florets, the softer they become and the tastier this loaded cauliflower casserole will be. Cauliflower is a great keto-friendly vegetable, in particular when it's cooked!
Salt
Heavy cream – with only 2.8 grams of net carbs per 100 grams, heavy cream is a great keto-friendly dairy product.
Cream cheese – I like thick, rich heavy cheese sauce in casseroles, and cream cheese is the best for this! It reminds me of my old-time family French cauliflower gratin. Cream cheese is one of the most keto-friendly dairy products!
Garlic powder – or fresh garlic.
Onion powder
Streaky bacon
Chives – fresh is best, you can substitute for 1 tablespoon of dried chives.
Cheddar – I am using a combination of white shredded cheddar cheese, sharp cheddar cheese, and red cheddar. You can also use parmesan cheese.
Cutting & Cooking Cauliflower
The success in any cauliflower casserole recipe is to cut the cauliflower florets into small bite-size chunks.
First, remove the large stems from the cauliflower head, it will release large cauliflower florets.
Then, cut each large floret into bite-size pieces.
Steaming, Boiling, or Roasting
There are many ways to cook cauliflower for a tasty casserole. I personally think that steaming is the best.
You can steam the cauliflower florets into a steam basket or in the microwave.
Steamed cauliflower is the best option for many reasons:
It is faster than roasting or boiling.
Steaming doesn't boost the cauliflower flavors – if you are not a cauliflower fan, this will make the vegetable bland in flavor.
It creates soft, melt-in-your-mouth cauliflower bites, not watery or crunchy.
It saves on dishwashing – roasting involves one or 2 baking sheets plus parchment paper while steaming only takes a steamer.
Learn all the details on how to steam cauliflower in my Steamed Cauliflower Recipe.
However, if you don't have a vegetable steamer, you can:
Roast the florets with olive oil on baking sheets at 400°F (200°C) for 20 minutes. Note that roasted cauliflower has a stronger cauliflower flavor.
Boil the florets in vegetable stock or boiling water until fork tender – about 8-10 minutes. For this option, make sure you drain and cool for 10 minutes before adding to the cheese sauce.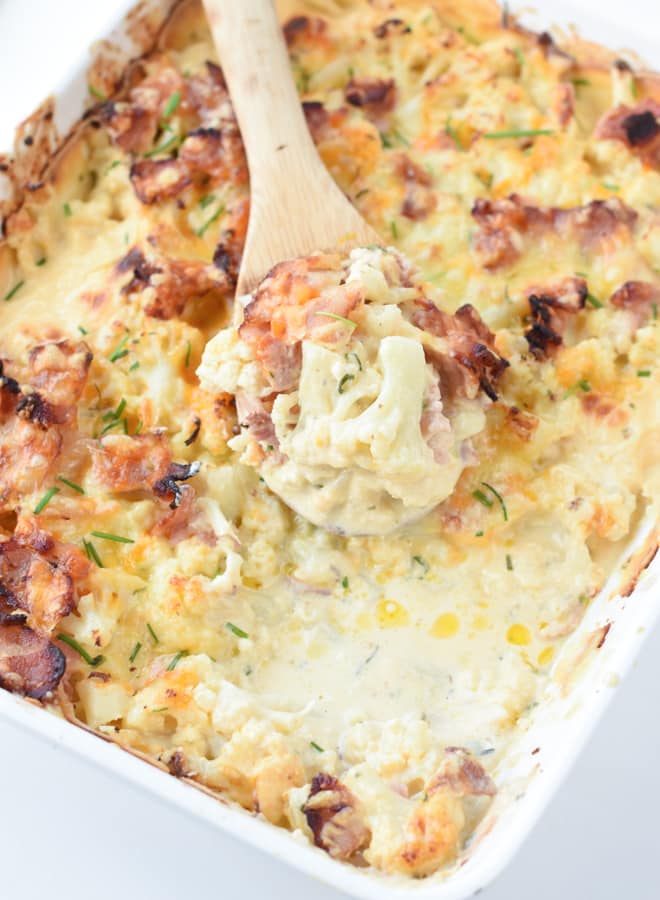 Steaming It Out
Whatever the technique you choose to bake the cauliflower, cool it down before you add the cauliflower to the cheese sauce.
The florets need to steam out to avoid a watery casserole.
Making The Cheese Sauce
This keto cauliflower casserole recipe is made with a cream cheese sauce cooked in bacon fat.
First, prepare a large saucepan or pot (to fit all the cauliflower florets!) and fry the bacon pieces until crispy.
Set aside 1/3 cup of the bacon pieces, this will be used to load the casserole dish at the end.
Then, add heavy cream, cream cheese, garlic powder, and onion powder.
Stir and simmer the sauce until all the cream cheese is melted and the sauce is bubbly.
Finally, remove the pot from the heat and stir in fresh chopped dill half of the shredded cheese.
Your cheese sauce is ready to be used for your casserole.
Assembling The Keto Cauliflower Casserole
In order to assemble the casserole, you first need to combine the cooked cauliflower florets into the sauce.
If the pot you used to prepare the sauce is not big enough to fit all the cauliflower florets, transfer the sauce into a large bowl.
Stir the cauliflower into the sauce to fully coat each floret with the cheese sauce. Season with salt and pepper.
Then, transfer the cheesy cauliflower florets onto a large 9-inch x 13-inch casserole dish.
Spread evenly and sprinkle the remaining crispy bacon pieces and shredded cheese on top.
Finally, bake the cauliflower casserole at 425°F (220°C) for 15-20 minutes or until the cheese is grilled on top and bubbles form on the sides of the baking dish.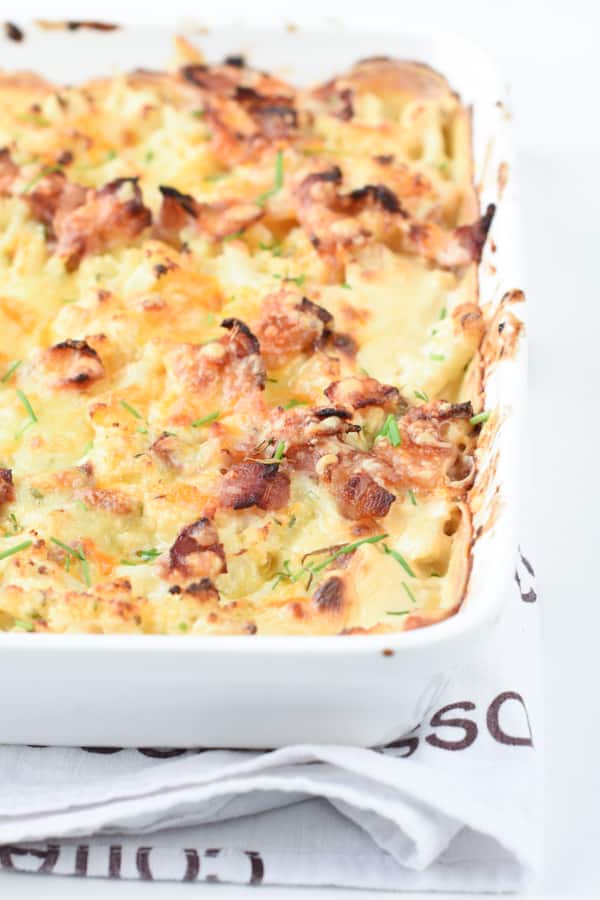 Serving The Cauliflower Casserole
Cauliflower casseroles are very popular keto diet side dishes for grilled meat or fish and perfect to serve to non-keto friends!
It's a tasty Thanksgiving side dish swap to the classic mashed cauliflower and delicious with turkey.
I guarantee that everyone will love this cheesy cauliflower casserole recipe, even the kids.
You can serve this recipe by adding fresh chopped dill or green onions on top of the baking dish for extra flavors.
Storage Instructions
Keto casserole recipes are convenient make-ahead keto recipes for any time of the day. In fact, they store very well in the fridge for up to 3 days into the baking dish.
Or, you can freeze your casserole in an airtight container. I recommend freezing your casserole into single-serve containers.
This is a great way to know exactly how many carbs each frozen portion contains. Then, when you need one serving, thaw it in the fridge overnight.
You can rewarm this casserole on a plate in the microwave or in an ovenproof dish at 350°F (180°C) until hot.
Frequently Asked Questions
Can I Skip The Bacon?
Yes, you can make a vegetarian keto cauliflower casserole by just removing the bacon. You can replace it with sundried tomatoes for example
Can You Eat Cauliflower On Keto?
Yes, cauliflower is one of the good keto-friendly ingredients. It's the base for many keto recipes.
How Many Carbs Are In Keto Cauliflower Casserole?
There are only 5.3 grams of net carbs per serving of this keto cauliflower recipe.
Is Cauliflower No Carbs?
No, cauliflower has some carbs but very few. When cooked, it has only 1.7 grams of carbs per 100 grams.
More Keto Cauliflower Recipes
I love to create cauliflower recipes as a low-carb alternative to high-starch vegetables like potatoes.
It makes quick and healthy family dinners. Below are some other delicious cauliflower recipes to try:
Made this keto cauliflower casserole yet? Share a review or comment below and connect with me.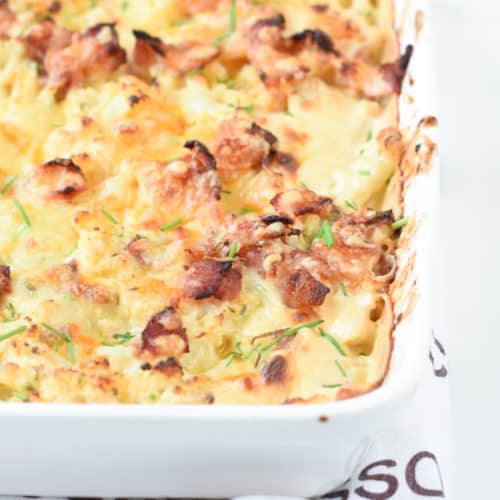 Keto Loaded Cauliflower Casserole
A creamy keto cauliflower side dish or light dinner with 5.7g of net carbs per serving
Yield:
servings (1/2 cup)
Ingredients
1

large

Cauliflower Head

cut into bite size florets
Cheese Sauce
9

oz

Cream Cheese

½

cup

Heavy Cream

1

teaspoon

Garlic Powder

or 3 fresh garlic cloves, crushed

½

teaspoon

Onion Powder

½

teaspoon

Salt

2

cups

Shredded Cheddar

divided

¼

cup

Chopped Dill

9

oz

Bacon Slices

chopped into bite size pieces, about 6 slices
This recipe may contain Amazon or other affiliate links. As an Amazon Associate I earn from qualifying purchases.
Instructions
Preheat oven to 425°F (220°C) Grease a 9-inch x 13-inch baking dish. Set aside.

Cut the cauliflower head into bite-size florets, you should have about 1.8 lb/800g of small florets.

Place the cauliflower florets into a steamer basket and place the basket into a large pot with 2 inches of water at the bottom. Steam the cauliflower for 8 minutes until fork tender.

Drain the cooked cauliflower florets and set aside 10 minutes to steam out.

Meanwhile, prepare the cheese sauce.

In a large pot (can be the one you used to steam the cauliflower), fry the bacon pieces for 2-3 minutes. Set aside 1/3 cup of cooked bacon in a bowl (you will use this to add on top of the casserole later).

Stir in heavy cream, cubes of cream cheese, garlic powder, onion powder, and salt, and simmer the sauce over low/medium heat until cream cheese is melted and sauce is thick and creamy.

Remove from heat, stir in fresh chopped dill, half shredded cheddar (1 cup).

Stir in the cooked cauliflower florets until evenly coated with the cheese sauce.

Transfer the cheesy cauliflower florets into the prepared baking dish and spread into an even layer.

Top the casserole with the remaining crispy bacon and shredded cheese.

Bake for 15-20 minutes, switching to grill mode for 3-4 minutes if needed to grill cheese on top.

Remove from the oven and sprinkle with extra fresh dill if desired.

Serve immediately as a main dish or low carb side dish to grilled meat/fish.
Storage
Store up to 3 days in an airtight container in the fridge.

Can be frozen in an airtight container. Defrost in the fridge the day before and rewarm in the microwave or saucepan.
Want My Kitchen Equipment?
Yield:
servings (1/2 cup)
Serving:
1
serve
Calories:
326.8
kcal
(16%)
Carbohydrates:
7.3
g
(2%)
Fiber:
2
g
(8%)
Net Carbs:
5.3
g
Protein:
17.6
g
(35%)
Fat:
26.1
g
(40%)
Saturated Fat:
15.5
g
(97%)
Cholesterol:
81.2
mg
(27%)
Sodium:
1085.6
mg
(47%)
Potassium:
381.4
mg
(11%)
Sugar:
3
g
(3%)
Vitamin A:
936.9
IU
(19%)
Vitamin C:
48.9
mg
(59%)
Calcium:
263.1
mg
(26%)
Iron:
0.7
mg
(4%)
Posted In: