These Oven Roasted Potatoes are the easiest potato side dish ever ready in less than 40 minutes.
Plus, this is an allergy-friendly side dish that ticks all dietary restrictions as it's a vegan, egg-free, nut-free, and low-carb option.
Why Are Potatoes Better Than You Think?
Oven Roasted Potatoes are one of my kids' favorite dishes and while potatoes may have bad reputation, they are very good for you.
Potatoes are high in iron and an excellent option for people eating minimal to no red meat.
Plus, if you are on a low-carb diet, you can use a low-carb potato variety to make this simple recipe. A variety like Lotatoes has 9 grams net carb per 100 grams, which is similar to broccoli.
So let me share with you how to make the best crispy potatoes roasted in your oven.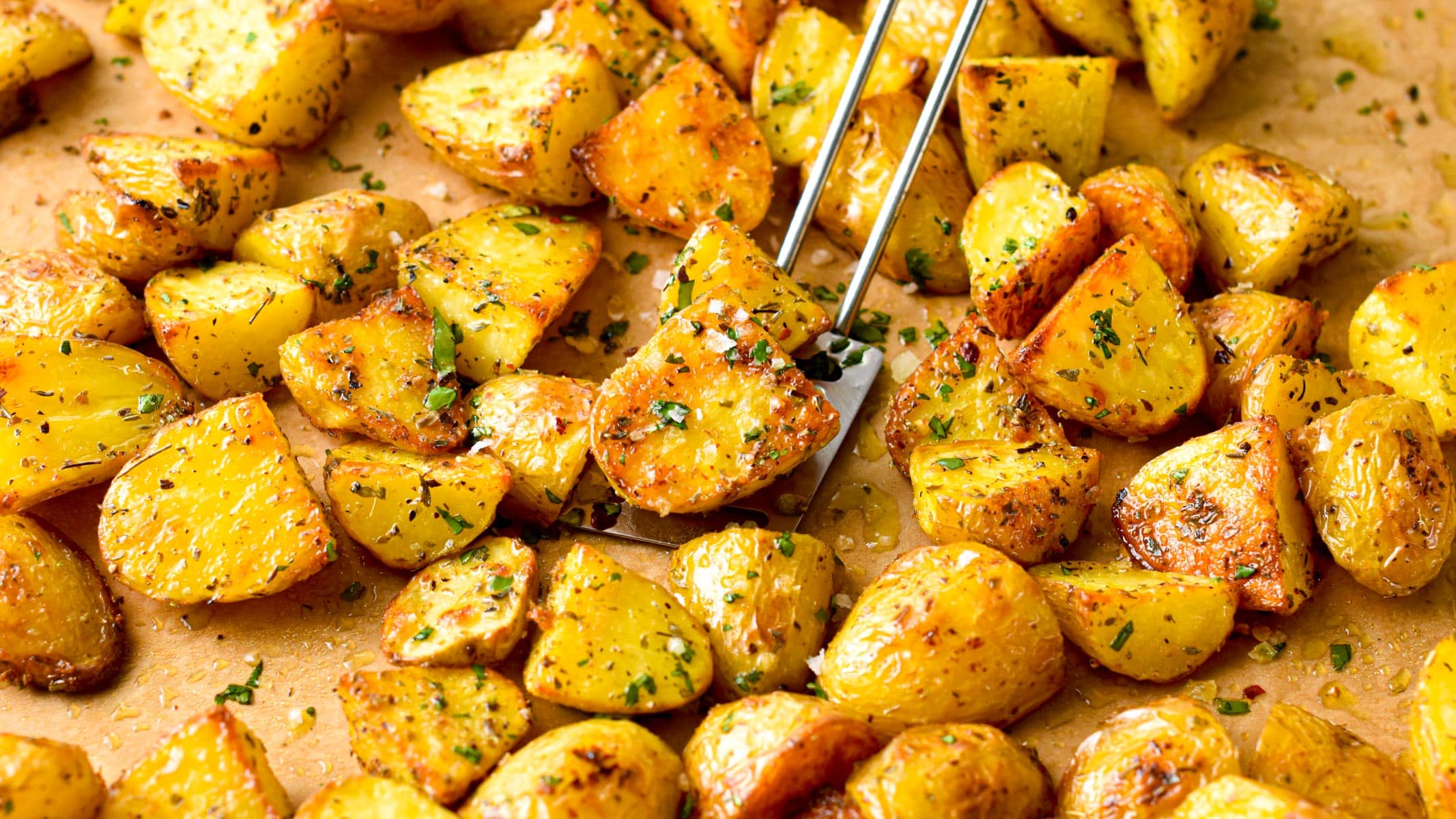 How To Make Oven-Roasted Potatoes
There are several ways to roast potatoes. You can use your oven or your air fryer.
Today I am sharing the oven version, which is my favorite because you can make a large batch of roasted potatoes in under 40 minutes.
Therefore, it's a great side dish to feed a crowd during the holiday and a delicious Christmas or Thanksgiving side dish.
Ingredients
All you need to make crispy roasted potatoes are:
Yukon Gold Potatoes or any high-starch potatoes with low water content. See the list below to pick the best potato varieties for roasting.
Avocado Oil – This is the best oil for roasting vegetables. Because of its high smoke point, avocado oil won't smoke and keeps all of its properties, even at high temperatures.
Garlic Powder
Dried Oregano or Italian seasoning
Sea Salt
Pepper
Best Potatoes For Roasting
The best potato variety for roasting depends on where you live.
Below are some potato variety options that makes fantastic crispy potatoes with a fluffy interior.
In the United Kingdom, try the varieties called Maris Piper or King Edwards.
In the United States, pick Yukon potatoes. They have a thin skin that crisps well, and the center won't fluff too fast compared to Russet potatoes, which are better as mashed potatoes.
In New Zealand and Australia, try Agria potatoes, red potatoes like red jackets, or Vivaldi. We also have Lotatoes for a low-carb option.
Cutting Potatoes
The best way to make crispy baked potatoes is to keep their skin on. First, cut the potatoes into quarters.
You should end up with pieces between 1 inch by 1.6 inches. It doesn't have to be super accurate, but the idea here is to cut the potatoes into pieces that are not too small and of similar sizes.
If you cut the potatoes into different sizes, some will roast faster, and you will end up with a blend of undercooked and overbaked potatoes after a similar time in the oven.
Coating
Place the cut potatoes into a large bowl, and add avocado oil or olive oil, salt, pepper, garlic powder, and dried oregano.
Toss to coat the potato pieces evenly with the oil mixture.
Baking Potatoes
Pour the potatoes into a single layer onto a baking sheet lined with parchment paper.
Place the potatoes in an oven preheated to 430°F (220°C).
Bake them for 20 minutes, then use a spoon to move the potatoes or shake the tray to flip the potatoes.
Bake them again for another 10 to 15 minutes or until soft in the center and crispy golden on the outside.
Flavoring Options
Of course, you can play with flavors and add to the oil 1 or 2 teaspoons of the following dry spices:
Curry Powder
Paprika or smoked paprika
Cumin
Satay
Serving
Baked potatoes are one of the best 30-minute side dishes for a quick and easy dinner. You can serve the potatoes plain or add some toppings before serving.
Toppings
Freshly Grated Parmesan – sprinkle 1/4 cup on top of the warm baked potatoes before serving.
Squeeze of lemon juice
Drizzle of honey
Fresh parsley
Chili flakes
Serving As A Side Dish
This is the easiest side dish, perfect with any eggs, meat, or fish.
Below are some tasty dishes to pair with these roasted potatoes:
Serving As A Main
You can also serve this dish as a main for a vegan or vegetarian meal.
Serve the potatoes with dipping sauce high in protein for a complete meal like some of the below:
Storage Instructions
Oven-baked potatoes can be stored for up to 4 days in a sealed container in the fridge.
You can also freeze the recipe and thaw the potatoes in the fridge the day before.
To rewarm, place the potatoes on a baking sheet or in the air fryer basket. Bake or air fry them at 350°F (180°C) until the potatoes are warm and crispy again.
Allergy Swaps
If you are allergic to some of the ingredients, you can try the following substitutions.
Low-FODMAP – Skip the garlic.
Low-Carb – Pick a low-carb potato variety like lotatoes.
Oil Options – The best oils to cook at high temperatures are avocado oil, olive oil, corn oil, and canola oil – But these last two are vegetable oils and not the healthiest options.
Frequently Asked Questions
Below are my answers to your most common questions about roasting potatoes.
Can I Air Fry The Potatoes?
Yes, you can air fry potatoes at 400°F (200°C) for about 30 minutes.
You can add the potatoes into two layers, not more, as they won't crisp if too many potatoes are stacked in the basket.
Shake the basket halfway and keep air frying until they are golden and crispy.
Should I Soak Potatoes Before Roasting?
Yes absolutely! If you have time, soak the potatoes in cold water to extract the excess starch.
Removing the starch makes the potatoes roast more evenly and prevents the center from fluffing or becoming gummy.
Note that you shouldn't soak potatoes in warm water as this activates the starch and makes it harder for it to separate from the potatoes.
Can I Peel Potatoes Before Roasting?
No, it's not recommended to peel potatoes before baking. They won't crisp on the edges and will fall apart more easily.
More Roasted Vegetable Recipes
Here are some more oven-roasted vegetable recipes to pair with potatoes.
Have you tried this easy oven-roasted potato recipe? Share a comment or review below.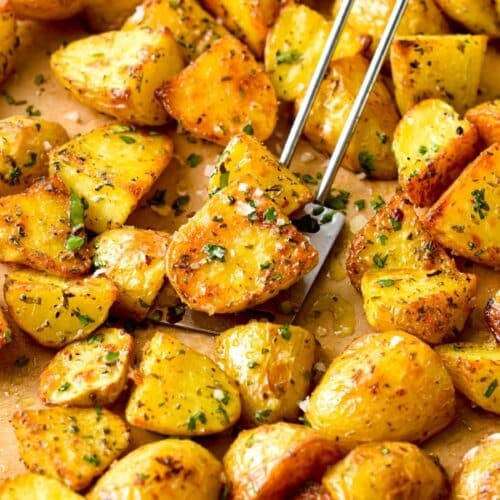 Oven Roasted Potatoes
These Oven Roasted Potatoes are an easy potato side dish ready in less than 40 minutes. Plus, this is an allergy-friendly side dish that ticks all the dietary restrictions as it's vegan, egg-free, and nut-free, and there's a low-carb option provided.
Yield:
servings (1/2 cup)
Nutrition Snapshot
Want My Kitchen Equipment?
Instructions
Preheat the oven to 430°F (220°C). Line a large baking sheet with parchment paper. Set aside.

Scrub the skin of the potatoes to remove the dirt, then cut each potato into quarters. First, cut each small potato in half lengthwise. Next, cut each half into quarters crosswise. You end up with pieces of about 1 inch (2.5cm) x 1.6 inches (4cm).

Place the potato cubes in a large mixing bowl and season them with oil, salt, pepper, garlic powder, and oregano.

Use your hands to massage and coat with the oil mixture.

Spread the potato cubes in a single layer onto the baking sheet.

Bake in the center rack of the oven for 20 minutes, then shake the tray to move the potatoes and keep baking for an extra 10-15 minutes or until golden brown and soft in the center.

Remove from the oven and serve with extra salt, pepper, freshly chopped parsley or chili flakes if desired.
Storage
Store in a sealed container in the fridge for up to 3 days or freeze for up to 3 months. Thaw in the refrigerator the day before.
My Recipe Notes
Nutrition
Yield:
servings (1/2 cup)
Serving:
1
Half Cup
Calories:
217.4
kcal
(11%)
Carbohydrates:
32.5
g
(11%)
Fiber:
4.3
g
(18%)
Net Carbs:
28.2
g
Protein:
3.8
g
(8%)
Fat:
8.6
g
(13%)
Saturated Fat:
1
g
(6%)
Polyunsaturated Fat:
1.2
g
Monounsaturated Fat:
5.9
g
Sodium:
247.5
mg
(11%)
Potassium:
783.6
mg
(22%)
Sugar:
1.5
g
(2%)
Vitamin A:
138.8
IU
(3%)
Vitamin C:
36.8
mg
(45%)
Calcium:
31.3
mg
(3%)
Iron:
1.7
mg
(9%)
Magnesium:
44.1
mg
(11%)
Zinc:
0.6
mg
(4%)
Posted In: