This Roasted Zucchini recipe is an easy side dish recipe packed with summer flavors.
Plus, it's low-carb, vegan, and gluten-free, so the whole family can enjoy it.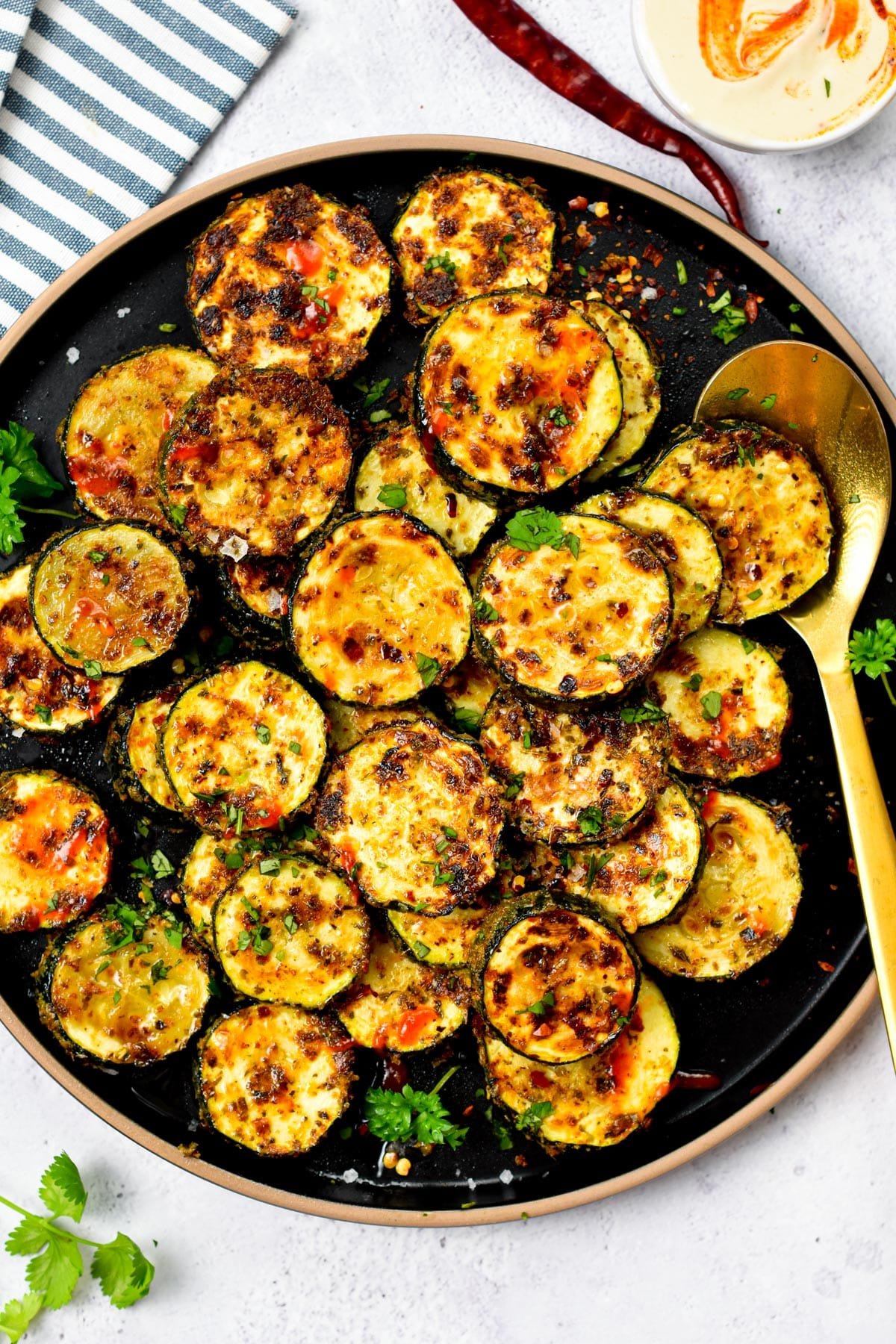 If you love zucchinis and never have enough recipes using this amazing summer squash, this recipe is for you.
Zucchini can be so versatile that you can make noodles, like in my pesto zucchini noodles, or no noodle zucchini lasagna.
The possibilities are endless, and a great way to sneak more vegetables onto your plate.
Zucchinis are bland in flavor, so it's a great veggie to start with if you are not a veggie lover.
Kids, for example, tend to avoid zucchini but try my keto zucchini bread, and they will ask for more.
So enough about zucchini talk, let's see how you can roast this amazing squash in your oven or air fryer.
How To Make Roasted Zucchini
There are two ways of roasting zucchinis. You can use your oven or an air fryer. Whatever the method, the preparation of the vegetable is the same.
Ingredients
All you need to make delicious roasted zucchinis are:
Zucchinis – Not small courgette. The best are medium-large zucchini because they are firmer after roasting. Small zucchini, also known as courgette, tend to turn mushy pretty quickly.
Avocado Oil – or olive oil. I prefer high-smoke point oils for roasting vegetables, such as avocado oil which is stable at high temperatures. It means no smoke in your kitchen, and better for your health.
Paprika or smoked paprika for a smoked zucchini flavor.
Garlic Powder
Dried Oregano
Dried Marjoram
Salt
Pepper
Preparation
First, trim the zucchini ends and discard them.
Next, using a sharp knife, cut zucchini slices of about 0.8 inches (2 cm).
Don't slice them too thin, or the zucchini will lose its texture in the oven. Zucchinis are mostly made of water, so they turn pretty soft quickly when baked.
As a result, if you slice them too thin or peel their skin off, they fall apart.
Oven-Roasted Zucchinis
Next, preheat the oven to 425°F (220°C).
As mentioned before, zucchinis are high in moisture, so the trick to roast them and keep a nice texture is to roast them at higher temperatures.
Finally, place the zucchini slices in a large bowl and drizzle avocado oil and seasoning ingredients on top: garlic powder, paprika, dried oregano, dried marjoram, salt, pepper, and nutritional yeast or grated parmesan.
Toss the zucchini slices with the mixture until all the round slices are coated with oil and spices.
Line a large baking sheet with parchment paper or a silicone mat. Slightly oil the paper with avocado oil.
Now, lay the zucchini slices on the baking sheet, and make sure they don't touch each other or overlap.
Bake the zucchini on the center rack of the oven for 15 to 18 minutes.
Texture
The best way to check the roasted zucchinis texture is to insert a toothpick in the center of one of the slices after 15 minutes of baking.
Remove them from the oven if it goes through easily but is still tender. If you like the zucchini softer, keep baking for an extra 2 to 3 minutes.
Air Fryer Roasted Zucchinis
You can also roast zucchini slices in the air fryer. Spray some oil on the air fryer basket.
Next, arrange the slices of zucchini prepared before in a single layer in the basket, leaving some free space between each.
Air fry at 400°F (200°C) for 10 to 15 minutes, slipping the slices halfway.
Remove the zucchini from the air fryer as soon as they are golden brown and the texture suits your liking.
Serving
These baked zucchinis are perfect for dipping into sauce, stirring in pasta, or serving as a side to meat.
Herbs And Spices
You can serve the roasted zucchini plain, or add some of the below on top:
Drizzle of sriracha sauce
Chili flakes
Salt flakes
Ground pepper
More Parmesan cheese
Fresh parsley
Zucchini Dipping Sauce Ideas
Here are some delicious dip recipes that marry well with roasted zucchini:
Main Dish Pairing
Or serve this recipe as a side dish to meat like some of the below:
Storage Instructions
You can store leftovers in an airtight container in the fridge for up to 3 days or freeze them for up to a month.
Thaw the zucchini in the fridge the day before and rewarm in the air fryer or non-stick saucepan.
Allergy Swaps
If you are allergic to some of the ingredients, you can try the following substitutions:
Avocado Oil – Swap for any oil you have at home. The higher the smoke point, the better, like peanut oil, coconut oil, or olive oil.
Low-FODMAP – Skip garlic powder.
Dried Herbs – You can replace herbs with the same amount of Italian herb seasoning.
Nutritional Yeast – Swap for grated Parmesan.
Frequently Asked Questions
Below are my answers to your most common questions about roasting zucchini.
Can I Peel The Zucchini?
You can, but they won't hold their shape as well, so decrease the baking time by 3 or 4 minutes.
This will prevent mushy, ultra-soft zucchinis.
Why Are My Zucchinis Mushy?
You either sliced them too thin, roasted them for too long, or roasted them at lower temperatures. Not all ovens are well-calibrated.
Always cut thick slices from fresh firm zucchinis and often check while roasting.
Can I Use Yellow Squash?
Yes, yellow squash will bake at the same speed, following the same instructions.
As a result, you can use this recipe for a combination of roasted zucchini and squash.
More Roasted Vegetable Recipes
Roasting vegetables is an easy method for preparing flavorsome, tasty vegetables, and here are some more recipes for you to try.
Have you tried roasting zucchini? Share a comment or review below!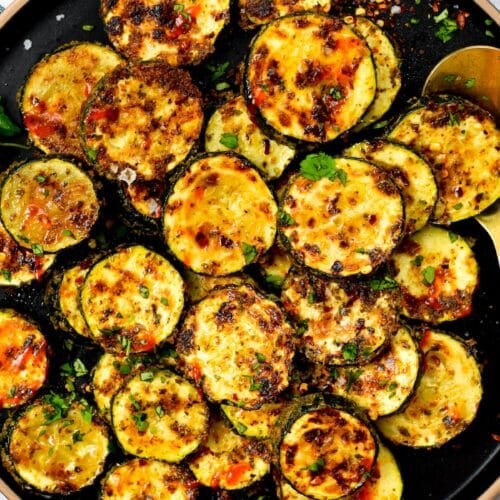 Roasted Zucchini
This Roasted Zucchini recipe is an easy side dish recipe packed with summer flavors. Plus, it's low-carb, vegan, and gluten-free, so the whole family can enjoy it.
Nutrition Snapshot
Want My Kitchen Equipment?
Instructions
Preheat the oven to 425°F (220°C). Line a large baking sheet with parchment paper. Set aside.

Trim the zucchini ends and discard them. Don't peel the zucchini, and use a sharp knife to slice them into about 0.8-inch to 1-inch (2 cm to 2.5 cm) thick slices.

Place the slices in a large mixing bowl and season them with oil, salt, pepper, paprika, garlic powder, and oregano, marjoram, and nutritional yeast (or parmesan if used).

Toss the slices until they are all covered with the oil mixture.

Spread the slices in a single layer onto the baking sheet – make sure they don't touch each other or overlap.

Bake in the center rack of the oven for 15-18 minutes, or until slightly soft in the center but still firm – insert a toothpick to check, and golden brown on top. Don't overbake, or they get very soft and mushy.

Serve immediately with any of the optional serving ingredients if desired.
Storage
Store in a sealed container in the fridge for up to 3 days or freeze for up to 3 months. Thaw in the refrigerator the day before.
My Recipe Notes
Nutrition
Serving:
12
cup
Calories:
92.8
kcal
(5%)
Carbohydrates:
5.8
g
(2%)
Fiber:
2
g
(8%)
Net Carbs:
3.8
g
Protein:
2.1
g
(4%)
Fat:
7.6
g
(12%)
Saturated Fat:
1
g
(6%)
Polyunsaturated Fat:
1.1
g
Monounsaturated Fat:
5
g
Sodium:
304.2
mg
(13%)
Potassium:
439.3
mg
(13%)
Sugar:
4.1
g
(5%)
Vitamin A:
457
IU
(9%)
Vitamin C:
28.9
mg
(35%)
Calcium:
35.6
mg
(4%)
Iron:
0.9
mg
(5%)
Magnesium:
31.4
mg
(8%)
Zinc:
0.5
mg
(3%)
Posted In: